Heavenly Father…
Dude, it's like a million degrees in Virginia. It's too damn hot, and this humidity just makes my soul oh so weary. However, nothing beats the heat like a super cold bowl of creamy, sweet, frozen goodness. This ice cream I made here is hands down the most delicious vanilla ice cream I've ever had. It's extremely rich, creamy, and perfectly sweetened, laced with the fragrant potency of warm, earthy vanilla bean — and lots of it. I used two vanilla beans for this recipe, plus a tablespoon of vanilla extract. Vanilla is one of my favorite flavors of all time, so I went heavy with this. If you're not a vanilla fan like me, use a different flavoring — but I'm not gonna promise delicious results 😉
You need an ice cream maker for this recipe. I use this one by Cuisinart, and it's great. You also need to freeze the canister at least 24 hours in advance — I froze mine for a few days. You need a thermometer to take the proper temperature of the custard, or plenty of experience w/ custards so that you know when they're ready to move on to the next step. I use this thermometer by Thermapen ($89), but you can use this one ($19) if you're on a budget — also by Thermapen, but doesn't go above 302 degrees. I own both, and they're awesome. Lastly, you need patience. This is a super easy recipe, but with all of the freezing time, you just have to realize it's worth the wait. I spent a whole day making the ice cream, then the next day enjoying it lol. It's a labor of love, truly. The steps in this recipe may seem tedious, but they are important to ensure the proper texture and avoid the formation of ice crystals. Ice crystals can ruin your ice cream experience, so don't skip the steps in the recipe and most importantly, do NOT skip the corn syrup step. The corn syrup is actually what helps prevent the ice crystals from even forming in the first place.
I can't really begin to tell you how amazing this ice cream tastes. You'll just have to take my word for it. It's insane, and I am so proud of myself for pulling it off. If I can do this, anyone can do this. You'll be so amazed at how incredible the flavor is, that you'll probably minimize your supermarket ice cream purchases and create your own flavors at home. I have a whole list of ice cream concoctions I wanna try now that I know I can do this. Bottom line, make this ice cream now and thank me later.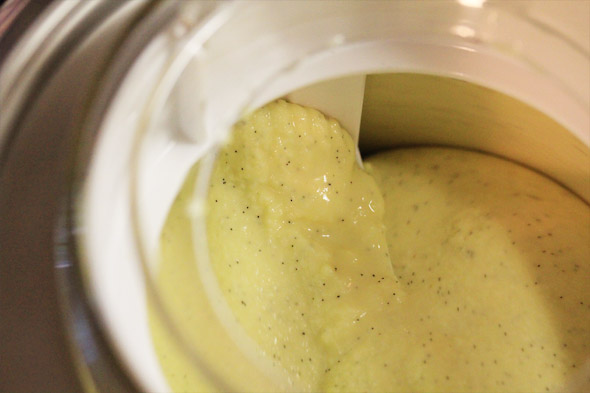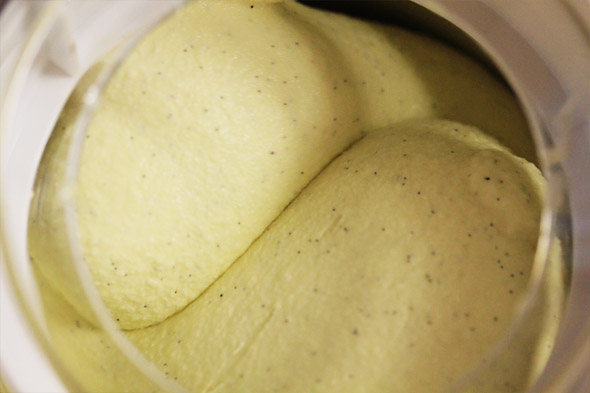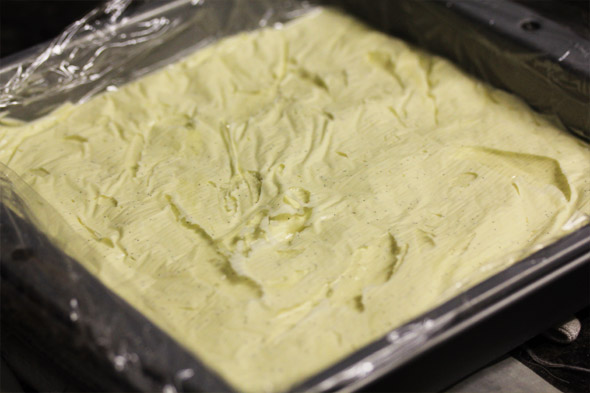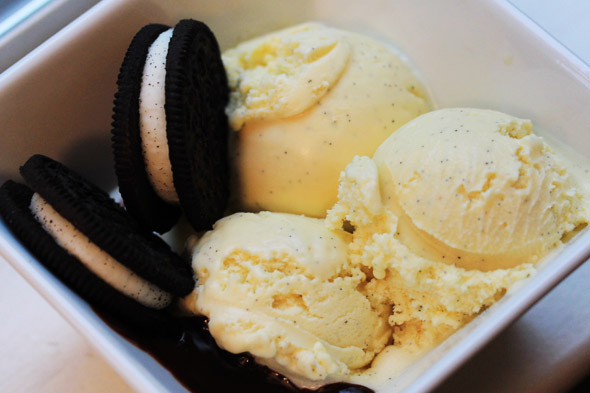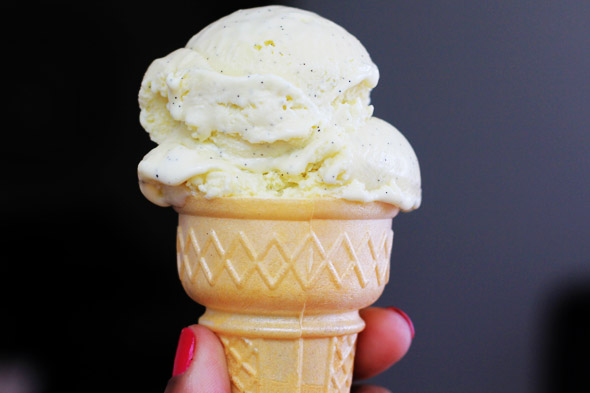 Print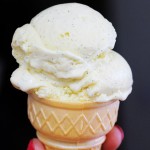 Super Creamy Vanilla Ice Cream
---
---
2

vanilla beans

1 tbsp

vanilla extract

1 3/4

cups

heavy cream

1 1/4

cups

whole milk

1/2

cup

plus

2

tablespoons

sugar

1/3

cup

light corn syrup

1/4 teaspoon

salt

6

large egg yolks
---
Instructions
Place 8- or 9-inch-square metal baking pan in freezer. Cut vanilla bean in half lengthwise. Using tip of paring knife, scrape out vanilla seeds. Combine vanilla bean, seeds, cream, milk, 1/4 cup plus 2 tablespoons sugar, corn syrup, and salt in medium saucepan. Heat over medium-high heat, stirring occasionally, until mixture is steaming steadily and registers 175 degrees, 5 to 10 minutes. Remove saucepan from heat.
While cream mixture heats, whisk yolks and remaining 1/4 cup sugar in bowl until smooth, about 30 seconds. Slowly whisk 1 cup heated cream mixture into egg yolk mixture. Return mixture to saucepan and cook over medium-low heat, stirring constantly, until mixture thickens and registers 180 degrees, 7 to 14 minutes. Immediately pour custard into large bowl and let cool until no longer steaming, 10 to 20 minutes. Transfer 1 cup custard to small bowl. Cover both bowls with plastic wrap. Place large bowl in refrigerator and small bowl in freezer and cool completely, at least 4 hours and up to 24 hours. (Small bowl of custard will freeze solid.)
Remove custards from refrigerator and freezer. Scrape frozen custard from small bowl into large bowl of custard. Stir occasionally until frozen custard has fully dissolved. Strain custard through fine-mesh strainer and transfer to ice-cream machine. Add vanilla extract. Churn until mixture resembles thick soft-serve ice cream and registers about 21 degrees, 15 to 25 minutes. Transfer ice cream to frozen baking pan and press plastic wrap on surface. Return to freezer until firm around edges, about 1 hour.
Transfer ice cream to airtight container, pressing firmly to remove any air pockets, and freeze until firm, at least 2 hours. Serve. (Ice cream can be stored for up to 5 days.)
Recipe Card powered by
Disclosure: This site uses various affiliate links. If a purchase is made using one of our affiliate links, we receive a small commission which helps support our efforts. Please read our
Privacy Policy
for more information.