So, I'm a firm believer that macaroni and cheese should never be diet food. The very thought of a low-cal/fat mac&cheese just pisses me off. First of all, this isn't something you should be eating every day. This is holiday, or special occasion food. I'm sure there are plenty of you out there who enjoy eating low-fat version, and more power to you — but I'm not interested in it at all. Considering I only eat this kinda stuff MAYBE 3x a year at max, it's totally worth it to me. With that said, this is a very decadent and "made with love" version of mac&cheese the CarnalDish way — can you say version 3? You get to caramelize your own shallots, roast your own garlic, and make your own breadcrumbs as well as make a deliciously cheesy mornay sauce. There are a lot of steps here, but they're easy steps. Lots and lots of photos to help you nail this recipe, and believe me — when you nail it, you're going to love it.
What makes this dish special is that you're really putting in a lot of effort and it absolutely pays off. If this is your very first time making mac&cheese, you may find this recipe to be extremely daunting and almost never-ending. I promise you, regardless of how many steps there are, they are very easy steps. I am walking with you holding your hand. If this isn't your first time making mac&cheese (read: my most popular version), you should fly thru this recipe. Don't be intimidated by roasting your own garlic or caramelizing the shallots, they require little effort and are done before you know it. You'll be surprised at how little product you get, but their flavors are so concentrated that it makes up for the volume. You could roast as much garlic as you want and just save it for another recipe or use — it stores well in the fridge for a couple weeks. Same with the caramelized shallots, you could make a larger quantity and store the leftovers for something delicious down the road.
You guys, like…this is sinfully delicious. You all know I cannot stand bland mac and cheese. I recently had some from a "top rated" New York restaurant "known for their mac and cheese". Visually, it was perfect. The right amount of cheese, perfect consistency, nice crust — it looked absolutely divine. Until I tasted it — correction, I couldn't taste it! It had ZERO flavor. I was so pissed off, such a waste. Well, that problem just isn't possible around these parts. Please get your life with this recipe. It's pretty intense and it isn't the cheapest recipe lol, so make sure it's something you make for someone special or for the Holidays. I will say, it's highly recommended you keep parmigiano-reggiano cheese, white wine,
Warning, this post is extremely pic heavy…
Happy holidays. Enjoy!
Print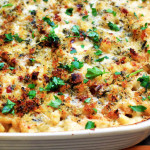 Holiday Mac-n-Cheese w/ Roasted Garlic, Caramelized Shallots, Prosciutto and Homemade Breadcrumbs
---
---
Holiday Mac & Cheese:
1

lb

dried cavatappi pasta

5

cups

half & half (you can use whole milk instead)

1/4

cup

white wine (I used Chardonnay)

5 tbsp

all-purpose flour

6 tbsp

unsalted butter, divided
Bouquet Garni (recipe follows)

6

large cloves garlic (

3

grated,

3

smashed)

1/2

cup

finely grated parmigiano-reggiano cheese

1/2

cup

mild gruyere cheese, shredded

1/2

cup

fontina cheese, shredded

3 1/2

cups

mild white cheddar, shredded

1 1/2

cup

extra sharp provolone, shredded

2

cups

whole milk mozzarella, shredded

1 tsp

onion powder

2 tsp

garlic powder

1/2 tbsp

kosher salt
pinch freshly grated nutmeg
pinch cayenne pepper
freshly ground black pepper, to taste

1 tsp

herbes de provence

4

oz

. diced prosciutto

2

oz

. diced pancetta
Roasted garlic (recipe follows)
Caramelized shallots (recipe follows)
Homemade bread crumbs (recipe follows)
*additional Kosher salt for the pasta water
Bouquet Garni:
10

small sprigs fresh thyme

4

small sprigs fresh rosemary (optional)

2

large sprigs fresh oregano
small piece of kitchen twine
Roasted Garlic (makes about 1/4 cup):
3

large heads of garlic

2

–

3

tbsp olive oil

1 1/2 tsp

kosher salt
Caramelized Shallots (makes about 1/4-1/3 cup):
1 1/2 tbsp

extra virgin olive oil

1 tbsp

unsalted butter

3

large shallots, peeled and sliced medium

2 tbsp

red wine vinegar

1

–

2

tsp granulated sugar

1/4 tsp

Himalayan Pink Salt (or kosher)

1/8

freshly ground black pepper
water
Homemade Breadcrumbs:
4

slices thick sturdy bread, crusts removed

2

–

3

tbsp finely grated parmigiano-reggiano cheese

1/2 tsp

herbes de provence

1/2 tsp

dried parsley

1/4 tsp

dried oregano

1/4 tsp

onion powder

1/4 tsp

garlic powder
good pinch of kosher salt

1/4

freshly ground black pepper

2 tbsp

parsley, chopped fine

2 tbsp

unsalted butter, melted

2 tsp

extra virgin olive oil
---
Instructions
For the Bouquet Garni:
Simply tie the fresh oregano, rosemary and thyme together with kitchen twine.
For the Roasted Garlic:
Heat your oven to 400 degrees, middle rack in place.
Remove the loose outer layers of each garlic bulb, leaving the tighter paper in tact. With a very sharp knife, carefully cut the very top of each head of garlic off (the first 1/4). Place the garlic inside of a sheet of foil. Drizzle olive oil over the tops of each, making sure the oil gets into the cloves. Sprinkle the tops with a little kosher salt. Close the foil to cover the cloves tightly but not too tight as to smush them.
Place the garlic on a small baking sheet and roast for 50 minutes. Remove, and set aside to cool. Once the garlic is cool enough to handle, gently squeeze the base of the garlic bulb to squeeze the mushy garlic cloves out of the paper (kinda like squeezing a tube of toothpaste). You could also use a small fork instead. Make sure you get all of the garlic out. Mash the garlic into a smooth paste and store in the fridge until ready to use.
For the Caramelized Shallots:
Bring olive oil and butter to a sizzle over medium-low heat. Just wait for the butter to start "talking" a little bit. You'll know it's ready. Add the shallots and sugar, and stir with a wooden spoon to coat and break up. Cover and cook for 8-10 minutes.
Stir the shallots and add the red wine vinegar and salt. Toss the shallots around to deglaze the pan, and continue cooking (covered) for another 8-10 minutes. Add the pepper, stir to combine. If you start to develop "fond" (aka the browned bits at the bottom of the pan), add 2 tablespoons of water. Stir, cover and cook an additional 8-10 minutes. Check the shallots to see if they're sugars are starting to develop and deepen in color. If the mixture is getting dry, add 2 more tablespoons of water and cook for another 8-10 minutes, covered.
Continue this step until your shallots have reached a deep molasses color, another 10-20 minutes. Adding water as needed. Once they're perfectly caramelized, remove with a slotted spoon — leaving the butter and oil behind, into a small airtight container. Set aside or store in the refrigerator until ready to use.
For the breadcrumbs:
Cut the crusts off your bread and chop into large pieces. Place bread in the food processor and give it 5-10 1 second pulses, size of the crumbs depend on how you like them. I pulsed mine 10 times, for reference. Add the cheese, herbes de provence, dried parsley, dried oregano, onion powder, garlic powder, salt and pepper. Toss with your fingers to combine. Add the fresh parsley, and toss with a fork to evenly combine. Pour the melted butter and olive oil mixture over the breadcrumbs, toss with a fork to combine and set aside. The bread should NOT be soaking wet with butter and oil.
For the Holiday Mac & Cheese:
Heat your oven to 400 degrees. Butter a 9×13 baking dish. Set aside.
In a large pot, bring 4 quarts of cold water to a boil. Add a good amount of kosher salt, stir to dissolve. Add the cavatappi pasta and boil for 5 minutes. Turn off the heat, reserve 1 cup of the pasta water and set aside. Drain the pasta into a colander and immediately rinse with cool water for 30 seconds. Do not move the pasta around. Set aside.
In a medium-sized pot, add the half and half, bouquet garni, 3 smashed garlic cloves and bring to a boil. Reduce heat to medium, add the white wine and simmer for about 3-5 minutes, stirring often to prevent scorching. Reduce the heat to low, add the black pepper, cayenne pepper, nutmeg, onion powder, garlic powder, herbes de provence and 1/2 tablespoon kosher salt. Stir to combine and cook for just 1 minute. Turn off the heat, cover the pot and let this mixture steep for about 10 minutes until ready to use.
In the same pot you boiled the pasta in, melt 1 tablespoon of unsalted butter until foamy. Add the prosciutto and pancetta. Cook until crisp, stirring often, about 8-10 minutes over medium heat. Once crisp, add 3 grated cloves of garlic, cook and stir for just 30 seconds. Turn the heat off, remove the prosciutto /pancetta/garlic mixture with a slotted spoon and let drain on a paper towel. There shouldn't be much fat left in the pot, but if there is, remove it and keep only 1 tsp of it in there. You should have yummy golden brown bits at the bottom of the pan.
While the heat is still off and the pot is still very hot, melt 5 tablespoons of unsalted butter and using a wire whisk, scrape up those stuck-on bits. Turn the heat back on to medium, letting the butter melt even more and get nice and hot. Keep scraping those bits. Once the butter is hot but not burning, add the flour and quickly whisk to remove lumps. A nice smooth roux should form and you may see the flour/butter mixture foam and bubble — that is fine. Whisk for about 1-2 minutes to cook out the raw flour flavor.
Pour about 2 cups of the half and half mixture THRU A STRAINER into the roux (flour/butter mixture). Whisk vigorously to remove lumps and form a thick paste. Add the remaining half and half mixture THRU A STRAINER, and whisk to combine. Discard the bouquet garni and smashed cloves of garlic. Make sure you get all the lumps out. Add the roasted garlic and caramelized shallots, stir to evenly combine. The sauce will start to thicken pretty fast, so have your cheese on hand. Once the mixture is able to coat the back of a wooden spoon, turn the heat off. Add the cheddar, parmigianno-reggiano, gruyere, and fontina cheese and stir to melt thru. Add half of the prosciutto/pancetta/garlic mixture, stir to combine. If the mixture becomes gloopy instead of creamy, add a little of the reserved pasta water to thin it out. You may or may not need to.
Pour half of the mac and cheese mixture to your buttered baking dish. Layer with half of the mozzarella/provolone mixture. Pour the remaining half of the mac and cheese on top, followed by the remaining half of the mozzarella/provolone mixture. With a spoon, gently swirl the cheese thru so that it's in every bite. Top with the remaining half of the prosciutto /pancetta mixture and the bread crumbs.
Cover loosely with foil and bake on the middle oven rack for 25-35 minutes, or until bubbly all the way thru (make sure the middle is bubbly too and not just the edges). When its nice and bubbly, remove the foil and let the bread crumbs toast and crisp up, an additional 5 minutes. Turn on the broiler to your oven and give the breadcrumbs one final blast of heat. They should be nice and crispy.
Remove the mac and cheese from the oven and let it cool for at least 15-20 minutes before you dig in. Enjoy!
Recipe Card powered by
Disclosure: This site uses various affiliate links. If a purchase is made using one of our affiliate links, we receive a small commission which helps support our efforts. Please read our
Privacy Policy
for more information.