I nearly cussed fish-counter buddy out when I saw the price of this red snapper, but that's another story for another time. Pesto red snapper with baked parmesan fries was something I just had to have. Everything about this meal is just perfect, and comes together so fast. I always have potatoes on hand, they're a staple. So is parmigiano reggiano, citrus, and fresh herbs. Maybe I'll whip up a post about kitchen and pantry staples, so you can make sure you're always properly stocked and ready for just about any type of meal.
Basil pesto is delicious on everything savory. What wouldn't basil, olive oil, garlic, and parmigiano cheese be good on? You'd be hard-pressed. I love pesto on steaks, chicken, seafood, salads, toast, eggs, veggies, pasta, etc. It usually adds that "…hmm, there's something missing" factor to your food.
I cheated with this pesto, though. I purchased it from the Mediterranean bar at Wegmans. It's SO good! Whenever I don't have enough basil on hand to make my own, or just don't feel like it, Wegmans comes thru for me. Additionally, I fully co-sign the refrigerated jarred basil pesto at Costco. That stuff is amazing. I don't like too many jarred brands of pesto. Most of them are lacking in vibrancy and flavor, looking a muddy brownish green instead of a bright fresh green, and tasting "preserved" instead of homemade. So, if you live near a Wegmans or Costco, you've got delicious options.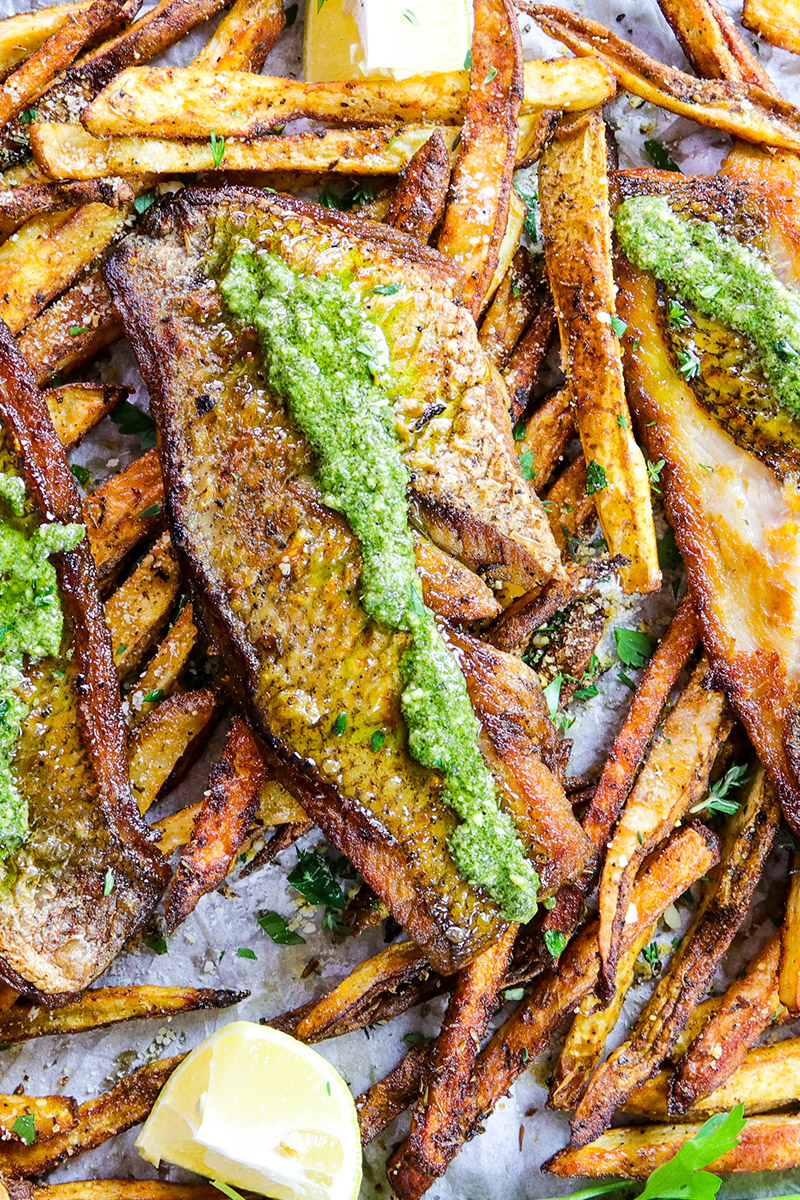 The idea of this meal was to cook something crazy delicious and super fast. The potatoes will cook the longest, taking about 30 to 40 minutes depending on how big or small you cut them. You're just going to have to keep an eye on them, because again, your knife-skills will determine the cook time. I'll give you tips in the actual recipe.
As for the star of the show — the red snapper — crispy skin is the goal. It won't make or break the deliciousness of the fish, but if you like texture as much as I do, you want crispy bits rolling around in your mouth along with the juicy tender meat. Even if you don't get the skin super crispy this time, you'll still enjoy this meal.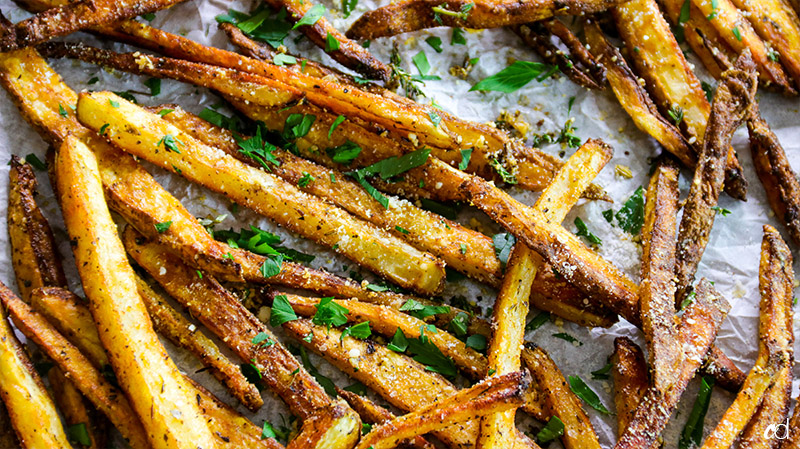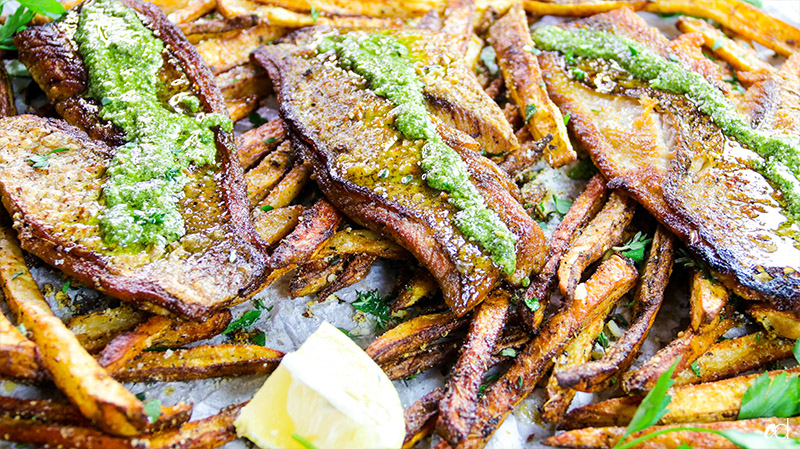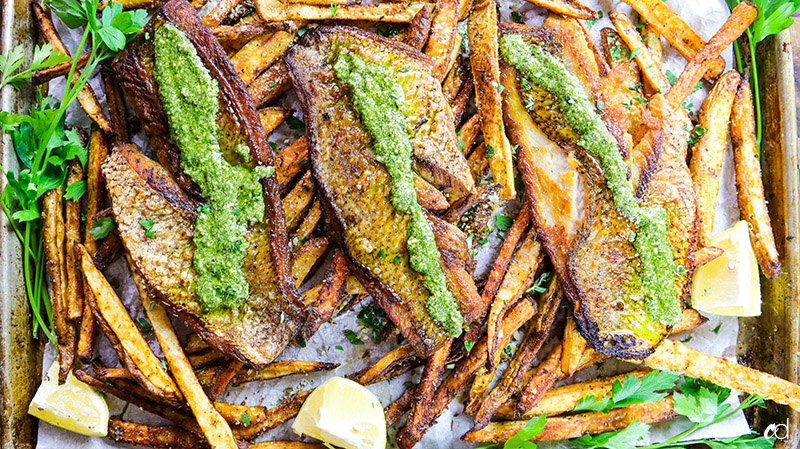 An overall very rustic and delicious bounty. We ate it exactly how it was presented, grabbing pieces of fish with our hands, and popping those fries in our mouths while bopping in our chairs. A squirt of lemon is so essential, so don't forget that! Hope you enjoy.
Before you ask, yes you can do this with any type of fish with skin. Just adjust cooking times for thicker pieces, like salmon.
While you're on your seafood kick, don't forget to check out these calamari tacos with sweet chili slaw.
Print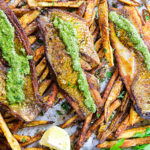 Pesto Red Snapper with Baked Parmesan Fries
---
Author:

Chef Resha

Total Time:

1 hour 35 minutes

Yield:

3 servings
Description
A rustic bounty of crispy-skinned, succulent red snapper drizzled with basil pesto and served with baked parmesan fries. A fun twist on "fish and chips".
---
3

skin-on red snapper filets, deboned

3

garlic cloves, crushed

3

thyme sprigs

1

rosemary sprig

4 tablespoons

(

half a

stick) unsalted butter

1/2

cup

prepared basil pesto

3

large russet potatoes, cut into fries

1/4

cup

parmigiano reggiano, finely grated

2 teaspoons

smoked paprika

2 tablespoons

herbs de provence
Kosher salt and black pepper, to taste

1/4

cup

flat leaf parsley, finely chopped

2 teaspoons

fresh thyme leaves, chopped
Vegetable oil for drizzling

1

lemon, half sliced, the other half cut into wedges
---
Instructions
Wash and scrub your potatoes under cold water. Dry them off with paper towels. Starting at the widest part of the potato, slice them in half lengthwise. Cut each half directly down the middle. Begin portioning each section into fry shapes, then flip to one side to cut those fries in half. You should have evenly cut fries. This may take some practice, but you'll get it. Don't cut them too thick or too thin (Think Wendy's fries thickness, not McDonalds). Place all of the fries into a large bowl and fill with water. Swish them around, and dump the water. That's the dirty water, we don't want that. Fill the bowl back up with fresh water and let the potatoes soak for about a half hour.
Place your fish flesh-side down on a plate or sheet pan lined with a baking rack. Pat the skin dry with paper towels, and pop the fish in your fridge while the potatoes soak. We just want the skin to dry out a little.
Preheat oven to 425 degrees F.
Prep everything else: chop your herbs, slice and wedge your lemons, grate your cheese, etc.
Drain the potatoes and dry thoroughly with a kitchen towel. You shouldn't see any water on any of the potatoes. Place every fry on a large sheet pan, making sure they're in a single layer and not too tightly packed together. Drizzle a liberal amount of vegetable oil all over the fries. There shouldn't be a pool of oil, but enough to make each fry nice and glossy. See my pics for reference. Sprinkle the fries with plenty of kosher salt and black pepper, the smoked paprika, and herbs de provence. Toss the fries together to coat them all evenly with seasoning. Arrange them back in a single layer, and add a little more oil if you need to. Again, you don't want them swimming in oil, but it's better to have a little too much than not enough, so use your best judgement. Bake the fries for 20 minutes, then flip them over, and continue baking until evenly golden brown and crisp, an additional 10-20 minutes.
Ten minutes before your fries are done, remove the fish from the fridge. Season both sides with a desired amount of kosher salt and black pepper.
Heat a large skillet over medium-high (closer to high) heat for about 2 minutes. When the skillet is super hot, drizzle about 3 tablespoons of vegetable oil. When the oil is shimmering and webby in appearance, gently lay the fish skin-side down. Use a fish spatula to press the fish down making sure the skin is in constant contact with the bottom of the pan. This also helps get the skin nice and crisp. Shift the pan around to make sure the oil is touching all of the fish evenly. You only need to press it down for about a minute, otherwise it'll buckle and curl up. Cook the fish skin-side down for about 4 minutes, or until it starts to turn opaque (white) around the edges. See my picture above for reference.
Before flipping, toss in the butter, thyme and rosemary sprigs, garlic, and 2 slices of lemon. When the butter starts to melt, baste the flesh-side of the fish constantly. You'll start to cook it, which is good. Do this for about a minute or two. Then flip the fish over and cook on the flesh side for about 1 minute. It should be perfectly cooked, flavorful and juicy. Turn off the heat and remove from pan. Open a window in your house and turn on the stove vents, it might get smoky. Let fish rest on a plate while you dress the fries.
Sprinkle the fries with parmigiano reggiano cheese, fresh parsley, and thyme. Toss to coat. Drizzle desired amount of pesto on your fish and serve with the fries. Squeeze lemon over the fish, and enjoy!
Prep Time:

45

Cook Time:

50

Category:

seafood
Keywords: red snapper, pesto, baked parmesan fries, seafood
Recipe Card powered by
Disclosure: This site uses various affiliate links. If a purchase is made using one of our affiliate links, we receive a small commission which helps support our efforts. Please read our
Privacy Policy
for more information.