Burgers are my loves. I make pretty good ones, if I do say so myself. I wanted a juicy burger with simple flavors and simple technique. I wanted something reminiscent of my childhood, but amped up to satisfy my adult palate. Here's my take on an American classic…
This might be the most simple burger recipe I'll ever post. I love complex and super flavorful burgers, but sometimes I just want something easy and quick — but still very yummy. I made this entire dish in less than a half hour, so it's great for when you're tired after work and whatnot.
The only thing missing on this burger were pickles. I didn't have any, so I didn't use them…but I've made this burger in the past with pickles and it really adds something amazeballs to it. I never liked pickles on my burgers as a kid, but the older I get, the more I love'em. If you have pickles, please feel free to slap'em on this baby because you'll really be sent thru the moon. Even without the pickles, you'll be shot to the moon so everybody wins 🙂
Because I was only serving myself, I put my fries and bacon on the same baking sheet. My fries soaked up some of the bacon fat and crisped up so nicely in the oven. You can prepare yours this way, or just fry your bacon on top of the stove but make sure you save some of that delicious bacon fat and drizzle it over your fries so they can be great. They're deliciously seasoned with garlic and the complimenting flavor of lemon-pepper that will give you a total mouthgasm.
One thing to note…when you're forming your patties, don't be shy about making them a little larger than usual. Meat shrinks up when it cooks, so make them nice and big to avoid having a Chips Ahoy-sized burger on a large bun lol. The amount of fries you cook is entirely up to you, but I gave you measurements for a smaller amount (like 2 large handfuls), so adjust as necessary.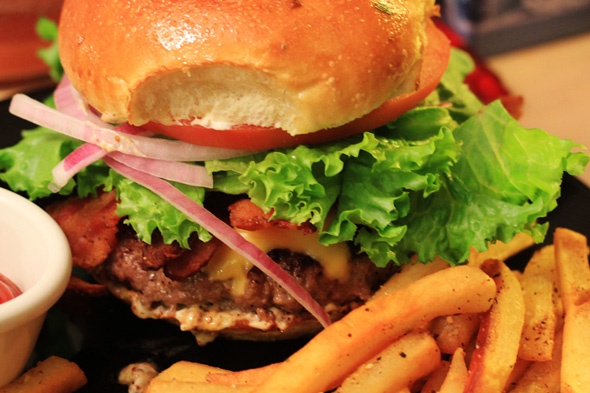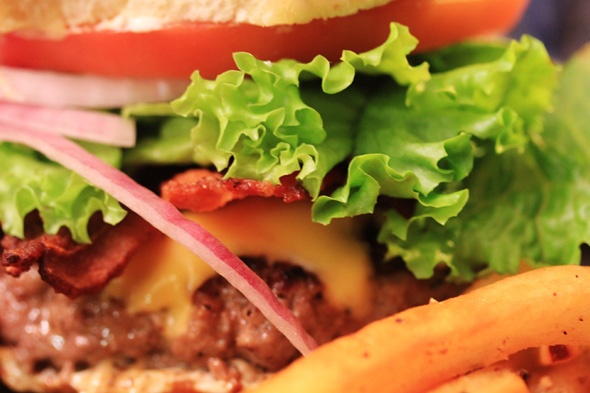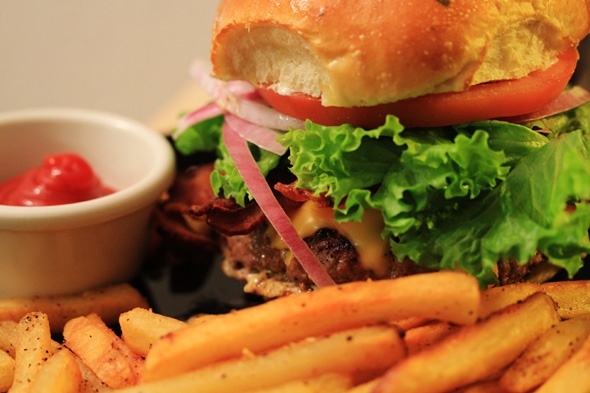 Print
All American Bacon Cheeseburger & Fries
---
Patties:
1

lb

ground beef NY Strip Steak, (will make four 1/4lb, three 1/3lb. or two 1/2lb. burgers)

1 tbsp

. worcestershire sauce

1 tbsp

. olive oil
sea or kosher salt and pepper to taste
Toppings:
American cheese, 2 slices per burger
Hickory or applewood smoked bacon, 3 slices per burger

1

beefsteak tomato, sliced (rest each slice between a paper towel to soak up excess liquid if necessary)

1

small red onion, sliced thinly
Lettuce
Pickles (optional)
Creole mustard (spicy mustard)
Mayo

2

to

4

large crusty rolls, I used vienna rolls

1 tsp

olive oil
coarse sea or kosher salt (optional)
For the fries:
Frozen straight cut fries (quantity is up to you)

1 tsp

lemon-pepper

1/2 tsp

granulated garlic

1

to

2

tbsp reserved bacon fat
salt to taste
---
Instructions
Preheat your oven to 450° degrees with a large foil lined baking sheet on the lowest oven rack. Let the baking sheet get nice and hot for about 20 minutes.
Meanwhile, season your ground NY Strip Steak with the worcestershire sauce, olive oil, and form into patties. Don't overhandle or overmix the ground beef because it will become tough. Liberally sprinkle salt and pepper on both sides of each patty and set aside.
In a large skillet over medium to medium-high heat, fry your bacon until crisp and reserve the bacon fat in a separate glass bowl or container and set aside. Alternatively, you could cook your bacon in the oven either on the same baking dish as your fries or on a separate one.
Remove baking sheet from oven and CAREFULLY place frozen fries in a single layer on the baking sheet, don't clump them together and make sure they each have space to crisp up and aren't touching. Be careful because the baking sheet will be extremely hot. Place fries into the oven for about 5 minutes to defrost, then remove the fries from the oven and sprinkle them with the lemon-pepper, granulated garlic and 1 to 2 tablespoons of the reserved bacon fat. Toss them around to make sure they're evenly seasoned and coated. Place them back in the oven and allow them to cook an additional 7 to 10 minutes, or until golden brown.
Meanwhile, drizzle a tablespoon of oil into your skillet over medium-high heat and cook your burger patties for about 5 minutes per side, or until they reach an internal temperature of 160° degrees. DO NOT PRESS YOUR BURGERS WITH YOUR SPATULA! That will cause them to dry out. Only flip once! Turn off the heat and top each burger with 2 slices of American cheese and cover the skillet with a lid or use aluminum foil to tent over the burgers. The residual heat will melt the cheese.
While the cheese is melting, brush a very thin layer of olive oil over the tops of your buns and sprinkle a tiny bit of coarse salt on top for texture (optional). Toast in a super hot oven or toaster until golden brown. Slather the spicy mustard and mayo inside both halves, and assemble your burger.
When the fries are done, sprinkle them with a little salt to taste and serve immediately.
Recipe Card powered by
Enjoy 😉
Disclosure: This site uses various affiliate links. If a purchase is made using one of our affiliate links, we receive a small commission which helps support our efforts. Please read our
Privacy Policy
for more information.