Truth be told, I don't even know who the hell "Big Meech" is. I do however, like the name "big meech" for a burger because it's fitting. I am known for making big ridiculous man-burgers that will make him eat out the palm of your hand. He'll be so happy and so full that he might even fall asleep watching Sports Center, giving you time to catch up on whatever mind-numbing reality TV show you're obsessing over these days lol.
This is a very thorough recipe, but super easy. Trust me.
Knowing I'd be cooking around noon, I woke up at 8am and got everything started. I marinated my onion rings, burgers, and bbq mayo 3 hours in advance. Make sure you do the same, or even prep the night before.
This burger was nothing short of amazing. I fed it to a friend of mine and my dad and they both fell in love. My dad just kept saying "Wow, this is excellent…I'd pay $15 for this". Awww yeah! No seriously, it's incredible and you must try it. I also fried about a pound of frozen fries and tossed with granulated garlic and a little salt for a quick and delicious garlic-fry. I could slap myself…
The bbq-mayo condiment is the only condiment you need. Don't insult me by smothering this extremely juicy and flavorful burger with sugary ass ketchup. I will fight you. Let go of your ketchup dependency already. You only need it for a burger that's dry and lacking flavor — and dammit, this aint the one!

marinated!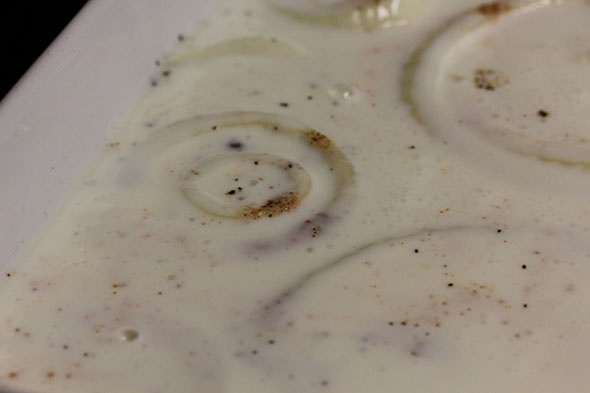 onions – buttermilk – seasoning – epic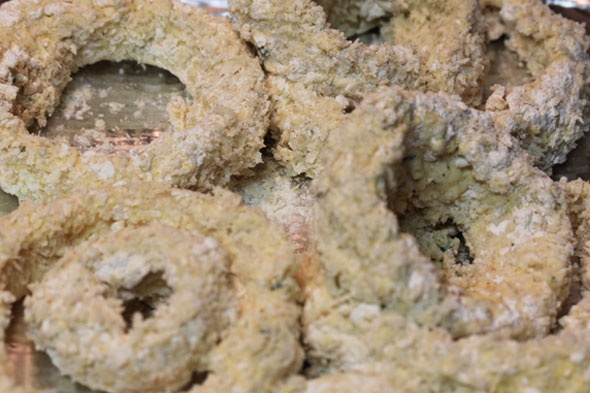 coated!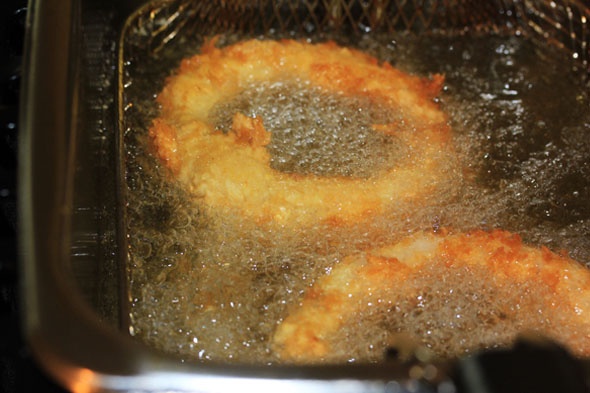 fried!

salted!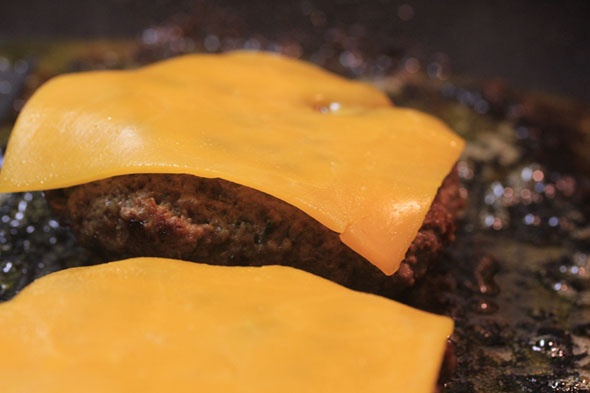 done!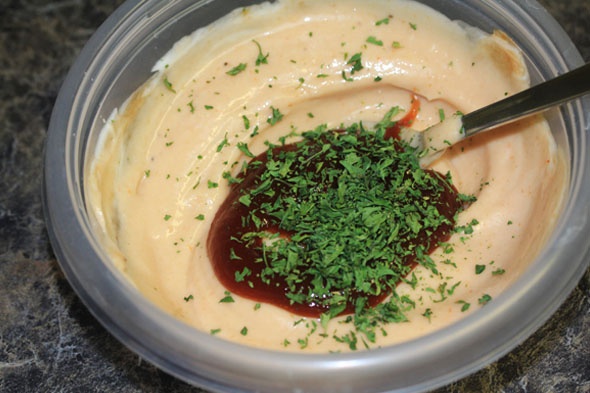 mix!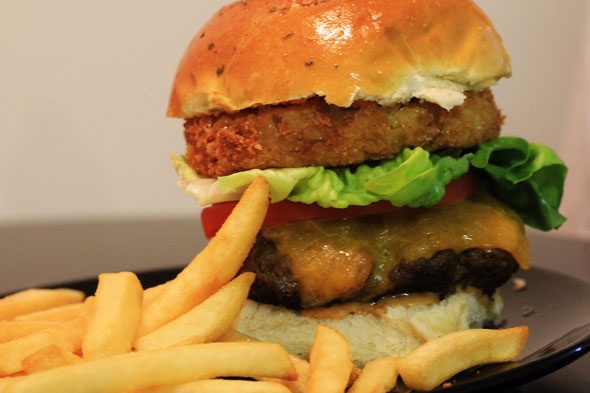 eat!

mmmm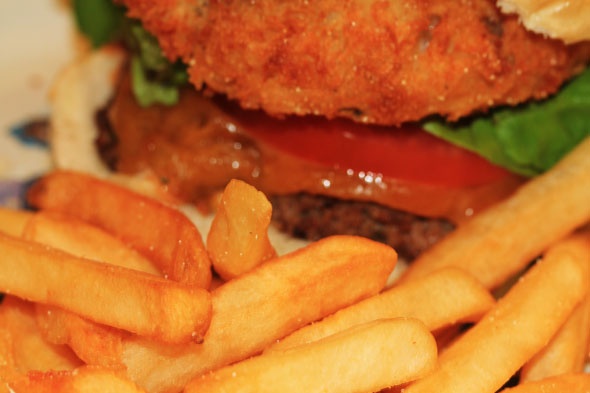 *drool*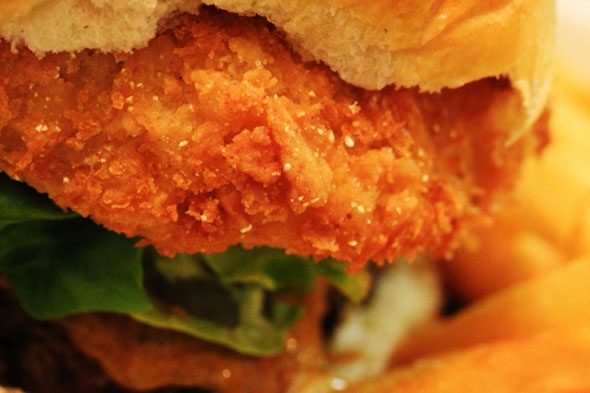 nom
Print
Crunchy Onion Rings
---
Total Time:

15 minutes

Yield:

about 8 to 12 onion rings
Description
*total time includes prep and marinating
---
---
Instructions
Slice onions horizontally about a half inch thick and separate the rings.
In a bowl, pour the buttermilk and kosher salt and mix until dissolved. This creates a buttermilk brine, that will penetrate the onion and give it more flavor than buttermilk alone. Mix the other seasonings into the buttermilk, and toss in the onion rings. Make sure each ring is submerged in the buttermilk. Cover and allow to marinate for at least 3 hours, and up to 24 hours.
When ready to prepare, heat your deep fryer to 375 degrees.
Mix the flour, baking powder, corn meal, and panko until well combined.
Dip each ring into the dry mixture and coat. Then dip the coated onion ring back into the buttermilk mixture and toss into the dry mixture one more time. Set aside and repeat with remaining rings.
Lay flat on a cookie sheet and stick in the fridge for about 20 minutes (or 7 to 8 minutes in the freezer) to allow the coating to really adhere to the onion.
Gently place coated rings into the fry basket in one flat layer, about 4 or 5 at a time, and fry until crispy and golden brown. Immediately season with a tiny bit of salt the second they come out of the fryer.
Place on top of your burger and enjoy.
Recipe Card powered by
Print
The "Big Meech" Burger
---
Total Time:

10 minutes

Yield:

4 to 6 burgers
Description
*total time includes prep and marinating
---
1

lb

ground beef, at least 80% lean, 20% fat for a really juicy burger

1/4

cup

prepared bbq sauce

1/4

cup

heavy cream

1/4

cup

italian bread crumbs (to bind the meat, otherwise it'll be DUMB tender and fall apart)

1 tbsp

of worcestershire sauce

1 tbsp

olive oil
Seasoned salt, pepper, cayenne, chili powder or flakes, granulated garlic (or garlic powder), onion powder to taste — and/or any other seasoning you feel will make this amazing. Use your best judgement.
---
Instructions
In a bowl, add your beef (or turkey), and season with the seasonings of your choice. Add the heavy cream, wocestershire sauce, olive oil and bread crumbs and gently mix with your hands or a spoon. Don't over-mix, you'll toughen the meat. You just want to make sure all of the seasoning and other ingredients are well incorporated. Cover with plastic wrap and allow this to marinate at least an hour, up to 24 hours.
When ready to cook, use either a frying pan, griddle, or grill pan for your burgers. Form about 4 to 6 big patties and cook them over medium high heat, about 4 to 5 minutes on each side or until juices are no longer pink. DO NOT PRESS YOUR BURGERS WITH YOUR SPATULA. You will lose all of that delicious juiciness and dry them out. Make sure you only flip each burger one time to avoid having it fall apart on you, because they will be very tender.
Once the burgers are done, remove from heat and add a slice of cheddar cheese (or the cheese of your choice). Cover the pan so that the steam will melt the cheese.
Place each patty on a toasted bun along with the onion rings and other fixin's and enjoy.
**I used "soft vienna rolls" from Wegmans as the bun for these burgers. I brushed the tops with a little olive oil, garlic salt and dried parsley for sheen. Toasted them in the oven for about 5 to 10 minutes and built my humongous burger. You don't have to use this bun if you don't want to, I'm just letting you know what I used in case you're wondering 😉
Recipe Card powered by
Print
Description
*total time includes prep and marinating
---
1/2

cup

mayo

1/2

cup

bbq sauce (I used Sweet Baby Ray's)

1 1/2 tsp

dried parsley

2

to

3

tbsp spicy mustard or horseradish mustard
dashes of cayenne pepper, granulated garlic (or garlic powder), salt, any other complimentary seasonings you'd prefer.
---
Instructions
Mix all ingredients together in a small bowl.
Refrigerate for at least an hour.
Spread on your toasted buns before you assemble your burger.
Recipe Card powered by
Serve with fries, tossed with chopped garlic, garlic powder, or granulated garlic and a little salt for amazing "garlic fries". Your mouth will be so happy…
Disclosure: This site uses various affiliate links. If a purchase is made using one of our affiliate links, we receive a small commission which helps support our efforts. Please read our
Privacy Policy
for more information.