I know you're looking for something to do with that bag of cherries in your fridge before they go bad. May I suggest you smoke them and make an incredible smoked cherry BBQ sauce? Nothing beats the infusion of sweet cherrywood laced all through meat, veggies, and in this case…cherries. Smoked cherries take about 2 hours on a very low 225-250 degrees, and they go from bright deep red to dull unsaturated version of themselves, color-wise. But trust me, the taste is amazing. The finished product comes together beautifully, and tastes amazing on your grilled chicken, baby back ribs, corn, lamb, jumbo shrimp, steaks — you name it. This sauce is that versatile. Sweet, spicy, smoky, it's the perfect combination.
Not everyone has access to an outdoor smoker. Let me introduce you to a solution that could change your life — an indoor stovetop smoker. I own one, and I love it. Using it in conjuction with my oven allows me to have that great slow-smoky flavor without smoking up the house. Letting the chips smoke over an open flame for about 10-minutes, or until super smoky (whichever comes first) is all I need. Of course, nothing really beats an actual smoker, but the stovetop version is pretty stellar considering your possible limitations. You should absolutely check it out if you live in an apartment or condo, or some place you simply cannot lug around one of the big joints.
Let's get into the good stuff…
If you're a fan of making your own sauces, this smoked cherry BBQ Sauce is a clear winner. This recipe is very adaptable to your own personal tastes. Not everyone likes their bbq sauce the same way. You may want more or less smoke, more or less sweet, more or less heat, etc. Use my measurements as "starting-off-points", and continue to taste through the cooking process to adjust as you see fit.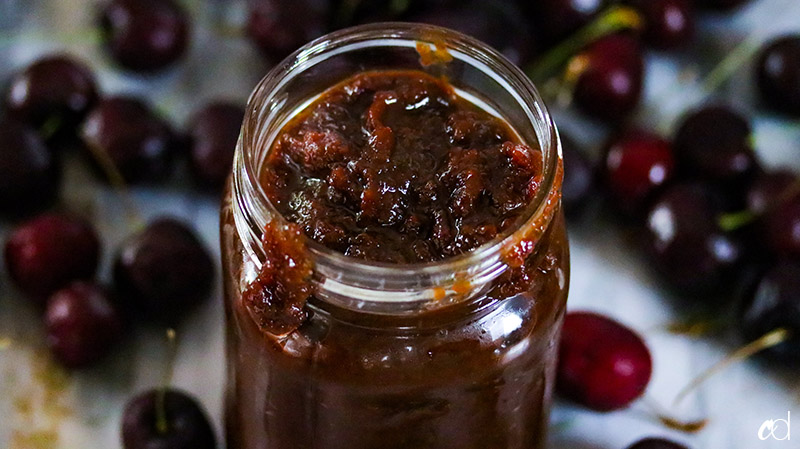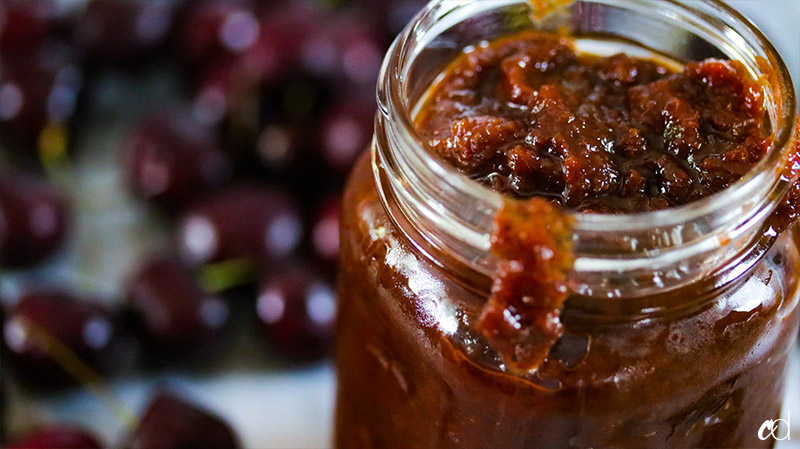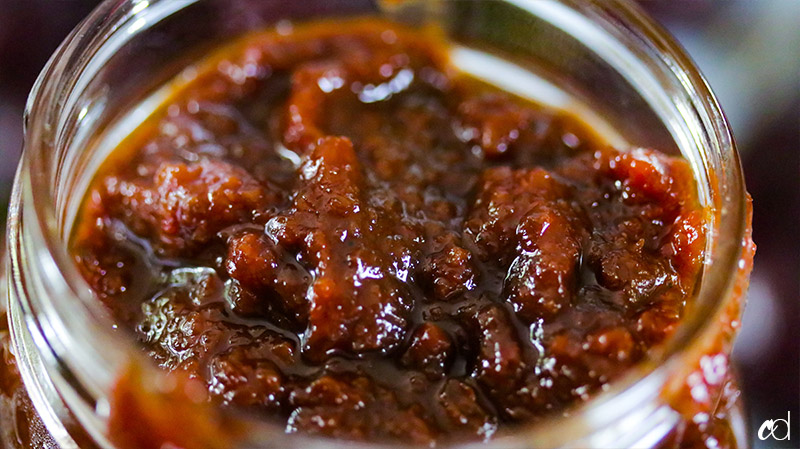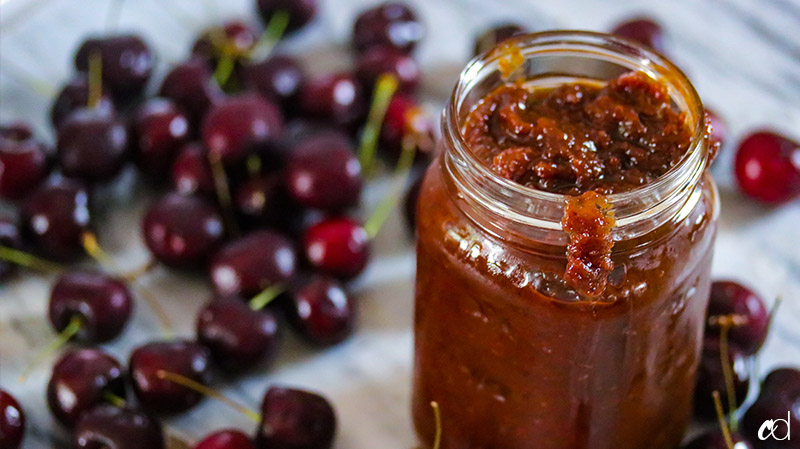 Make sure you also check out my Peach Bourbon BBQ Sauce, that one is amazing as well. Happy smoking!
Print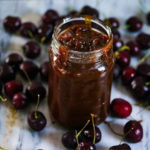 Smoked Cherry BBQ Sauce
---
Description
This Smoked Cherry BBQ Sauce goes great with everything.
---
1

large onion, chopped

1 teaspoon

kosher salt, plus more to taste

2

cloves garlic, chopped

1/2 teaspoon

cayenne pepper

1/2 teaspoon

black pepper

1/2 teaspoon

ground ginger

1/2 teaspoon

cumin

1 teaspoon

garlic powder

1 teaspoon

onion powder

1 teaspoon

smoked paprika

1/2 teaspoon

crushed red pepper flakes

1 teaspoon

hatch chile powder

1/2

cup

pinot noir

1 1/2

cups

ketchup

1/3

cup

apple cider vinegar

2 tbsp

dark soy sauce

2 tablespoons

balsamic vinegar

1 tablespoon

liquid smoke

1/4

cup

worcestershire sauce

3 tablespoons

molasses

2 tablespoons

yellow mustard

1

cup

brown sugar

3 tablespoons

honey (I used orange blossom)

2

pounds

pitted dark sweet cherries, pitted
Wood chips for smoking (I used cherrywood)
---
Instructions
Preheat your smoker and wood chips according to manufacturer's instructions to 250 degrees. Set timer for 2 hours, if using electric. Place cherries in a medium-sized baking dish and smoke for 2 hours.
Meanwhile, in a large pot, saute the onions and crushed red pepper flakes in 2 tablespoons of olive oil over medium heat until softened, about 4 minutes. Add one teaspoon of kosher salt, and cook an additional minute. Add the black pepper, ground ginger, cumin, garlic powder, onion powder and smoked paprika. Drizzle in a little more oil if needed. Cook until the spices bloom and become fragrant, about a minute. Add in the garlic, stir and cook for 30 seconds.
Pour in the pinot noir, and scrape up any bits stuck to the bottom of the pan, about 1 minute.
Add the ketchup, yellow mustard, apple cider vinegar, balsamic vinegar, worcestershire sauce, dark soy sauce, and liquid smoke. Stir until combined.
Add the smoked cherries and let the sauce simmer for 10 minutes.
Add the brown sugar, honey, and molasses, stirring until well combined. Reduce heat to low and simmer for 30 to 45 minutes, tasting and adjusting often. When the sauce tastes perfect to your standards, remove from heat. Use a hand-blender to break down and smooth the sauce, or use a regular blender in batches. Puree until it's the texture you prefer. Pour the finished sauce in jars or tall plastic quart containers and keep in your fridge for up to a month. Alternatively, you can enjoy it right away on your favorite protein or veggies.
Prep Time:

20 mins

Cook Time:

1 hour
Recipe Card powered by
Disclosure: This site uses various affiliate links. If a purchase is made using one of our affiliate links, we receive a small commission which helps support our efforts. Please read our
Privacy Policy
for more information.