Prepare yourselves for this insanely moist and tender keto sour cream blueberry crumb cake. It's almost criminal how good this low carb cake is. Like, I swear there was just a lot of joyful frustration and head-shaking as we ate this. Buttery, tender, melt-in-your-mouth sour cream cake studded with fat juicy organic blueberries and scented with bright lemon zest. Truly the perfect marriage. The crumbly topping offers a great textural contrast, and it's the perfect foundation for sugar-free vanilla ice cream to melt into those nooks and crannies.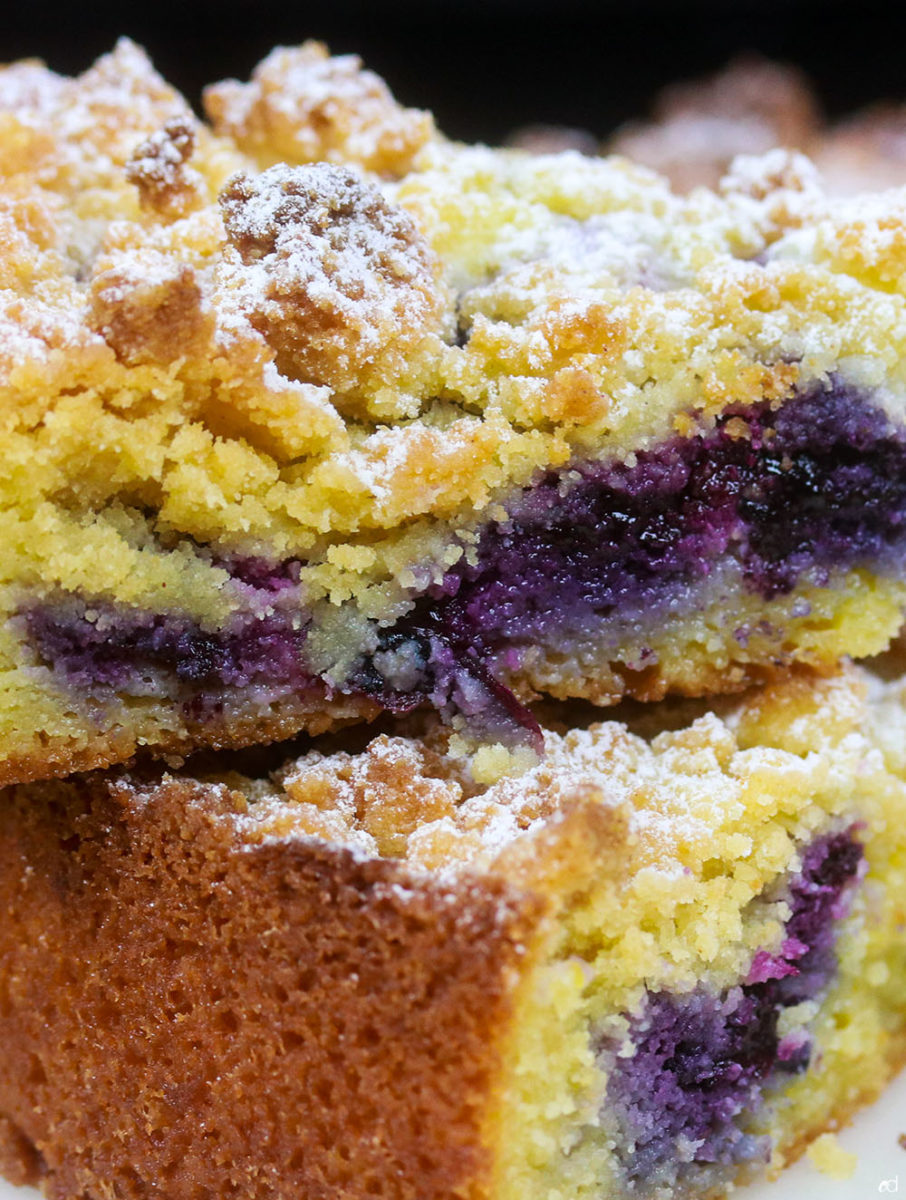 The first time I made this keto crumb cake, I just kinda winged it and prayed for the best. My first version was drizzled with a lemony cream cheese glaze — and while that was FIRE, it was an extra step I knew I wouldn't always want to take. So this one is simply dusted with a keto-friendly powdered sweetener. I also used frozen blueberries, and I highly recommend fresh if you can get it. Don't get me wrong, the frozen ones were fine, but after using fresh it was just…so much better.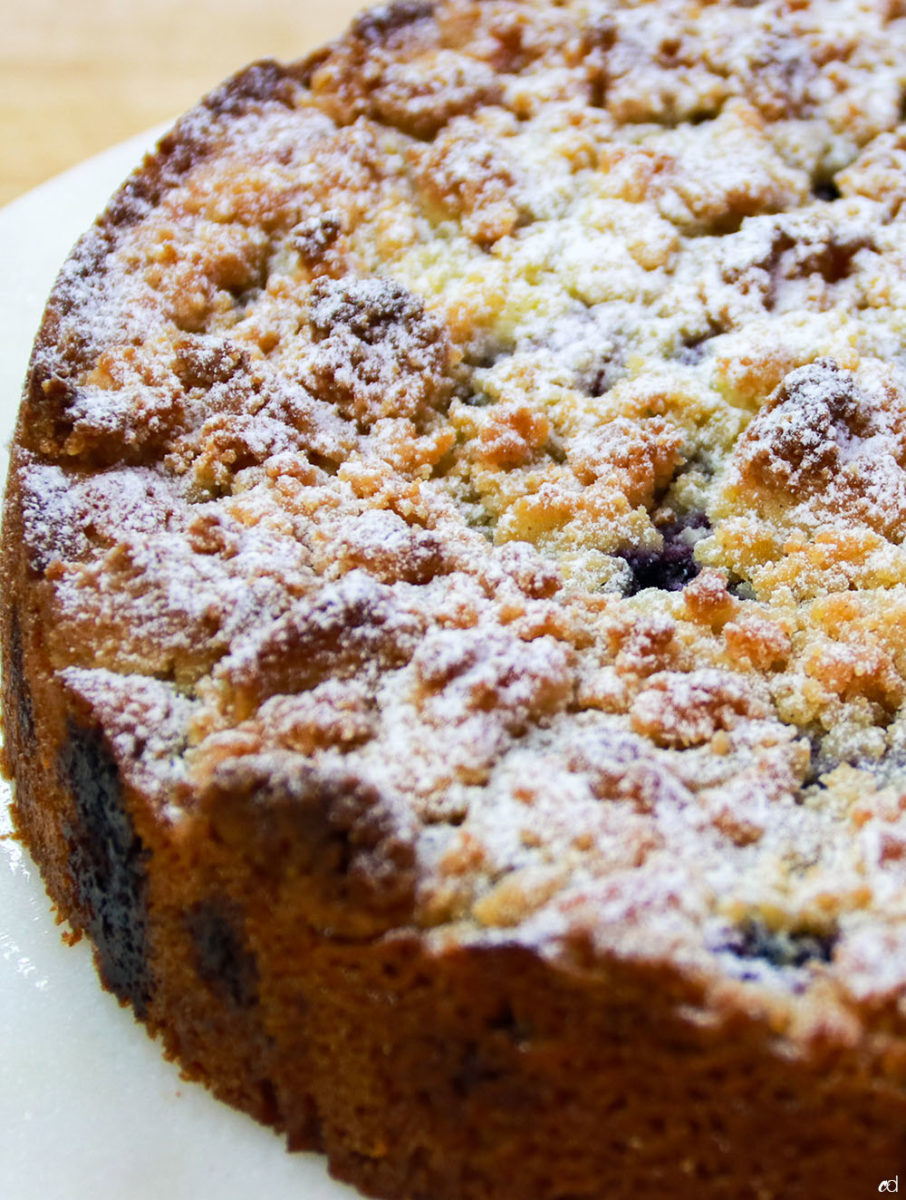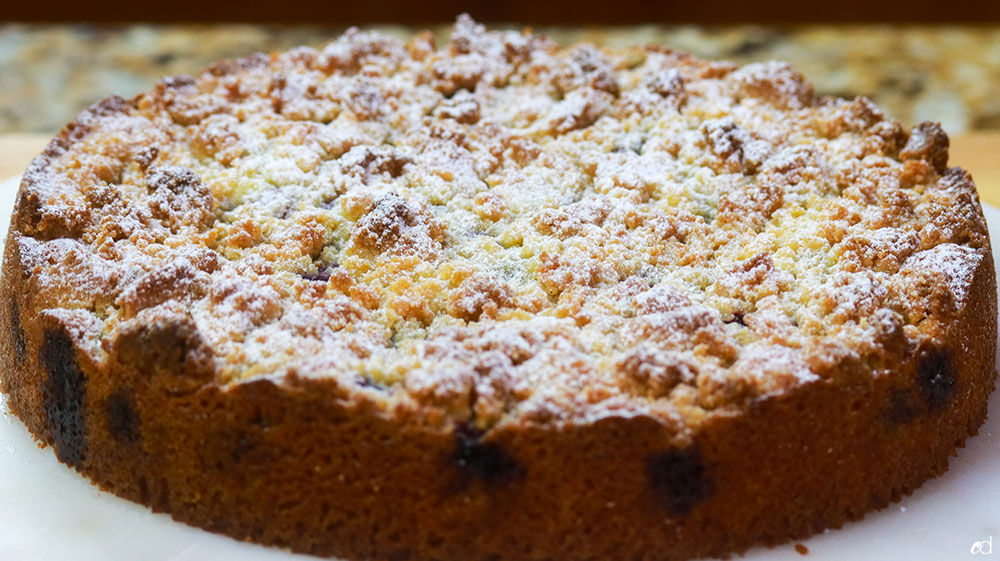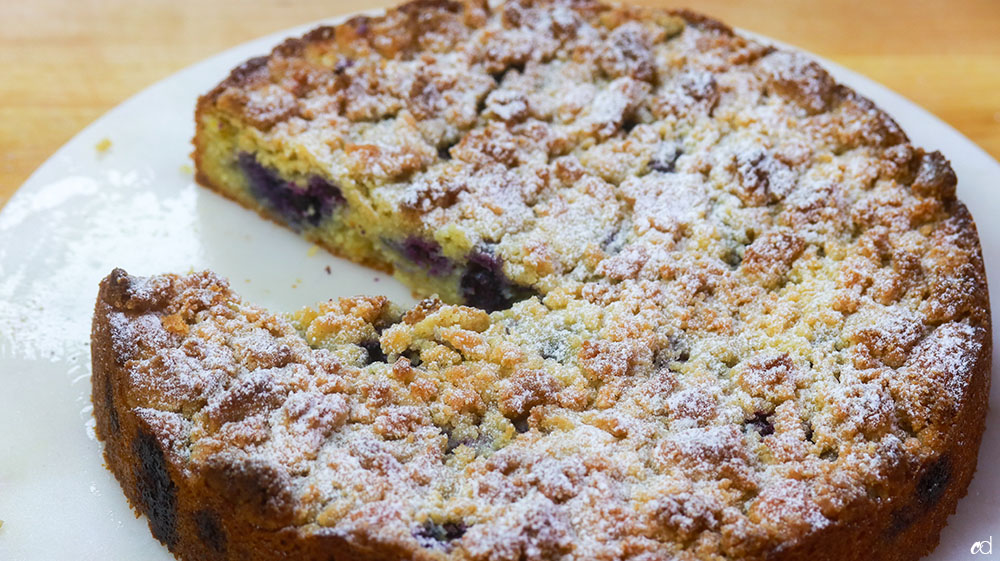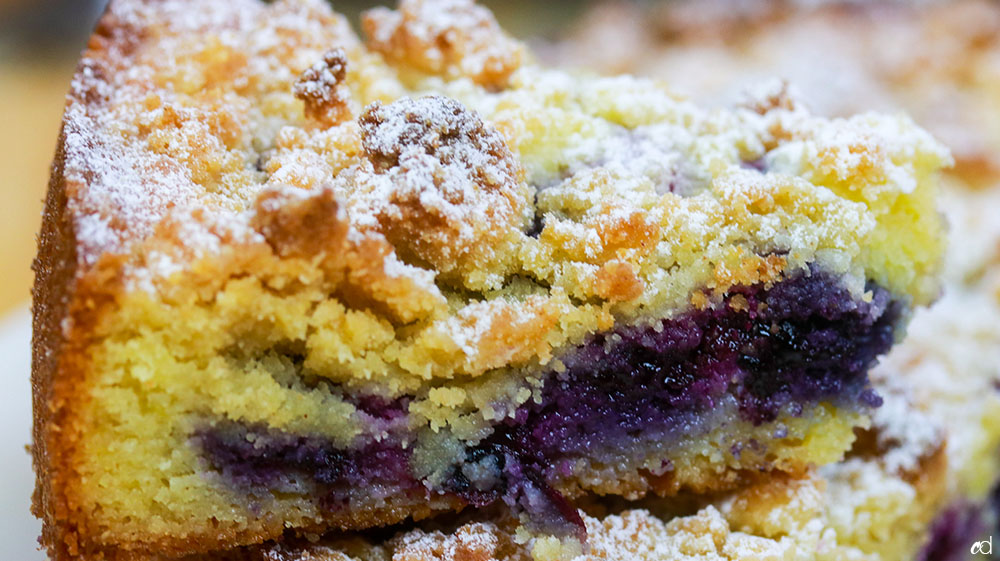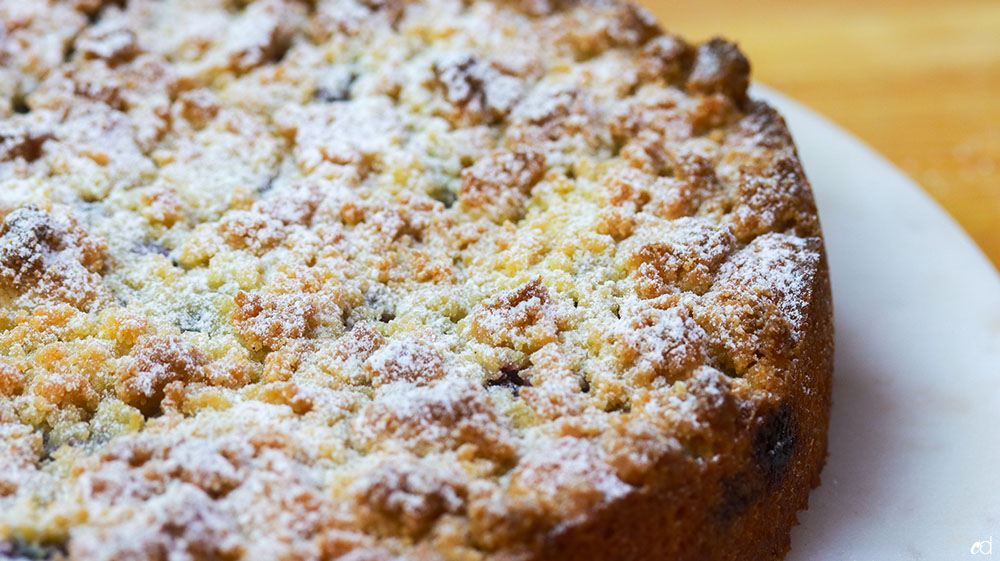 Everything about this recipe just works. The cake itself is so buttery and moist, and it's cradling those fat ass blueberries like it's being paid to do so. And that sour cream really lends an extra amount of delightfully yet mildly tangy tanginess that isn't harsh nor overpowering. It compliments the sweetness of the fresh blueberries and lemon zest.
When I tell you that this cake is best served either cold or at room temperature, I'm not playing games with you. Don't eat it too warm — not because it won't taste good, but because it's far too tender when it's warm. It'll fall apart like a bad marriage.
In our year of 2019, it's high time you guys get yourselves a kitchen scale. Whenever I'm baking, I always use one so that my results turn out perfect each and every time.
Keto Crumb Cake Tips
You can use any berry you want.
I highly recommend you use the xylitol that isn't made from corn so that you can avoid any digestive issues. Because we're using xylitol, it's best you allow this cake to cool to room temperature completely so that it doesn't fall apart.
Also, xylitol is highly toxic to dogs/pets. Please use discretion when baking and eating products with it, making sure your pets aren't around.
I'm using a combination of xylitol and golden monk fruit sweetener because I cannot stand too much cooling effect. You can use whatever you have, but I cannot guarantee the same results.
If you'd like to finish this cake with a glaze, feel free.
You can use a cake pan instead of a springform pan, but be sure to insert a make-shift collar inside of the rim of the cake pan that goes up about 5 inches or so. Reason being, you don't want the cake to brown too quickly. Almond flour burns much faster than regular flour.
Check out other delicious keto recipes!
Print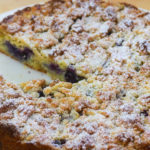 Sour Cream Blueberry Crumb Cake | Keto & Low Carb
---
Author:

Chef Resha

Total Time:

50 minutes

Yield:

10 slices
Description
Super moist keto sour cream blueberry crumb cake studded with fat juicy organic blueberries and scented with lemon zest. Low carb and sugar free. I'm super proud of this recipe and hope you enjoy!
---
Buy a kitchen scale!
For the cake
155

grams

almond flour (super fine, blanched)

10

grams

coconut flour

6

grams

baking powder (1 1/2 teaspoons)

1

gram

pink himalayan sea salt (1/4 teaspoon)

80

grams

salted grass-fed butter, softened to room temperature

100

grams

Lakanto Golden monk fruit sweetener

50

grams

Xylitol (not made from corn! SEE WARNING BELOW)

2

large eggs (

100

–

106

grams approx)

65

grams

full-fat sour cream

6

grams

vanilla extract (1 1/2 teaspoons)

2

grams

almond extract (1/2 teaspoon)
Zest of

one

lemon

75

–

100

grams

fresh organic blueberries (roughly 3/4 to 1 cup)
For the crumble
---
Instructions
For the cake
Preheat oven to 350 degrees F.
Prepare a 9-inch springform or cake pan by lining the bottom with parchment paper and spraying the bottom and inside with flour-free baking spray. If you're using a cake pan, create a collar inside of the rim about 5 inches high to protect the cake from browning too quickly. Almond flour tends to burn faster than regular flour.
In a large bowl, whisk the almond flour, coconut flour, baking powder, and salt to combine, breaking up any gnarly lumps. Set aside.
In a large measuring cup or medium-sized bowl, beat the softened butter with the sweeteners until fluffy, about 2-3 minutes. Add the eggs and beat an additional minute until smooth. Some tiny lumps will remain, but don't worry about that. Add the sour cream, vanilla and almond extracts, and lemon zest. Beat until smooth, about 30 seconds longer.

Pour the wet mixture into the dry mixture and gently whisk to combine, making sure no dry pockets of flour remain.
Set aside to make the crumble.
For the crumble
In a medium-sized bowl, whisk the almond flour, coconut flour, golden monk fruit sweetener, and cinnamon to combine.

Add the softened butter and beat until crumbs form. Make sure all of the dry mixture is moistened by the butter. You should be able to clump it together with your hands to customize the size of your crumbles.
Pour the cake batter into the prepared springform pan and even out with a rubber or offset spatula. Top with the fresh blueberries and gently press them into the dough just far enough to create an even layer. Finally, add the crumb mixture on top of the blueberries, squeezing some larger pieces between your fingers and some smaller ones to give the cake some interest.

Bake in the center of your preheated oven for 35-40 minutes.
Allow the cake to cool completely to room temperature before serving. Dust with a desired amount of powdered sweetener.
You'd be crazy not to eat this with ice cream!
Notes
Prep Time:

10 minutes

Cook Time:

40 minutes

Category:

keto, low carb, desserts

Method:

baking
Keywords: keto crumb cake, low carb crumb cake, keto cake, sour cream blueberry crumb cake, keto desserts, low carb desserts
Recipe Card powered by
Disclosure: This site uses various affiliate links. If a purchase is made using one of our affiliate links, we receive a small commission which helps support our efforts. Please read our
Privacy Policy
for more information.