Hello! Greetings and such 🙂 Before I get into this recipe, I wanted to share with you all some exciting news. I'll be on the Dr. Oz show January, 19th (today)! They're doing a little segment on food bloggers, weight management, and all that jazz..and I was honored to be a part of it. I had a blast, despite being nervous to the highest of hells lol. I've never done TV before, so it was pretty jarring for me. I didn't have much time to process it either. Dr. Oz and his amazing staff were extremely kind and accommodating, I'd definitely do this all over again if asked. If you'd like to read a little more about my weight-loss journey, please click here! I demonstrated how to make my beloved Chipotle Sticky Wings just a little healthier. Dr. Oz really seemed to enjoy them, I caught him closing his eyes as he ate them, haha! Yes, people…my food will get you lucky 😉
This year, you will see a lot of healthier recipes posted on this site. I've spent much of last year experimenting on my own body to see what works, and what doesn't. I'm confident enough to share a few things with you all. Don't be fooled though, the decadent comfort food recipes I've become known for will still have a home here, but I've found a happy medium to include both decadent and health-conscious foods. I have posted a few already, check posts from November and December, and I have tons more in the pipeline. I'll share some meal-prep ideas with you all, as well as healthier ways to prepare some of your favorite fatty foods.
Roasted carrots are about to become your favorite. Their natural sugars are released and they taste like candy. During my weight-loss journey, they were a staple. I ate, correction — EAT them all the time, they're great for meal-prep. They are also awesome as a snack to satisfy my sweet tooth. You can season them however you'd season sweet potatoes, seriously. I'd scale back on adding too many added sweeteners, because we still want them to be relatively healthy. Don't be afraid of the darker parts of the carrots as they roast. That ain't nothing but flavor! You want to roast them until they're tender but not mushy or falling apart too much. Add a very light drizzle of honey, add a little spice and heat, and you're on your way. Get into it!
Oh, you hate carrots? No you don't. You just haven't had them right 😉
Print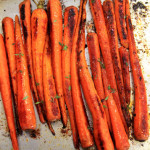 Honey Roasted Carrots
---
Description
This recipe doesn't require many specific measurements. It can be made with as many or as few carrots as you desire.
---
2

lbs

carrots, peeled and tops cut

2 tbsp

grapeseed oil (can use any oil you want)
good pinch of sea salt
pinch of freshly ground black pepper
pinch of crushed red pepper flakes
pinch of cinnamon

2 tbsp

honey

1

–

2

sprigs fresh thyme
---
Instructions
Preheat your oven to 425
Arrange the peeled carrots on a baking sheet. Drizzle with the oil you're using, sprinkle with each seasoning and toss to coat. Drizzle with a little honey (they don't need much, carrots are very sweet on their own when roasted). Spread the carrots out on the baking sheet so they're not sticking together. They need a little room to breathe.
Roast for 10 minutes. Remove from the oven, then turn them over so the other side caramelizes. Roast about 10 more minutes. Brush just a little more honey over the carrots, if you'd like (you won't need much). Sprinkle fresh thyme over the carrots and eat them ALLLL!
Notes
I used an oil infused with garlic and herbs, but you can use ANY oil you want. Coconut, grapeseed, and olive oil are great choices.
Prep Time:

5 mins

Cook Time:

20 mins
Recipe Card powered by
Disclosure: This site uses various affiliate links. If a purchase is made using one of our affiliate links, we receive a small commission which helps support our efforts. Please read our
Privacy Policy
for more information.