I'm emotional. This bourbon sweet potato pumpkin pie is so good, I'm legit emotional. It's been a good year since I've made this pie, I've been very busy. But I was hellbent on not only making it for Thanksgiving this time around, but also sharing the recipe. For all of you who love sweet potato pie, and pumpkin pie, just wait until you combine them. You're not ready. This is an insanely delicious pie, and that's that on that. Sweet potato walks into a bar, meets Pumpkin, and the two share a shot of bourbon. The rest is history.
Sweet potatoes and pumpkin are such an incredible duo. The combined texture of both gives you an amazing mouthfeel. Creamy, smooth, with a back note of boozy from the bourbon. Whew! I know some of you are giving me the side-eye here, but don't knock it til you try it! The all-butter buttermilk crust is flaky, tender, with a slight tang from the buttermilk. It pairs very well with this custardy, perfectly sweet, beautifully spiced pie.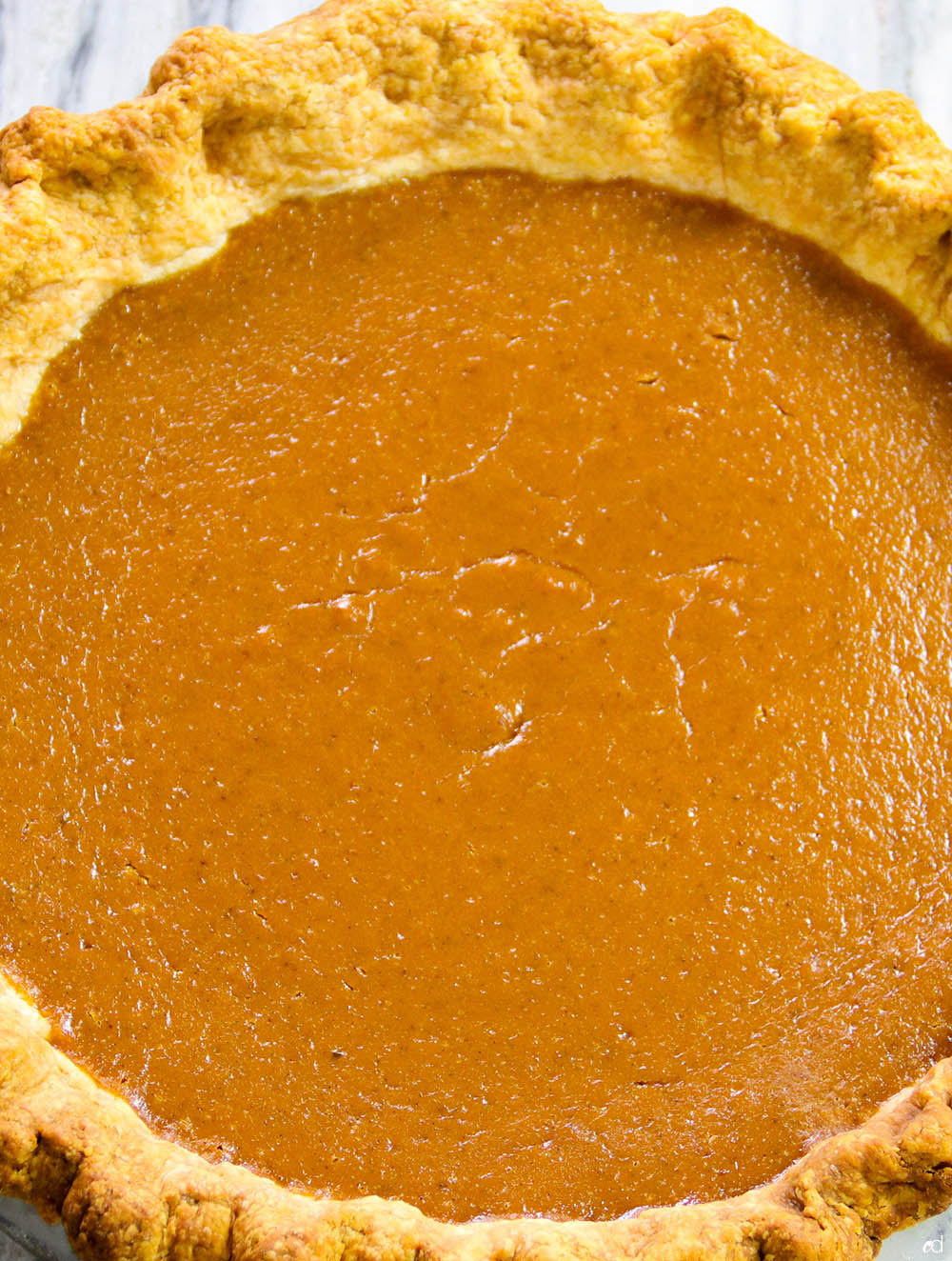 Keep all ingredients for the dough as cold as possible. If your kitchen is uncontrollably warm, freeze the butter to keep it as cold as possible. And after rolling out the dough, pop it back in the freezer until you're ready to bake it.
To keep the filling smooth and devoid of long strings from the sweet potato (which is natural), use a hand-held electric mixer. The strings tend to wrap themselves around the beaters, so that's a plus. Honestly though, a big ass sturdy whisk does the trick.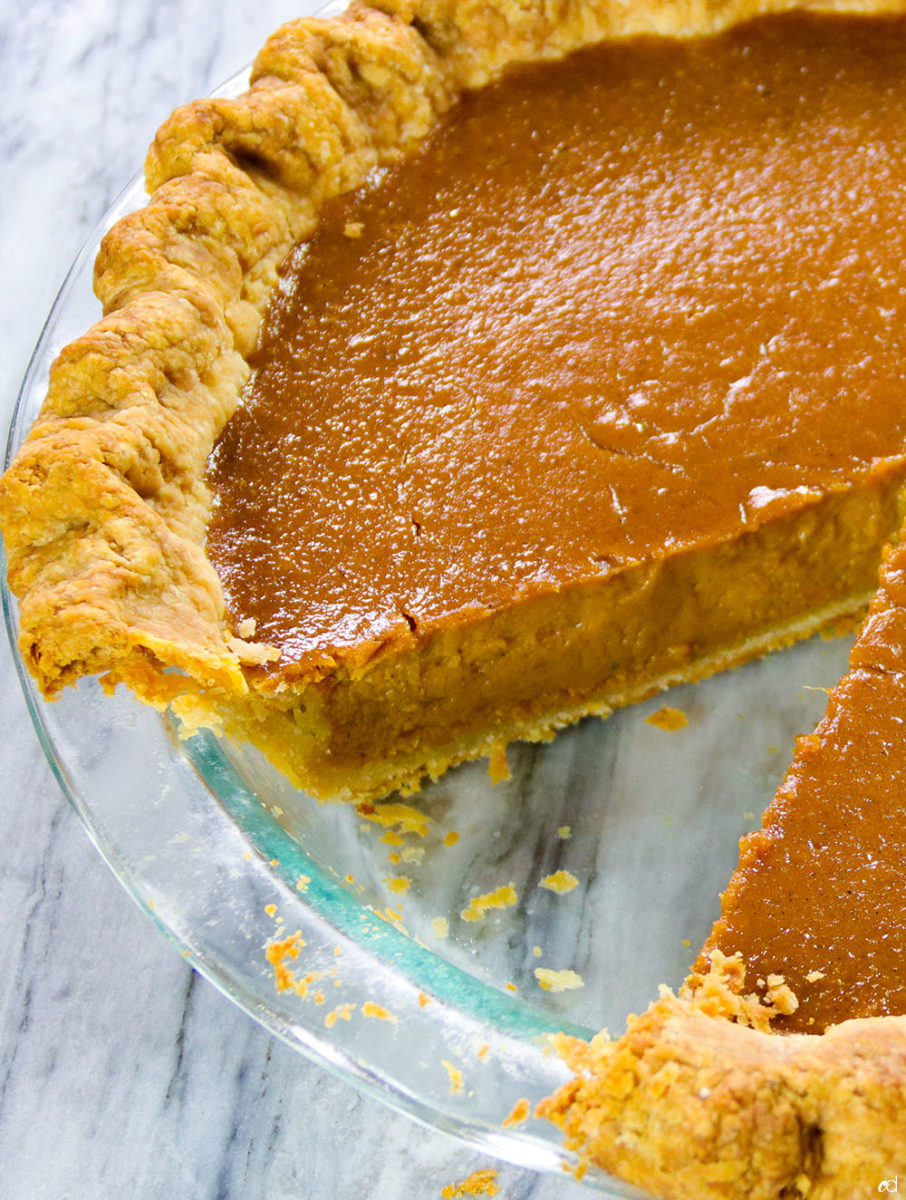 How to make All-Butter Buttermilk Pie Dough
This video shows you how to make the pie dough. Watch if you're a visual learner. This is the dough we're using for this particular pie.
How to Make Bourbon Sweet Potato Pumpkin Pie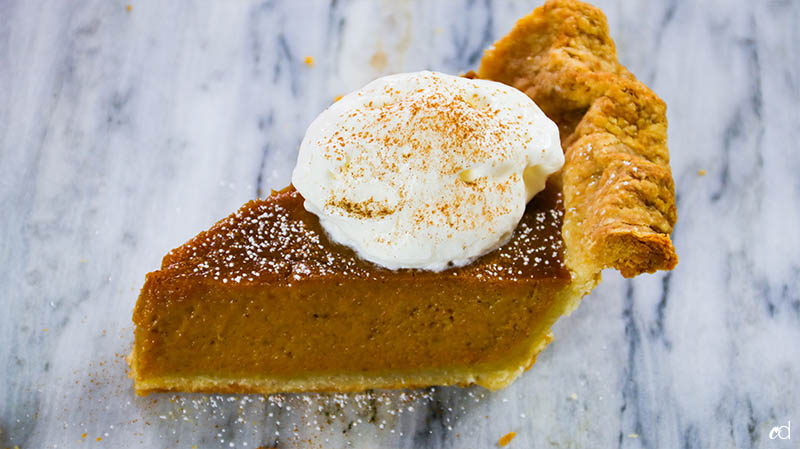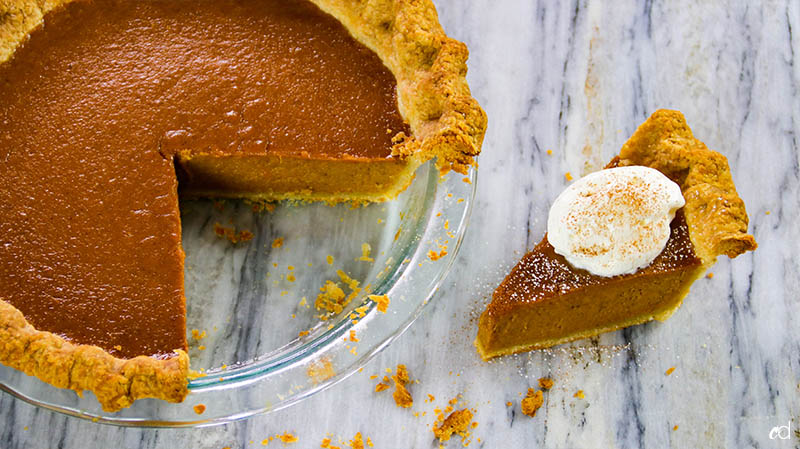 It's a damn shame this pie is as good as it is. I'm literally beside myself, everything came out so perfect. And if you've ever baked a few pies in your life, you know how amazing it feels to have one come out way better than you expect. My pie crust was perfectly crisp, absolutely no sogginess to it at all due to the elite level blind baking. Yes…I'm emotional.
I hope you enjoy this bourbon sweet potato pie. It's very special to me, and even if you mess it up, keep trying. You'll get it, and be so proud of yourself.
More Thanksgiving recipes:
Print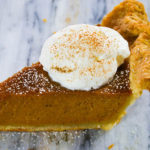 Bourbon Sweet Potato Pumpkin Pie
---
Author:

Chef Resha

Total Time:

2 hours 30 minutes

Yield:

10 - 12 servings
Description
The best of both pie worlds. Sweet potato meets Pumpkin at a bar, and the two share a shot of bourbon for this incredibly delicious holiday pie. Made with an all butter buttermilk crust, and speckled with juicy vanilla beans. So good.
Used some blind baking tips from Once Upon a Chef.
---
For the crust
2 1/2

cups

(12 1/2 ounces) all-purpose flour

1 teaspoon

fine sea salt

2 tablespoons

granulated sugar

16 tablespoons

(

2

sticks) cold unsalted butter, cubed

1/2

cup

cold whole buttermilk, plus more if needed
For the filling
1

cup

pumpkin puree (not pumpkin pie filling)

1

cup

sweet potatoes, cooked and mashed (SEE NOTE)

1 1/4

cup

+

2

tablespoons

evaporated milk

2 1/2

–

3

tablespoons good quality bourbon

2 teaspoons

vanilla extract

1

vanilla bean, optional

3

large egg yolks

1

large egg

1/4

cup

pure maple syrup

1/2

cup

packed light brown sugar (SEE NOTE)

1/2

cup

granulated sugar (SEE NOTE)

2 tablespoons

all-purpose flour

1/2

slightly heaping teaspoon fine sea salt

1 teaspoon

ground cinnamon

1 teaspoon

ground ginger

1/4 teaspoon

ground nutmeg

1/8 teaspoon

ground cloves
tiny pinch of cayenne pepper
Flaky sea salt, for finishing (optional)
---
Instructions
This recipe is intended for one deep dish pie. If you're making a smaller pie, simply divide the finished dough into two discs. You may find that the blind baking step takes fewer minutes with a thinner, smaller circumference of dough. Use your best judgement here.
Equipment needed: 9.5-inch deep dish pie plate, parchment paper, 2 bags of dried beans for blind baking, hand-held electric mixer or whisk, aluminum foil.
For the dough
See video in post above to learn how this dough is made.
Cut butter into cubes and freeze at least 20 minutes. Place buttermilk in freezer for about 10 minutes to get nice and cold. Process the flour, sugar and salt in the food processor until combined.
Add frozen butter, coat butter with flour mixture and spread out into an even layer. This helps the butter process more evenly. Pulse until butter breaks down into pea-sized pieces, about 7 pulses. Some pieces will be smaller or larger, that's fine. Don't over-pulse it.
Add 1/2 cup of cold buttermilk, and pulse for about 5 seconds or until dough is visibly moistened. It will be crumbly! Test it out — dough is ready when you're able to press it together and it stays together. If it's not quite there yet, add an additional 1-2 tablespoons of buttermilk until it holds together when you clump it in your fist.
Turn out onto lightly floured surface and gently knead/press into either 1 large dough ball or 2 dough balls. Refrigerate for at least 30 minutes. Dough can be made 48 hours in advance and frozen until ready to use.

When ready to roll, remove from fridge or freezer and let come to room temperature for 10 minutes just so it's easier to roll. Lightly flour surface and rolling pin and roll out into desired circumference. If you like thinner dough, or thicker dough – depends on you!
Preheat oven to 375 degrees.
Gently place dough into pie plate and remove any air pockets, trim and/or crimp/flute the edges against the rim of the pie plate. Ball up a sheet of parchment paper, then open it up and gently place it into your pie crust. Pour in the dried beans, making sure they're gently yet firmly pressed along the sides of the pie dough to help keep the dough from shrinking and sliding down during the blind baking process.
Bake 25 minutes, then remove from oven. Carefully take out the parchment and beans. Gently and loosely wrap aluminum foil around the edges of the pie crust to prevent it from browning too fast. Put the crust back into the oven for an additional 20 minutes to bake it fully.
Meanwhile…
Make the filling
Place all filling ingredients in a large bowl, and blend until completely smooth using a hand-held electric mixture or sturdy whisk. Scrape the inside of a vanilla bean (if using) into the mixture, blending again until smooth.
When the pie crust is done blind baking, remove it from the oven.
Reduce oven temperature to 325 degrees F.
Gently press down the bottom of the pie crust if it puffed up. Pour the pie filling into the crust. Bake for 55-60 minutes. If making smaller, more shallow pies, you'll need to adjust baking times. The custard is ready when it jiggles ever so slightly in the middle and the edges have puffed and look somewhat dry.
Cool the finished pie completely to room temperature for several hours. You can eat it like this, or let it set up in the fridge for a couple of hours or overnight.
Slice and enjoy!
Notes
You can steam, boil, or bake your sweet potato prior to mashing it. I baked mine at 350 degrees for 2 hours, it really concentrated the flavor.
If you want to make this an all sweet potato pie, use 2 cups of mashed sweet potatoes. Do the same if you want this to be an all pumpkin pie.
Vanilla is ridiculously expensive these days, so if you need to leave the extract and vanilla bean out, I don't blame you. This pie will still be fire.
Taste the filling to check salt and sugar levels. If you need it a bit sweeter, add one full tablespoon more of granulated and light brown sugar.
Prep Time:

45 minutes

Cook Time:

1 hour 45 minutes

Category:

pies, thanksgiving

Cuisine:

American
Keywords: bourbon sweet potato pumpkin pie, pies, thanksgiving
Recipe Card powered by
Disclosure: This site uses various affiliate links. If a purchase is made using one of our affiliate links, we receive a small commission which helps support our efforts. Please read our
Privacy Policy
for more information.