Listen, I love stuffing. I. Love. Stuffing. Nothing beats homemade stuffing. I knew that once I became an adult I'd have to make it from scratch like all of the lovely women in my family. You can seriously take your recipe variations to the moon, the possibilities of flavor are endless. That's because I truly believe everything tastes amazing with bread. Seriously, it's the one part of the meal that always fits no matter what. They serve a variation of bread with practically every meal in every cuisine, so when you take that concept and run with it, you get delicious stuffing.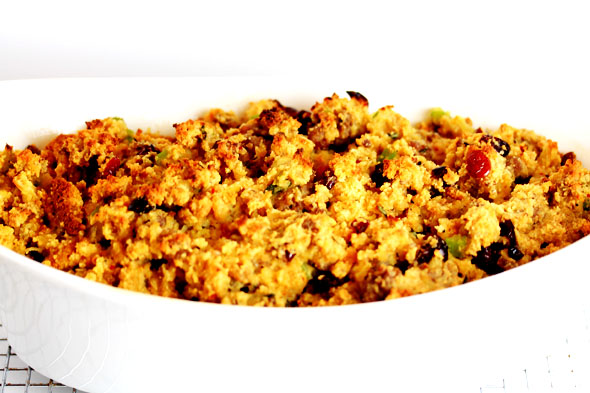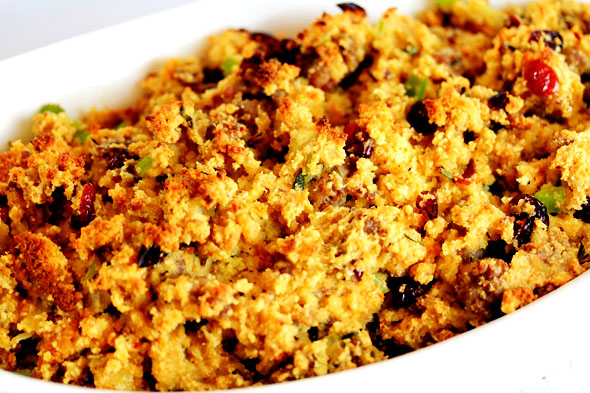 Personally, stuffing may be my favorite necessary accompaniment to the turkey, period. If someone told me they'd toss of my delicious sides but I could only keep one, I'd have to keep the stuffing. It goes best with the turkey and gravy, and can be eaten alone as a meal all itself.
My favorite breads to use for stuffing are any variation of cornbread, sourdough, marbled rye, or pumpernickel. Today the cornbread is the star, and its studded with orange zest. There are so many harmonious flavors going on here, your palate will sing. It's extremely easy to make too. This flavor combination isn't uncommon, but it's popular because it's truly delicious. The best part of this recipe is the fresh cornbread. It's slightly sweet without tasting like cake, but with a good corn flavor. The better quality cornmeal you use, the better these will taste. It's a very basic recipe you can whip up in minutes, and is a great for use in this recipe. Feel free to use your own cornbread recipe if you already have one. You'll find that the fresh cornbread soaks up the broth and other built up flavors very nicely — giving you a perfect balance of savory, spicy, and just a little sweet. I'll show you some variations if you'd like to adjust the sugar content.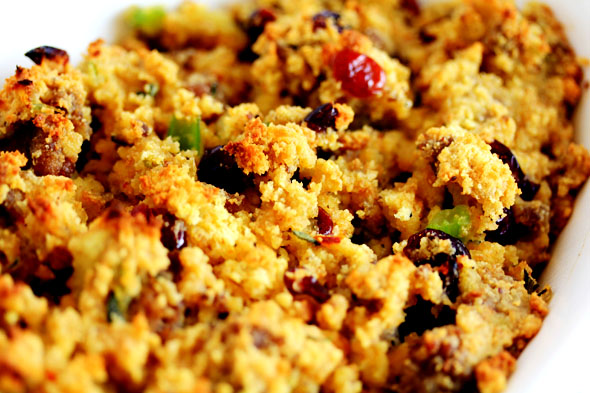 *Tools you'll need for this recipe are a muffin tin, large pot or dutch oven, wooden spoon, and rasp grater to zest an orange.
The perfect holiday dressing. Simple, easy, adaptable and delicious. Your family will love you.
Print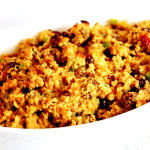 Cranberry-Orange Cornbread Stuffing with Sausage
---
Description
Copyright 2013 CarnalDish LLC, corn muffin recipe slightly adapted from Cook's Illustrated.
---
For the cornbread muffins:
2

cups

(10oz.) all-purpose flour

1

cup

(5oz.) stone-ground cornmeal

1 1/2 tsp

baking powder

1 tsp

baking soda

3/4 tsp

salt

2

large eggs

3/4

cup

(5 1/4oz.) granulated sugar

8 tbsp

unsalted butter, melted and cooled

3/4

cup

sour cream

1/2

cup

milk

2 tsp

orange zest (see note below)
For the stuffing:
olive oil

3

ribs celery, diced

1

large onion, diced

9

–

11

ounces

Italian sausage (about 3-4 links, casings removed)

1 tsp

herbes de provence

1/2 tsp

crushed red pepper
sea salt and black pepper, to taste

1 tbsp

fresh sage, chopped

1 tbsp

fresh thyme, chopped

1 tsp

fresh rosemary, finely chopped
pinch of ground fennel seed (optional)

2

cloves garlic, minced

5

oz

dried cranberries

1

quart

low-sodium chicken broth

1

dozen basic corn muffins or about 10 cups of cornbread, chopped into chunks (recipe below)
---
Instructions
For the cranberry-orange cornbread muffins:
Preheat oven to 400 degrees, middle rack. Spray a muffin pan with vegetable spray and set aside.
In one large bowl, whisk flour, cornmeal, baking powder, baking soda, and salt together until combined.
In a medium bowl, whisk eggs for 20 seconds until paler in color. Add sugar to eggs and whisk for 30 seconds until homogeneous.
Add melted butter in 3-additions, whisking to fully incorporate it each time.
Add half of the sour cream and half of the milk to the egg, sugar and butter mixture, whisking to fully combine. Repeat with the second half of the sour cream and milk. Stir in the orange zest.
Add the wet ingredients to the dry and mix fold with a rubber spatula, just until combined. Do not overmix!
Use an ice cream scoop or spoon to divide the batter evenly into the prepared muffin tins. Do not level or flatten the batter.
Bake for 18 minutes or until toothpick inserted in the center comes out clean.
For the stuffing:
Preheat oven to 375 degrees, middle rack. Butter a large baking dish and set aside.
Pour about 3 tablespoons of olive oil in a large pot over medium heat. When oil begins to show a webby appearance, add celery and onions and cook until translucent, about 5-7 minutes. Add the sausage and break up into smaller pieces with a wooden spoon, adding a little more oil if necessary. Add the herbes de provence, crushed red pepper, a nice pinch of coarse sea salt, black pepper, and pinch of fennel (if using) to the sausage to bloom and infuse the meat. Continue cooking until sausage is no longer pink and vegetables are softened, about another 5-7 minutes or so. Add the fresh herbs and cook for just 1 minute to bloom their flavors. Add the dried cranberries and heat thru for about a minute. Add the garlic and cook until fragrant, about 30 seconds. Remove from heat.
Add the cornbread to the pot and toss everything together until evenly coated and distributed. Add half (16oz.) of the chicken stock to the cornbread mixture, tossing to evenly coat. Let sit for 10 minutes. This gives the cornbread time to fully absorb the liquid you just added. Check to see if you need more liquid after 10 minutes, and add in 1/2 cup increments, waiting just 1 minute in between to let it absorb before adding more. Remember, you can always add more liquid but you cannot take it away. Give the stuffing a taste and season accordingly if you need to.
Pour stuffing into prepared baking dish. Bake for 30 minutes or until top is golden brown.
Serve and enjoy.
Notes
You can either toss the orange zest and cranberries into the cornbread dough, or toss it into the pot with the stuffing. It seriously doesn't matter. It will get in there someway, somehow 😉
Recipe Card powered by
Disclosure: This site uses various affiliate links. If a purchase is made using one of our affiliate links, we receive a small commission which helps support our efforts. Please read our
Privacy Policy
for more information.