Eek!
I had a sweet tooth. I had to listen to my tooth. I try to be obedient from time to time lol 😉
I decided to make monkey bread! What is monkey bread? It's one of those throwback breakfast/dessert/sugarshock treats that might take you back to your childhood. Basically you take balls of yeast dough, dunk them in butter, then dunk them in a brown sugar/cinnamon mixture, bake, and devour. If you like the flavors of cinnamon rolls, you'll love this one — most of the ingredients are the same.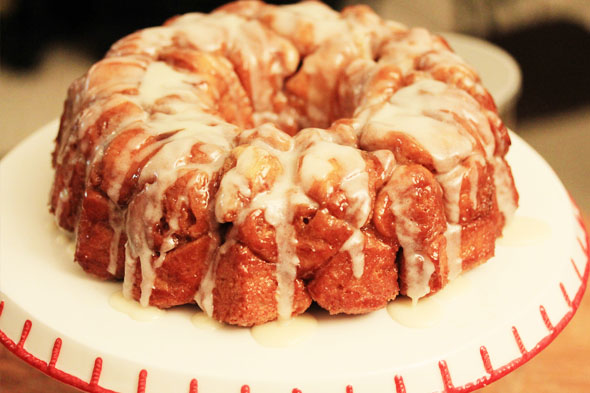 Unfortunately, some folks made this with refrigerated biscuit dough…murrr 😐 I knew I didn't wanna put myself thru that crap because it just isn't good. It's mushy, it's too tender (yes, that can be a bad thing), and it doesn't pull apart nicely. This recipe fixes all that. I decided to give my new SAF Gold Instant Yeast a go, and it turns out to be a fabulous yeast. I'm glad I dropped the insanely cheap $7 for a whole pound of it. It's everything. You can use any brand of instant yeast, so don't feel obligated to buy the SAF stuff — although it's amazeballs.
This yeast dough holds up very nicely and pulls apart with ease. It's kinda chewy, and it's super buttery and full of wonderful flavor. I made 2 extremely minor "mistakes" along the way. Although my monkey bread turned out awesome, I could have given it an additional 20 to 25 minutes to proof after being rolled in the sugar/cinnamon mixture. I got impatient after 45 minutes, I can't even lie lol. I wanted this thing in the oven and basically said "Eff it, I'm goin to devour it regardless". It was perfect, but the balls of dough at the very bottom of the pan (that show up on top when you invert it) could have used an extra 20 minutes to rise before baking…no biggie. The second thing was, I waited 6 minutes to invert it instead of 5…please make sure you invert it after 5 minutes exactly. This is key…if you wait any longer, the sugars will start to harden and turn to candy and you risk the cake falling apart by sticking to random areas of the bundt pan for dear life. Mine came out 98% in tact. There were 2 pieces that almost stuck to the bundt pan, but they fell out just 2 seconds later and I was able to easily put it back together. Hell, I may even invert it after 4 minutes next time just because my bundt pan is super non-stick from jump.
Anyway, this monkey bread is the truth. It's soooooo good, go make it now!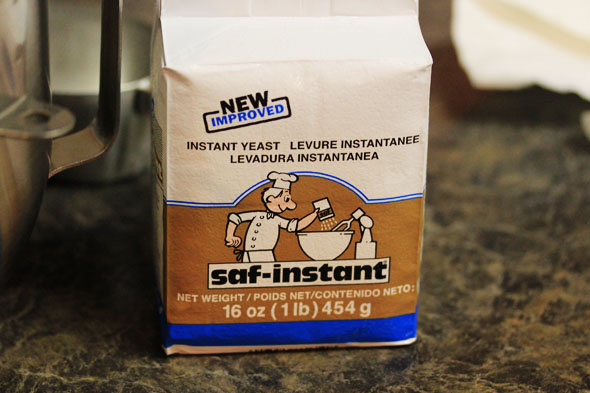 I started off with KAF's SAF Gold Instant Yeast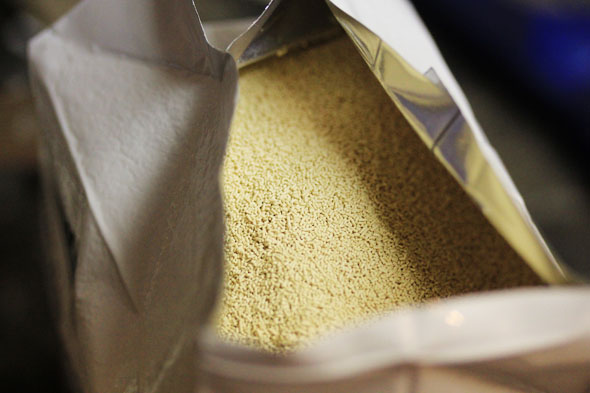 oooh, look at all of that yeast…we need just 2¼ teaspoon's of it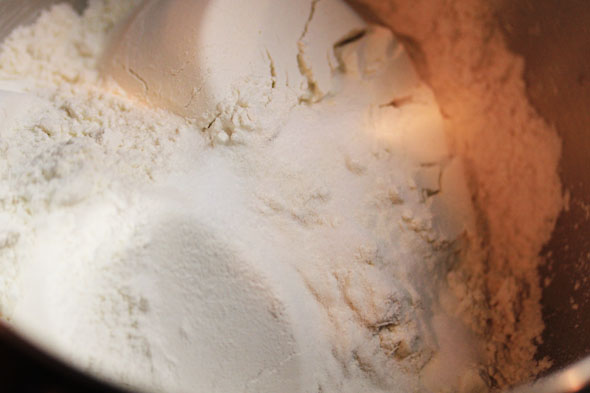 mix your flour and salt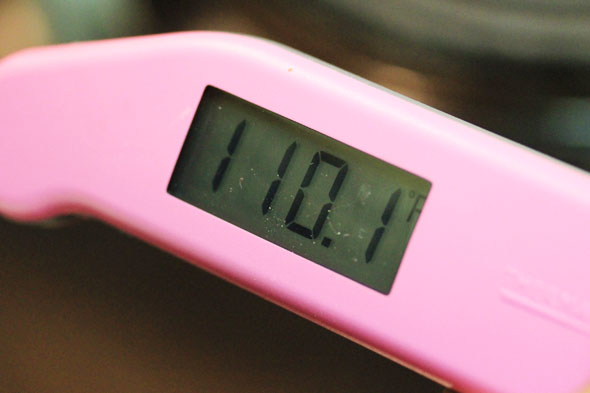 meanwhile, heat both the water and milk to 110 degrees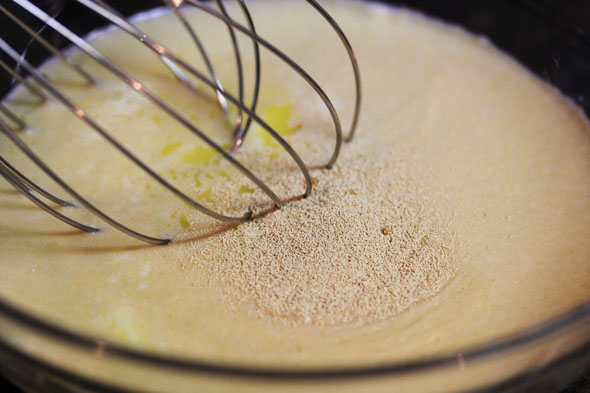 add the melted butter, granulated sugar, and yeast to the barely warm milk and water mixture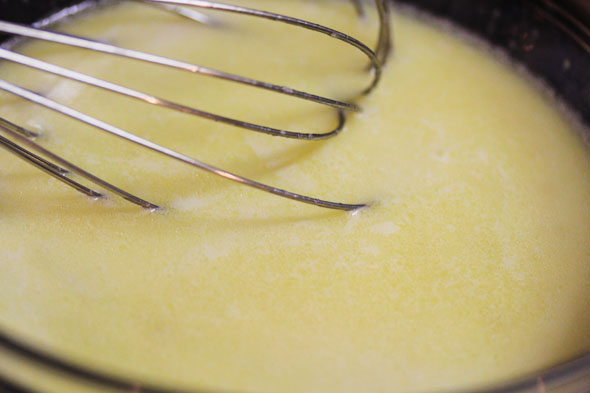 whisk together until the sugar is dissolved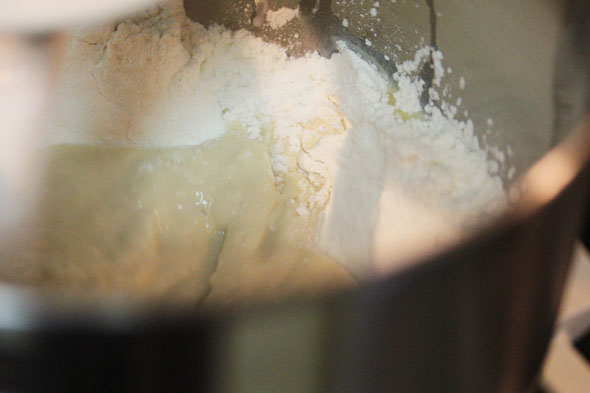 add the milk/yeast mixture to the flour/salt mixture and let the machine knead the dough for about 5 to 7 minutes or until the dough is shiny and smooth (it took my dough about 5 minutes)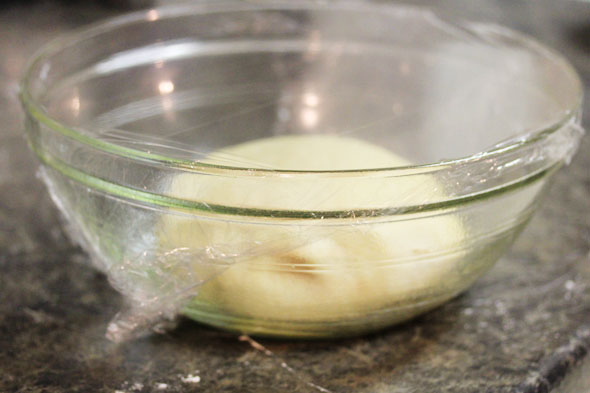 quickly knead the dough into a ball and place inside of a greased bowl. wrap tightly with plastic wrap and allow the dough to proof inside of a warm turned off oven for one hour or until doubled in size. (It took my dough exactly 1 hour to double in size)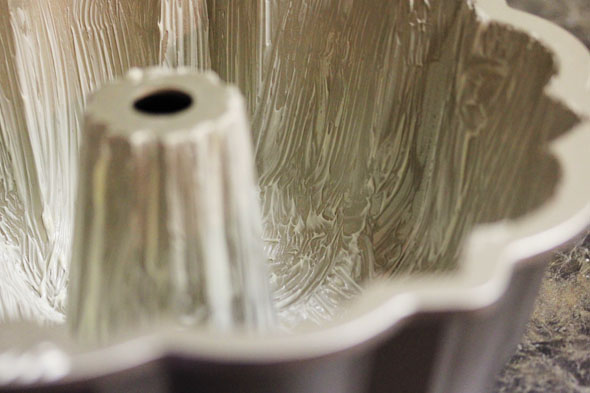 grease your bundt pan with 2 tablespoons of softened unsalted butter — and make sure you get into every nook and cranny!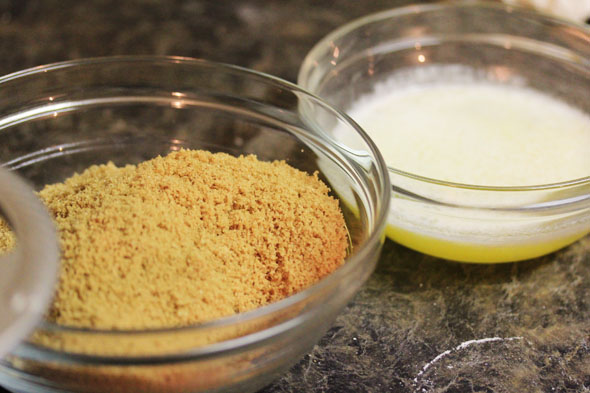 set up your butter/sugar station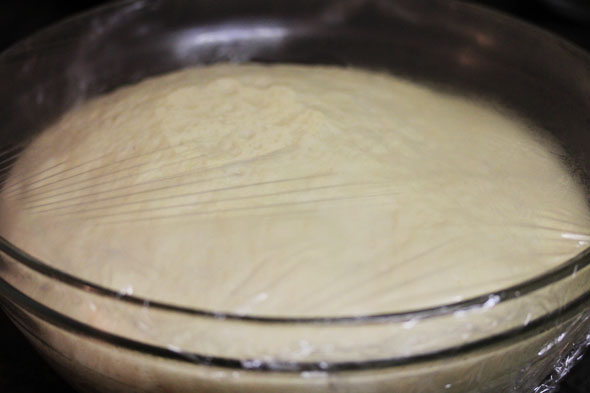 the dough has doubled in size and is even touching the plastic wrap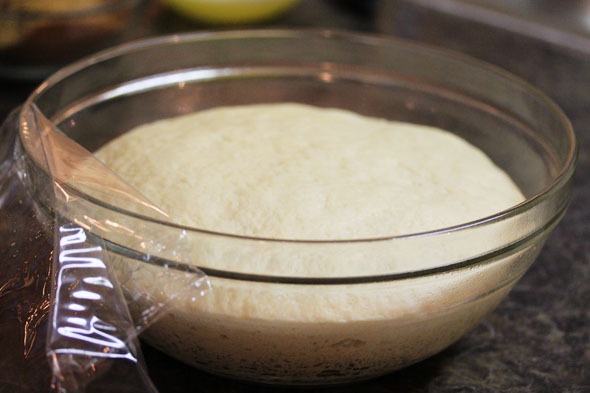 gently peel the plastic wrap back of it's sticking to the bottom of it…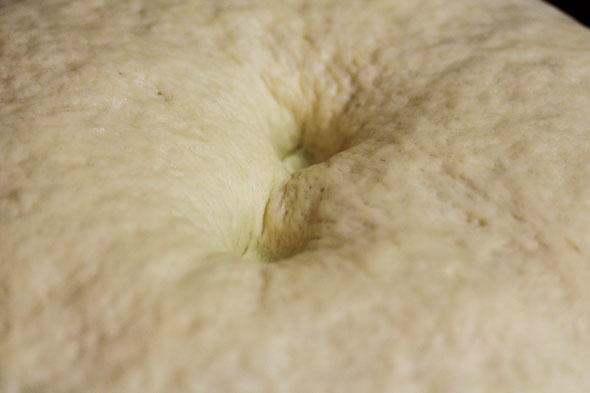 you can tell it's doubled when you gently imprint the dough with two fingers and it stays in tact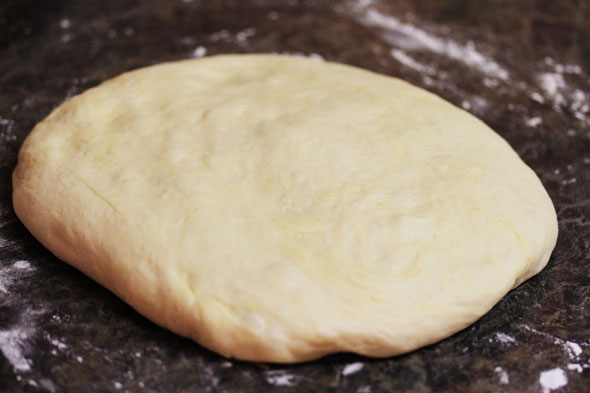 shape the dough into a 7 or 8 inch square…mine kinda looks like a rounded square lol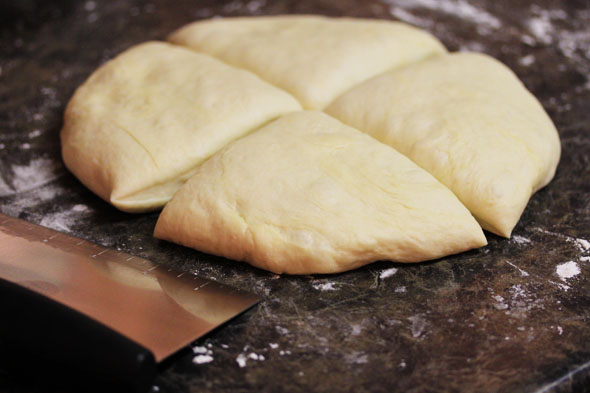 with either a knife or bench scraper, divide the dough into 4 sections…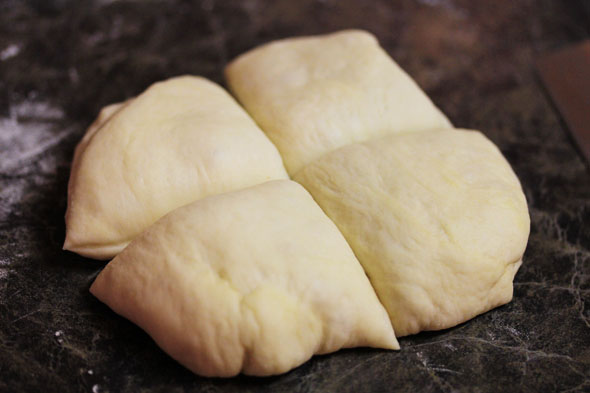 then divide each section into another 4 sections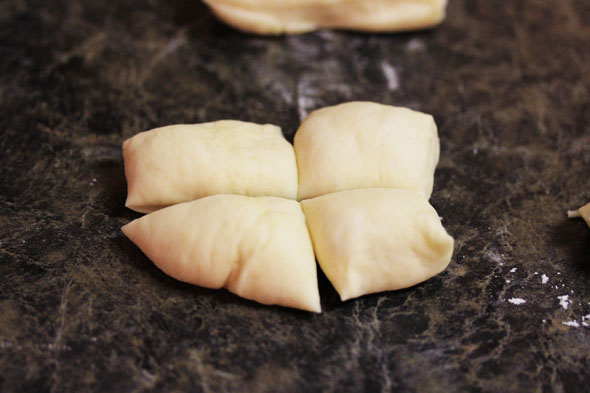 then divide that hunk of dough into another 4 sections…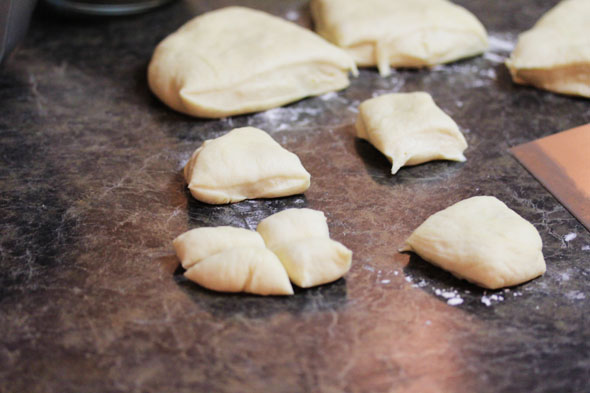 like so…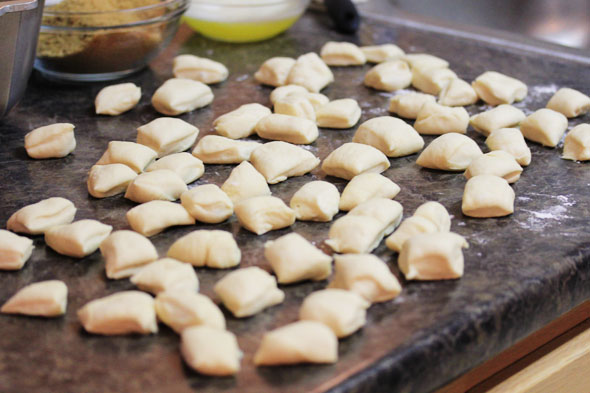 you should have about 64 balls of dough and they should all be about the same size..cover the balls of dough with a damp paper towel because they will start to dry out very quickly otherwise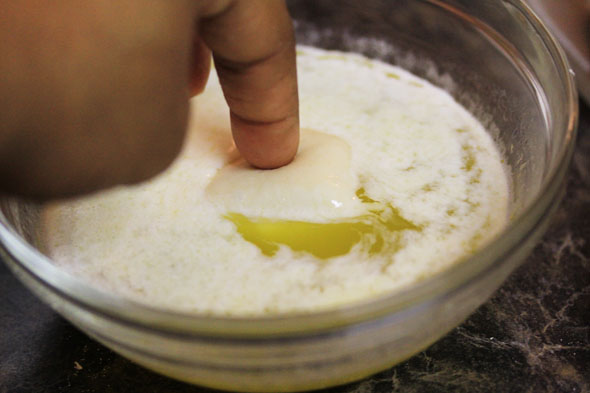 butter each ball of dough

then dunk it in the sugar/cinnamon mixture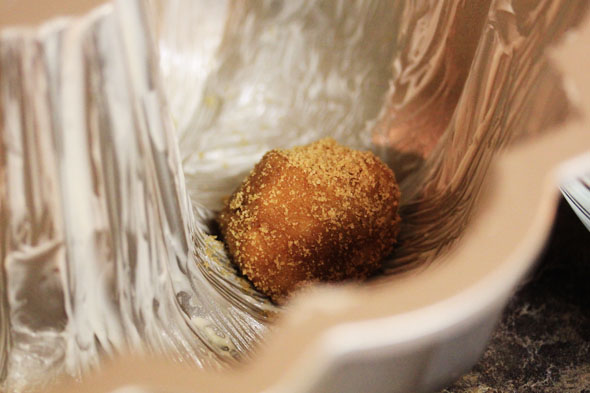 then place each sugared ball of dough into the buttered bundt pan until…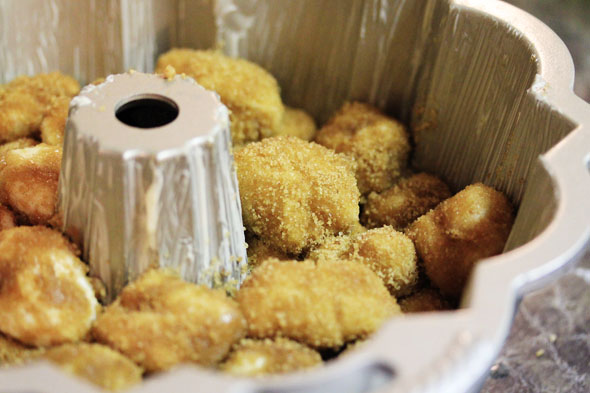 you get something like this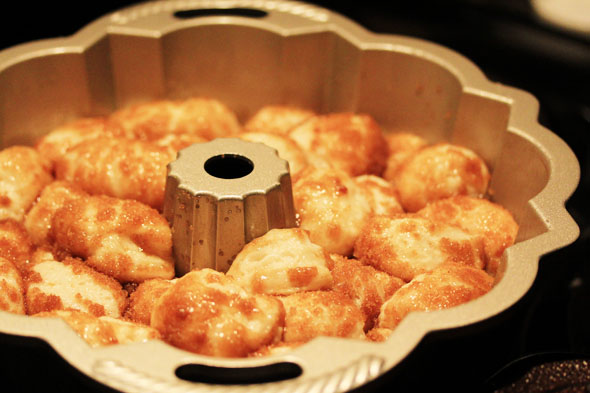 cover with plastic wrap and allow to proof in a warm turned off oven, or warm spot of your kitchen for about an hour and 10 to 20 minutes.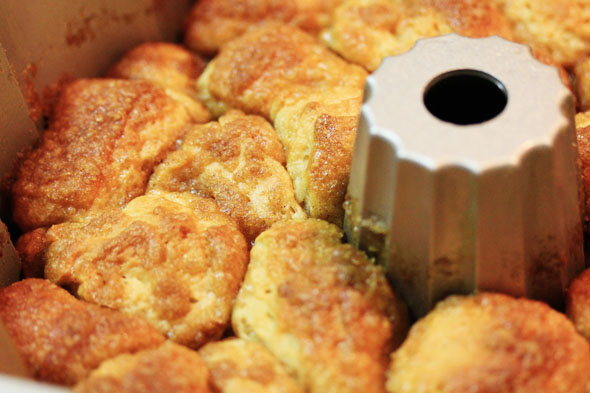 bake it on 350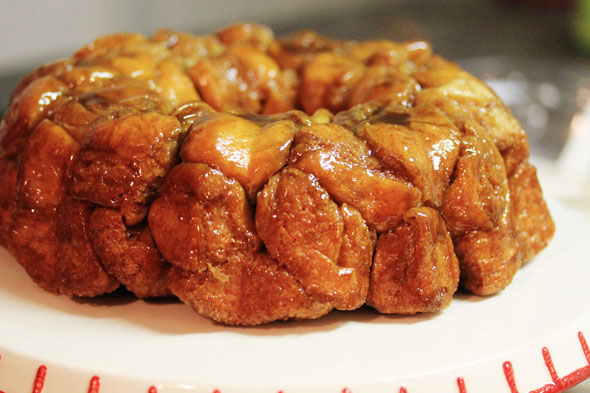 let it cool in the pan for about 4 to 5 minutes (no longer than 5!!), then invert it onto a serving platter or cake stand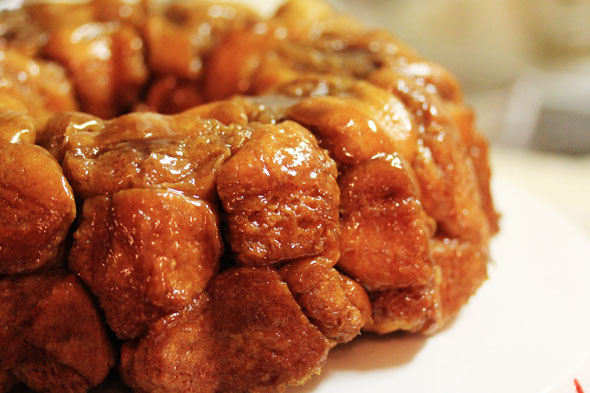 looks pretty good, but it needs a glaze…but before we glaze it, it has to cook for a good 10 to 15 minutes (I know, I know, you wanna eat it right now but trust me, let it rest a bit…it becomes easier to pull apart after 10 to 15 minutes of cooling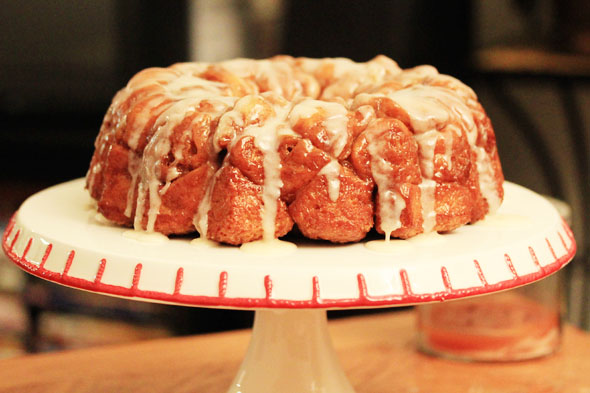 after 10 to 15 minutes, drizzle your glaze all over it and enjoy your monkey bread 🙂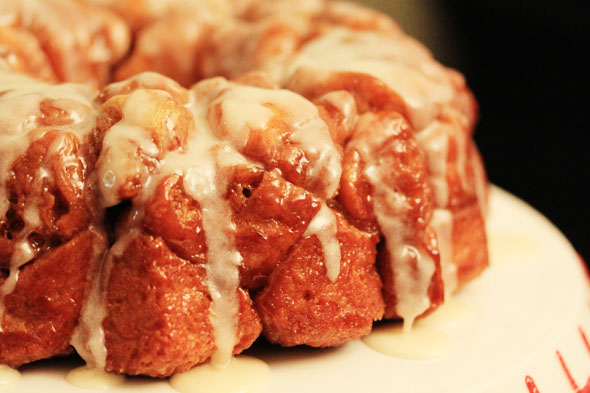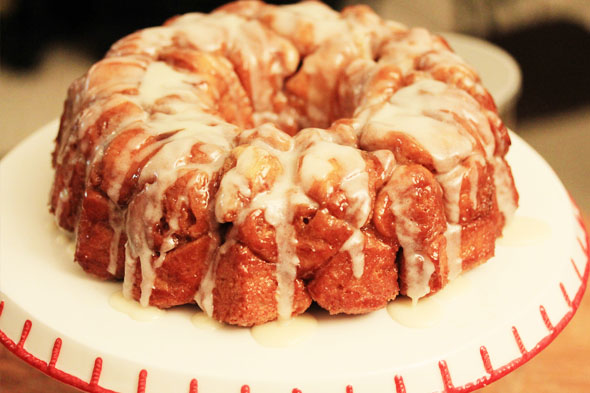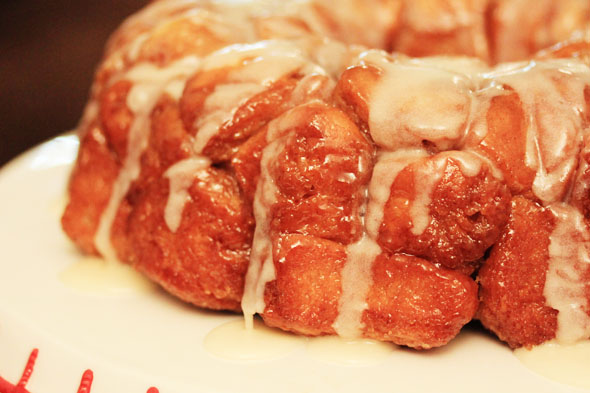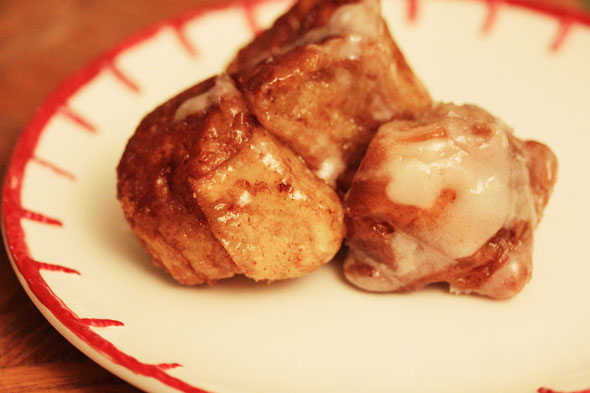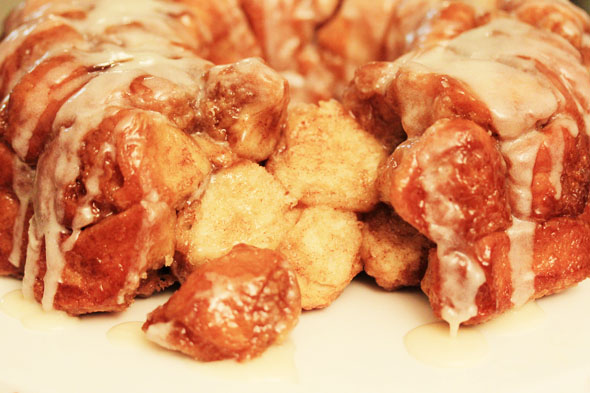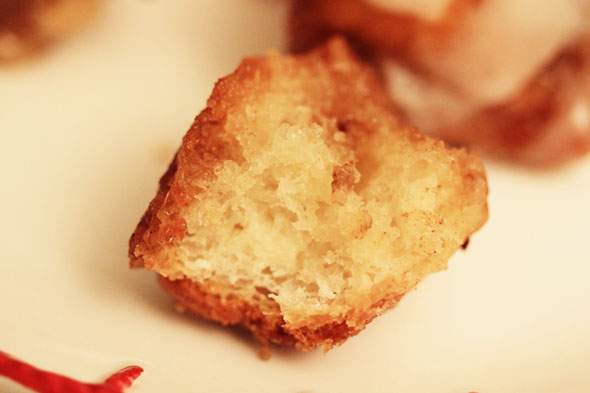 that texture is so perfect! soft, pillowy, chewy…delicious
I need you to understand how delicious this stuff is. It's SO good! So many different textures and layers, I just love it. I definitely plan on making this again and adding some pecans to it for even more flavor. You can really dress this baby up and make it your own. This recipe comes together in about 3 hours total, including prep…so it's definitely something great to do on the weekends or on a rainy day off. The outcome is delicious and worth being patient for — just try not to eat it all lol 😉
Print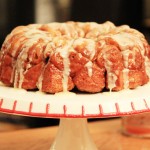 Homemade Monkey Bread with a Buttery Vanilla Glaze
---
Total Time:

4 hours 35 mins
Description
adapted from Cook's Illustrated
---
For the Dough
2 tbsp

unsalted butter, softened, plus 2 tablespoons melted

1

cup

warm milk (about 110 degrees)

1/3

cup

warm water (about 110 degrees)

1/4

cup

granulated sugar

1

package rapid-rise yeast or instant yeast (

2 1/4 tsp

)

3 1/4

cups

all-purpose flour, plus extra for work surface

2 tsp

table salt
For the Brown Sugar Coating
1

cup

packed light brown sugar

2 tsp

ground cinnamon

8 tbsp

unsalted butter (

1

stick), melted and cooled
For the Glaze
1

cup

confectioners' sugar

2 tbsp

unsalted butter, softened

2 tbsp

milk

1 tsp

vanilla extract
super tiny pinch of salt to taste
---
Instructions
For the Dough:
Adjust oven rack to medium-low position and heat oven to 200 degrees. When oven reaches 200 degrees, turn it off. Butter Bundt pan with 2 tablespoons softened butter. Set aside.
In large measuring cup, mix together milk, water, melted butter, sugar, and yeast. Mix flour and salt in standing mixer fitted with dough hook, (see below for making Monkey Bread without a mixer). Turn machine to low and slowly add milk mixture. After dough comes together, increase speed to medium and mix until dough is shiny and smooth, 6 to 7 minutes. Turn dough onto lightly floured counter and knead briefly to form smooth, round ball. Coat large bowl with nonstick cooking spray. Place dough in bowl and coat surface of dough with cooking spray. Cover bowl with plastic wrap and place in warm oven until dough doubles in size, 50 to 60 minutes.
For the Sugar Coating:
To Form the Bread:
Gently remove dough from bowl, and pat into rough 8-inch square. Using bench scraper or knife, cut dough into 64 pieces. (See photos 1 and 2 below.)
Following photo 3 below, roll each dough piece into a ball. Working one at a time, dip balls in melted butter, allowing excess butter to drip back into bowl. Roll in brown sugar mixture, then, following photo 4 below, layer balls in Bundt pan, staggering seams where dough balls meet as you build layers.
Cover Bundt pan tightly with plastic wrap and place in turned-off oven until dough balls are puffy and have risen 1 to 2 inches from top of pan, 50 to 70 minutes.
Remove pan from oven and heat oven to 350 degrees. Unwrap pan and bake until top is deep brown and caramel begins to bubble around edges, 30 to 35 minutes. Cool in pan for 5 minutes, then turn out on platter and allow to cool slightly, about 10 minutes.
For the glaze:
Monkey Bread Without a Mixer:
In step 2, mix flour and salt in large bowl. Make well in flour, then add milk mixture to well. Using wooden spoon, stir until dough becomes shaggy and is difficult to stir. Turn out onto lightly floured work surface and begin to knead, incorporating shaggy scraps back into dough. Knead until dough is smooth and satiny, about 10 minutes. Shape into taut ball and proceed as directed.
Notes
Store leftovers in an air-tight container for up to 2 days. Reheat in the microwave for 10 to 15 seconds.
Prep Time:

4 hours

Cook Time:

35 mins
Recipe Card powered by
Disclosure: This site uses various affiliate links. If a purchase is made using one of our affiliate links, we receive a small commission which helps support our efforts. Please read our
Privacy Policy
for more information.