Throw away all of your banana bread recipes, this one is a keeper.
If you're a lover of banana bread, you are going to devour this recipe and cry tears of joy — it's truly perfect. Banana bread is my boo. I love it and it loves me. We vibe so harmoniously when we're in the same room. This stuff is so super moist and stuffed with maximum banana flavor, you're going to die — deliciously.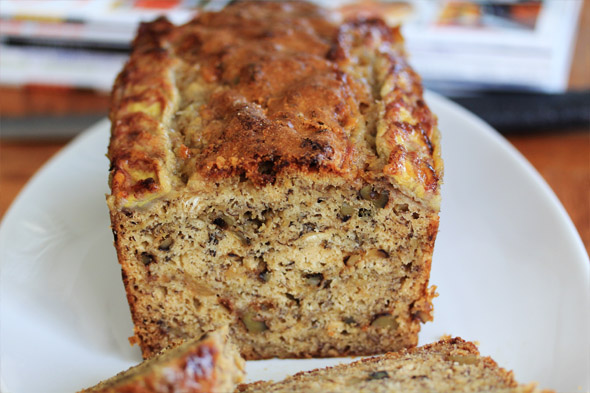 How to Make Banana Bread
Trying to get amazing banana flavor into banana bread with optimal texture is a serious challenge. The more bananas you add, the more heavy and sodden your bread becomes, despite the actual banana flavor being there. Most recipes call for 2 to 3 bananas, because if you go higher than that, your bread will be entirely too moist and gummy. That just isn't sexy in the least bit. So how do we fix this? Well, we're replicating the whole "frozen banana" situation. When bananas are frozen then thawed, they release tons of liquid — delicious, tasty liquid! Well, we're going to skip freezing bananas for a day and instead zap'em in the microwave to release their juices. We're then left with tons of incredible banana juice that gets reduced down to a super concentrated syrup, almost like a makeshift banana extract — which gets thrown into the batter later.
Genius.
I must point out the importance of using super ripe bananas for this recipe. It's imperative. The darker and more spotted your bananas are, the sweeter they will be and the more liquid they'll release. I bought my bananas on Sunday and made banana bread the following Saturday. It was hell trying not to eat them, because I love bananas — especially the spotty brown ones…soooo sweet. But, I held it together, got myself some will-power and waited to make this delicious loaf of banana'y awesomeness. Don't even try to make this with green or even yellow bananas, you guys. Seriously. Wait until they look like they're decaying LOL! (you know what I mean 😉 )
Are you ready for super intense and incredibly moist banana bread? Follow me…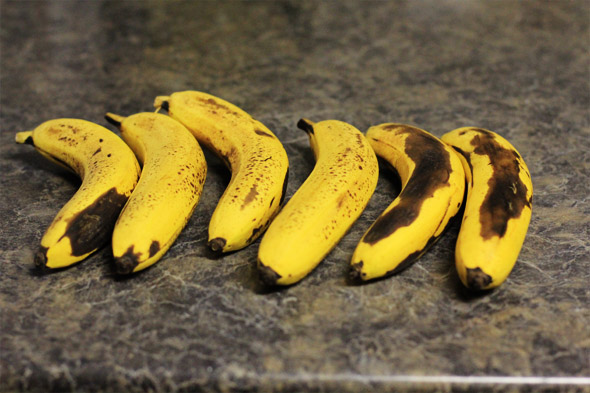 Six. Six ugly, yet super sweet bananas — ah ah ah

Peel five of those babies and pop'em in a bowl, wrapped tightly with plastic wrap. Poke a bunch of vent holes and zap'em in the microwave for 5 minutes.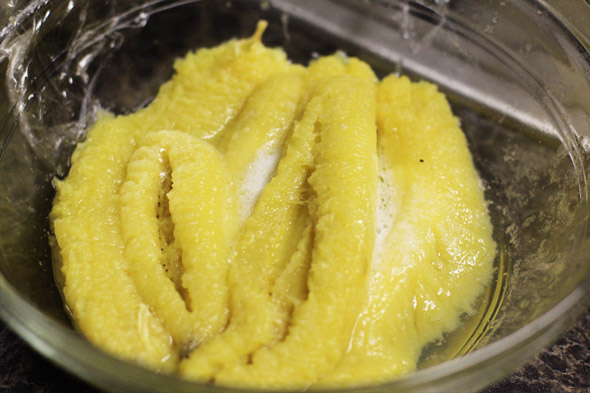 After 5 minutes, this is what it looks like…murrrr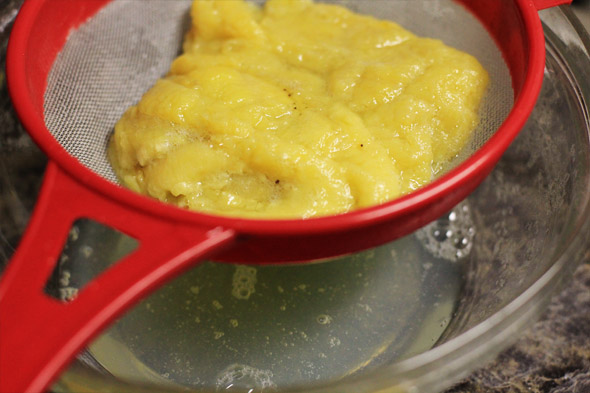 Strain the bananas for 15 minutes, you should have about 1/2 cup to 3/4 (or more) of yummy, sweet banana liquid.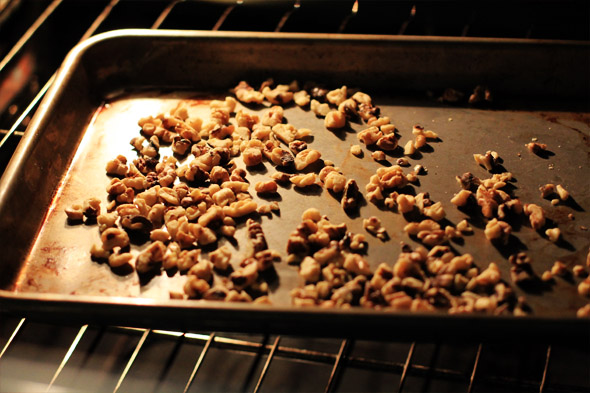 If using walnuts, toast them in the oven for a few minutes — keep an eye on these so they don't burn. It usually takes mine about 3 to 5 minutes in a 350 degree oven. If you don't like nuts, leave'em out!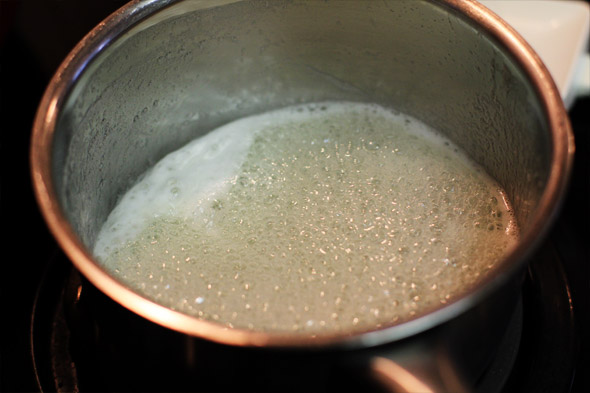 Reduce the banana liquid down to 1/4 cup. Stir frequently and watch this carefully because it can boil over. It should take about 5 to 10 minutes to reduce, depending on how much liquid you have. Be patient, it's worth it.

Almost there…

Finally got 1/4 cup. Add this to the bananas you strained earlier.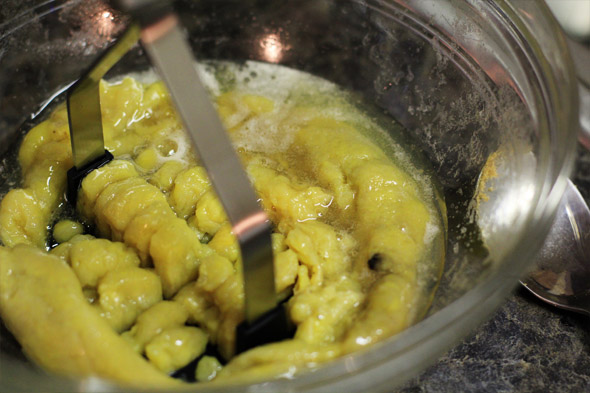 Mash the bananas and concentrated banana liquid with a large fork or potato masher to incorporate and break up any large pieces of banana. Mixture should be mostly smooth.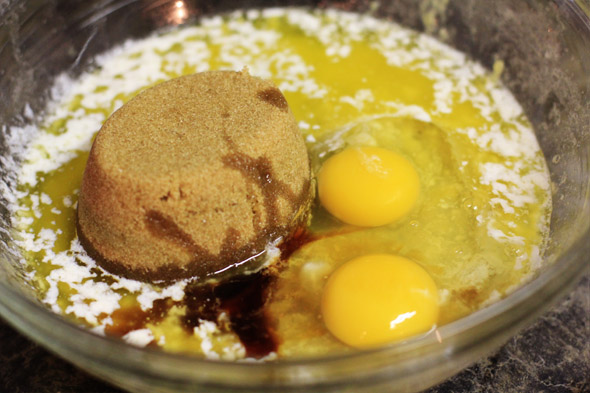 Add the melted butter, brown sugar, eggs, and vanilla.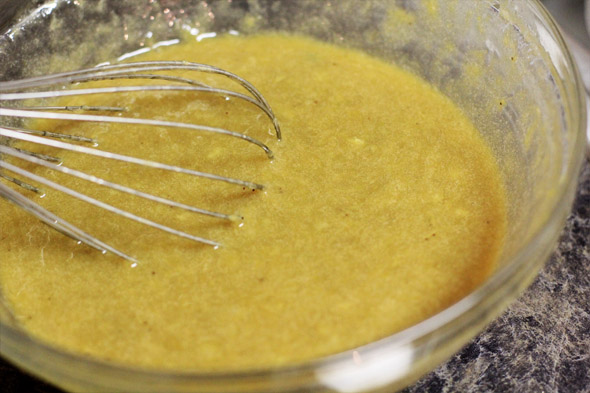 Whisk until the sugar is dissolved and everything is combined.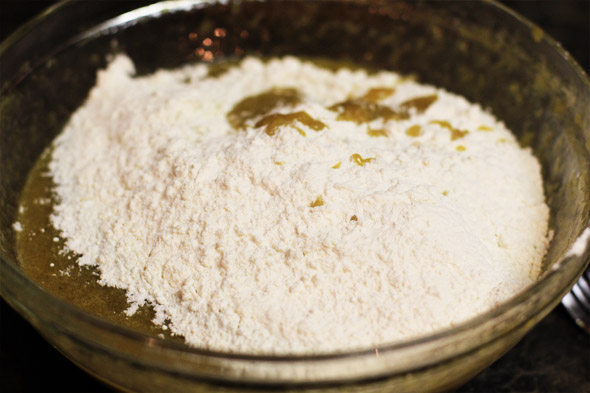 Either pour your dry into your wet, or your wet into your dry, and GENTLY fold the mixture on top of itself until combined. Please avoid over-mixing or you'll end up with tough banana bread and we don't want that.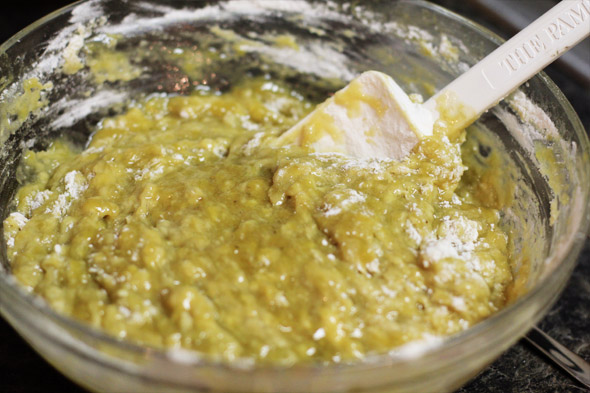 95% mixed…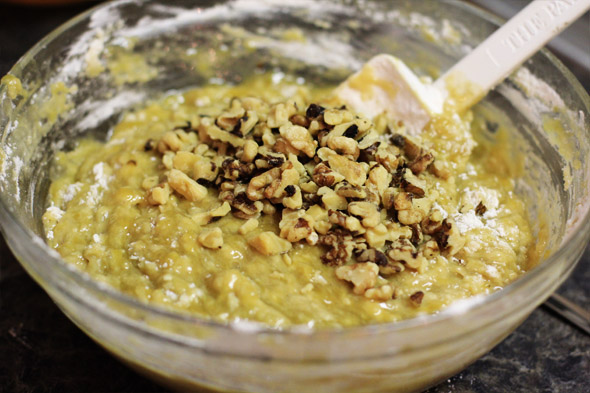 Add your nuts, if you're using them — also folding them in…just a few turns to incorporate. Don't worry if you have tiny pockets of flour, just make sure all the huge streaks are gone. My mixture pictured above is an example of too many large pockets of batter, but it's nothing 2 or 3 folds won't cure. Pour the mixture into a greased loaf pan.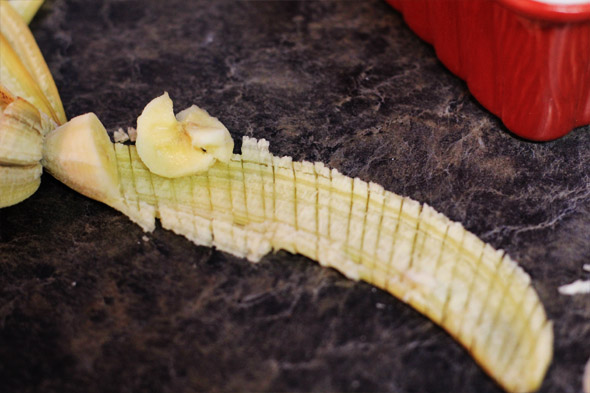 Slice your sixth banana on the diagonal.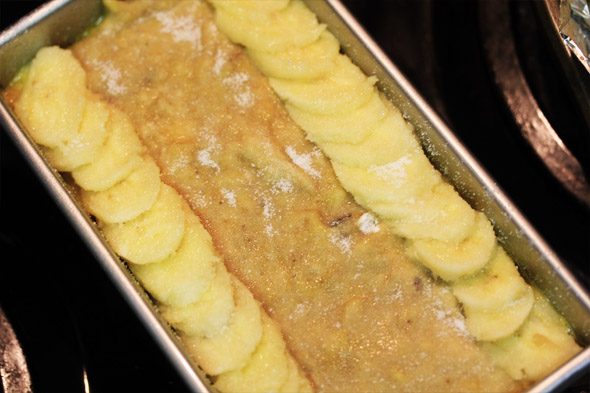 Shingle the slices of banana on both sides of the banana bread, then sprinkle 2 teaspoons of granulated sugar all over the top of the bananas and loaf. This candies the bananas and gives them a great sweet flavor.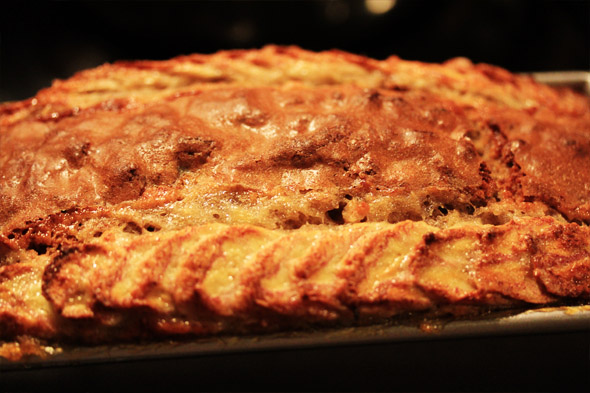 About an hour or so later, thar she blows!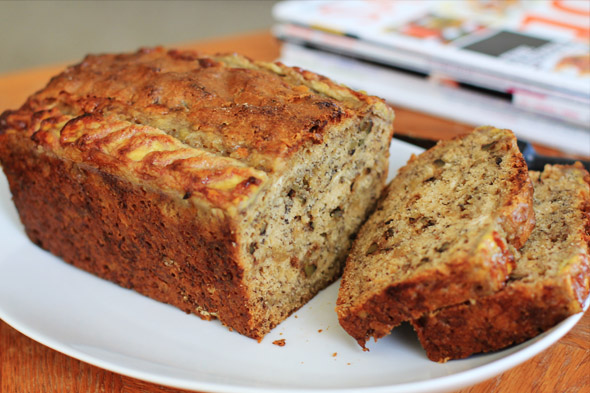 Incredibly delicious, intense banana flavor. You're going to love it.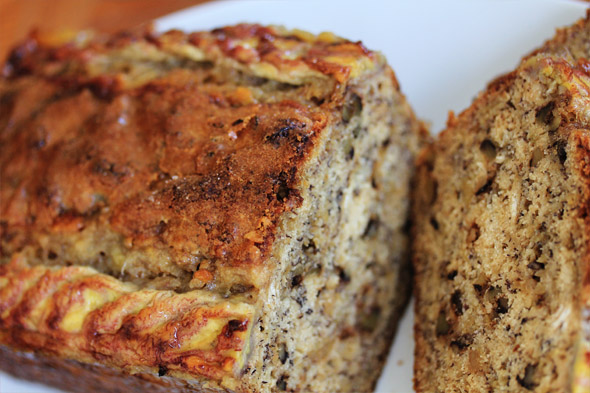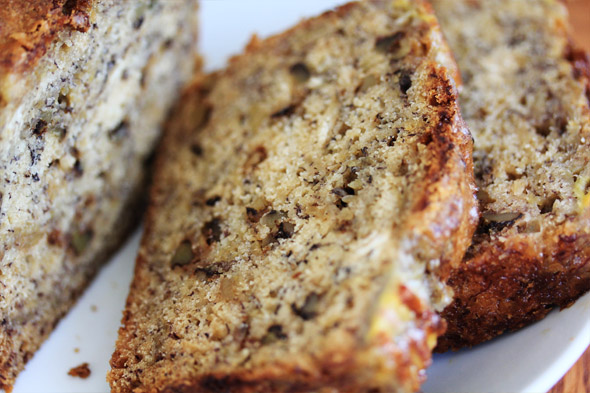 This is damn good banana bread. Damn. Good. The best I've ever had.
Print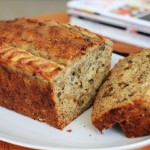 Ultimate Banana Bread
---
Author:

Resha

Total Time:

1 hour 20 mins

Yield:

One 9-inch loaf
Description
adapted from Cook's Illustrated
---
1 3/4

cups

(8 3/4 ounces) unbleached all-purpose flour

1 teaspoon

baking soda

1/2 teaspoon

table salt

6

large very ripe bananas (about

2 1/4

pounds), peeled (see note)

8 tablespoons

(

1

stick) unsalted butter, melted and cooled slightly

2

large eggs

3/4

cup

(5 1/4 ounces) packed light brown sugar

1 teaspoon

vanilla extract

1/2

cup

walnuts, toasted and coarsely chopped (optional)

2 teaspoons

granulated sugar
---
Instructions
Pre-heat your oven to 350 degrees, middle oven rack in place. Spray an 8½ by 4½-inch loaf pan with nonstick cooking spray. In a large bowl, whisk the flour, baking soda and salt together. Place 5 of the bananas in a microwave-safe bowl, covered with plastic wrap and poke a few vent holes so the steam can escape. Microwave on high power until the bananas are soft and have released their liquid — about 5 minutes. Strain the bananas thru a fine-mesh strainer over a medium bowl so they can drain, stirring occasionally, for about 15 minutes or until you have 1/2 to 3/4 cup banana juice.
Transfer the banana liquid to a medium saucepan and cook over medium-high heat until it reduces to 1/4 cup, about 5 to 10 minutes (depending on how much liquid was released). Remove pan from heat and stir the reduced banana liquid into the microwaved bananas, and mash with a potato masher until fairly smooth. Whisk in the butter, eggs, brown sugar and vanilla. Pour the banana mixture into the flour mixture and stir just until combined, with some streaks of flour remaining. Gently fold in the walnuts, if using. Scrape the batter into the prepared loaf pan. Slice the remaining banana diagonally unto 1/4-inch slices. Shingle the banana slices on top of either side of the loaf, leaving a 1 1/2-inch-wide spice down center to ensure an even rise. Sprinkle granulated sugar evenly over the top of the loaf.
Bake until a toothpick inserted in teh center of the loaf comes out clean — this can take between 55 – 75 minutes. Cool the banana bread in the pan on a wire rack for about 15 minutes, then remove from pan and continue to cool on the wire rack. Serve warm or at room temperature.
Notes
Be sure to use very ripe, heavily speckled (or even black) bananas in this recipe. This recipe can be made using 5 thawed frozen bananas; since they release a lot of liquid naturally, they can bypass the microwaving in step 2 and go directly into the fine-mesh strainer. Do not use a thawed frozen banana in step 4; it will be too soft to slice. Instead, simply sprinkle the top of the loaf with sugar. The preferred loaf pan measures 8½ by 4½ inches; if you use a 9 by 5-inch loaf pan, start checking for doneness five minutes earlier than advised in the recipe. The texture is best when the loaf is eaten fresh, but it can be stored (cool completely first), covered tightly with plastic wrap, for up to 3 days.
Prep Time:

20 mins

Cook Time:

1 hour
Recipe Card powered by
Disclosure: This site uses various affiliate links. If a purchase is made using one of our affiliate links, we receive a small commission which helps support our efforts. Please read our
Privacy Policy
for more information.