I'm officially out of blueberries. There isn't a single blueberry in my house. They're all dead. To celebrate their memory, I figured I'd give them a proper send off with this recipe. Dear blueberries, thank you for being in my life this past week…I hope I did you justice.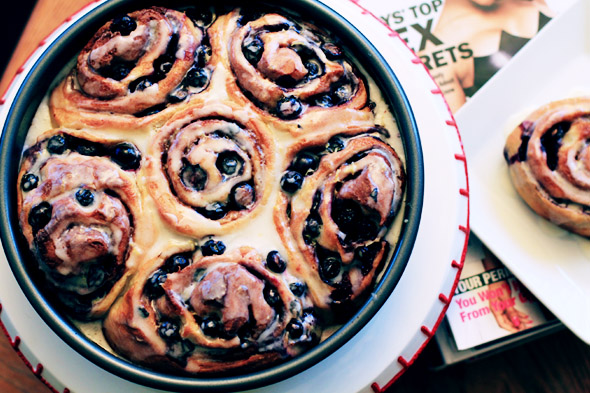 If you love blueberries, make these. If you love cinnamon rolls, make these. If you love sweets, make these. These are everything, and I know I say that about everything, but everything is everything and these…are EVERYTHING. Juicy. Delicious. Everything. As soon as I made these, I sent them over to my parents house because if they stayed here with me??? Nah, that's a bad idea. They had to go, they were too damn good to be with me all alone and unsupervised, because I would have eaten every single one without zero shame.
This recipe comes together very quickly, with the exception of rise time. You essentially combine three components (wet, dry, and butter), give it time to rise — then boom, you're done. If you don't have a stand mixer, use your hands and a lot of elbow grease, because you'll be kneading for quite a while. BTW, I know stand-mixers are expensive but they are amazing tools and a total investment. You can get one for about $200, so they're not all terribly expensive. Aside from making amazing doughs with ease, you can also grind meat and make pasta…so many ways to use it. But this isn't a post about stand-mixers, so let's get back to the lemony blueberry cinnamon mouthsex shall we?
I knew the blueberries would give off their own amount of juice, so I didn't want to laden this with the usual amounts of butter and brown sugar that I normally would — everything has been totally halved. I wanted maximum blueberry goodness, without it competing with the sugar and spice. Everything comes together perfectly. The lemon glaze is bomb, buttery and melts into the rolls perfectly. As always, play around with it until it's to your liking — because everybody has their frosting/glaze preference.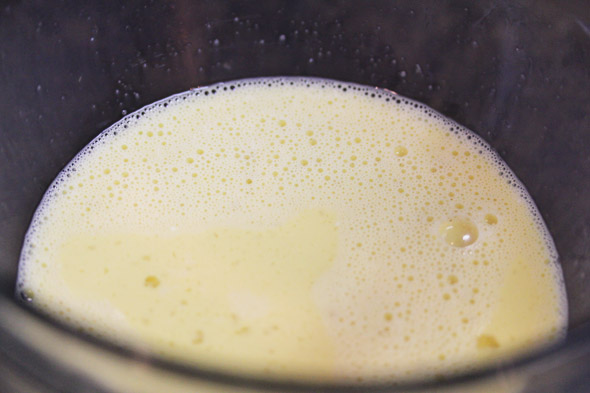 This is your milk/yeast/vanilla/egg mixture. Make sure the milk exactly 110 degrees when you add the yeast. If the milk is too hot, it'll kill the yeast…if it's too cold, it'll take your dough forever to rise. Mix this together thoroughly so that all of the yeast is dissolved.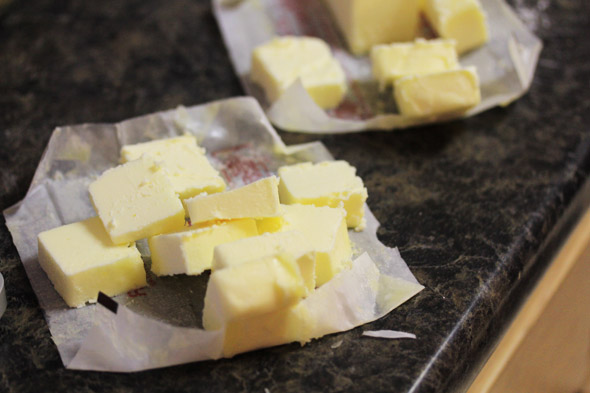 It's easier to add the butter if you dice it up into tablespoon portions. Make sure it's cool but maleable, it shouldn't be too firm and it shouldn't be too mushy. Try to have butter that's about 66 to 70 degrees.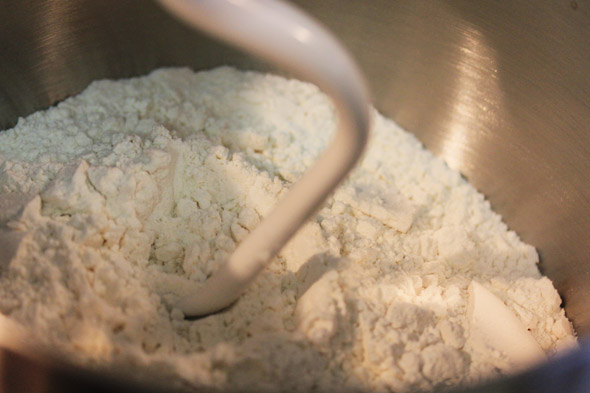 This is your flour mixture, make sure you mix it well so that all of the cornstarch, sugar and salt is thoroughly distributed.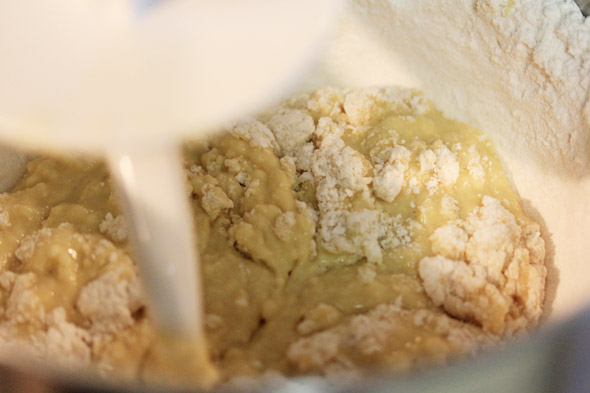 Then simply combine the milk mixture into the dry until the dough comes together. You may have to stop occasionally to fully incorporate the flour. Do this for about a minute.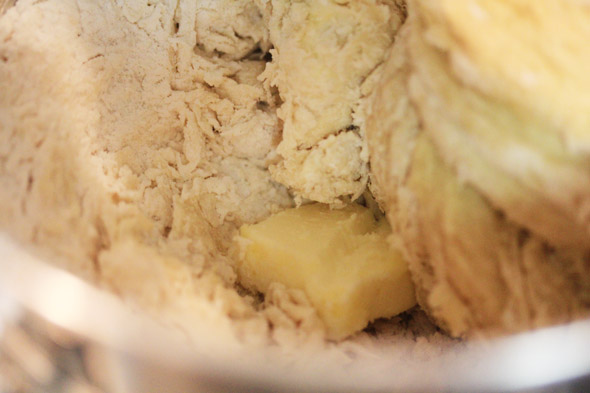 Then add the butter, one piece at a time in about 3 or 4 second intervals. Adding it one piece at a time just helps prevent a big wad of butter in the dough.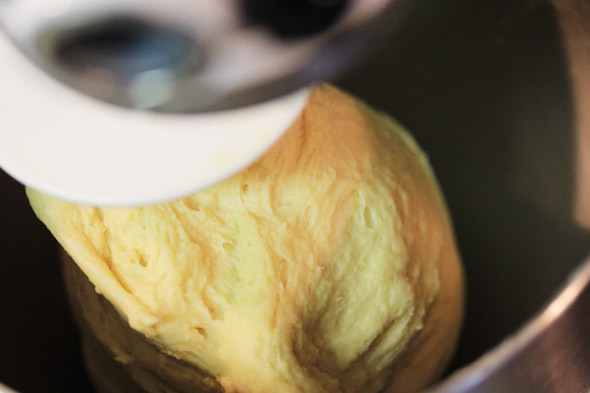 Let the dough knead in the mixer on medium speed for about 10 minutes, or until the dough is pulling away from the sides of the bowl and is smooth, like pictured above.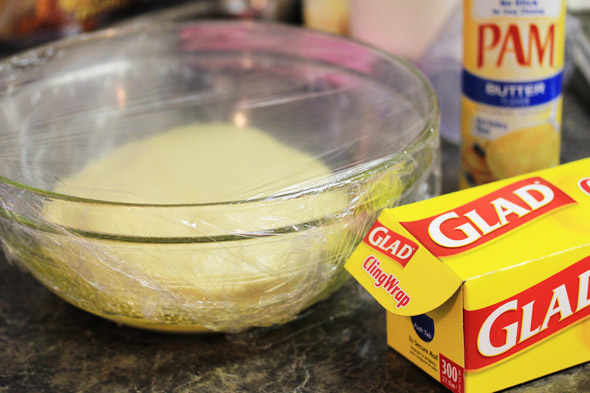 Grease a bowl with cooking spray, and be generous because you don't want the dough to stick to the bowl because when you turn it out, you'll lose all of the air and that makes for a sad dough.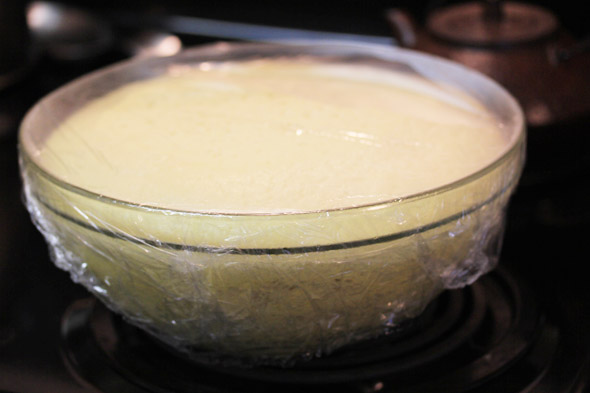 Exactly 2 hours later, I pulled the dough out of my barely warm oven and it's huge! Awww snap, we're ready to roll it.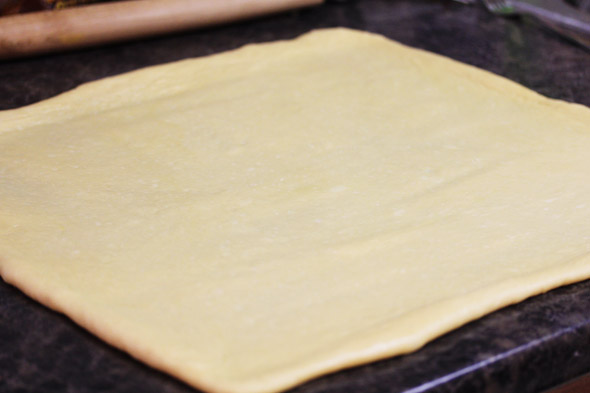 Roll your dough out into a 16×16 inch square. Your dough may be kinda warm. If it is, let it cool on the counter top so it doesn't melt the butter. My dough was very warm, so I rolled it out and let it relax for a few minutes until it was room temperature (took about 10min for me, but gauge it).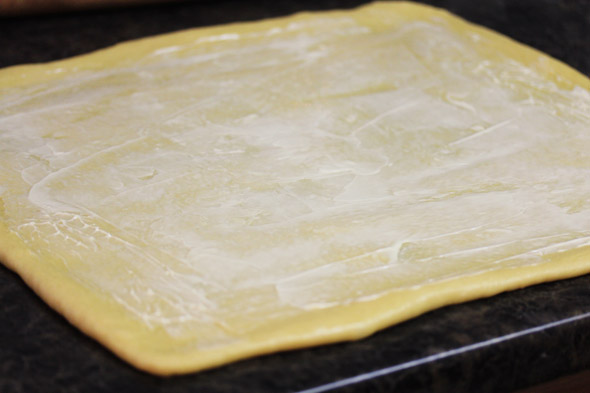 Slather the softened (but still cool) butter all over the surface of the dough.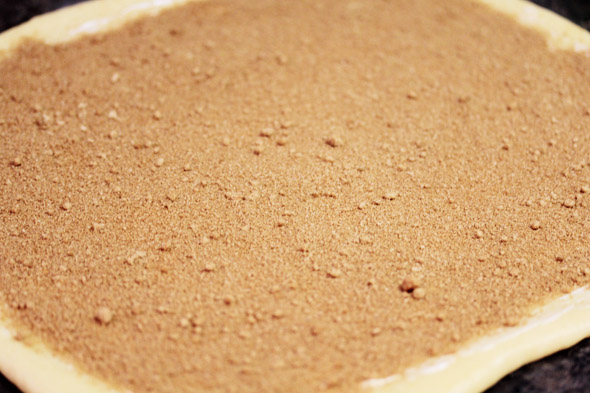 Evenly sprinkle the cinnamon/sugar mixture all over the dough and lightly press it in to secure it.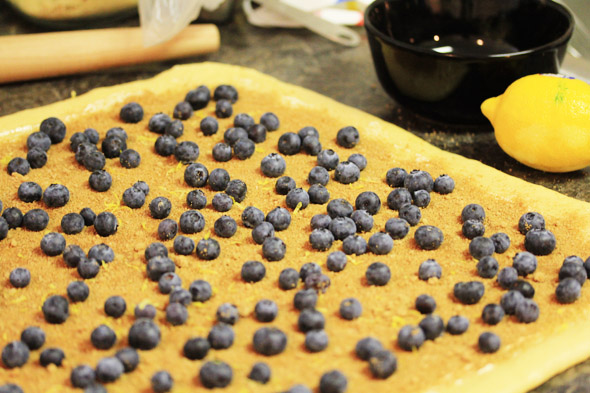 Then sprinkle the berries and lemon zest all over and gently push into the dough.

Niiiiice 😉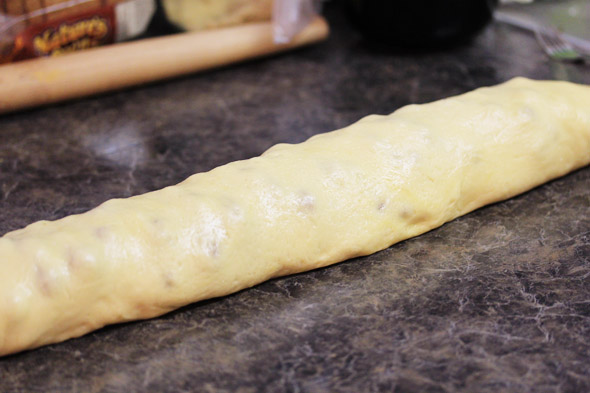 Okay, now we roll. GENTLY roll the dough as tightly as you can, careful not to bruise or break the berries and keep in mind that the dough is super sensitive because of the addition of the berries. You may feel they wanna pop out of the dough but just keep working as gently as possible to prevent that. If a berry does tear the dough, you can easily patch it up. Once it's in a log, even it up and seal the edges of the dough so it doesn't unravel while baking. With a bench scraper or super sharp knife, divide the dough in half, then divide that half in half an so on until you get about 8 rolls or so. This recipe makes 8 large rolls or 12 standard size rolls — it's up to you.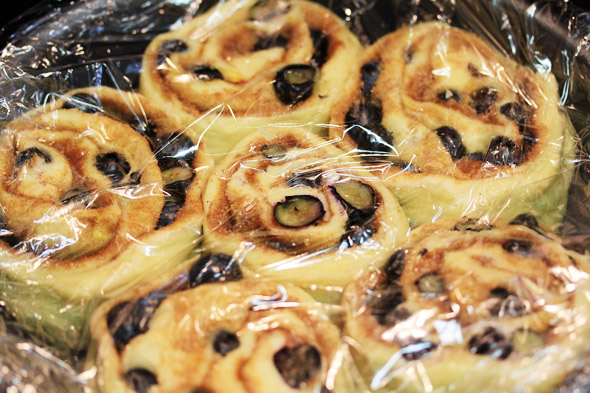 Cover the dough and let it rest for 1 hour or until it doubles in size (mine took about 50 minutes).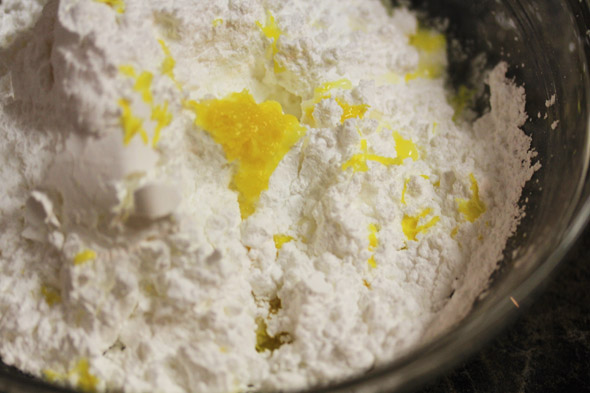 Make your glaze.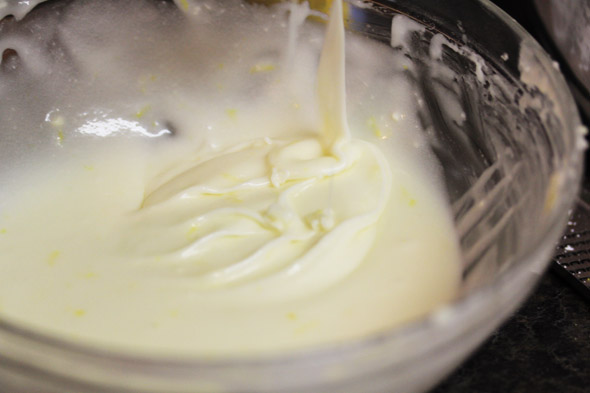 Try not to bathe in this stuff.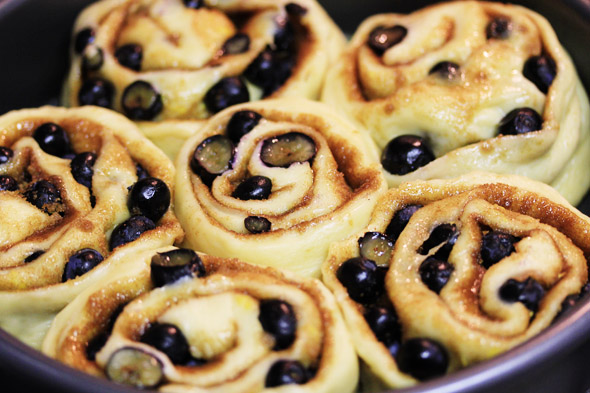 About an hour later, the dough has doubled in size. It's kinda puffy and ready to be baked in a 350 degree oven for about a half hour.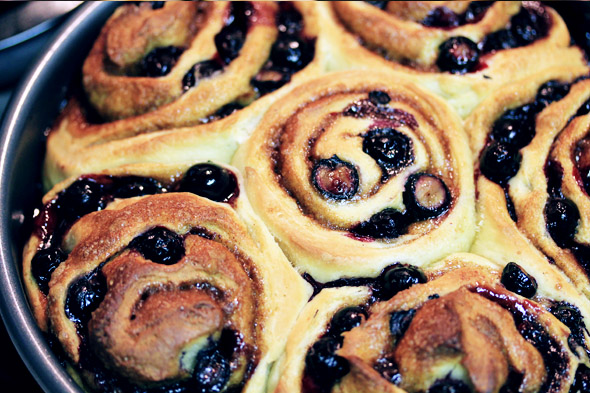 We're done baby.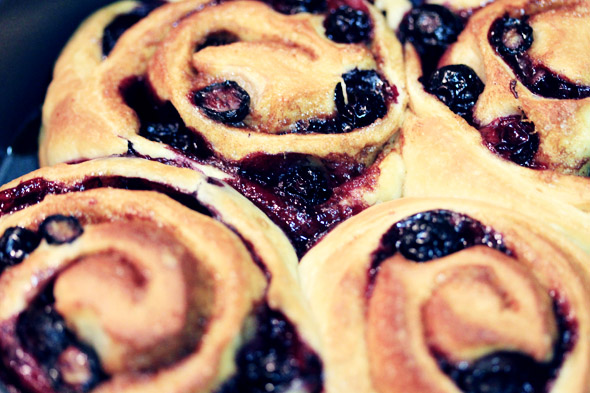 All done. Let it cool for just FIVE minutes before you frost it. It'll melt into the dough without making it soggy, it's perfect.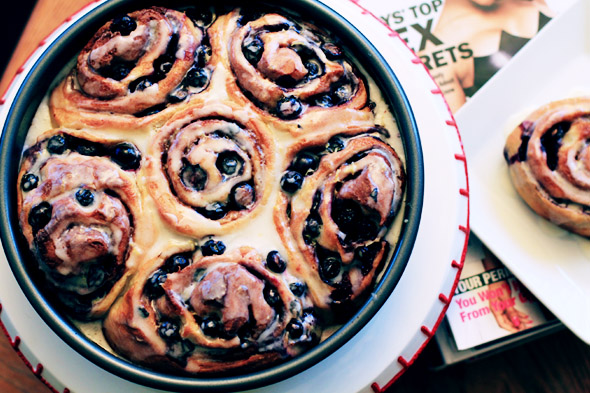 Time to eat!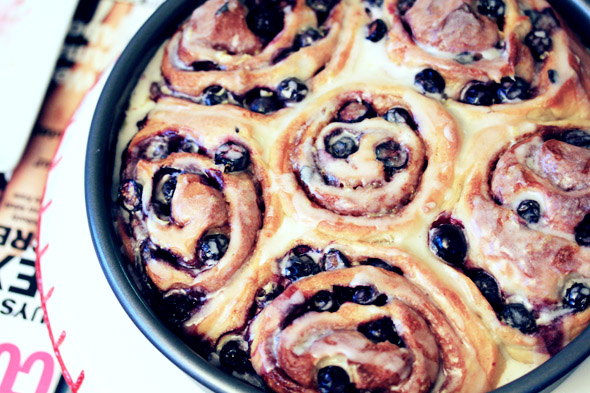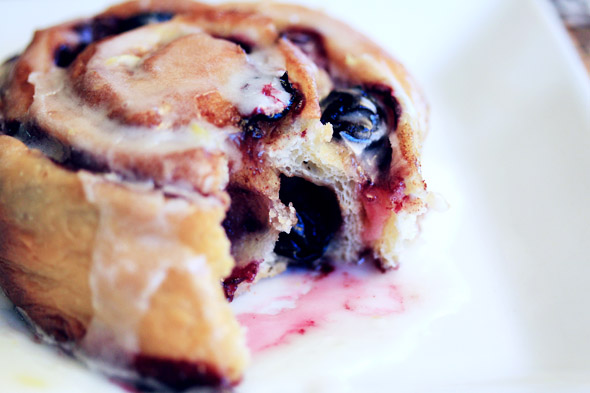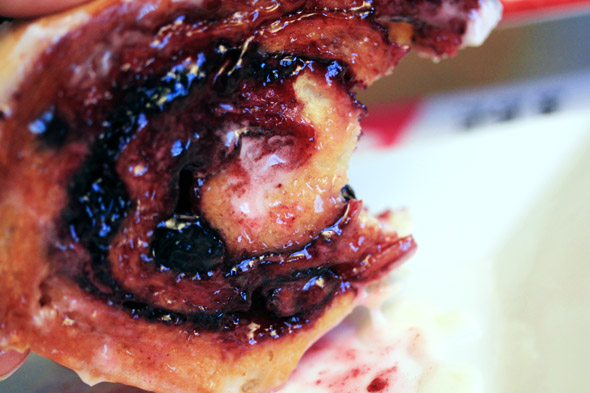 Just in case you wanted to see the bottom…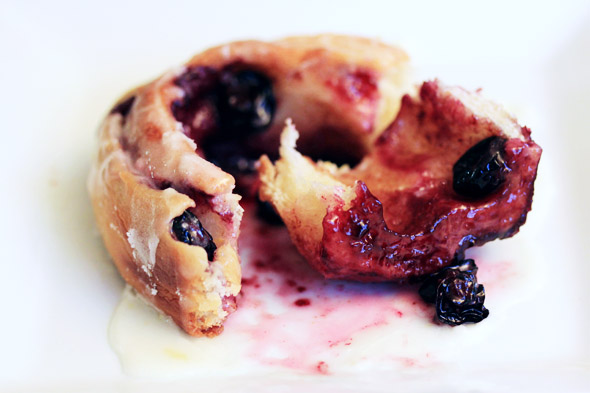 These are so good. Juicy and perfect. The dough is soft and pillowy and isn't too heavy at all (despite all of that butter lol).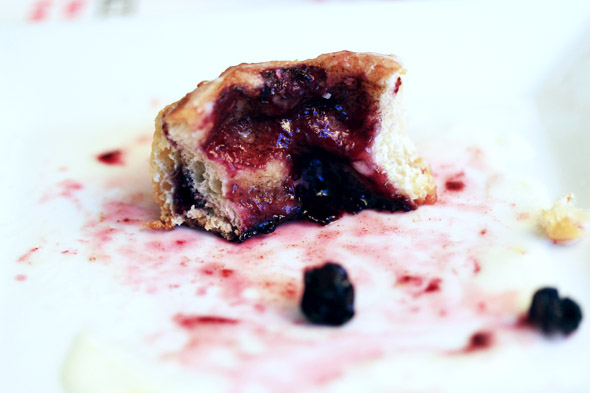 You suck if you don't make these, and not the good kind of suck either 😉
Print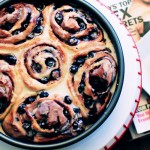 Lemon Glazed Blueberry Cinnamon Rolls
---
For the dough:
3/4

cup

whole milk, heated to 110 degrees

1

envelope (2 1/4 teaspoons) instant or rapid-rise yeast

3

large eggs, room temperature

1 teaspoon

vanilla extract (optional)

4 1/4

cups

all-purpose flour

1/2

cup

cornstarch

1/2

cup

granulated sugar

1 1/2 teaspoons

salt

12 tablespoons

(

1 1/2

sticks) unsalted butter, cut into 12 pieces and softened
For the filling:
3/4

cups

packed light brown sugar (don't use dark, it will be too heavy a molasses flavor)

2 1/2 teaspoons

ground cinnamon

1/8 teaspoon

salt

1

pint

fresh blueberries

1 1/2 teaspoons

fresh lemon zest (from

one

lemon)

5 tablespoons

unsalted butter, softened
For the glaze:
3 tablespoons

freshly squeezed lemon juice (from

one

lemon)

1/2 teaspoon

lemon zest

2 tbsp

unsalted butter, softened

3

to

4

tablespoons half & half

1 teaspoon

vanilla extract

2

cups

confectioners' sugar
pinch of salt
---
Instructions
To prep:
Adjust oven rack to middle position and heat oven to 200 degrees. When oven reaches 200 degrees, shut off. Line the bottom of a 13- by 9-inch baking pan with foil or parchment paper. Grease foil or parchment paper and sides of the pan. You can also use a round 9″ cake pan like I did, but you'll need at least two of those if you go that route. Also, grease a medium bowl to hold the dough when it's completed.
For the dough:
Whisk heated 110 degree milk and yeast in liquid measuring cup until yeast dissolves, then whisk in eggs and vanilla extract. In bowl of stand mixer fitted with dough hook, mix flour, cornstarch, sugar, and salt until combined. With mixer on low, add warm milk mixture in steady stream and mix until dough comes together, about 1 minute. Increase speed to medium and add butter, one piece at a time, until incorporated. I added my butter in 4 second intervals. Continue to mix until dough is smooth and comes away from sides of bowl, about 10 minutes. if after mixing for 10 minutes the dough is still too wet and sticky, add up to ¼ cup flour (one tablespoon at a time) until the dough releases from the bowl. Turn dough out onto clean surface and knead to form a smooth, round ball. Transfer dough to prepared bowl, cover with plastic wrap, and place in warm turned off oven. Let rise until doubled in size, about 2 hours. I usually turn my 200 degree oven off as soon as I put the dough in to rise to jumpstart the yeast.
For the filling:
Combine brown sugar, cinnamon, and salt in small bowl using a fork or your fingers to break up any large lumps. Turn dough out onto very lightly floured surface (I never sprinkle flour down before rolling because there's so much butter in this dough it never sticks, but everyone's work surface is different). Roll dough into 16-inch square, spread with 5 tbsp of softened butter, and sprinkle evenly with filling. Lightly press the filling into the dough. Evenly sprinkle the blueberries and lemon zest over the filling. Starting with the edge nearest you, roll dough into tight cylinder, pinch lightly to seal seam, and cut into 8 pieces using either a serrated knife or bench scraper. It's easier to cut the dough in half, then cut each side in half until you have 8 large rolls. For smaller cinnamon buns, cut the dough into 12 pieces. Transfer pieces, cut-side up, to prepared pan. Cover with plastic wrap and let rise in warm spot until doubled in size, about 1 hour.
For the glaze and to bake:
Heat oven to 350 degrees. Whisk softened butter, lemon juice, half & half, lemon zest, vanilla, salt and confectioners' sugar in medium bowl until smooth. The mixture should be thin but not watery, and you should be able to create "ribbons" when you drag the mixture back and forth with a spoon or fork. You can completely adjust this until you achieve the right consistency and flavor. Discard plastic wrap and bake buns until deep golden brown and filling is melted, about 25 to 35 minutes. Cool for about 5 minutes then pour over the glaze. Serve immediately.
Notes
*Make Ahead: After transferring pieces to prepared pan in step 3, buns can be covered with plastic wrap and refrigerated for 24 hours. When ready to bake, let sit at room temperature for 1 hour. Remove plastic wrap and continue with step 4 as directed.
*Reheat any leftover rolls in the microwave for 10 to 20 seconds.
Recipe Card powered by
Disclosure: This site uses various affiliate links. If a purchase is made using one of our affiliate links, we receive a small commission which helps support our efforts. Please read our
Privacy Policy
for more information.