To hell with Roscoe…this is the best fried chicken and waffles recipe.
Who doesn't love fried chicken? Who doesn't love a big buttery waffle? Throw them together and you've got something rather special that only fans of the salty/sweet can truly appreciate. If you think you're afraid of chicken and waffles together, think of the peanut butter and jelly sandwich. It's truly the same principle 😉 I encourage you to try it at least once in your life before you write it off.
For the fried chicken, I knew I wanted juicy pieces with a crispy coating. I had nothing but time, so the night before frying I soaked a couple of fat chicken wings in a buttermilk brine. Most people use just plain ol' buttermilk alone, but I like to add a bit of seasoned salt to it so that the actual chicken meat itself is juicy and flavorful. The buttermilk is acidic, so it penetrates the chicken and tenderizes it. But if you add salt to this, it then flavors it by further breaking down it's molecular structure of the chicken. You absolutely do not have to brine your chicken if you don't want to. I don't always do it, especially when frying up chicken wings quickly on the go. I will admit though, whenever I do brine chicken wings, they always come out insanely juicy and tender and literally falling off the bone. It's heaven in your mouth. Be careful not to brine your chicken for too long or it'll become too salty.
You don't have to use my fried chicken "recipe"…and I am kinda shy about calling this a recipe because this is another one I never measure. It's one of those things I've been cooking for years and have just mastered the art of "eyeballing". I will try my best to explain what I did though.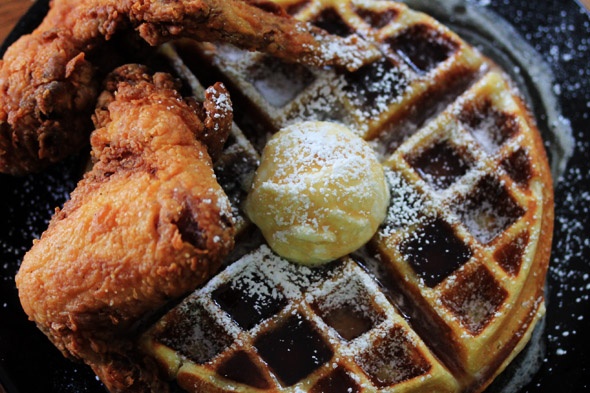 The waffles are a modified version of the Yeasty Waffles from Food & Wine. It's one of those "prep-ahead" recipes that you can do the day before or at least 2 hours before you're ready to eat. Here's an even easier, faster waffle recipe just in case this one is too intimidating. You've gotta make this UH-MAY-ZING Bourbon Maple syrup that I created. It's so effing delicious, I can't even begin to explain. I just threw together some ingredients I knew would be great and it came out so damn good. I'd pour this all over french toast, pancakes, waffles…you name it. Anyway, the next time you want chicken and waffles, use this syrup…it'll make your world spin a bit softer 😉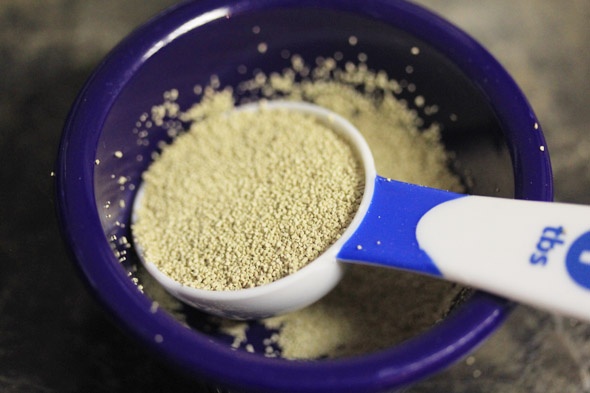 active yeast for the waffles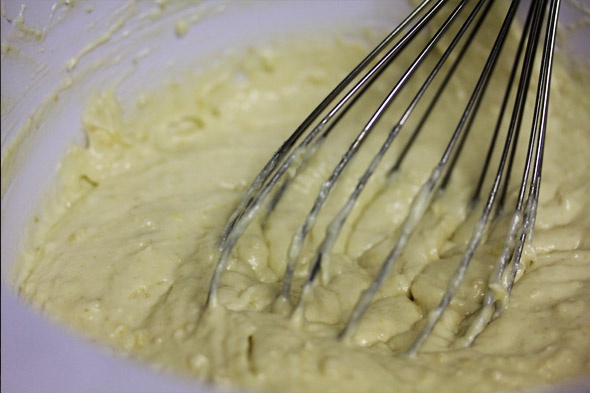 waffle batter all mixed together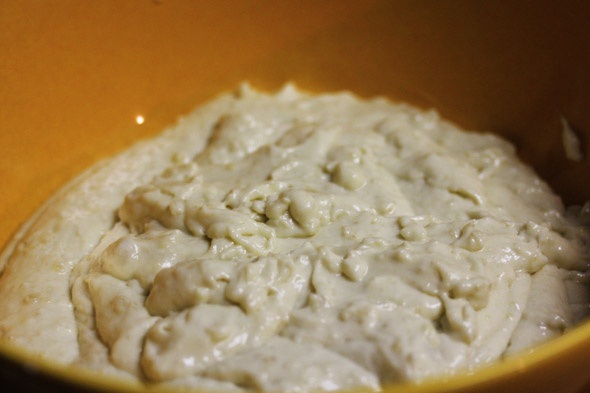 i transferred it to a porcelain bowl that would absorb some heat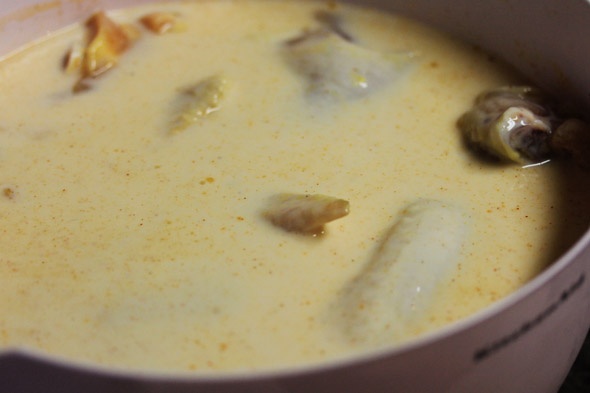 chicken hanging out in a seasoned buttermilk brine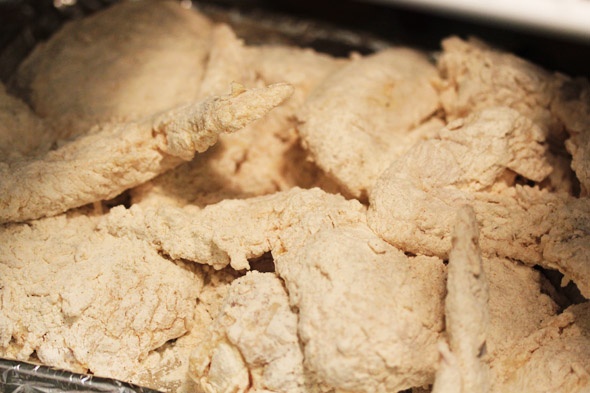 all battered up! chillin in the fridge for a good half hour so the flour really sticks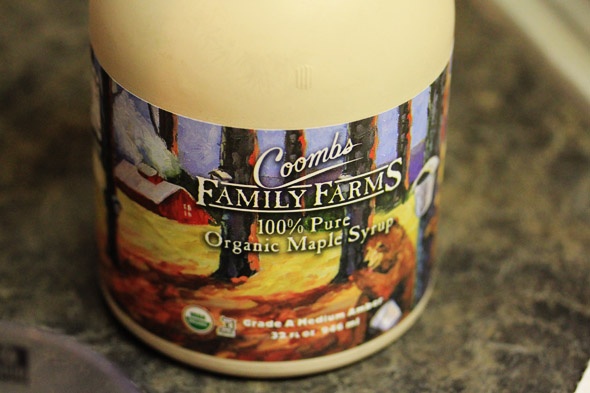 real maple syrup!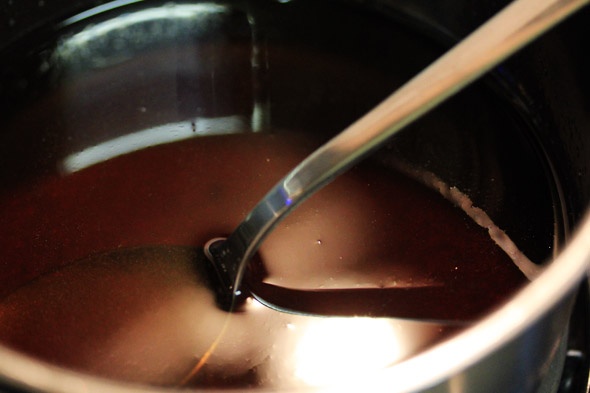 the beginning stages of the bourbon maple syrup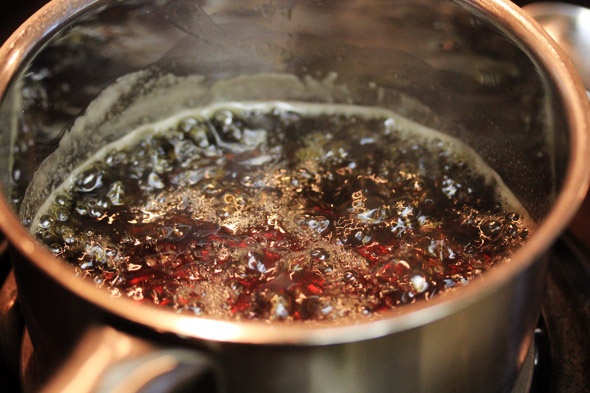 bring this baby to a boil…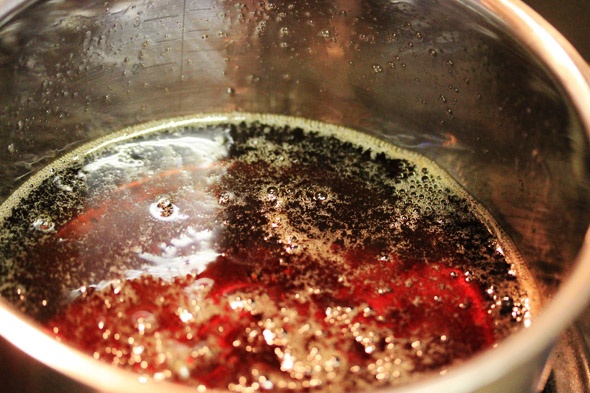 then reduce the heat to medium-low and simmer for about 10 minutes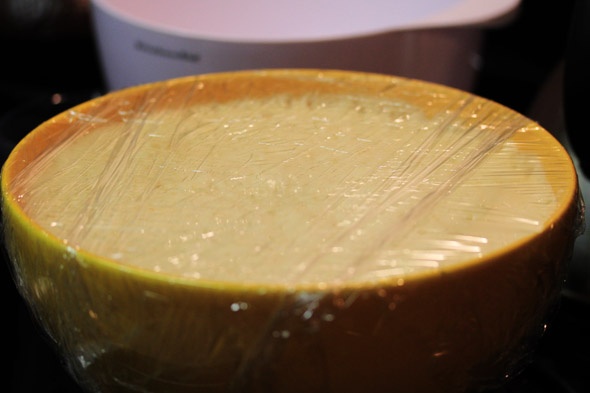 I let this proof in a warm oven for 2 hours and look at how big it is LOL!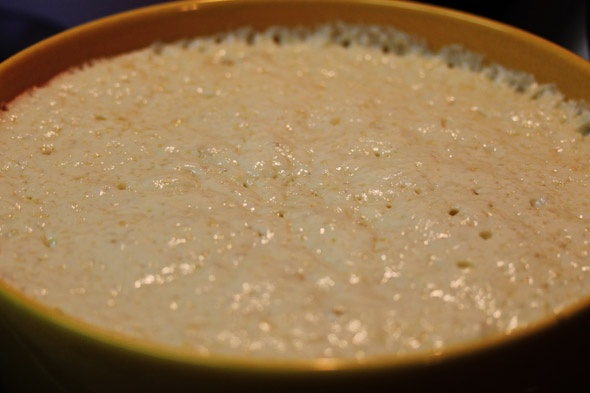 that yeast is so happy, ready for the waffle iron 🙂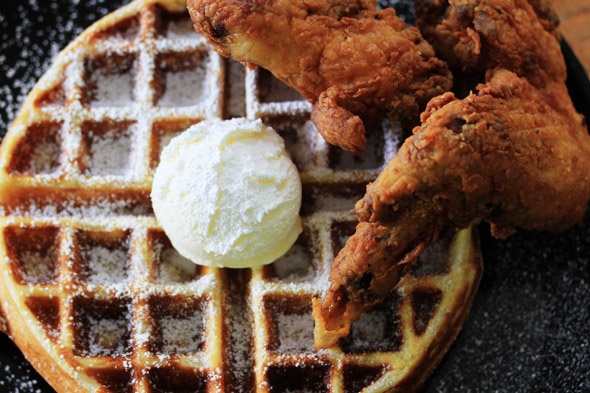 plate it up!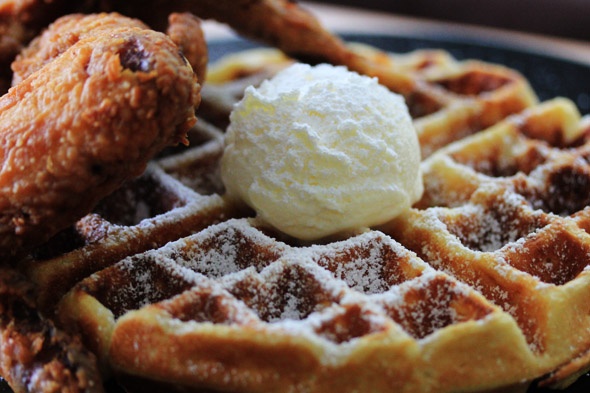 …OMG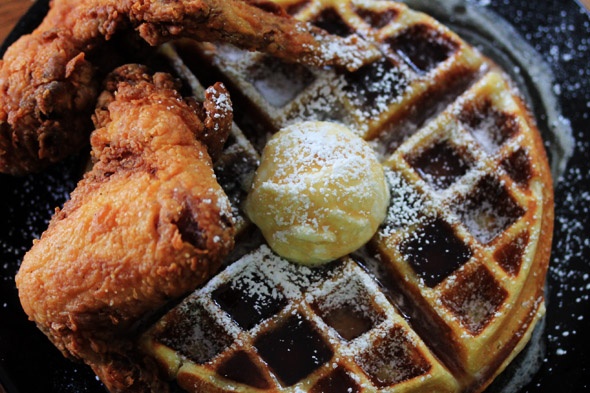 …drizzle that syrup all over it, and watch your life change…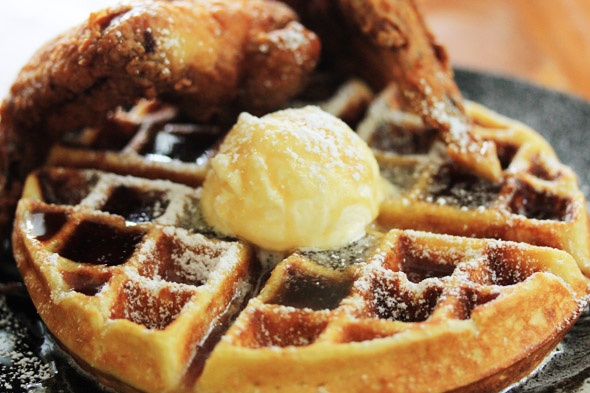 sooooo good!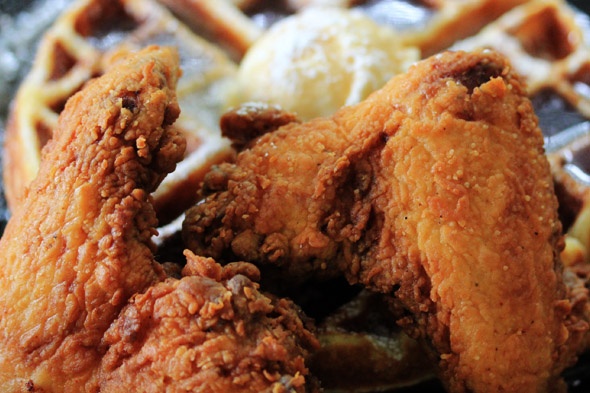 this chicken was smack-ya-mama juicy, and seasoned perfectly!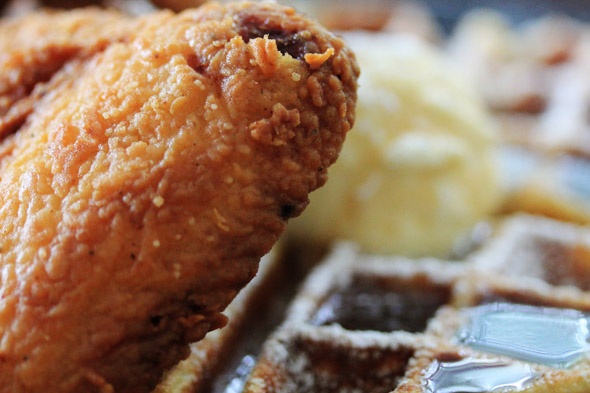 so many amazing flavors going on here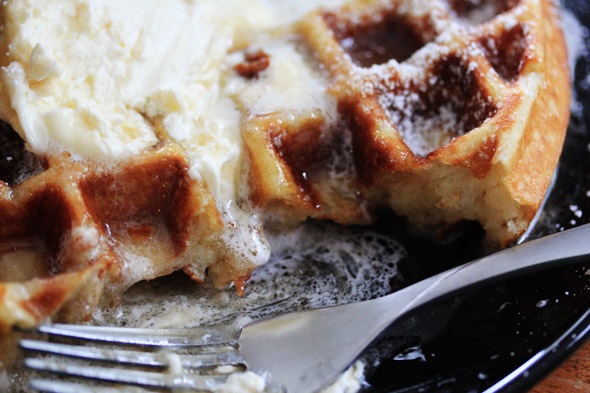 Paula Deen would be proud 😉
You'll enjoy this, I promise. Everything comes together and will make you close your eyes with pure delight. Delicious.
Print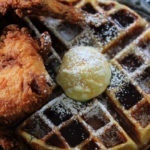 Fried Chicken and Waffles with Bourbon Maple Syrup
---
Author:

Resha

Total Time:

1 hour 35 mins

Yield:

4
Description
Juicy, crispy fried chicken and tender waffles with bourbon maple syrup
---
8

to

12

large chicken wings (you can remove the tips if you'd like)
Oil for frying (canola, vegetable or peanut)
Buttermilk brine:
1 qt

. low-fat buttermilk
about

1/4

cup

seasoned salt (I used Lawry's, you can use regular salt)
Flour mixture (these are approximate measurements, use your best judgement):
2 1/2

to

3

cups

all purpose flour

1

–

2

tbsp seasoned salt

2 tsp

black pepper

1 tbsp

onion powder

1 tsp

chili powder

2 tsp

paprika

1 tsp

cayenne pepper
For the Yeast Waffles:
1 3/4

cups

whole milk, at room temperature

2 1/2

cups

sifted all-purpose flour

1 tablespoon

active dry yeast (from

2

envelopes)

2

large eggs, at room temperature

2 teaspoons

agave nectar or honey

1 teaspoon

salt

2 tbsp

sugar
For the Bourbon Maple Syrup:
1

cup

maple syrup

1/4

cup

bourbon

1/2 tsp

vanilla extract

1

to

2

tbsp light brown sugar
---
Instructions
In a bowl large enough to hold all of your chicken wings, pour in the buttermilk and whisk in the seasoned salt until dissolved.
Rinse each chicken wing under cold water then place inside of the buttermilk mixture. Allow this to sit in the fridge for at least 3 hours, up to 8.
To prepare for frying, heat the oil to 375 degrees using either an electric deep fryer, or large heavy bottomed pot.
In either a shallow dish, large bowl, or paper bag, mix together the flour and seasoning until combined.
Take each piece of chicken out of the buttermilk mixture, allowing excess to drip off and place into the flour mixture. Toss around until coated evenly. I usually press the flour into the chicken to assure it's properly coated. Repeat until every piece is coated. Then arrange each piece on a plate and refrigerate for about 10 to 20 minutes — this just helps the flour really stick onto the chicken. Remove from the fridge, and toss into the flour mixture one more time. Shake off the excess and stick into your hot oil. Fry up to 4 pieces at a time for about 12 to 14 minutes or so. Don't overcrowd the fryer because the temperature of the oil will drop down too drastically and it just won't fry the way it should. You start with 375 degrees, but once the 4 pieces of chicken are added, it will drop down to between 350 and 365 degrees, which is ideal. I always know when the chicken is ready to come out of the oil when it gets "quiet" in the fryer and is a beautiful caramel brown color and kinda floating to the top of the oil.
Drain and repeat until each piece is fried.
For the Yeast Waffles:
In a large bowl, combine the milk, ½ cup melted butter, flour, yeast, eggs, agave or honey, salt, sugar and whisk until smooth. Cover with plastic wrap and let stand until the batter is very puffy, about 2 hours at room temperature (or refrigerate overnight).
Preheat the oven to 250°. Preheat a waffle iron and brush it with melted butter, or use a butter flavored non-stick spray. Gently stir the batter to deflate it. For each batch, fill the waffle iron about two-thirds full (the batter will spread and rise); brush the waffle iron with melted butter as needed.
Cook the waffles until golden and crisp. Transfer the waffles immediately from the iron to plates, or keep them warm in the oven. Serve the waffles with softened butter, bourbon maple syrup and fried chicken.
For the Bourbon Maple Syrup:
In a small pot, pour in all ingredients and bring to a boil over medium-high heat, while stirring to dissolve the brown sugar.
Once it starts boiling, reduce the heat to medium-low and allow mixture to simmer for about 10 minutes. The syrup will reduce a little and the alcohol will burn off, leaving nothing but flavor behind.
Turn off the heat but leave the pot on the stove. The mixture will cool down slowly and thicken/caramelize. Just stir it around with a spoon if you need to. While it's still warm, pour over your waffles and enjoy.
Notes
Don't overcrowd your fryer or pot when frying because it will cause the temperature of the oil to drop down drastically and leave you with soggy chicken. Giving the chicken a good 10 to 20 minutes to chill out in the fridge also helps most of the coating stay on while it's being fried.
Prep Time:

1 hour

Cook Time:

35 mins

Category:

Brunch

Cuisine:

American
Keywords: chicken and waffles, fried chicken, waffles, brunch
Recipe Card powered by
Disclosure: This site uses various affiliate links. If a purchase is made using one of our affiliate links, we receive a small commission which helps support our efforts. Please read our
Privacy Policy
for more information.