This carrot cake with maple cream cheese frosting is one for the books! So freakin moist and perfectly sweetened. I absolutely love carrot cake, even the ones studded with plump juicy raisins. Yes!
"I hate carrot cake" is often what I'm told by people who have no idea what good life is all about. A bunch of weirdos, honestly. People you just cannot trust. I mean, who in their right mind hates carrot cake? What has carrot cake ever done to you? It's sweet, flavorful, moist, delicious, and one of the easiest cakes to make known to man. How can you not love cream cheese frosting? Butter, cream cheese, sugar, flavorings…sounds like bliss to me, but then again, most people in this world are weirdos. There is no wrong way to make carrot cake, only a favorite way. Carrot cake is so versatile and there are countless things you can do with it. Add a little ginger, or some pumpkin, or even chocolate. Add some juicy golden raisins, or another dried fruit — such as apricot, the possibilities are endless. Carrot gets shredded down so that it bakes evenly in the oven, and you're not chewing on hard raw pieces. Carrots also have tons of natural sugar, so they only help the cake taste better. Cinnamon, a little nutmeg, maybe some ground ginger, and man oh man, you've got a winner.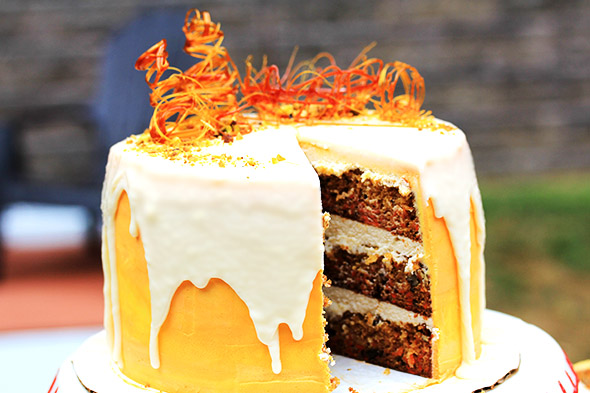 I spent two days making a carrot cake recently, and I'm pretty damn proud of it. Cake decorating isn't my specialty, but I do okay for an amateur. I topped this delicious cake with homemade sugar art, which I may have to show you how to do at a later time thru video — it's way too hard to make sugar art AND hold a camera at the same time. However, here's a link that'll show you how to do it at home.
I wanted contrast to my cake because I wanted to top it with a thin drizzle of white chocolate ganache. So, I added some food coloring to give a 2-dimensional feel to it of bright oranges and yellow hues. Totally a personal choice, you do not have to use food coloring at all for your cake. I don't typically add food coloring to my carrot cakes, but like I said, this time I wanted to.
For this recipe, focus on the cake and don't get caught up in trying to make it look like mine. This recipe is just enough for three 8-inch layers, but two 9-inch pans will work fine. If you only have two 9-inch pans and still have leftover batter, make cupcakes or something. This recipe is a starting off point, and as far as additions go, you can deviate from it as much as you'd like. If you don't like pecans, try walnuts — or any nut you do like. Hell, do a combination of nuts. If you like dried fruit, throw that in there. Go crazy with it. Just keep an eye on it as it bakes, because baking times WILL vary.
Depending on if you're using a dark-coated cake pan (like I did), or a light one. It'll also vary depending on the cake pan size, your oven temperature, etc. At the very least, start checking for doneness around the 30-minute mark. The toothpick you insert should come out clean with just a few crumbs sticking to it at the most. If you don't like the flavor of maple, leave it out! Seriously, do whatever you want.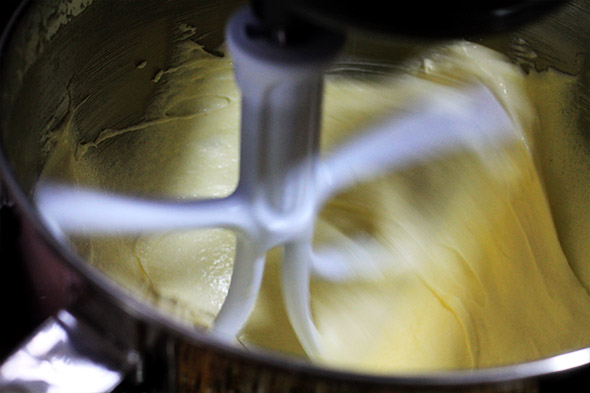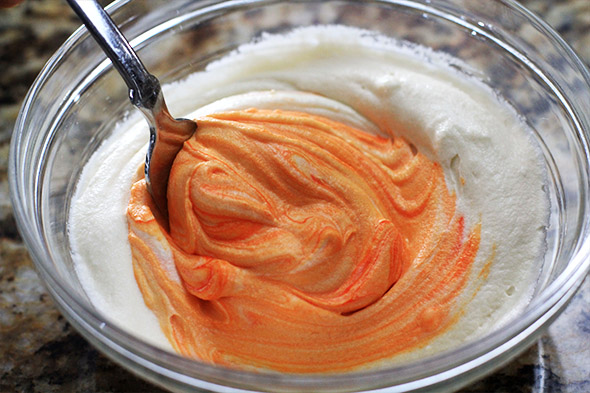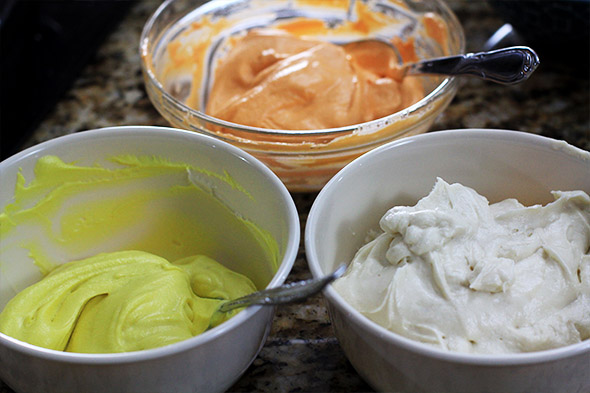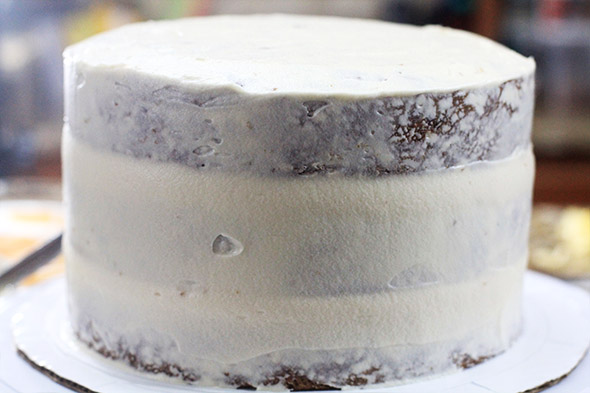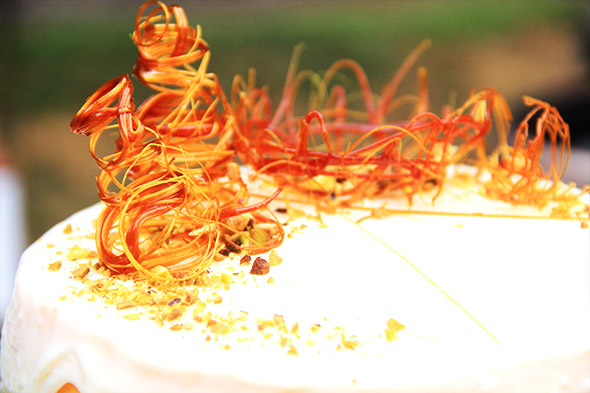 Print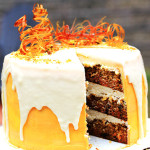 Carrot Cake with Maple Cream Cheese Frosting
---
Author:

Chef Resha

Total Time:

1 hour 20 mins

Yield:

12 servings
Description
slightly adapted from Food & Wine
---
For the cake
1

cup

pecans, or nut of choice

2

cups

all-purpose flour

2 teaspoons

baking powder

2 teaspoons

baking soda

1 teaspoon

cinnamon

1/2 teaspoon

ground ginger

1/4 teaspoon

nutmeg, freshly grated

1 teaspoon

salt

1

cup

vegetable oil

1/2

cup

buttermilk

1 1/2 teaspoons

pure vanilla extract

4

large eggs

2

cups

sugar

1

pound

carrots, peeled and coarsely shredded
For the frosting
3

sticks unsalted butter, room temperature
Three

8

-ounce packages cream cheese, softened

1 tablespoon

pure vanilla extract

1

to

2

tablespoons maple extract

2 tablespoons

maple syrup

2

cups

confectioners' sugar
pinch of salt (I used fleur de sel)
For the white chocolate ganache
12

ounces

white chocolate, chopped fine (don't use chips)

4

ounces

heavy cream
---
Instructions
Preheat your oven to 325°. Butter three 8-inch cake pans; line the bottoms with parchment. Butter the paper and flour the pans, knocking out as much excess flour as possible.
Spread the pecans on a baking sheet and toast for 8-10 minutes, until fragrant. Cool and finely chop.
In a bowl, whisk the flour, baking powder, baking soda, cinnamon, ground ginger, nutmeg and salt. In a small bowl, whisk the oil, buttermilk, maple extract, and vanilla. In a large bowl, using an electric mixer or stand-mixer, beat the eggs and sugar at high speed until pale, about 5 minutes. Beat in the liquid ingredients, mixing thoroughly. Beat in the dry ingredients just until moistened. Stir in the carrots and pecans. Divide the batter between the pans and bake the cakes for 30 to 40 minutes, or until springy and golden. Let the cakes cool on a rack for 30 minutes, then unmold the cakes and let cool completely. You can pop them in the fridge or freezer if you're in a hurry.
In a large bowl, using an electric mixer, beat the butter and cream cheese at high speed until light, about 5 minutes. Beat in the vanilla, maple extract, maple syrup, then the confectioners' sugar; beat at low speed until incorporated. Increase the speed to high and beat until light and fluffy, about 3 minutes. For even coverage, put about 3 cups of the frosting into a large piping bag. Otherwise, just plop the frosting onto the cake as you wish. You should have plenty of frosting leftover to frost the outside and top of the cake.
Peel off the parchment paper and invert one cake layer onto a plate or cake board. Spread with a slightly rounded cup of the frosting, or use the piping bag to create an even layer by starting in the center of the cake and swirling around until you reach the edge of the cake. Top with the second cake layer, right side up. You can spread a thin layer of frosting on the outside of the cake to make a "crumb coat". Chill the cake until the frosting sets up, about 20 minutes. Then spread the top and sides with the remaining frosting and refrigerate the cake until chilled, about 1 hour.
To make the ganache, heat the heavy cream in a small saucepan or microwave until really hot. Pour the hot cream over the finely chopped white chocolate. After about 2 minutes, gently stir until combined and smooth. Immediately pour the ganache on the center of the cake and let it drip down the sides. You may not use all of the ganache, it's up to you. Refrigerate the cake so that everything sets up, about 30 minutes.
Slice and serve.
Prep Time:

40 mins

Cook Time:

40 mins
Recipe Card powered by
Disclosure: This site uses various affiliate links. If a purchase is made using one of our affiliate links, we receive a small commission which helps support our efforts. Please read our
Privacy Policy
for more information.