I'm admittedly a big kid, and maybe even a little childish when it comes to certain things. As a kid growing up, fish sticks were one of my favorite things in the world to eat. When my parents were at work, and I'd come home from school, making fish sticks in a toaster oven was one of the few things I was allowed to do on my own. I'd toast them up, sometimes a little too much — burning the bottoms, and then dunk them in ketchup (ew lol) and watching after-school cartoons. Some things never change. I still love the flavorful crunch contrasted by the tender, flaky fish flesh inside. It's satisfying, nostalgic, and delicious. I love fried foods, but if there's an even tastier (or as tasty) way to get the same results without using a bunch of oil, I'm all for it. My favorite fish to do this with is cod. It's fairly inexpensive per pound, and neutral enough to take on just about anything you season it with. Flaky, juicy, deliciously wild from the sea. Whew, Lord.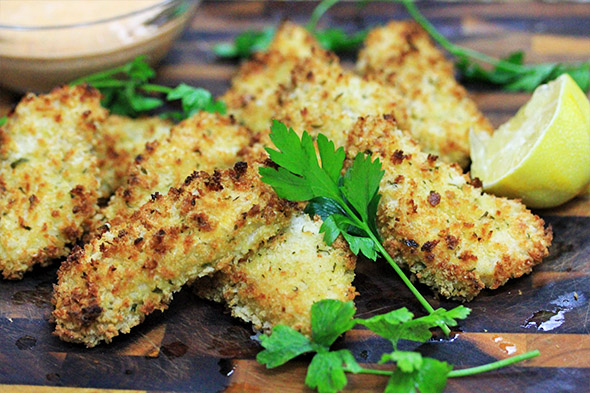 This is such a basic "recipe", that it's not even really a recipe. More of a technique that everyone should master in their kitchen. You've seen it before, a bajillion times, and you're about to see it again. I did not measure anything for this recipe, I just used my eyes — my favorite measuring tool. So, what I'll do is just list what I used, and let you be the boss of your own proportions. You're an adult (I'm assuming), so do whatever you want here. Season it however you'd like. It's your fish.
Although I've baked this, you can absolutely be naughty and fry this up if you'd like. It'd be amazing either way.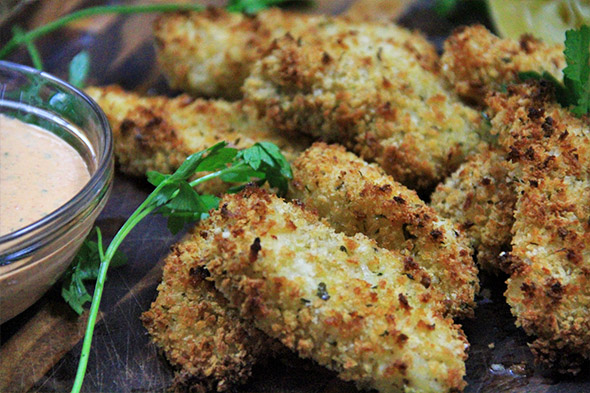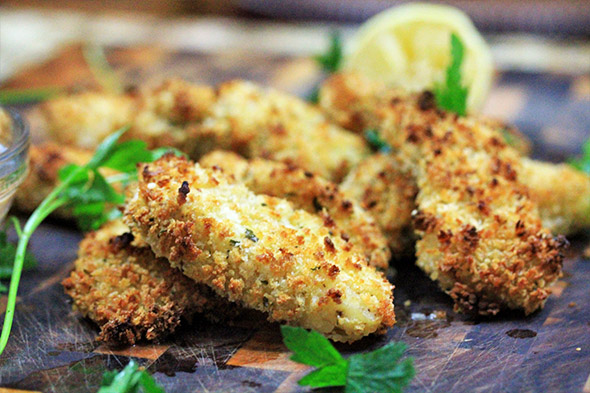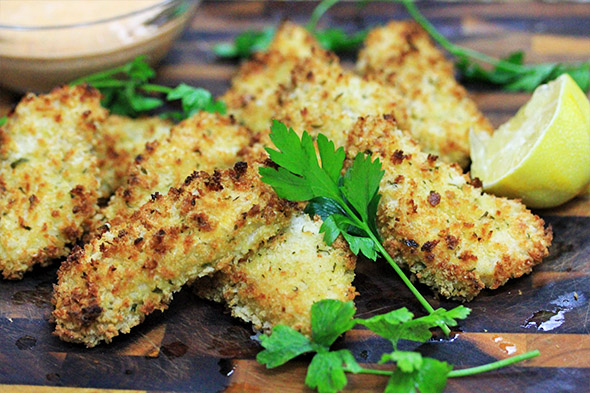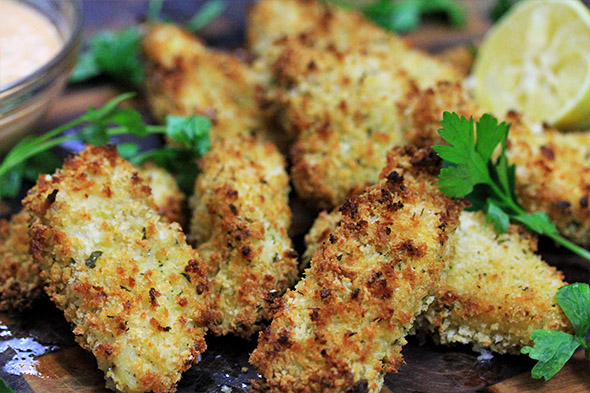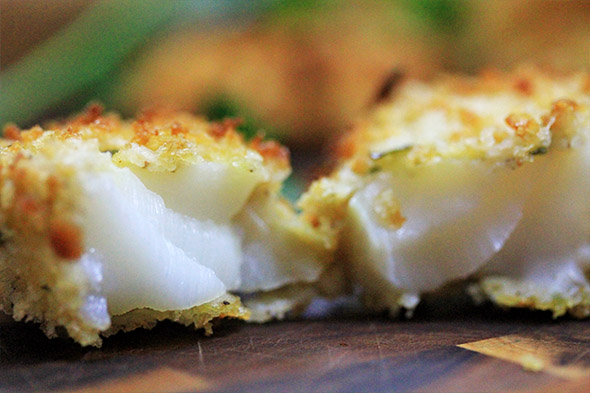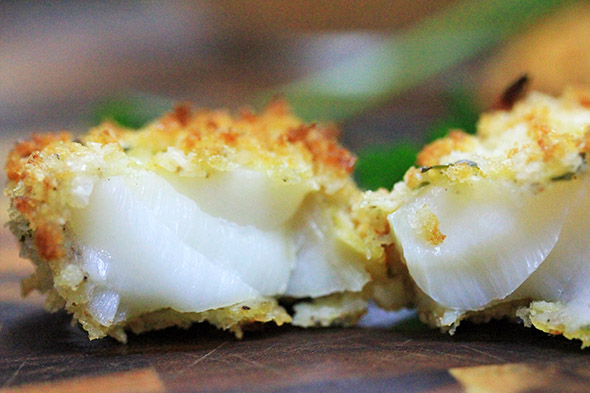 Make this with chicken or fish, any kind of fish you'd like — who am I to tell you what to do? Personally, this is the kind of meal I'd indulge in. It's not fried, which is great. Also, the dipping sauce is primarily greek yogurt — which you can kinda go in on and not feel like a total fat ass. This entire dish is a win for the waistline (for the most part). Enjoy!
Print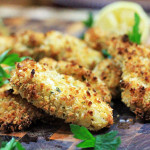 Crispy Oven-Baked Cod
---
Description
This is more of a technique than a recipe. See the photos for a visual guide, as I didn't measure anything.
---
For the Roasted Red Pepper dipping sauce
1

cup

greek yogurt

2

roasted red peppers, patted dry

1 tsp

fresh garlic paste, or

2

–

3

cloves minced
big pinch of fresh herb (parsley, cilantro, or dill — I used parsley)
good pinch of sea salt

1 tsp

smoked paprika
pinch of cumin
pinch of sumac (optional)
pinch of dried herb (parsley, cilantro, or dill — I used dill)
naughty pinch of crushed red pepper flakes

1 tsp

granulated onion
zest of

1

lemon
juice of

half a

lemon
For the cod
good pinch of sea salt
black pepper
crushed red pepper flakes (optional)
For the crunchy coating
1/2

cup

all purpose flour

2

large eggs, beaten

1

cup

seasoned panko bread crumbs
olive oil
---
Instructions
For the sauce
Combine all the ingredients in a food processor and blend until smooth. Taste and adjust. Transfer to a smaller bowl, cover with plastic wrap and refrigerate until ready to use.
For the cod
Slice your fish crosswise into chunks, evenly as possible so they call cook at the same rate. Toss them into a bowl with the salt, pepper and crushed red pepper flakes.
For the dredging
Set up your station by putting the flour into one bowl, the beaten eggs into another, and the panko into a third bowl. Dip each piece of fish into the flour, knocking off any excess, then coat with eggs, letting the excess drip off. Finally, press into the panko and set aside until all pieces are coated. Place the coated fish into your fridge or freezer for about 10 minutes to allow the coating to set up and adhere better. Line a baking sheet with foil and lightly spray with non-stick cooking spray. If using a baking rack, spray the rack as well. Place each piece of fish on the baking rack or sheet, drizzle lightly with olive oil, and bake for 15-20 minutes.
Serve immediately.
Prep Time:

20 mins

Cook Time:

20 mins
Recipe Card powered by
Disclosure: This site uses various affiliate links. If a purchase is made using one of our affiliate links, we receive a small commission which helps support our efforts. Please read our
Privacy Policy
for more information.