I don't know about you, but I'm so over turkey for the holidays. No, that doesn't mean I don't like turkey, because I absolutely do — but I'm just tired of sitting around a big turkey for Thanksgiving and Christmas. Can we do something different, please? I beg. I have the perfect recipe for you that will allow you to be the star in your kitchen. Braising large cuts of any kind of meat can be intimidating for the average home-cook, but I promise you it's easier than you'll ever imagine. All you have to do is essentially sear/brown your meat, cook down some aromatics, add the meat back, add some liquid and cook very slowly.
Pork is perfect anytime of the year, any season. It's versatile, easy to cook, and always extremely flavorful. This cider-braised pork shoulder is the perfect vessel for your holiday table. Fennel is in season, and it lends a delicious anise'y flavor to this juicy, naturally rich piece of meat. The way the onions, fennel, and apples cook down are just amazing — giving you a rich, savory compote effect to compliment the pork. The herbs lend even more flavor, and the cider infuses into the meat and helps enhance it's natural sweetness. Bottom line, everything here absolutely works.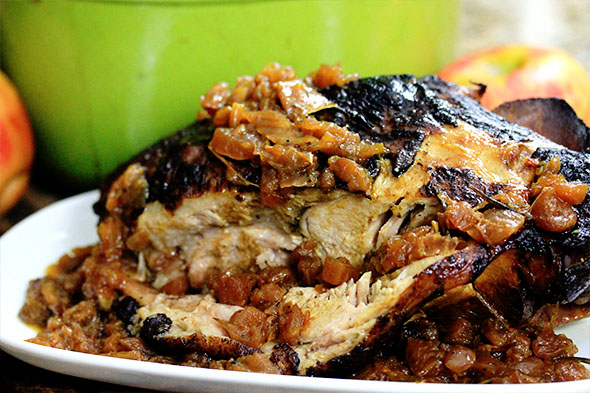 If you don't have a dutch-oven, you can absolutely finish this off in your slow cooker. My advice would be to start this meal out the way I recommend, by searing, sautéing, the whole-9…then finish it off in your slow cooker. You can choose High or Low heat, it's up to you. Just be prepared to enjoy one tasty bounty of porky deliciousness.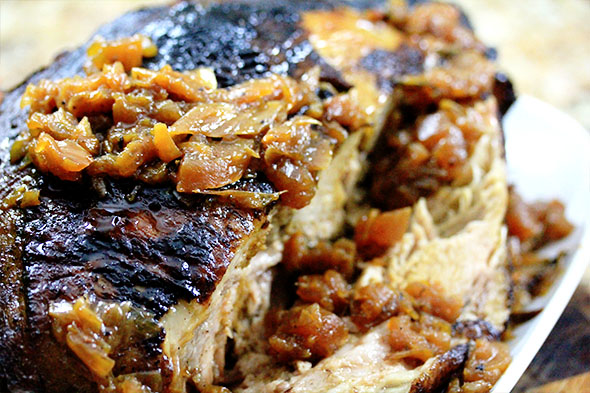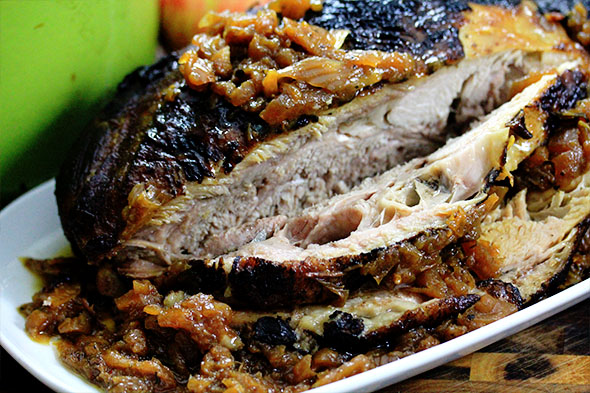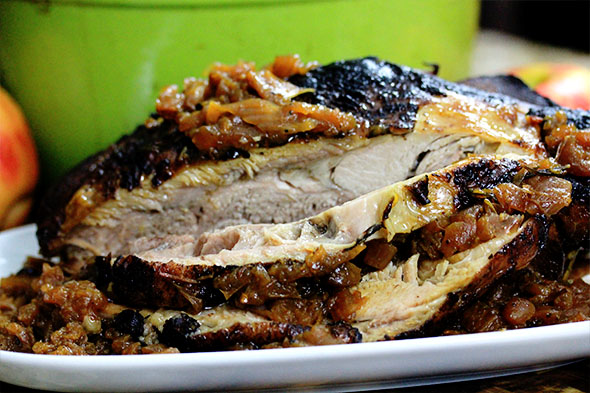 Serve this up alongside some white wine braised brussel sprouts, and maybe some creamy roasted garlic mashed potatoes, and enjoy the well deserved nap you're bound to take later.
For more delicious recipes, visit PorkBeInspired.com
Print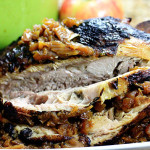 Cider-braised Pork Shoulder
---
Description
The perfect pork recipe for the holidays
---
1

bone-in pork shoulder, excess fat removed

1/4

cup

worcestershire sauce

1/2

cup

dijon mustard
black pepper
Braising ingredients:

3 tbsp

olive oil

1

large honey crisp apple, cored and chopped

1

large yellow onion, chopped

1

bulb fennel, chopped

2

cups

apple cider

1/2

cup

water

1/2

sprig fresh rosemary, left whole

5

sprigs fresh thyme, left whole
pinch of crushed red pepper flakes

1

star anise (optional)
salt & pepper, to taste
---
Instructions
Remove excess fat from pork shoulder if necessary. There should be a quarter-inch layer of fat left. Score the fat cross-wise, careful not to cut into the meat. Inject pork shoulder with worcestershire sauce, and rub thoroughly with dijon mustard. Season with kosher salt and black pepper. Cover with plastic wrap and let marinate 24-48 hours in the refrigerator.
When ready to cook, take the pork shoulder out of the fridge and let it come to room temperature for at least an hour before searing. Pre-heat oven to 300 degrees.
Heat olive oil in a large heavy-bottom dutch oven over medium-high heat until you start to see wisps of smoke. Lay the pork shoulder fat-side down and allow the fat cap to sear and render for about 3-5 minutes, or until golden brown. Brown all sides of the pork shoulder until golden brown, about 3-5 minutes per side. Remove pork shoulder from dutch oven, and set aside. You should have flavorful brown bits at the bottom of the pan. Pour off all the remaining fat, reserving 3 tablespoons.
Sautee the onions, fennel, apples, and crushed red pepper in the reserved fat until translucent and softened, about 8 minutes. Add the pork back to the onion, fennel, and apple mixture, making sure the veggies and fruit provide a nice "bed" for the pork. You can bring up some of the veggies/fruit mixture up the sides of the pork as well. Pour in the apple cider and water into the dutch oven, making sure it comes up 3/4 the sides of the pork — it shouldn't be covered in liquid. If you don't have enough liquid, pour in more water until you've reached 3/4 up the sides of the pork. Add the rosemary, thyme, star anise (if using), cover the dutch oven and bring to a boil. Once the pork has reached a full rolling boil, place the dutch oven into your pre-heated 300 degree oven, and braise for 3 hours with the lid on. Remove the lid after 3 hours, and braise an additional hour.
Remove the dutch-oven from the oven, and let the pork shoulder cool for about 20 minutes. Skim any excess fat from the top of the liquid. Taste the braising juices and adjust seasoning as needed. Carefully carve slices of the tender meat and serve.
Notes
If you do not have a large dutch-oven, you can use a slow cooker instead. Sear the meat, cook the aromatics until they're softened, then add everything to your slow cooker. Cook on desired high or low heat setting until the meat is completely tender.
Prep Time:

48 hours

Cook Time:

4 hours
Recipe Card powered by
sdfsd
sdfsdfs
Disclosure: This site uses various affiliate links. If a purchase is made using one of our affiliate links, we receive a small commission which helps support our efforts. Please read our
Privacy Policy
for more information.