I'm gonna need for you file Key Lime Everything under "Things Resha Needs For Survival", ok? Just do that for me and you'll begin to understand me a little better as a person lol. I loooooooove key lime everything! It's so good *drools*. I can't remember when I first got a taste of key lime pie, but I do remember instantly falling in love and never wanting to go a summer without it. I've been successful for many years, as key lime "something" is part of my summer eating regimen. I'll post a recipe for a classic key lime pie soon, but for now — check out these bars…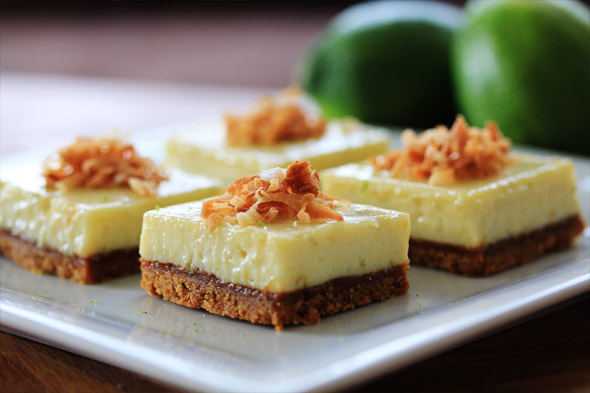 These key lime bars are the perfect introduction to Spring. They're sweet, tart, creamy, cool, and have great texture and flavor contrast with help of the toasted coconut. You don't have to use toasted coconut, it's totally optional — but very delicious. These bars hold up, so you don't have to worry about them being all fragile and helpless. I effing LOVE these. They're addictive as all get out, perfectly flavored, and unreasonably easy to make. You'd have to try pretty hard to mess these up, as they're basically fool-proof. They're small bars — about cookie size, so feel free to double this recipe if you want bigger and/or more bars.
Dude, I can't find "key limes"…
I know, I know — but don't worry, key lime pie is often made without actual key limes. Why? Well, because key lime's are not the easiest things to find. I live in the middle of 5 different grocery stores, and only one of them carries key limes — Wegmans (of course!). The regular limes you find in your grocery store are Persian (aka Tahiti) limes, and are much larger than key limes. Persian limes are just slightly more acidic than key limes, and have far fewer seeds than key limes. Key limes are super tiny, hard to juice, and it would take like 20 to 30 of them just to get the amount of juice we need for this recipe. Lastly, they're more expensive. So don't stress if you can't find real key limes for a key lime recipe — the cops aren't going to arrest you lol. Alternately you could use real key lime juice (I found some in the soda/tea aisle, near the tonic waters), but regular fresh lime juice is your best bet against all odds. Do NOT used regular bottled lime juice here.
The reason we're not using traditional graham crackers for the crust in this recipe is because it's too heavy a molasses flavor and really competes with the clean tartness of the filling. Animal crackers have a slight citrus note and are milder, so they taste better here. These key lime bars only bake for about 15 minutes, and should be left out to cool for about an hour or so before being refrigerated. If you stuck them in the fridge right out of the oven, all of the steam would create condensation and you'll have wet droplets of water all over your filling, making it look a hot mess and basically ruining it. I let mine hang out on the counter for about 2 hours with a paper towel loosely draped over it to protect it and to absorb the steam rather than trap it. Then I put it in the fridge for about 2 hours and finally cut into it and heard angels sing a tangy-sweet tune.
You're going to love these, I promise.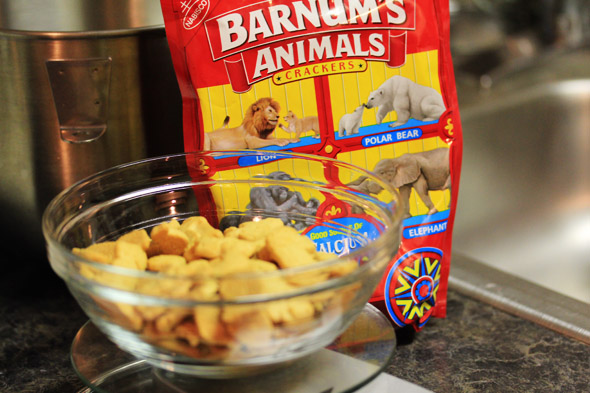 Use 5 ounces of whole animal crackers (about 2 cups). Grind these up in your food processor and make your crust.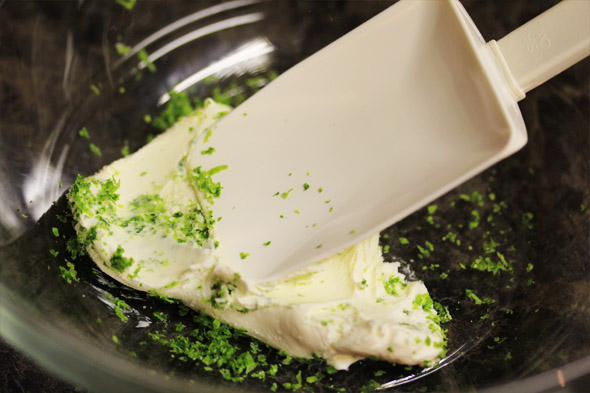 For the filling, combine the cream cheese and lime zest.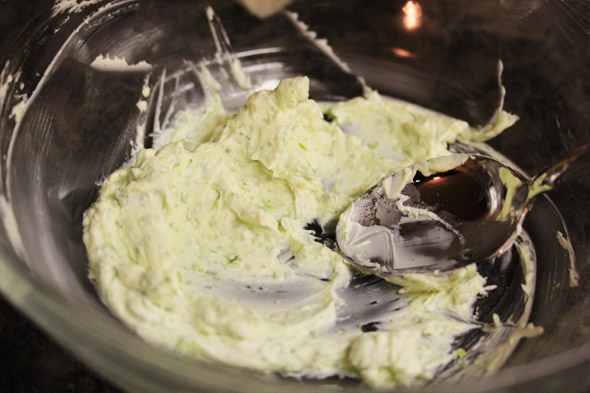 Until it's smooth like this.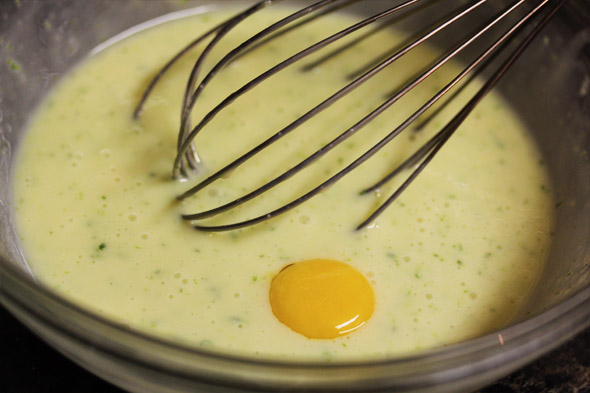 Throw in the sweetened condensed milk, and the egg yolk (if you can, remove that squiggly white thing attached to the yolk called the "chalazae"). It'll make for a smoother filling, but it's no big deal if you have trouble picking it out.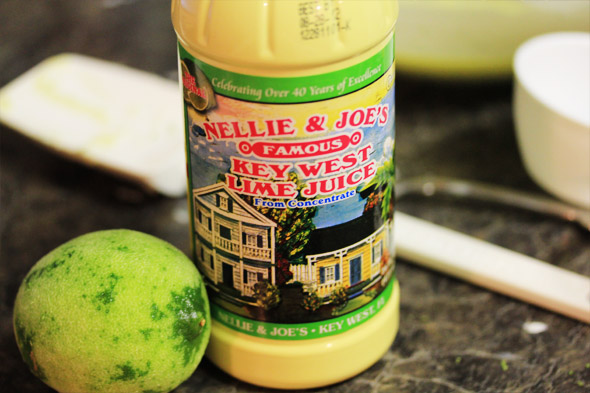 This is the key lime juice I used (DONT USE REGULAR BOTTLED LIME JUICE!), and if you can't find these just squeeze 3 or 4 limes to get the 1/2 cup of juice you'll need. I used the zest of a regular lime.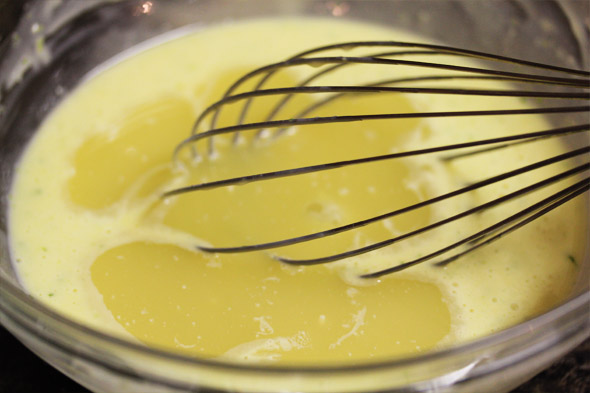 Pour in your juice and GENTLY whisk to fully combine.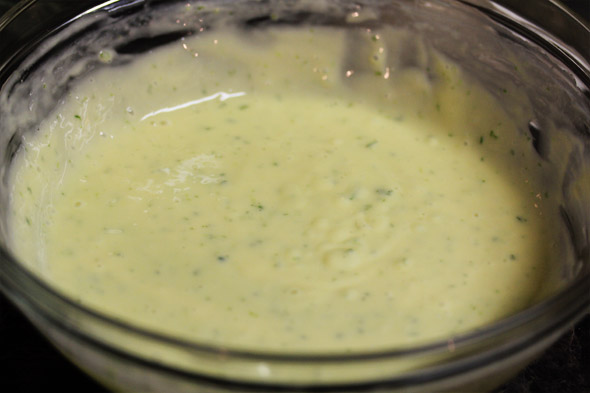 Mixture will thicken and look like this. Pour this into your pre-baked crust, for about 15 minutes and let it cool for a few hours before you dive into it.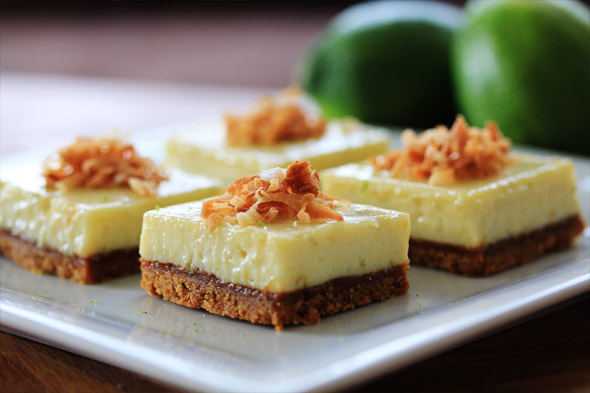 These babies are so delicious and have intense lime flavor, all key lime enthusiasts will enjoy 😉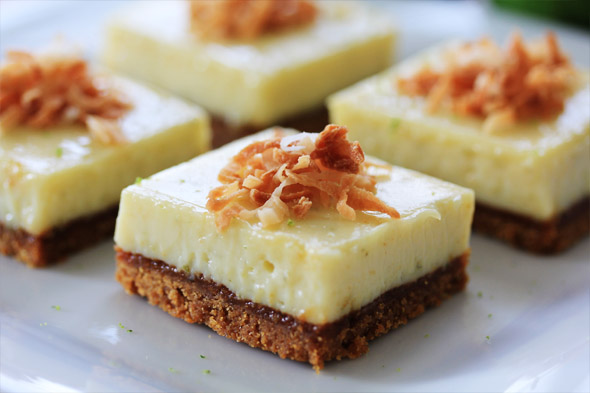 Print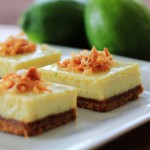 Key Lime Bars
---
---
Crust
5

ounces

animal crackers (about 2 cups)

3 tablespoons

packed brown sugar (light or dark)
Pinch table salt

4 tablespoons

unsalted butter, melted and cooled slightly
Filling
2

ounces

cream cheese, room temperature

1 tablespoon

grated lime zest, minced
Pinch table salt

1

(14-ounce) can sweetened condensed milk

1

egg yolk

1/2

cup

fresh lime juice, or Key lime juice
Garnish (optional)
3/4

cup

sweetened shredded coconut, toasted until golden and crisp
---
Instructions
Adjust oven rack to middle position and heat oven to 325 degrees. Cut about 12-inch length extra-wide heavy-duty foil; fold cut edges back to form 7 1/2-inch width. With folded sides facing down, fit foil securely into bottom and up sides of 8-inch-square baking pan, allowing excess to overhang pan sides. Spray foil with nonstick cooking spray.
TO MAKE THE CRUST: In workbowl of food processor, pulse animal crackers until broken down, about ten 1-second pulses; process crumbs until evenly fine, about 10 seconds (you should have about 1 1/4 cups crumbs). Add brown sugar and salt; process to combine, ten to twelve 1-second pulses (if large sugar lumps remain, break them apart with fingers). Drizzle butter over crumbs and pulse until crumbs are evenly moistened with butter, about ten 1-second pulses. Press crumbs evenly and firmly into bottom of prepared pan. Bake until deep golden brown, 18 to 20 minutes. Cool on wire rack while making filling. Do not turn off oven.
TO MAKE THE FILLING: While crust cools, in medium bowl, stir cream cheese, zest, and salt with rubber spatula until softened, creamy, and thoroughly combined. Add sweetened condensed milk and whisk vigorously until incorporated and no lumps of cream cheese remain; whisk in egg yolk. Add lime juice and whisk gently until incorporated (mixture will thicken slightly).
TO ASSEMBLE AND BAKE: Pour filling into crust; spread to corners and smooth surface with rubber spatula. Bake until set and edges begin to pull away slightly from sides, 15 to 20 minutes. Cool on wire rack to room temperature, 1 to 1 1/2 hours. Cover with foil and refrigerate until thoroughly chilled, at least 2 hours.
Loosen edges with paring knife and lift bars from baking pan using foil extensions; cut bars into 16 squares. Sprinkle with toasted coconut, if using, and serve. (Leftovers can be refrigerated up to 2 days; crust will soften slightly. Let bars stand at room temperature about 15 minutes before serving.)
Notes
If you cannot find fresh Key limes, use regular (Persian) limes. Do not use regular bottled lime juice, however bottled Key Lime juice is fine. Grate the zest from the limes before juicing them, avoiding the bitter white pith that lies just beneath the outermost skin. The optional coconut garnish adds textural interest and tames the lime flavor for those who find it too intense. The recipe can be doubled and baked in a 13- by 9-inch baking pan; you will need a double layer of extra-wide foil for the pan (each sheet about 20 inches in length) and should increase the baking times by a minute or two.
Recipe Card powered by
Disclosure: This site uses various affiliate links. If a purchase is made using one of our affiliate links, we receive a small commission which helps support our efforts. Please read our
Privacy Policy
for more information.