Hello, Spring! What better way to ring in the warm breezy weather than with a super luscious bite of creamy meyer lemon cheesecake topped with deliciously sweet and perfectly tart meyer lemon curd?? I bet you can't think of another way…I'll wait.
This cheesecake is incredible. It tastes like a cool, creamy glass of ice cold lemonade. You just may slap your mom when you try this. My mom wasn't anywhere around when I made this, but if she were…she would have felt the wrath of deliciousness upon my backhand. The hard part is trying to avoid a second slice, I'm so serious. This is a hard cheesecake to stop eating, I had to give it away soon after it was made. The meyer lemon curd really sends this sucker thru the roof. Don't let the curd scare you, it's really easy to do, I promise. Just make sure you pay attention to the consistency and remove it from the heat once it's done to avoid it from overcooking. Making this cheesecake without the meyer lemon curd is like going outside in nothing but a t-shirt in the middle of Winter…sure, you could do it, but why the hell would you?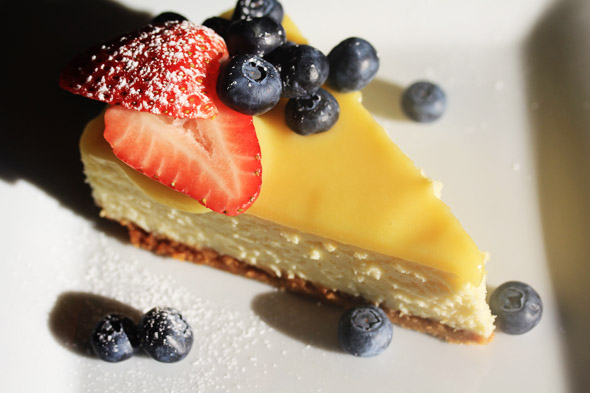 If you're a cheesecake fanatic, you must make this delicious bounty of thigh-thickening mouthsex. If you can't find meyer lemons, you could use regular lemons…but seriously try to find meyer if you can. I get mine from Wegmans, and they're sold in a little bag…I've seen them at Walmart too. You should be able to find them pretty easily.
I almost dropped a tear of pure delight when I took that first bite. I just sat there and shook my head in disbelief. It's insanely lemon, so if you are a huge lemon fanatic like I am, this is the dessert for you.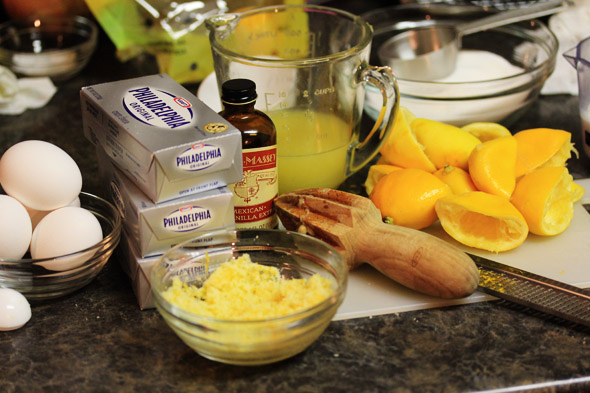 the gang's all here…well, most of the gang.

bake your animal cracker crust for about 15 minutes, let it cool, then add your cheesecake batter.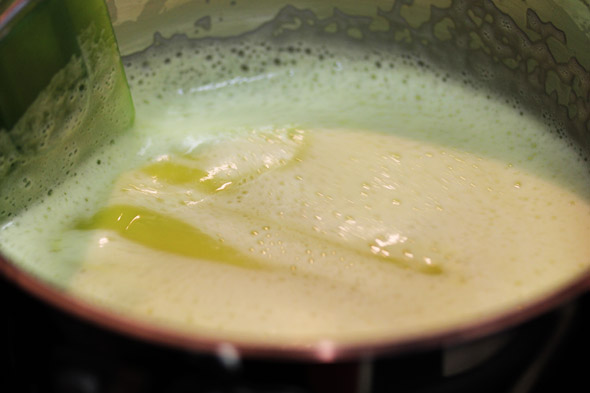 the lemon curd cooks fairly quick, so stay on your toes and focus on nothing else but this so you don't mess it up.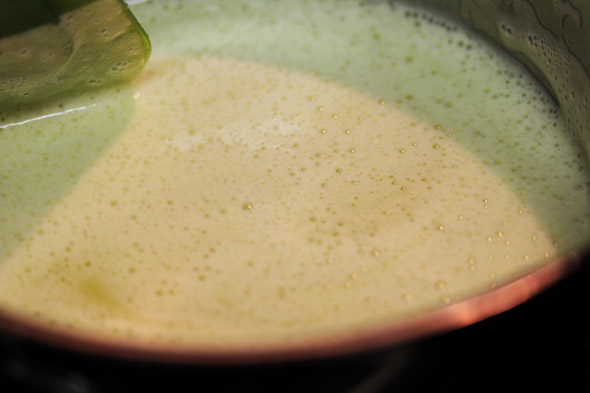 once these bubbles disappear, it's about ready…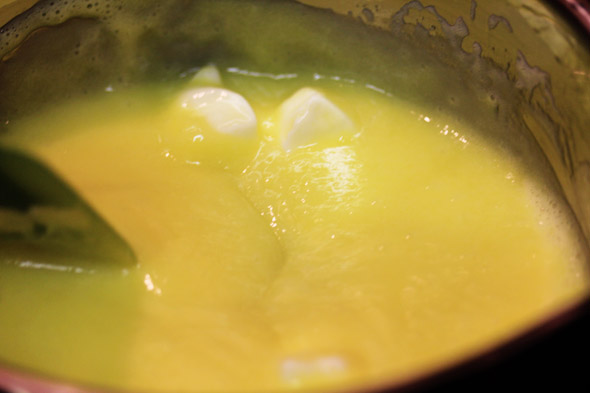 remove from heat, add your cold butter, stir, and watch it get thick.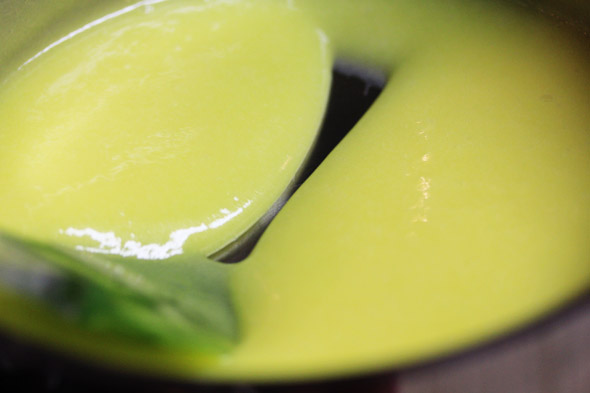 the curd should leave a quick trail like this and close up almost immediately.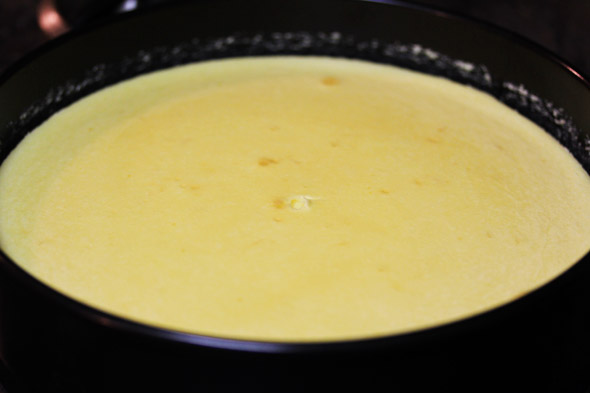 cheesecake's done! let this cool uncovered at room temperature for a few hours, THEN cover it up and stick it in the fridge for a few hours to continue cooling. If you cover it and immediately refrigerate it, all of the steam would cause condensation and make the top layer of your cake wet.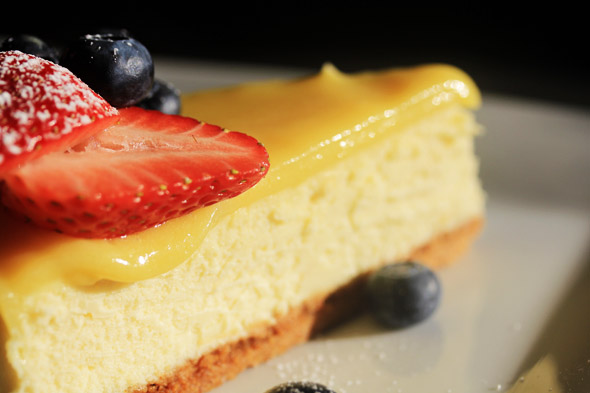 time to eat 😉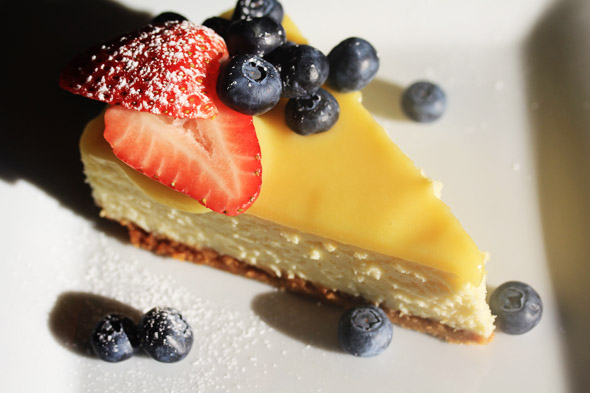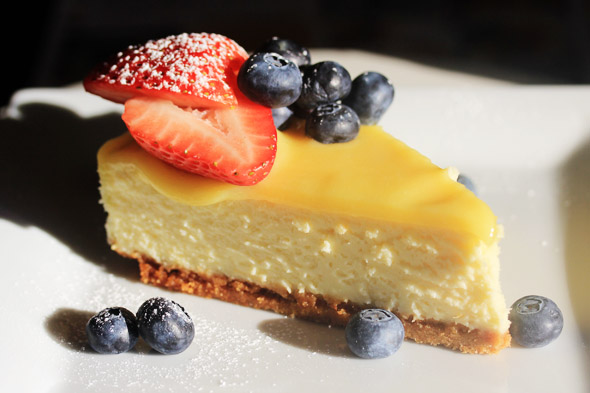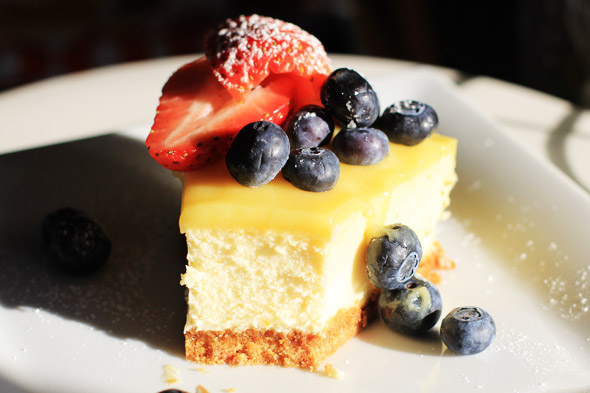 This was absolutely delicious. The meyer lemon flavor is so intense and will please any lemon lovers out there. Make this soon!
Print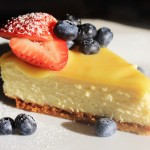 Meyer Lemon Cheesecake with Meyer Lemon Curd
---
Total Time:

2 hours

Yield:

12 to 16 servings
Description
adapted from Cook's Illustrated
---
Cookie-Crumb Crust
5

ounces

Animal Crackers

3 tablespoons

granulated sugar

4 tablespoons

unsalted butter, melted and kept warm
Filling
1 1/4

cups

granulated sugar (8 3/4 ounces)

1 tablespoon

grated meyer lemon zest

1/4

cup

meyer lemon juice

1 1/2

pounds

cream cheese (three 8-ounce packages), cut into rough 1-inch chunks and left to stand at room temperature 30 to 45 minutes

4

large eggs, room temperature

2 teaspoons

vanilla extract

1/4 teaspoon

table salt

1/2

cup

heavy cream
Meyer Lemon Curd
1/3

cup

meyer lemon juice

2

large eggs

1

large egg yolk

1/2

cup

granulated sugar (3 1/2 ounces)

2 tablespoons

unsalted butter, cut into

1/2

-inch cubes and chilled

1 tablespoon

heavy cream

1/4 teaspoon

vanilla extract
Pinch table salt
---
Instructions
1. FOR THE CRUST:
Adjust oven rack to lower-middle position and heat oven to 325 degrees. In food processor, process cookies to fine, even crumbs, about 30 seconds (you should have about 1 cup). Add sugar and pulse 2 or 3 times to incorporate. Add warm melted butter in slow, steady stream while pulsing; pulse until mixture is evenly moistened and resembles wet sand, about ten 1-second pulses. Transfer mixture to 9-inch springform pan; using bottom of ramekin or dry measuring cup, press firmly and evenly into pan bottom, keeping sides as clean as possible. Bake until fragrant and golden brown, 15 to 18 minutes. Cool on wire rack to room temperature, about 30 minutes. When cool, wrap outside of pan with two 18-inch square pieces heavy-duty foil; set springform pan in roasting pan.
2. FOR THE FILLING:
While crust is cooling, process 1/4 cup sugar and meyer lemon zest in food processor until sugar is yellow and zest is broken down, about 15 seconds, scraping down bowl if necessary. Transfer lemon sugar to small bowl; stir in remaining 1 cup sugar.
In standing mixer fitted with paddle attachment, beat cream cheese on low to break up and soften slightly, about 5 seconds. With machine running, add sugar mixture in slow steady stream; increase speed to medium and continue to beat until mixture is creamy and smooth, about 3 minutes, scraping down bowl with rubber spatula as needed. Reduce speed to medium-low and add eggs 2 at a time; beat until incorporated, about 30 seconds, scraping sides and bottom of bowl well after each addition. Add meyer lemon juice, vanilla, and salt and mix until just incorporated, about 5 seconds; add heavy cream and mix until just incorporated, about 5 seconds longer. Give batter final scrape, stir with rubber spatula, and pour into prepared springform pan; fill roasting pan with enough hot tap water to come halfway up sides of springform pan. Bake until center jiggles slightly, sides just start to puff, surface is no longer shiny, and instant-read thermometer inserted in center of cake registers 150 degrees, 55 to 60 minutes. Turn off oven and prop open oven door with potholder or wooden spoon handle; allow cake to cool in water bath in oven for 1 hour. Transfer springform pan without foil to wire rack; run small paring knife around inside edge of pan to loosen sides of cake and cool cake to room temperature, about 2 hours.
4. FOR THE MEYER LEMON CURD:
While cheesecake bakes, heat meyer lemon juice in small nonreactive saucepan over medium heat until hot but not boiling. Whisk eggs and yolk in medium nonreactive bowl; gradually whisk in sugar. Whisking constantly, slowly pour hot meyer lemon juice into eggs, then return mixture to saucepan and cook over medium heat, stirring constantly with wooden spoon, until mixture registers 170 degrees on instant-read thermometer and is thick enough to cling to spoon, about 3 minutes. Immediately remove pan from heat and stir in cold butter until incorporated; stir in cream, vanilla, and salt, then pour curd through fine-mesh strainer into small nonreactive bowl. Cover surface of curd directly with plastic wrap; refrigerate until needed.
5. TO FINISH THE CAKE:
When cheesecake is cool, scrape lemon curd onto cheesecake still in springform pan; using offset icing spatula, spread curd evenly over top of cheesecake. Cover tightly with plastic wrap and refrigerate for at least 4 hours or up to 24 hours. To serve, remove sides of springform pan and cut cake into wedges.
Notes
Judging the curd:
1. At first, the curd will appear thin and soupy.
2. When the spatula leaves a clear trail in the bottom of the saucepan (which quickly disappears), the curd is ready to come off heat.
3. If the curd continues to cook, it will become thick and pasty, and a spatula will leave a wide clear trail, which is what we do not want.
Prep Time:

1 hour

Cook Time:

1 hour
Recipe Card powered by
Disclosure: This site uses various affiliate links. If a purchase is made using one of our affiliate links, we receive a small commission which helps support our efforts. Please read our
Privacy Policy
for more information.