To know me is to know my love for herbs de provence. I adore this incredibly flavorful and richly fragrant herb blend so much, I put it on almost everything. Nothing sings to me louder than herbs de provence roasted chicken. It's a song in the key of life. Now, I've roasted a lot of chicken in my life, many ways, many flavor combinations. But nothing comforts me more than biting into a juicy piece of crispy-skinned roasted chicken flavored with flaky kosher salt and heavenly herbs studded with lavender. My gawd! It's so simple, and so good. I'm getting emotional, not even joking. This stuff tastes like a hug to your soul with a pinky in the air.
Apparently, I've put a lot of people on to herbs de provence via social media. Wonderful people from all over tag me in their photos and IG stories with their HDP purchases, telling me how wonderful it has elevated their food. That honestly warms my heart. I love being able to spread my love of food with people who are either novice or seasoned cooks. Food is the one thing that brings everyone together aside from music.
So let's talk about this chicken. If you're curious about trying this with a whole bird, thighs, breasts, or even wings — you can make this recipe. Of course, cooking times will have to be adjusted. Always make sure the skin of your chicken is as dry as possible when high-roasting. We don't want the surface moisture to steam and give us flabby, dull skin. My fiancé always jokes that he wishes I could just make him a bowl of crispy chicken skin to snack on. To me, there's nothing more delicious than biting into juicy meat with a crisp, crackling salty piece of chicken skin. Whewwwww!!!
Warning
Some of the following photos are admittedly gross, but hey — I'm not gonna sugar-coat the raw meat process. Sometimes it gets gross, and you gotta have a backbone to deal with it. I'm used to it, but a novice cook or vegan/vegetarian may want to cry looking at this. So, here's your warning now…do not proceed (or just scroll really fast) if you're squeamish.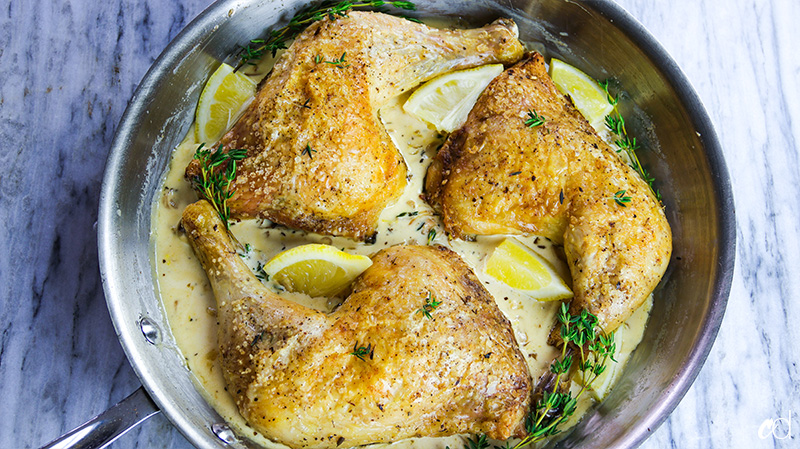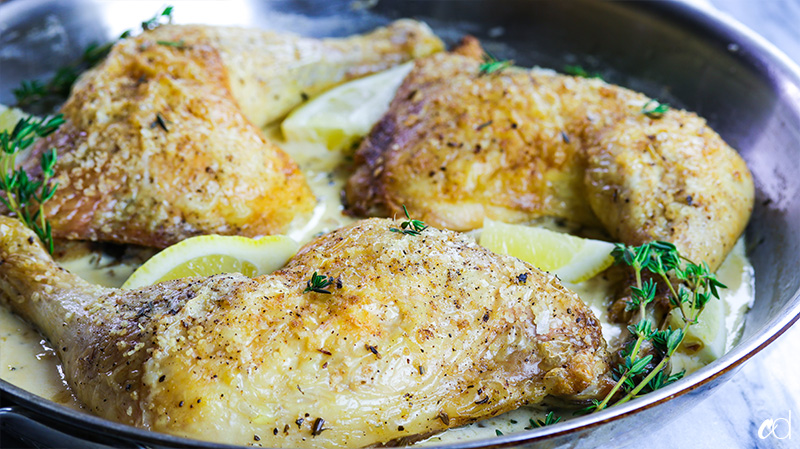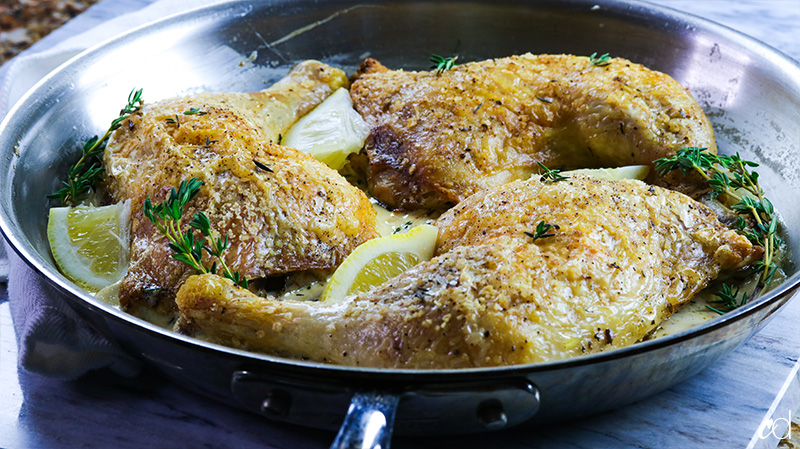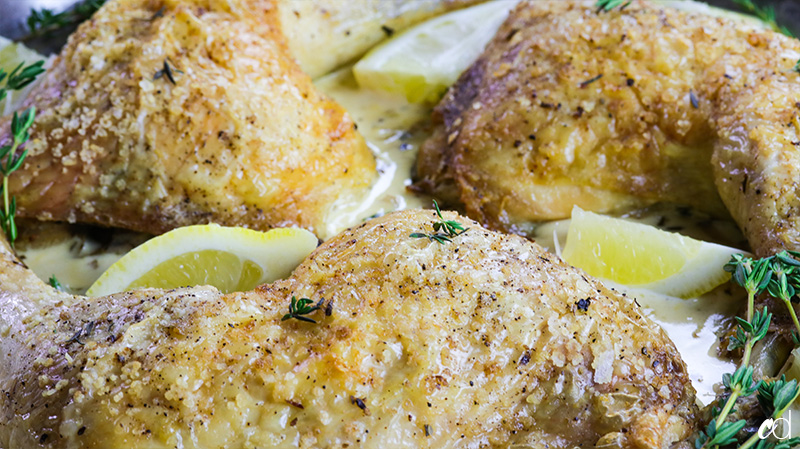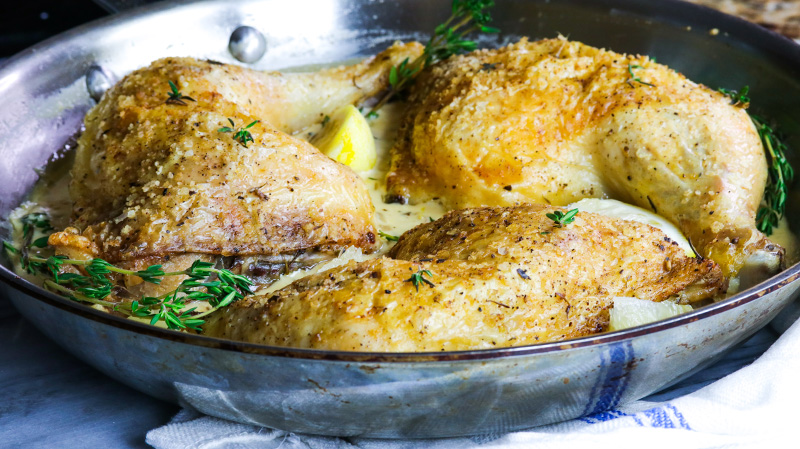 This dish is best served with your favorite sides, and a few slices of crusty garlicky bread for sopping. It comes together very quickly, in under an hour, and I cannot stress how simple and crazy delicious it is. I think this one will become one of your favorites, for sure.
Enjoy, and don't forget to pin!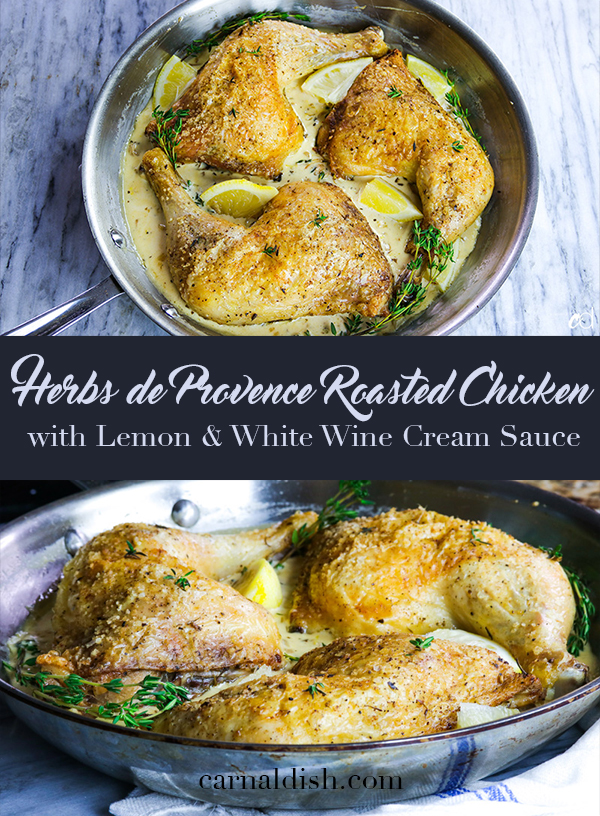 Print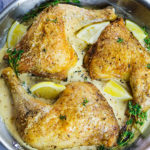 Herbs de Provence Roasted Chicken
---
Description
High-roast herbs de provence chicken leg quarters over a creamy lemon white wine sauce with shallots and fresh garlic.
---
For the chicken
4

large chicken leg quarters, trimmed of excess fat and skin

1 tablespoon

kosher salt, plus more if needed

1/2 teaspoon

black pepper, plus more if needed

1 teaspoon

granulated garlic

1 tablespoon

herbs de provence

2 tablespoons

olive oil
For the Lemon White Wine Cream Sauce
4 tablespoons

butter, divided

1/2 teaspoon

herbs de provence

1/2 teaspoon

crushed red pepper flakes

3

shallots, sliced thin

5

cloves garlic, sliced thin

1/2 teaspoon

kosher salt, plus more to taste

1/4 teaspoon

black pepper

1 tablespoon

fresh thyme
Zest of

one

lemon
Juice from

half a

lemon, about

2 tablespoons

1/2

cup

white wine (I used chardonnay)

1

cup

heavy cream
---
Instructions
For the chicken
Preheat oven to 400 degrees.
Allow chicken to come to room temperature at least 30 minutes before proceeding, it will help it cook more evenly.
Gently rinse off chicken with cold water, removing any surface gunk. Pat skin of chicken dry with paper towels, and remove any excess skin and fat pockets. Also remove any leftover guts and/or kidney's if needed. Place chicken skin-side down, with the flesh facing up.
Sprinkle an even amount of kosher salt, black pepper, granulated garlic, and herbs de provence all over the chicken. Lightly drizzle olive oil over the herbs and spices, and massage it into the meat thoroughly. Flip chicken over, skin-side up, and drizzle a little olive oil over the skin, about a teaspoon. Rub it over the skin thoroughly. Sprinkle a good amount of kosher salt and black pepper over the oiled side. Place chicken, flesh-side down on a baking sheet. Arrange the leg quarters so that the ends of the legs are in the center, which will prevent them from over-cooking in the oven.
Roast for 45 to 50 minutes, or until the internal temperature chicken reads 170 degrees, and the skin is crispy and golden. Remove the chicken from the oven and allow it to rest 5 to 10 minutes. Serve with the lemon and white wine cream sauce.
For the cream sauce
In a 12-inch skillet, melt the butter over medium-heat. Add the herbs de provence and crushed red pepper flakes. Let the mixture sizzle and infuse for about a minute or two. Add the shallots, a good pinch of kosher salt and black pepper, and saute until softened — about 5 minutes. Add the garlic, and continue to saute for an additional 3 minutes, or until the garlic is a very light toasty brown around the edges. You may have to add additional olive oil or butter during this process to keep the aromatics well-lubricated. If your shallots and/or garlic is browning too quickly, simply reduce the heat. Toss in the fresh thyme, and stir around for about 10 seconds. Be careful with this step, fresh herbs react to hot oil/butter and splattering can happen.
Pour in the white wine, scraping up any bits that may be on the bottom of the pan. Reduce the heat to medium-low and allow the wine to reduce just slightly, about 2-3 minutes. Again, if your wine is reducing too quickly, lower the heat. Add the heavy cream, and stir to combine. Allow the mixture to come to a gentle simmer, then reduce heat to low. Add the lemon zest, and season with kosher salt and black pepper. When the mixture is smooth and creamy, add the lemon juice. Stir to combine, taste and adjust seasoning. When it's perfect, turn off the heat and serve with the chicken.
Notes
About 15 minutes before the chicken is done roasting, start working on the cream sauce.
Recipe Card powered by
Disclosure: This site uses various affiliate links. If a purchase is made using one of our affiliate links, we receive a small commission which helps support our efforts. Please read our
Privacy Policy
for more information.