One thing's for sure, these holiday butter cookies drizzled with white chocolate are far better than the blue-tin cookies you remember from your childhood. Hell, adulthood even. Let's not front, we all still grab a container of those Royal Dansk butter cookies with the sugar baked into the surface, nestled into little paper cups around this time of year. But if you want to step it up for Santa, you've gotta make these holiday butter cookies. They're phenomenal, and flat-out crack'like. You'll make them, and see them disappear within a days time.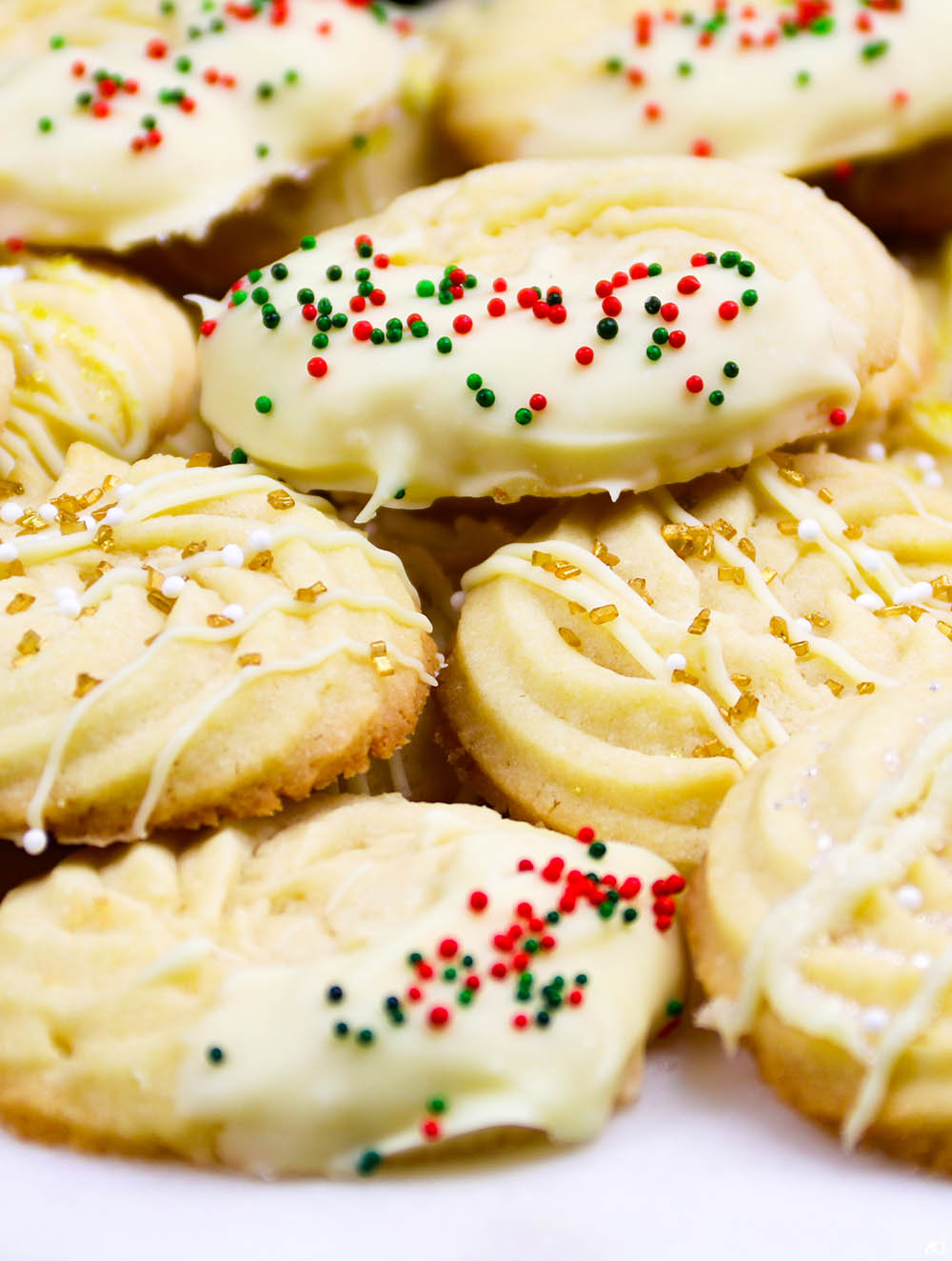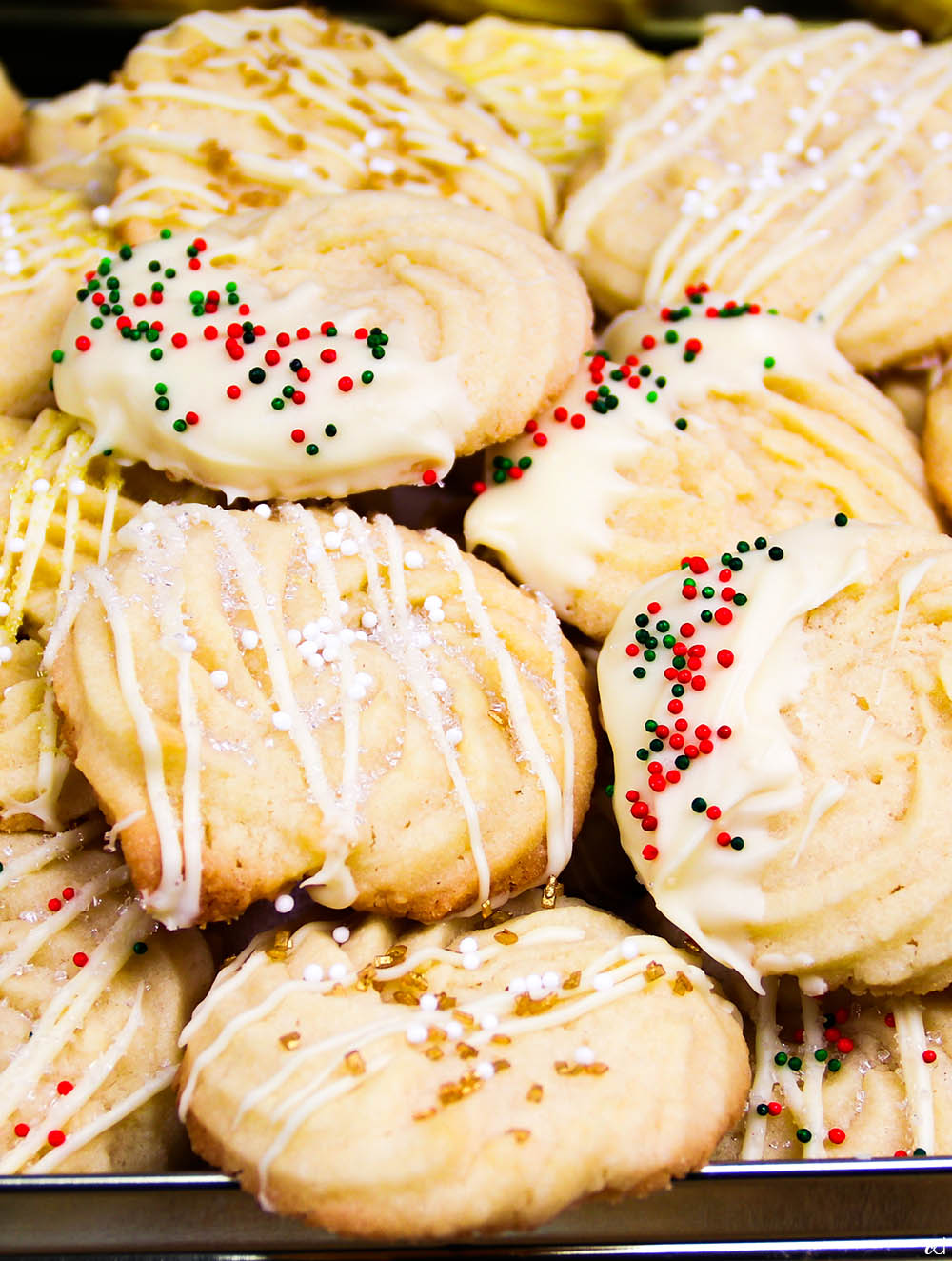 If you've ever wanted to make amazing Christmas cookies for Santa (or yourself), I'm here for you. I really need you guys to listen to my advice here. Although these cookies are probably the easiest cookies in the world to make, how they're executed is imperative if you want those adorable ridges. Cookies that consist of this much butter, can go awry — fast. If you follow these tips, you'll have some super amazing Christmas cookies.
Holiday Butter Cookie Baking Tips
Don't use butter that is so softened that it's greasy. The butter should be softened, but still cool, almost waxy. If it melts between your fingers as soon as you touch it, it's too softened.
Use superfine sugar if you can! You can easily make your own by processing granulated sugar for about a minute. Or, you can buy it. If you can't process your own sugar nor purchase superfine sugar, just stick to regular granulated. Nobody will be jailed, and the cookies will still be great.
The batter is designed to be stiff, and piping it out will be a struggle initially, but it shouldn't make you pop a blood vessel. You will get a workout, though! Therefore, make sure you add just enough milk to soften it, but not make it mushy. It should be stiffer than a regular chocolate chip cookie dough, but slightly softer than a shortbread cookie dough.
Err on the side of too stiff, instead of too mushy. Don't add more than a tablespoon of milk. Reason being, due to the amount of butter in the dough, it will eventually soften enough in your warm hands to be pipe'able. My first 6 cookies were tough to get out, but after that, they came out perfectly.
Use a large open star tip to pipe if you want those ridges.
Don't want to pipe? You can simply scoop or slice these cookies if you don't feel like going through the hassle of piping.
Can you use a cookie press? Probably! I don't have one, so I wouldn't know. But give it a try.
Refrigerate the dough after you pipe the cookies out for at least 30 minutes! This is important. The butter will continue to soften and melt when you're piping, so you don't want to put warm cookies in a hot oven. You'll lose the design you put so much muscle into, and they'll just melt into a pool of cookie nothing-ness (still delicious, but yeah). Refrigerating the dough will help the cookies stiffen back up, the butter to firm up, and the outcome should be a cookie with some ridges.
If you want sugar baked into the cookies, simply sprinkle the raw piped cookies with coarse sugar prior to baking.
Let them cool completely.
At the end of the day, things can go wrong visually, but even if your cookies flatten and spread, they'll still be delicious. Just keep practicing.
How to make Butter Cookies
Here's a quick video on how I piped my cookies. They were chilled immediately for 30 minutes after this before they were baked.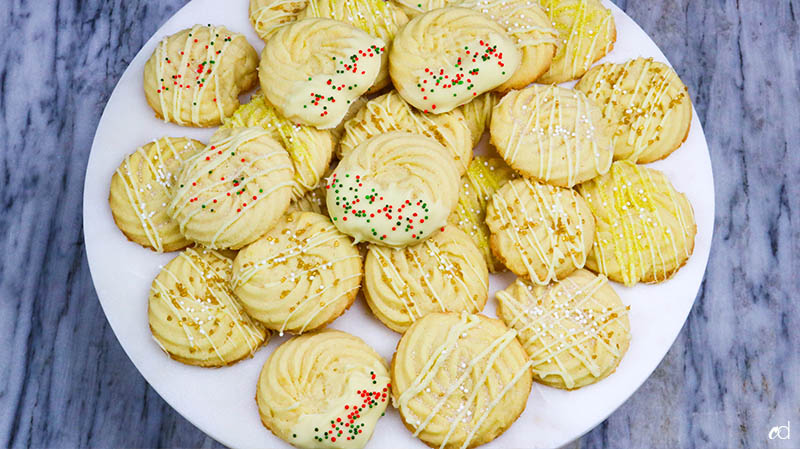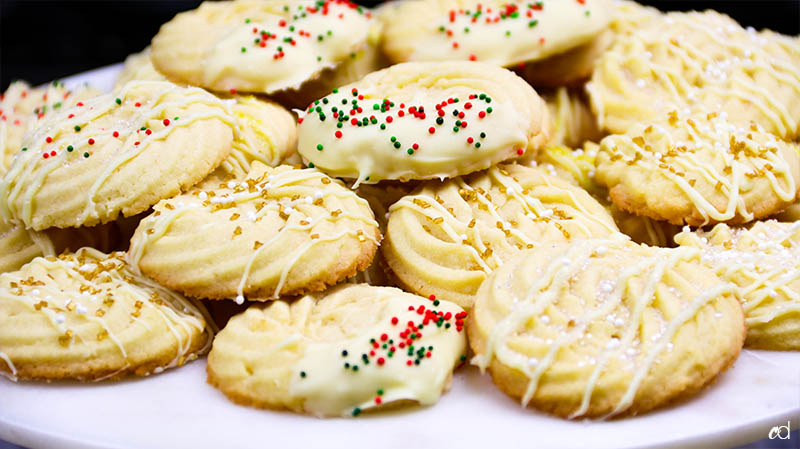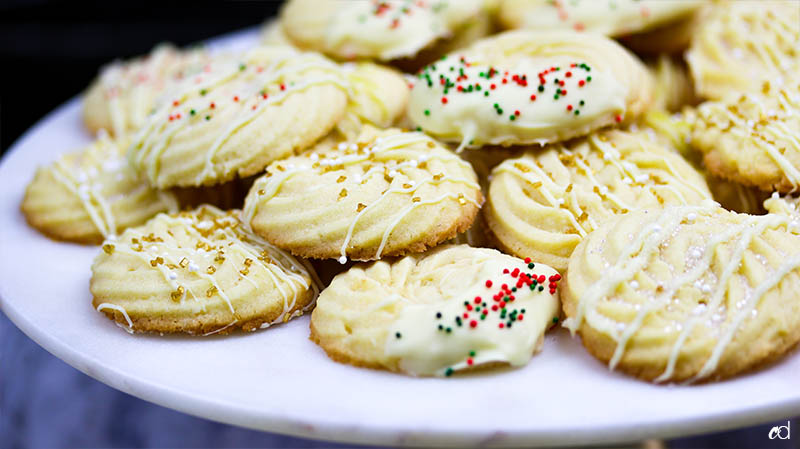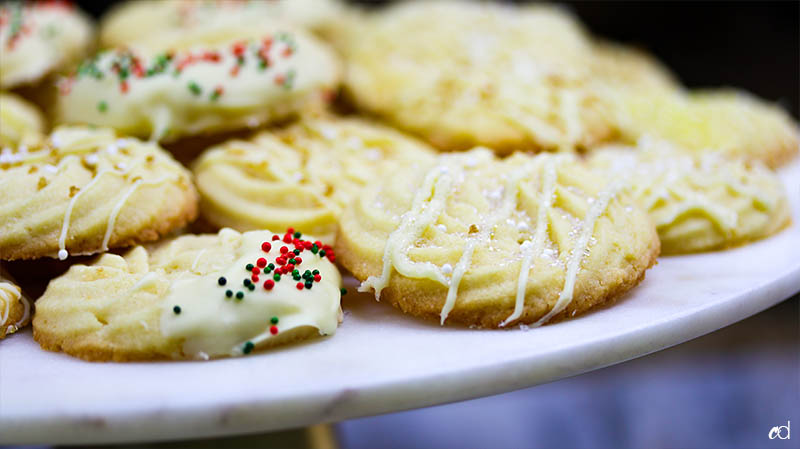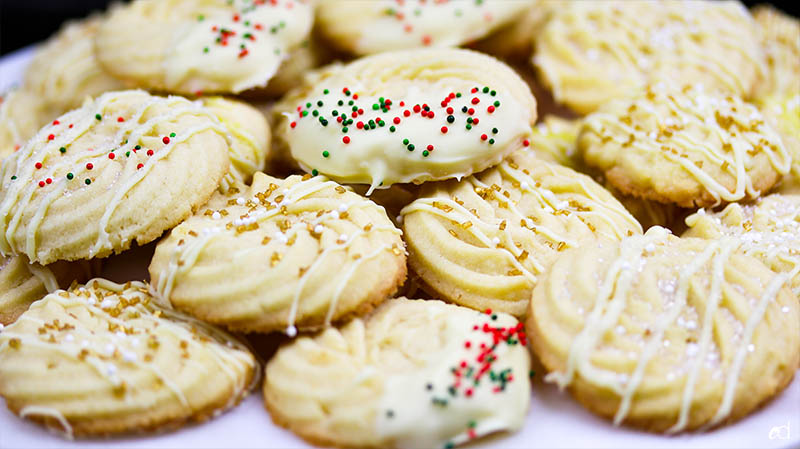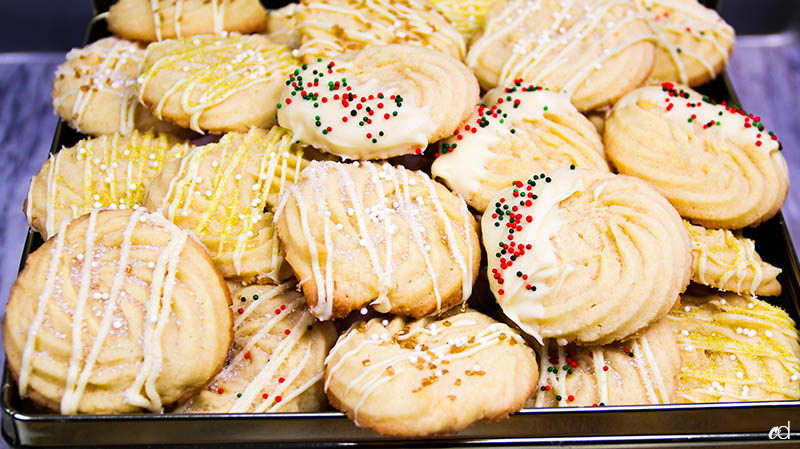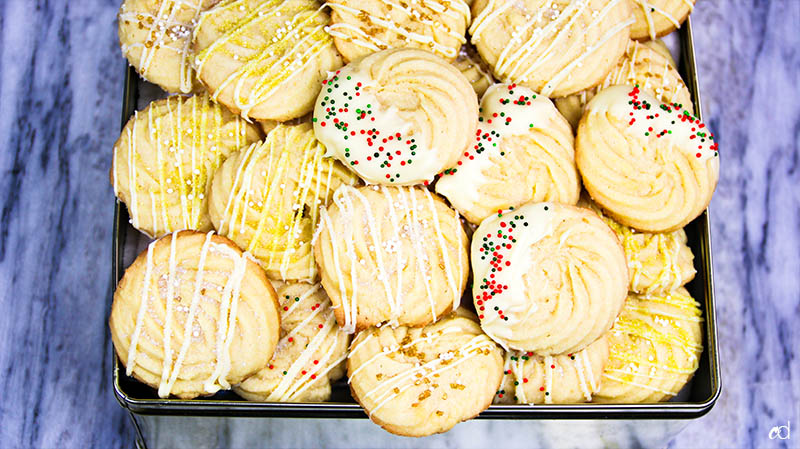 Make sure you take heed to the tips I've provided above. They'll answer a lot of your questions. These cookies are bomb, easy to make, yummy to eat, and fun to decorate. Honestly, they're so good you can skip decorating them altogether, but if you want them to look a little festive — go for it. Buttery, soft, crisp, crumbly, just pure perfection. Seriously, they're so delicious — you'll make these all the time!
Check out these Brown Butter Chocolate Chip Cookies while you're here.
Print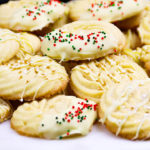 Holiday Butter Cookies
---
Author:

Chef Resha

Total Time:

30 minutes

Yield:

24-26 cookies
Description
The most delicious butter cookies for your Holiday table. Buttery, soft, crumbly yet crisp. They'll disappear just as fast as you set them out.
---
2/3

cup

(5 1/4 ounces/150 grams) superfine sugar (SEE NOTE)

16 tablespoons

salted butter, cubed, softened but still cool

2

cups

(10-ounces/285 grams) all-purpose flour

2

large egg yolks

1 teaspoon

vanilla extract

1 teaspoon

– 1 tablespoon whole milk
Optional Decorations
Melted chocolate (white or dark)
Melted candy melts
Coarse or dusting sugars
Nonpareils
---
Instructions
Preheat oven to 350 degrees. You will need two large ungreased sheet pans. I lined mine with silicone baking mats, but you don't have to. I don't recommend using dark-coated baking sheets for this, they get too hot and can scorch the bottom of your cookies.
In a large bowl cream together butter, and superfine sugar until combined. Use a handheld electric mixer or stand mixer. You could also cream it by hand — just use a sturdy rubber spatula and good old fashioned muscle.
Then, mix in the large egg yolks and vanilla until combined.
Add flour and use a rubber spatula to fold it all together until dusty/crumbly. Use the mixer to further combine the mixture. Then add in 1 teaspoon of milk. Add another 1-2 teaspoons if you need to so that it's pipe-able, but it shouldn't be mushy or too soft. Make sure the dough is still stiff enough so that it doesn't spread when baked.
Transfer the dough to a piping bag fitted with a large open star tip. Don't use anything with a closed tip, it will be too difficult to pipe it out.
Pipe out the dough into 2-inch cookies onto two baking sheets, then chill the piped dough for at least 30 minutes prior to baking.
Bake one sheet at a time until golden brown on bottom, about 12 – 15 minutes.
Let cool on baking sheet 5 minutes then transfer to a wire rack to cool completely.

Once the cookies are cooled, you can dip them into melted chocolate, candy melts, etc. Then top with desired coarse or dusting sugars and nonpareils. Allow the chocolate and decorations to fully set.
Serve, or store in an airtight container for up to a week.
Notes
You can purchase superfine sugar at most stores, but you can also make it in your own food processor. Simply process the sugar for 30 seconds to 1 minute. If you don't have a food processor, and can't purchase superfine sugar, you can still use regular granulated. Superfine sugar just melt's better and gives the cookie a better texture, but granulated will work just fine.
If using unsalted butter, simply add 1/4 teaspoon of fine sea salt to the sugar/butter mixture when creaming.
Prep Time:

15

Cook Time:

15

Category:

cookies

Cuisine:

American
Keywords: christmas cookies, cookies, butter cookies, holiday butter cookies
Recipe Card powered by
Disclosure: This site uses various affiliate links. If a purchase is made using one of our affiliate links, we receive a small commission which helps support our efforts. Please read our
Privacy Policy
for more information.