Carbs are love, and this cheesy hasselback potato gratin is life. Thinly sliced potatoes get vertically layered with shreds of gruyere, white cheddar, parmigiano reggiano, luscious heavy cream and half and half. Fresh herbs infused all through the dish, with tiny little morsels of sweet shallot and golden bits of garlic. As this bakes away in your oven, your home will be scented with the most heavenly aroma. I promise it will drive you crazy, and your mouth will water in anticipation.
If you create this dish, make sure you give props to the creator, Mr. Kenji-Lopez Alt — a culinary genius and mastermind. I love him dearly, and trust him completely. He appeals to my nerdy side, as I constantly crave knowledge about the science of food. Sure, you've had potatoes au gratin, but when you combine that technique with the greatness of a hasselback potato, you get something so incredibly luscious and worth fighting over. Your potatoes will stand up vertically, allowing their edges and tips to get golden brown, while bathed in a creamy, cheesy concoction of herbs, garlic, and shallots. It's bliss, I tell ya!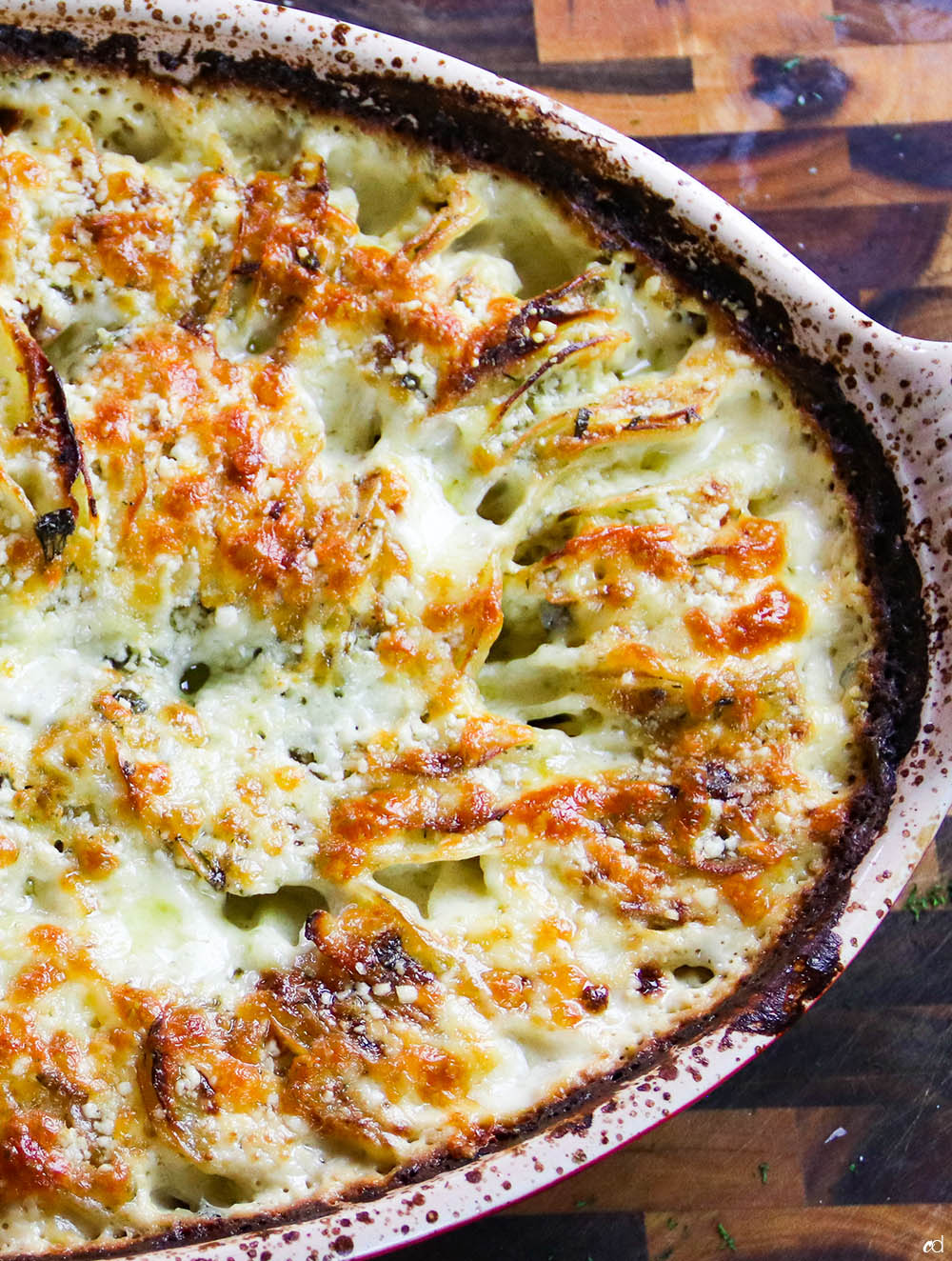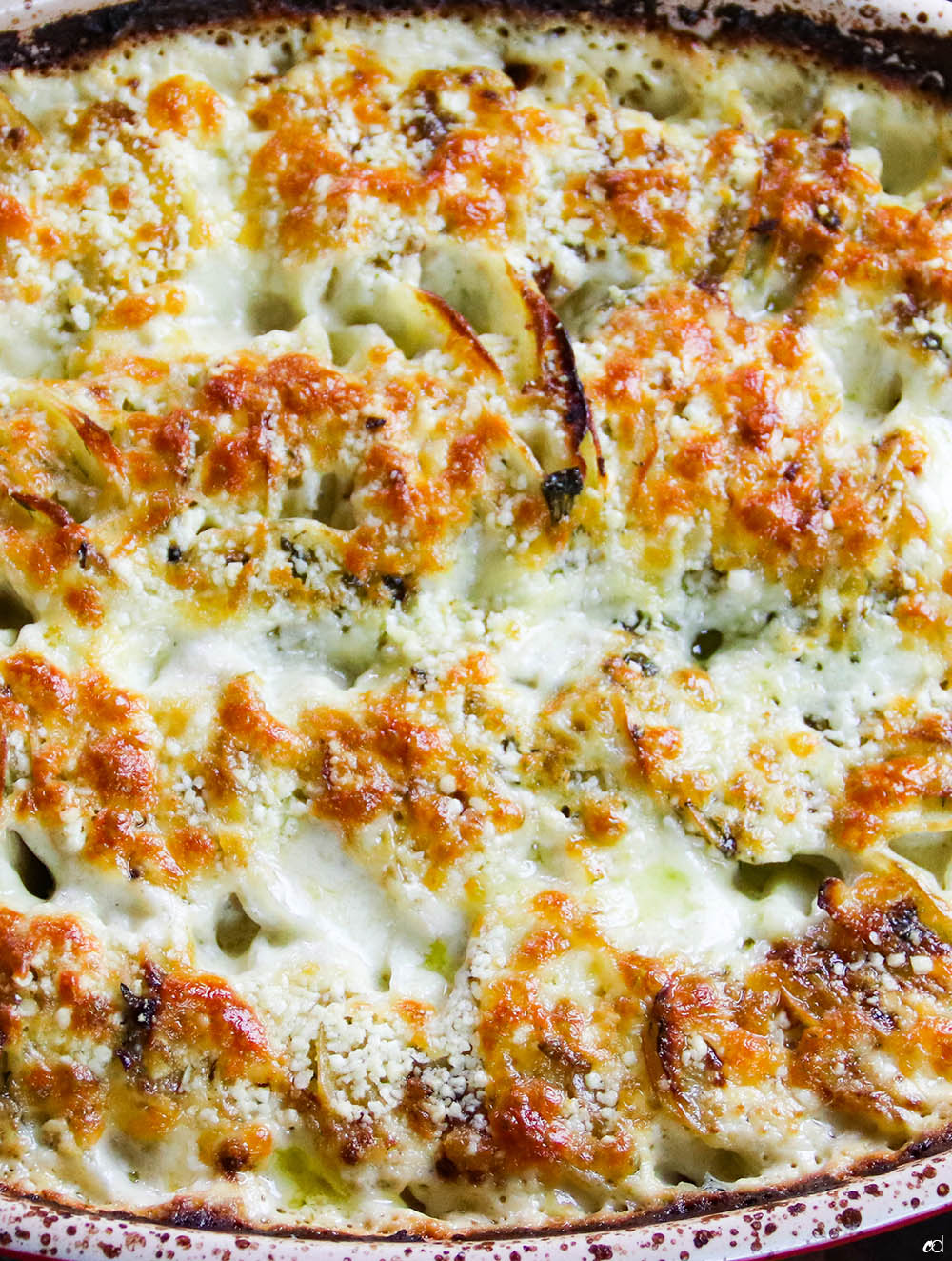 How to make Hasselback Potato Gratin
Make sure your gratin or baking dish is 3 quarts. I'm using a 3.1-quart Le Creuset gratin dish for this recipe. An oval, circular, or rectangular dish will work as well. Glass is fine, but anything dark coated may generate more heat than necessary, so keep an eye on it so that it doesn't burn.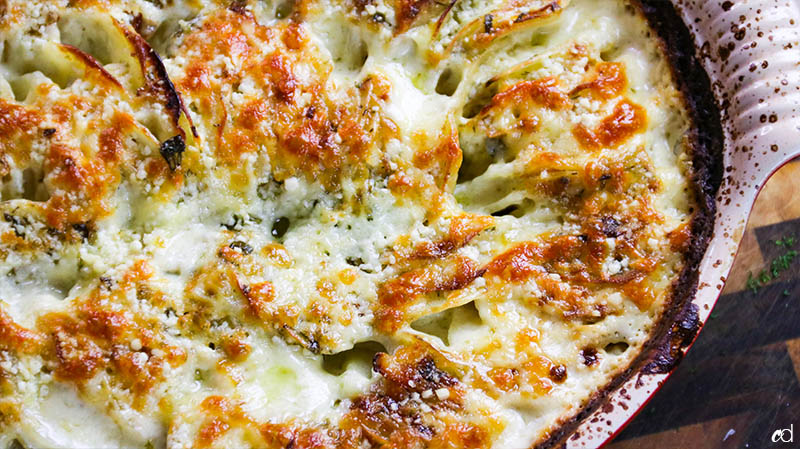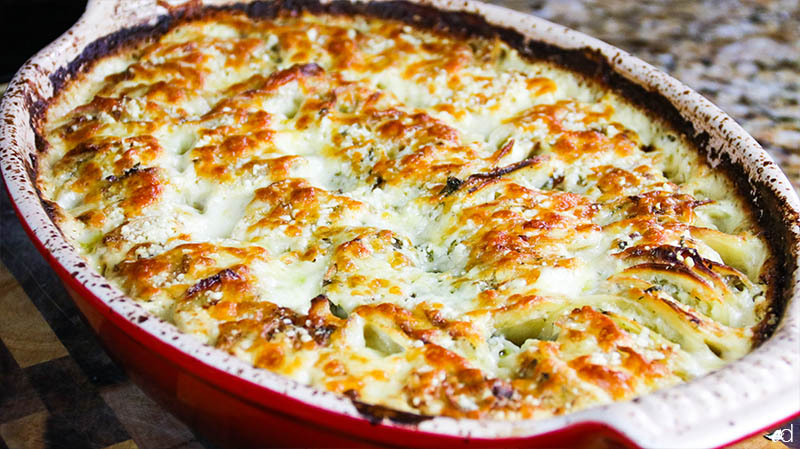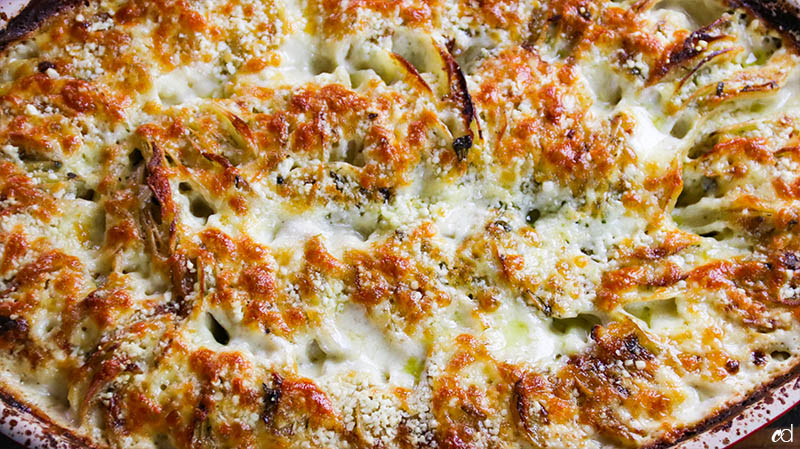 Make sure you salt this dish very well, because potatoes are bland and absorb flavor like little sponges. I cannot reiterate this enough, be generous with the seasoning. Also, not every kosher salt is created equal. I highly recommend either Diamond Crystal's, or David's kosher salt. Morton's is much saltier in comparison, so if that's all you have, use a little discretion.
I'm confident that you'll whip this dish up for your next holiday table or event, and it will disappear just as fast as you present it. It's insanely good, and super easy to put together. You'll also love my Garlic and Leek Creme Fraiche Mashed Potatoes. Enjoy!
Print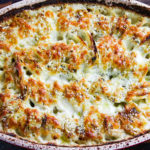 Cheesy Hasselback Potato Gratin
---
Author:

Chef Resha

Total Time:

2 hours

Yield:

8-10 servings
Description
Hasselback meets Au Gratin. Well seasoned potatoes stacked vertically and bathed in a luscious creamy concoction of herbs, sweet shallots, garlic and more. This is my spin on Kenji's delectable invention.
---
5

pounds

russet potatoes, peeled and sliced very thin (SEE NOTE)

2

cups

heavy cream

1

cup

half and half

4

ounces

sharp white cheddar, grated by hand

4

ounces

gruyere cheese, grated by hand

1/4

cup

parmigiano reggiano, grated by hand

2 teaspoons

cornstarch

1/4

cup

fresh dill, finely chopped

2 tablespoons

fresh parsley, finely chopped

2 teaspoons

fresh rosemary, finely chopped

2 teaspoons

fresh thyme, finely chopped

1/3

heaping

cup

shallots, finely diced

6

cloves garlic, finely chopped

2 teaspoons

black pepper

1/4 teaspoon

ground nutmeg

1 1/2

–

2

tablespoons kosher salt (SEE NOTE)
Cheese Topping
4

ounces

sharp white cheddar, grated by hand

2 tablespoons

pecorino romano, grated by hand
---
Instructions
Prep tips
Peel your potatoes first, and let them soak whole in a large bowl of cold water until you are ready to slice. Potatoes oxidize and turn a rusty brown not too long after they've been exposed to air. Soaking them in water helps prevent this, and buys you time to get everything else together. I recommend prepping everything else first, and waiting to the very last minute to slice the potatoes so that they're not exposed to air for too long.
To make things easier, I highly recommend you use a mandoline to help you slice your potatoes evenly and accurately. Keep your slices between 1/8 – 1/16 of an inch for best results.
Preheat oven to 400 F and adjust the oven rack to the middle position. Prepare a 3-quart gratin or baking dish by brushing the interior with about 2 tablespoons of olive oil.

In a medium bowl, toss the grated gruyere, white cheddar, and parmigiana reggiano with the cornstarch until evenly coated. Set aside.
In a large bowl, add the sliced potatoes. Pour in the heavy cream and half and half. Add the fresh dill, parsley, rosemary, thyme, shallots, garlic, nutmeg, kosher salt, pepper, and cheese/cornstarch mixture. Toss everything together, separating the potatoes as necessary to make sure they're all coated. Everything should be evenly dispersed.

Gather small handfuls of the potatoes in shingled stacks, then place into the greased baking dish, making sure they're tightly packed and their edges are vertical like a hasselback potato. It's easier to start placing them around the outer edge of the dish, and working towards the center. Repeat until all of the potatoes are used, and make sure they're all tightly packed so they can stand themselves up. Pour the excess herb, cheese and cream mixture evenly over the surface of the potatoes until it comes halfway up the sides of the baking dish. There might be some leftover liquid — if so, discard it, but feel free to scrape out any cheese leftover.
Cover the dish tightly with foil and place in the preheated oven on the middle rack. Bake for 40 minutes, then remove foil and continue baking an additional 35 minutes or until the tips of the potatoes are starting to turn golden brown. Remove the dish from the oven, and sprinkle with the cheese topping (4 ounces cheddar, 2 tablespoons pecorino). Place dish back in the oven, uncovered, and cook an additional 15-20 minutes, or until the cheese is spotty brown and the entire mixture is bubbly and the potatoes are tender.
Remove the potatoes from the oven, and allow them to cool for 15-20 minutes before serving.
Notes
Use a mandolin to slice your potatoes evenly and more efficiently.
Use Diamond Crystal's or David's kosher salt. Morton's is fine, but it's much saltier, and you'd need less. Kosher salt flakes are much larger and less saltier than traditional table salt, so if you only have table salt, use much less. Don't be afraid to taste the cream mixture if you have to, and remember that potatoes absorb salt very well, they can handle it.
Prep Time:

20

Cook Time:

1 hour 40 minutes

Category:

sides
Keywords: potatoes au gratin, hasselback potatoes, potatoes, hasselback potato gratin
Recipe Card powered by
Disclosure: This site uses various affiliate links. If a purchase is made using one of our affiliate links, we receive a small commission which helps support our efforts. Please read our
Privacy Policy
for more information.