Henny wings?! YES! Orange and cognac go together like up and down. Like Homer and D'oh! Like bacon and eggs. It's really a fabulously delicious pairing, and if you haven't tried it even in drink form, you're about to receive a blessing. I've basically concocted a BBQ sauce version of the nifty pairing, that seriously goes well on ANYTHING! Shrimp, chicken, fish, pork, veggies — anything you'd put BBQ sauce on. I need you to trust me on this one, guys. It's just damn good.
For the video, I put this sauce on some wings — and I baked those wings using the baking powder method, but it seriously doesn't matter how you cook your chicken. You can fry these wings, do whatever you want! This is about the sauce.
FAQ:
Q: I don't have any Hennessy, could I use another cognac?
A: Yes.
Q: I don't like cognac, could I use something else?
A: You can do whatever the hell you want. Bourbon would be dope, too.
Q: Can I fry my wings or grill instead?
A: Absolutely!!!
Now, on to the recipe…I chucked some onions in this so they could get all jammy and caramelized, they cling beautifully to your food. The orange marmalade is IMPORTANT here! Do not skip it, it provides the most amount of orange flavor and the necessary pectin to thicken this lovely sauce. The base of this sauce uses Heinz Chili Sauce (you can find this literally anywhere ketchup is sold), but if for some strange po'dunk reason you can't find Chili Sauce, just use ketchup. Aside from the chili sauce/ketchup, orange marmalade, and necessary spices — this recipe is pretty lenient. You can leave this out, or that out, and it'll still turn out to be delicious — given that you're tasting it as it cooks down. Don't be a jackalope and do this recipe to the letter without tasting it as you go, that's just foolish. That very last splash of Hennessy at the end is also very crucial. You cook off most of the alcohol, and you're left with delicious cognac flavor — but punching that up a bit with fresh liquor is amazing.
Okay so back to the recipe, enjoy you guys! Check out the video for how it's made.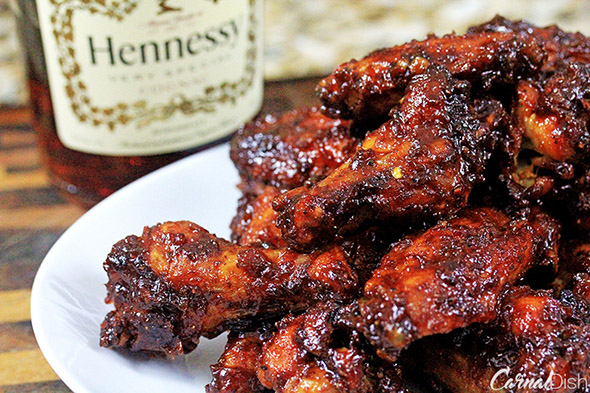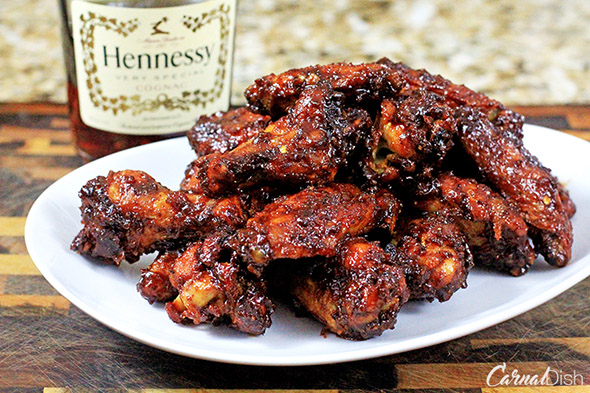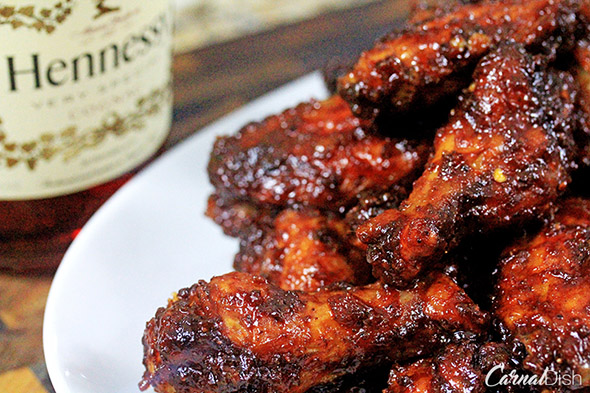 Print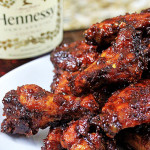 Orange-Henny BBQ Wings
---
Description
This recipe is more about the sauce. You can fry your wings, grill them, however you'd like to prepare them. Just toss them in that delicious Orange-Henny sauce, and get your life.
---
Baking powder mixture for the chicken:
Orange-Henny BBQ Sauce:
1

12oz. bottle Chili Sauce (or ketchup)

2 tbsp

mustard (creole, brown, dijon, or yellow)

2

cloves garlic, minced

1/2

small yellow or sweet onion, finely chopped (about

1/2 cup

)

3/4

cup

Hennessy

1/4

–

1/2

cup

orange juice

1/3

cup

orange marmalade

1/2

–

3/4

cup

brown sugar

1/2

–

1

tsp crushed red pepper flakes

1/4

cup

honey

1/4

cup

apple cider vinegar

2 tbsp

soy sauce

1 tsp

smoked paprika
few dashes of worcestershire
few dashes of liquid smoke (optional)
granulated garlic, to taste
granulated onion, to taste
black pepper, to taste
---
Instructions
To cook the chicken:
pre-heat your oven to 425 degrees. mix all of the dry ingredients together until combined, sprinkle over the chicken until coated. you may or may not need all of this mixture, just make sure each piece is covered nicely. Bake the chicken for 20 minutes. Flip the chicken over and bake an additional 20 minutes. Flip one last time and bake for 10-15 minutes or until completely crispy. Toss with the Orange-Henny BBQ Sauce.
To make the Orange-Henny BBQ Sauce:
Put everything in a pot over medium/medium-low heat, bring to a simmer, stirring occasionally. Once sauce has reduced and thickened (should take about 20-30 minutes), turn off the heat and hit it with one final splash of Henny (about 1oz). Store leftover sauce in an air-tight container and use it for something else. Will keep for a week.
Prep Time:

20 mins

Cook Time:

1 hour
Recipe Card powered by
Disclosure: This site uses various affiliate links. If a purchase is made using one of our affiliate links, we receive a small commission which helps support our efforts. Please read our
Privacy Policy
for more information.