Oh nom. Ohhh nom. Nom nom nom nom nom nom nommmmmmmmmslkwoeifjsdfkl!!!!
This. was. everything. Do you read me? Everyyyythingggg.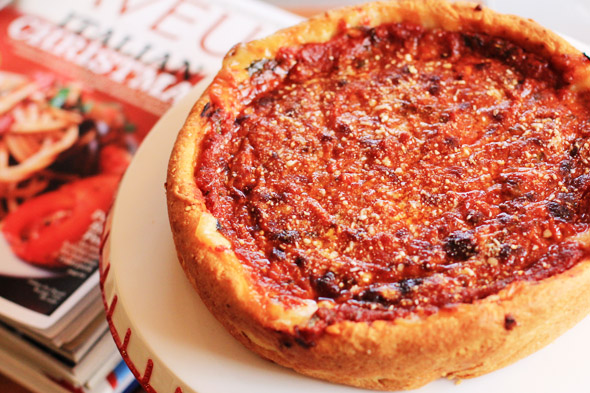 When you take into account that you made this at home without a fancy oven, you might start feeling yourself…(no, not like that lol), but you'll be very proud. I'm proud of me right now. This pizza is delicious, super easy to make, and the flavor is spot-the-hell-on. The crust is flaky, tender, buttery…you've got a creamy gooey layer of cheese…yummy toppings and a delicious sauce on top…aw man. Nom Nomerlo Nomington Jr.!
Sidenote: I'm sitting here watching Black Swan and I'm legit creeped the f*ck out….
Anyway…
I grew up on the east-coast and have always a "thin crust" variation readily available to me. I don't wanna speak on popular pizza chains, because although I ate them as a kid — growing up and developing somewhat of a responsible palate has made me realize just how truly disgusting they are lol. No offense if you love any of the popular pizza chains, its just that when you learn how to make these things at home and see how they taste so much better — not to mention you know exactly what you're putting in your mouth, you really put your food on a pedestal above any processed and/or mass-produced crap in a box. I used to love a certain chain's "pan pizza" as a kid. It was bready, it was greasy, it was laden with globs of lactose-unfriendly plasticky cheese — it was everything a regular kid from Virginia who didn't know any better could ever want. But now? Oh god, If I hate a slice today, I would probably throw up — no bullshit. It's just so gross to me.
I won't get into a NY vs. Chicago pizza debate because it's just not that deep to me. You can like both, and to keep it real, you can't even compare the two! They're not built the same, they don't have the same ingredients, they don't bake the same way….they're just cousins of the same concept. NY style is definitely beneficial for the fast-paced city lifestyle — grab a slice and go. Chicago-style is a bit more "dinner-like", and requires a knife and fork. It's seriously a meal, and it's delicious. Some of you may prefer one over the other and that is totally fine — but me? I'll take both varieties please!
So that brings us to this deliciously sexy pizza. If you're a lover of deep-dish pizza, you've gotta make this — it's soooo worth the time and it's ridiculously easy. You basically make the dough, let it rise, roll it out, laminate it, proof it, roll it out, build it, bake it, and eat it. It makes 2 9″ deep dish pies, but you can keep the second ball of dough in the fridge overnight and make another one the next day. Just make sure you let the dough sit at room temperature a good 10 minutes before you try to roll it, otherwise it'll snap back and be too difficult to work with, and you absolutely need to get this dough nice and wide because it'll shrink in the pan while you try to assemble it (trust me on this). This pizza should be cooled a good 15 minutes before you cut into it, or you'll have it gush out everywhere. I waited about 8 minutes, due to admitted impatience, and saw that my pizza was spilling it's guts lol. I don't care though, it was still amazing. Super gooey, uber flavorful homemade perfection.
Is it as good as an actual Chicago Deep-Dish? I wouldn't know. I've never been to Chicago 🙁 But I do know one thing for sure, it's pretty damn close. I've had a few versions of chicago-style pizza in my life (no, not that disgusting excuse for a deep-dish at Uno's), and this baby here tastes better than all of them — especially since I made it at home.
This recipe is fool proof, easy to follow and incredible to eat. The only "factor" here is time — letting dough rise once or twice is always an eye-rolling yet necessary pain in the ass…but so worth it.
This is a very pic-heavy post. I wanted to take a photo of as many steps as I could so that you guys don't eff this up haha 😉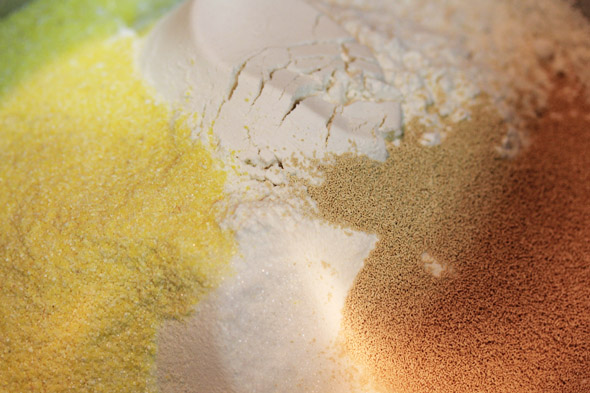 whisk together all of your dry ingredients…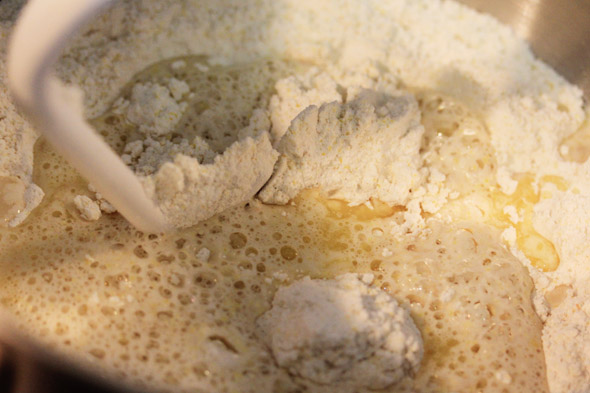 add the water and butter and with a dough hook on low/medium-low speed, bring it together.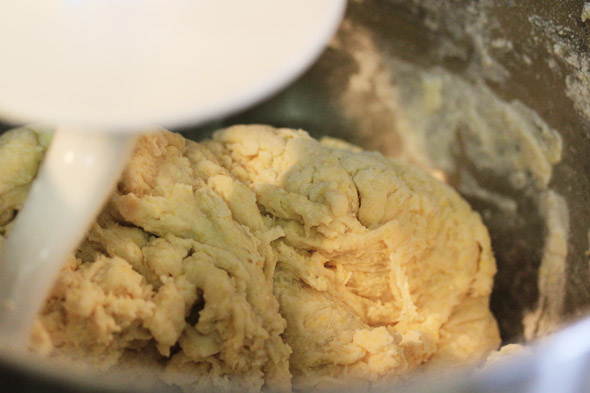 until a shaggy dough forms…like this.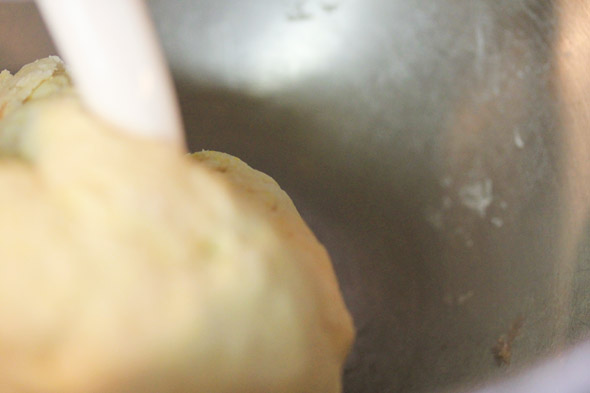 then knead it in the mixer until it is a shiny smooth ball that pulls away from the sides completely. this should only take a few minutes, depending on the humidity of your situation.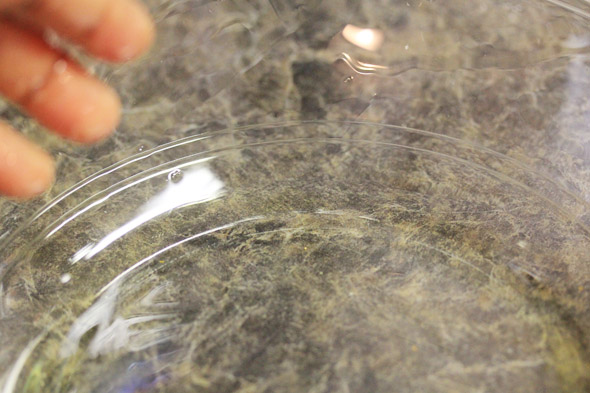 grease a large bowl with olive oil.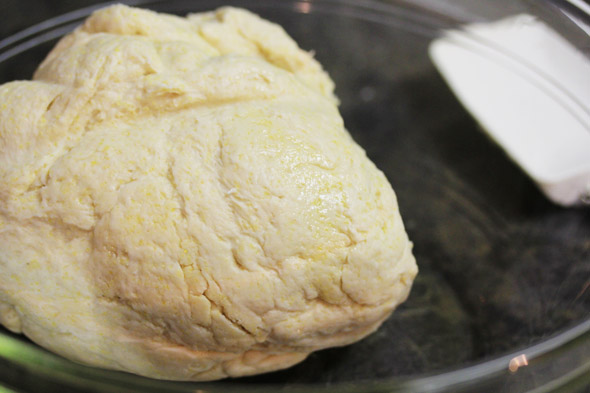 plop your dough into the bowl…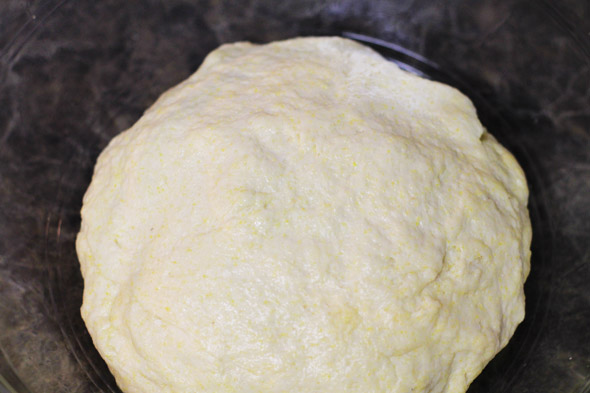 roll it around in the bowl so that some of the oil gets all over the dough, then form into a ball…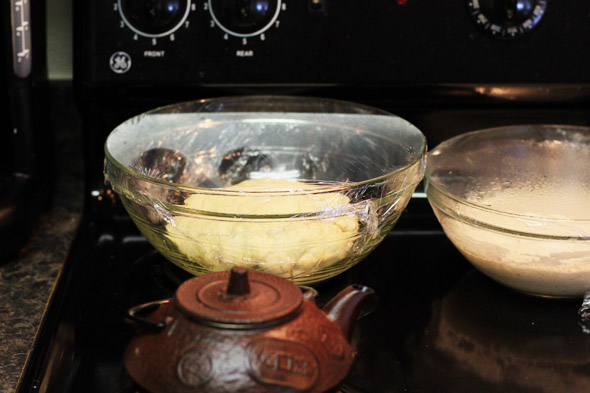 cover tightly with plastic wrap and let it double in size, about a good 45-75 minutes.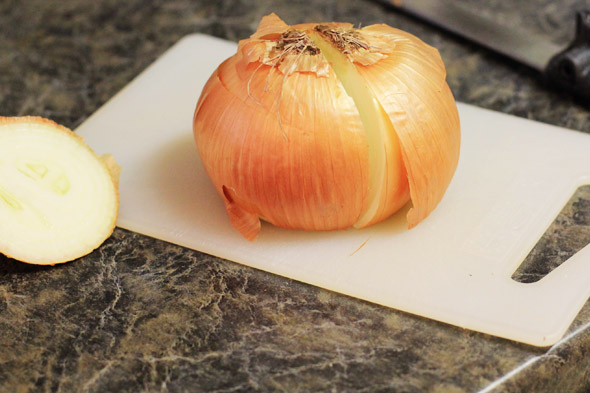 meanwhile, start preparing your pizza sauce…this will take a good half hour to do and its WORTH it! take a small onion, or halve a large one like I did here.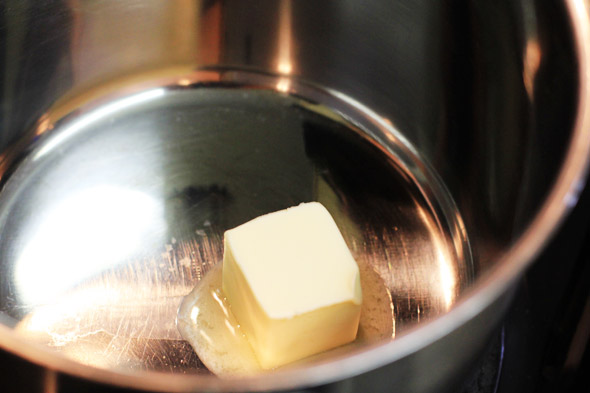 melt some butter in a saucepan over medium heat…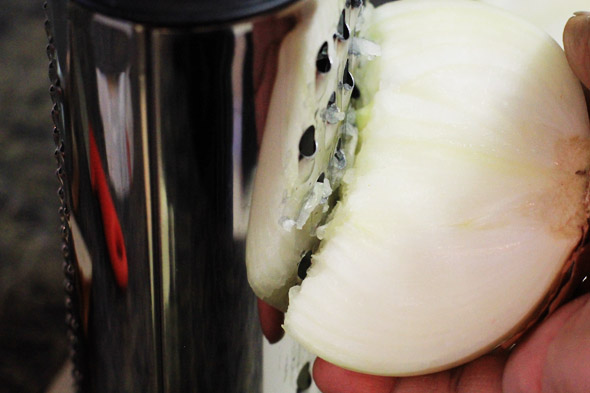 while the butter is getting nice and happy, grate an onion…grating it produces a stronger onion flavor because it opens up the cell walls of the onion. if you don't have a cheese grater, try to mince the onion as best as you can.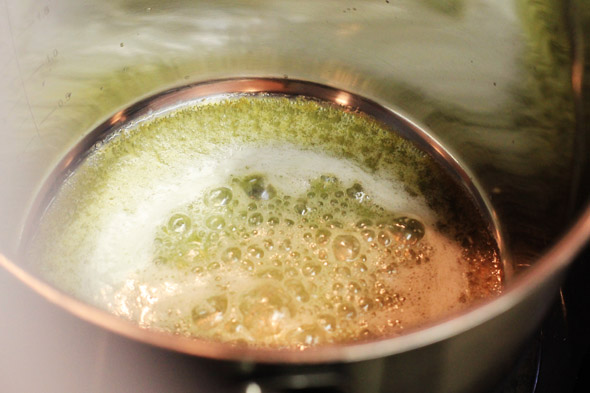 that took no time, the butter is foamy and ready to be fed.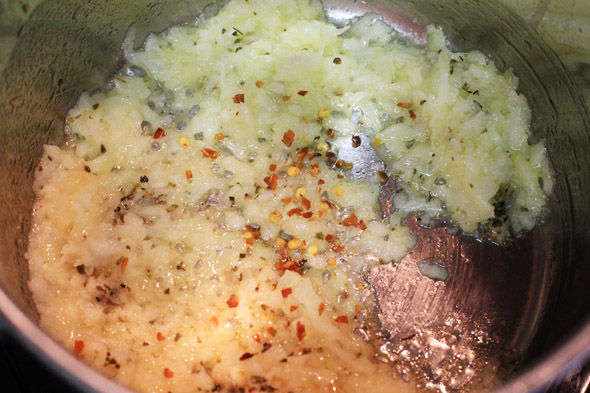 toss in the onion, oregano, and crushed red pepper flakes (amount is up to you).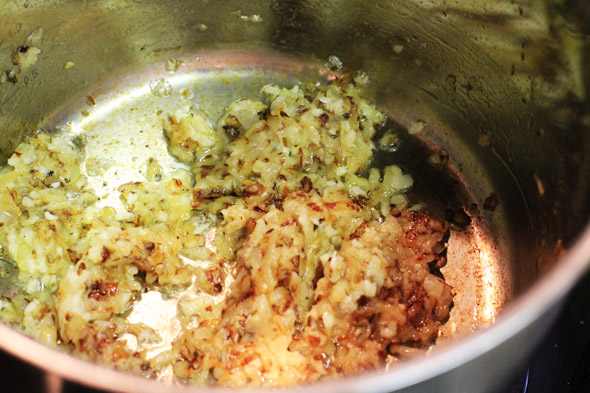 my onions browned a little too quickly because I hopped on the phone and got distracted (don't do what I did lol). However, I was able to save it before it burned. You do want the onions to develop a bit of color, but at a reasonable rate. After the onions develop a golden-brown hue, add the garlic and cook for about 30 seconds.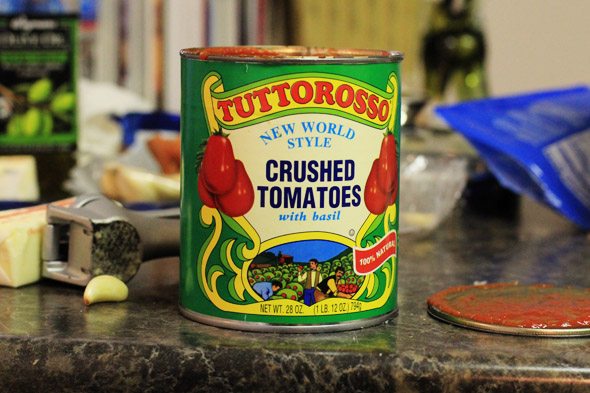 open a can of crushed tomatoes..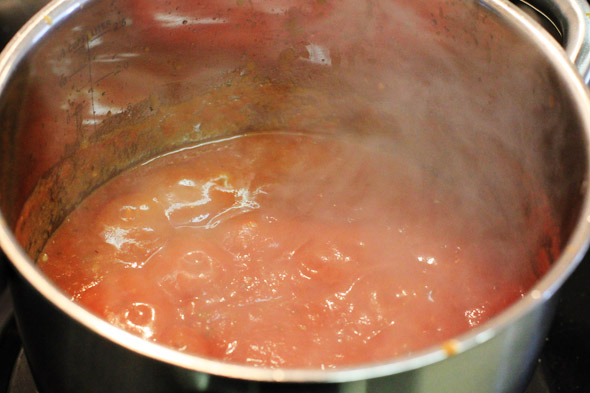 add the tomato sauce and bring to a boil on high heat…then reduce to a simmer (uncovered so the runny juices can evaporate).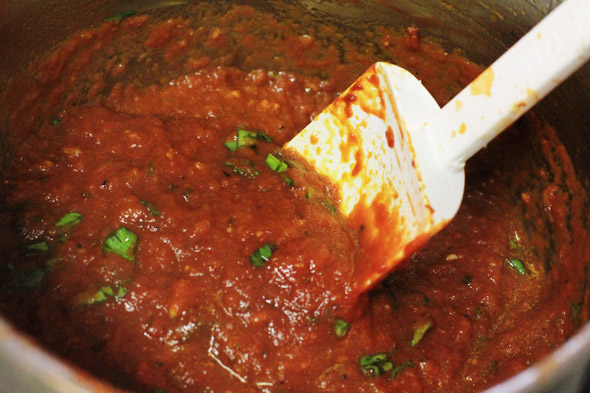 after about a half hour, you should have a thickened sauce like this. Remove it from the heat and add in the basil and olive oil. This is the stage you wanna season the sauce as you see fit. Throw in some salt, pepper, etc.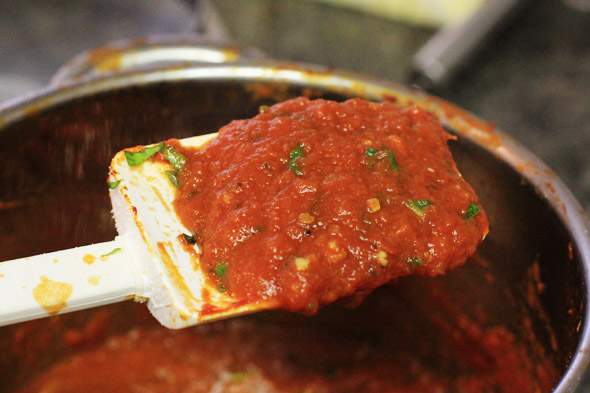 see how nice and thick it is?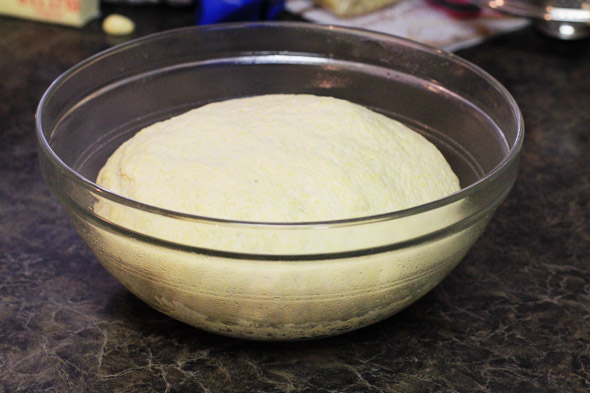 oh look, our dough has risen quite a bit!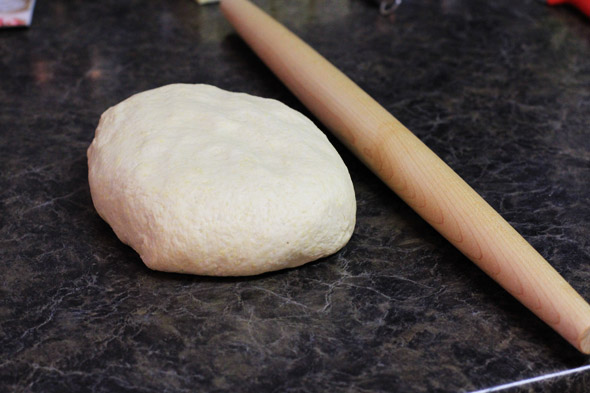 because the dough has a good amount of fat in it, we don't need to flour our work surface. Adding more flour would make the dough tough.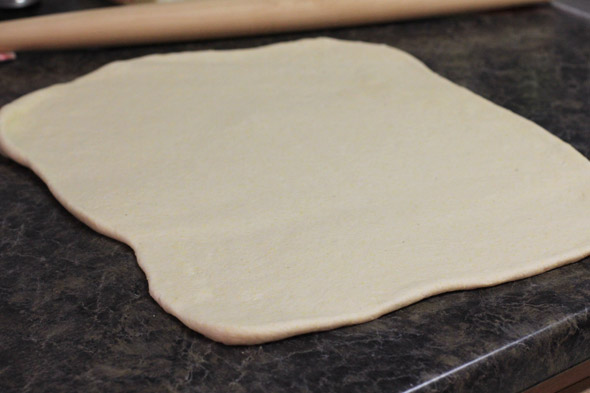 because this is Chicago-style, we want to develop a flaky butter crust…so we have to do a bit of trickery here…unroll the dough into a square, just like you would do for cinnamon rolls…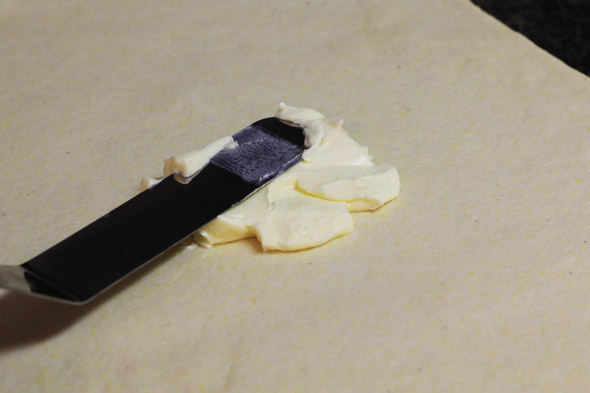 add room-temperature butter and spread all over the surface, leaving a good half inch border. Make sure the butter you use isn't too warm because it'll become greasy. It should still be cool but spreadable.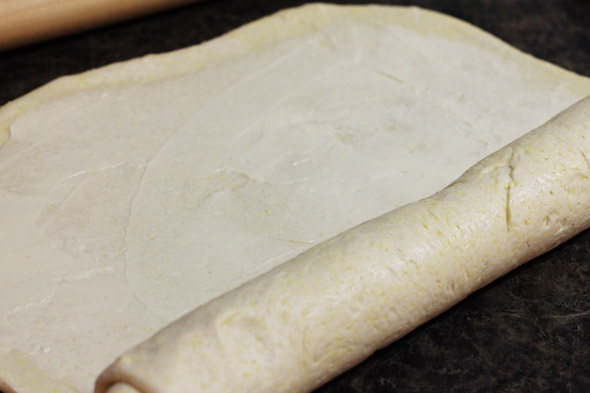 roll it up.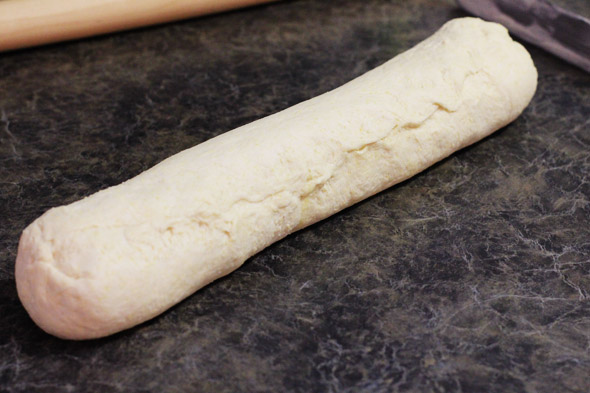 pinch all of the seams together to create a "package".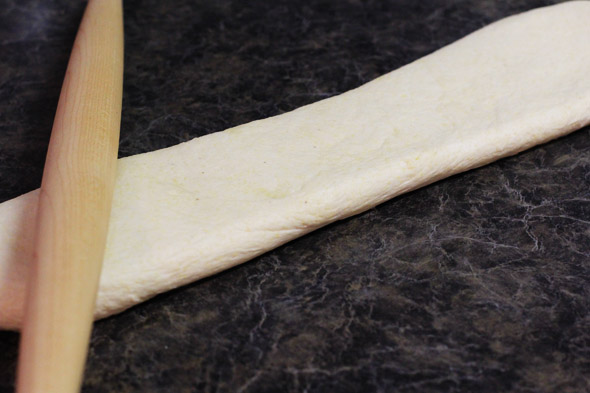 then roll the log out to encase and trap the butter into the dough…do it gently! You should have something that looks like this above..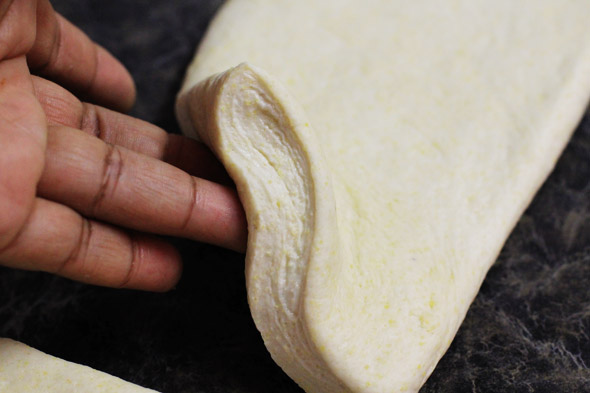 with a sharp knife or bench scraper, slice the somewhat flattened dough log in half. See what happened here? We have layers! When baked, the butter trapped inside of the dough will expand and create delicious flaky layers — so do not skip this step, it's essential!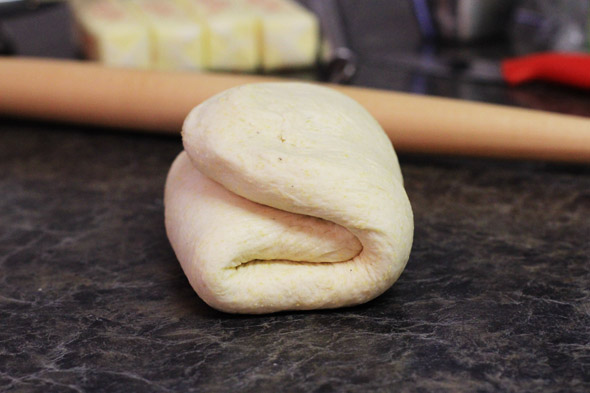 take each half of the rolled out dough and fold into thirds, like this…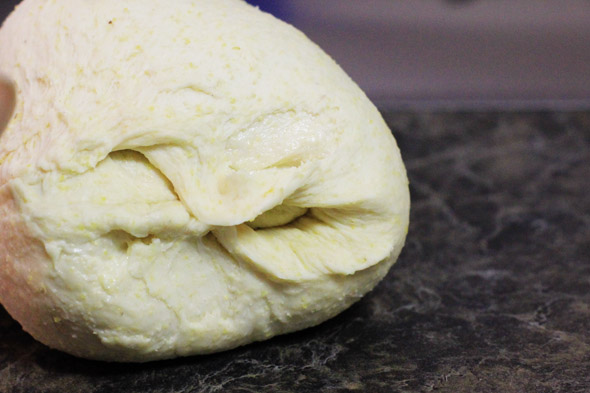 gently pinch together all of the seams so that it forms a tight ball…we're almost there…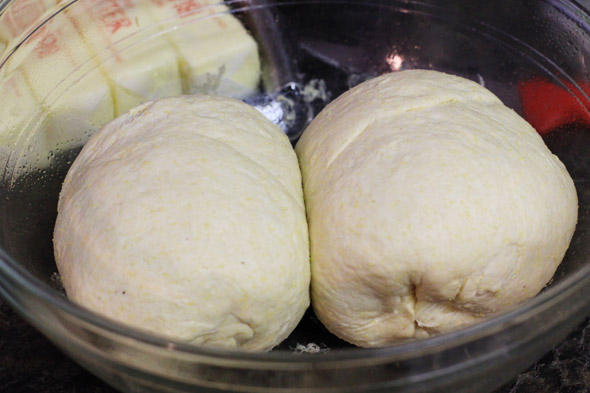 ahh, there we are. Place each dough ball side by side into your bowl, cover with plastic wrap and allow the dough to double in size again..but this time in the refrigerator.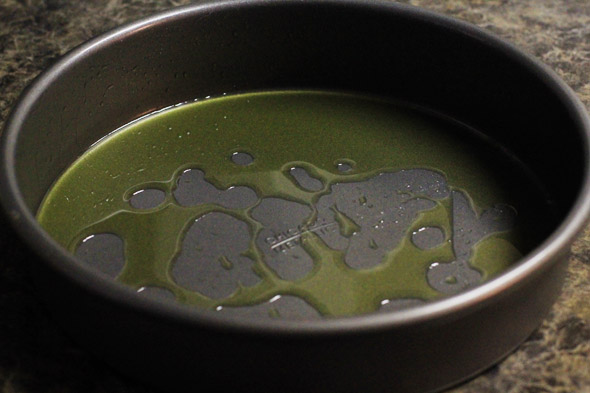 make sure you bake this in a 9″ cake pan with straight sides that are at least 2″ high. Grease it well with olive oil, and coat the sides. The oil will naturally sink to the bottom, and that's fine.

puffy dough from the fridge and hour later. Pull each ball out and let it rest for a good 10 minutes before you roll it. It's very cold, so rolling it immediately out of the fridge will make it too difficult to work with.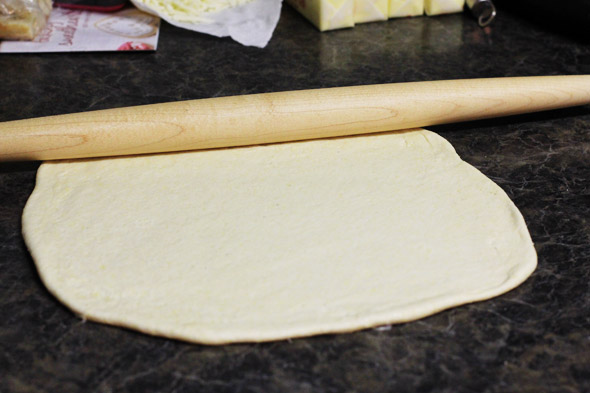 roll it out into a nice 13 inch circle…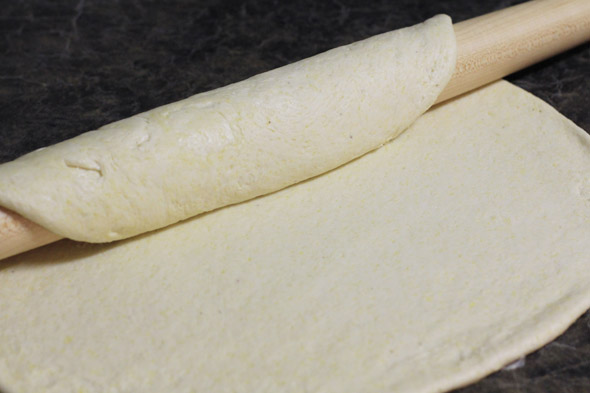 gently roll the dough up on the rolling pin, and transfer to your prepared pan…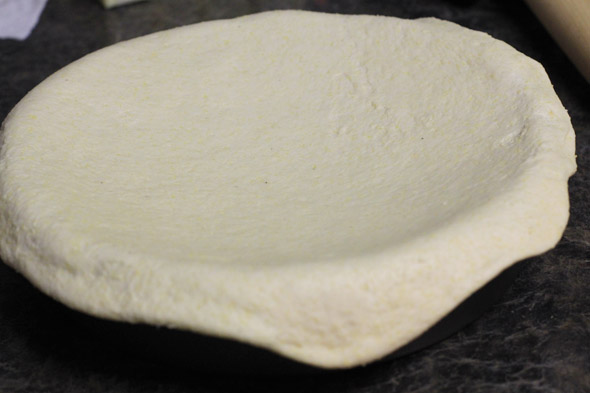 oops, we're not quite there yet. Although I rolled mine into a 13″ circle, my dough was still too cold so it was starting to snap back. I left it on top of my cake pan to rest and stretch out a bit. Be patient with it.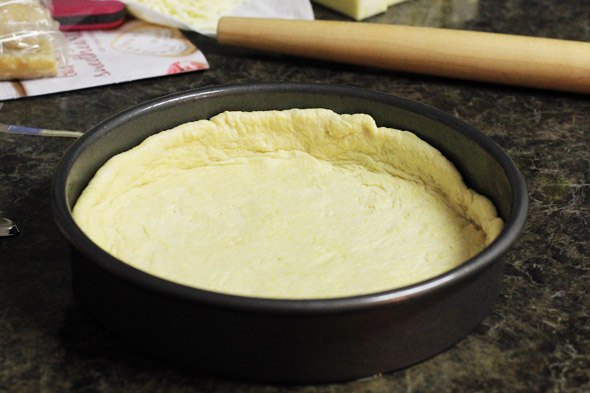 once the dough is workable, but not too warm…nestle it into the pan and create a crust that's about a half inch from the rim of the pan…as you can see, mine started snapping back — again, it's important to let the dough relax a bit before working with it lol. I didn't care at this point because I knew it would stretch out again once I gently pressed the cheese into it. Make sure you press the dough into the corners of the pain so that no large air bubbles form.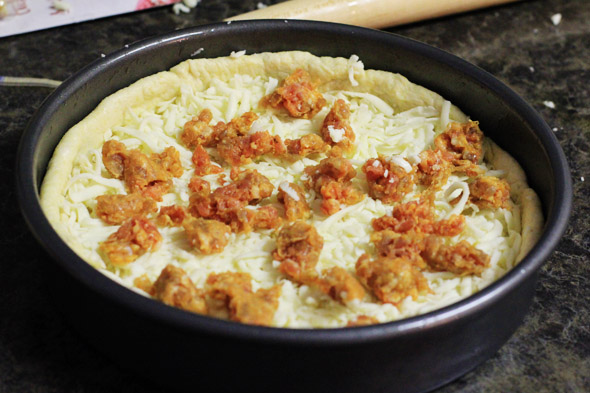 if you're gonna add sausage to this pizza, make sure it's raw — it will have plenty of time to bake in the oven, so don't worry. It will also soak up that delicious pizza sauce and become tender bites of sausage. Mmmmmm…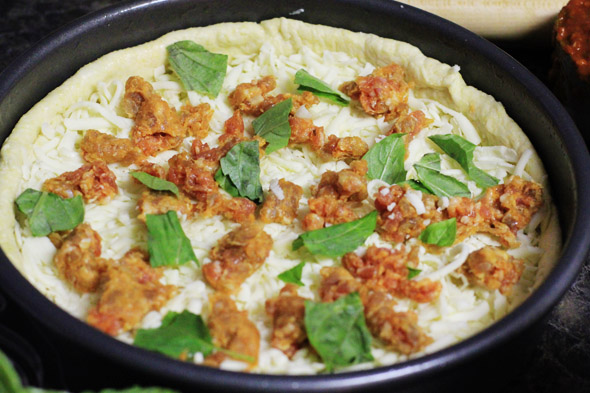 I threw in some basil, just because I had it. Put whatever toppings you want on your pizza…just make sure the cheese is the first one in the pool 😉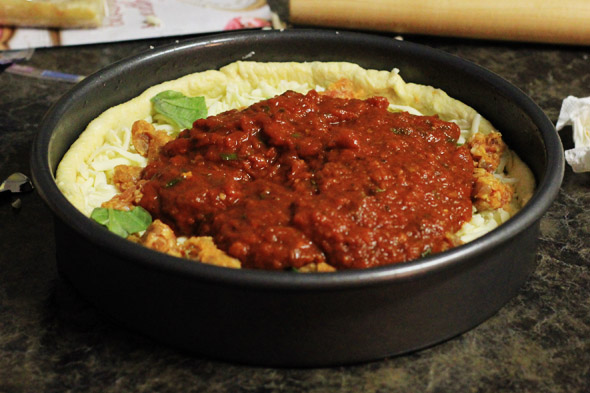 finally, top it off with about a cup of the sauce (or more if you'd like)…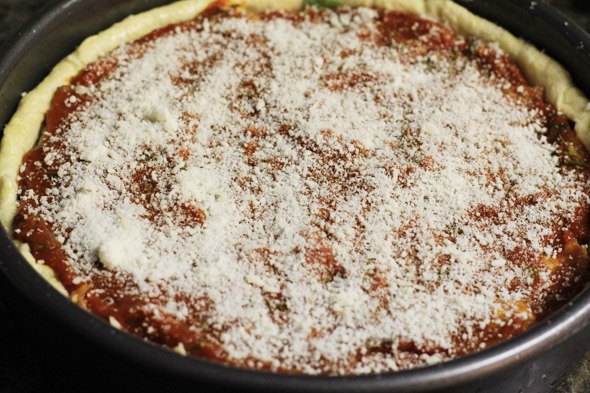 spread the sauce to the edge of the crust,and sprinkle it with some grated or shredded parmigiano-reggiano cheese.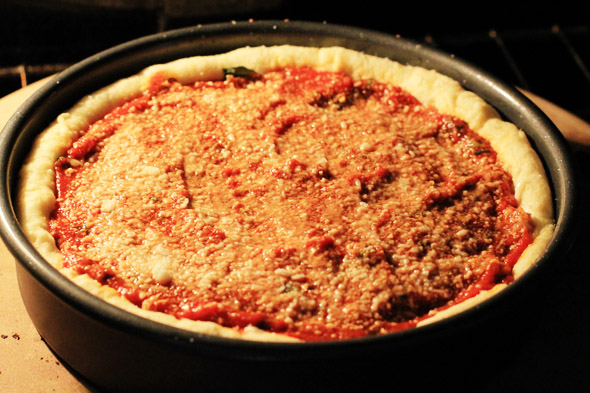 bake it. Mine stayed in the oven for 35 minutes…but your pizza may take only 20 to 30 minutes. Let the pizza cool in the pan for 10 minutes, then gently remove it to rest an additional 10 minutes before slicing into it. Please remember that the cheese is so super hot under that sauce, and if you cut into it too early, it'll spread everywhere and get messy. So be patient, it will be worth it in the end 😉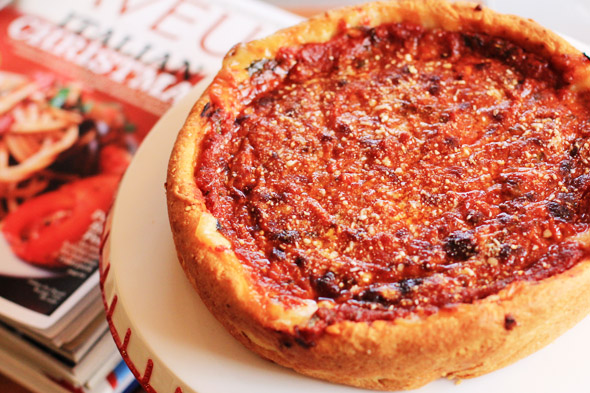 she's beautiful…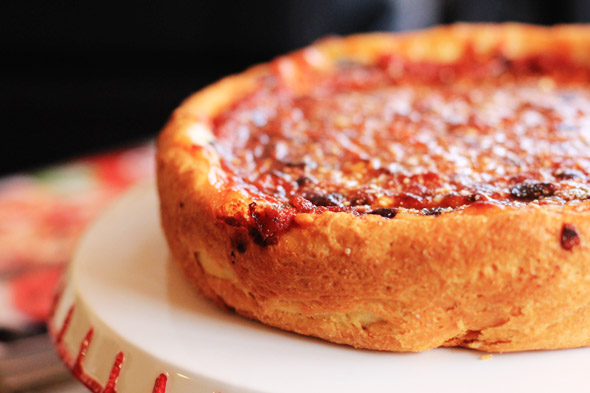 look at that crust!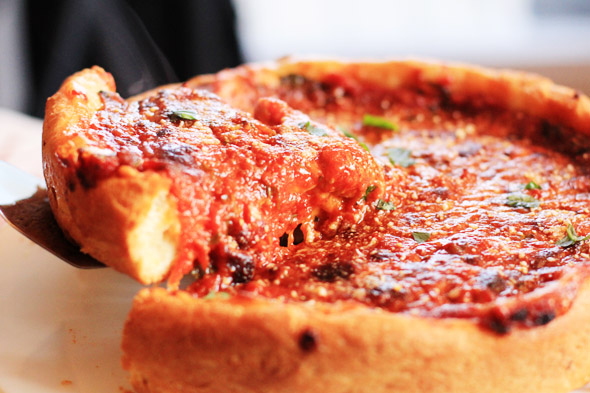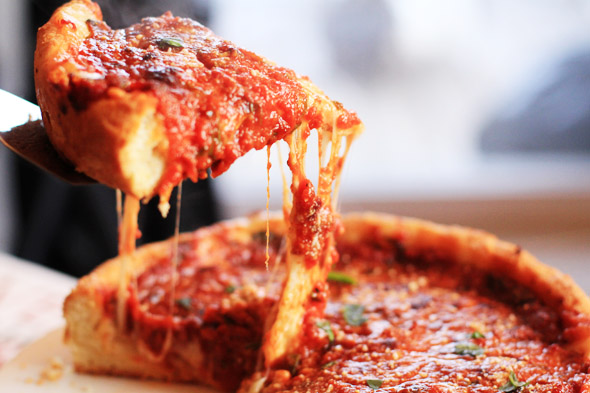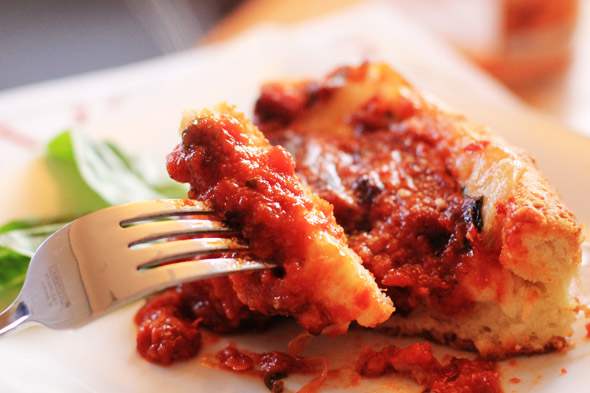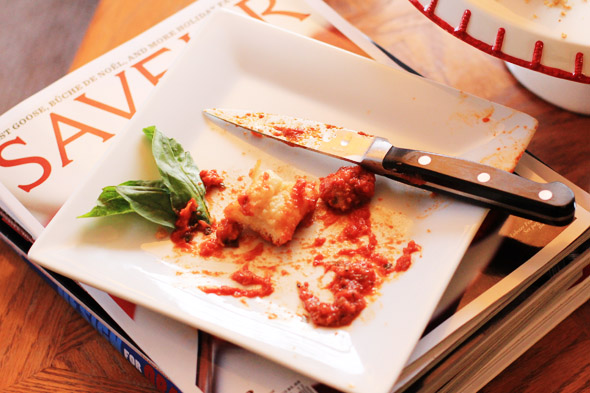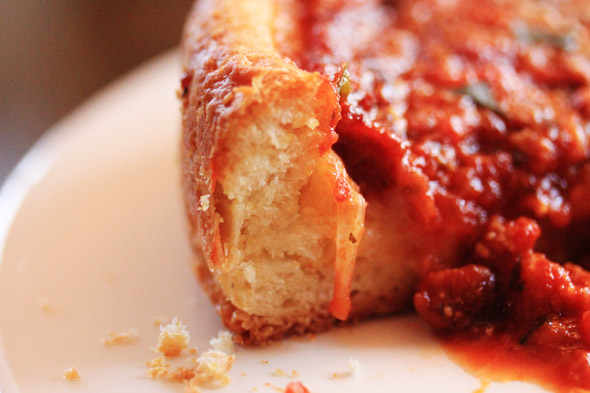 that crust is seriously perfect. Oh my God, this was so good…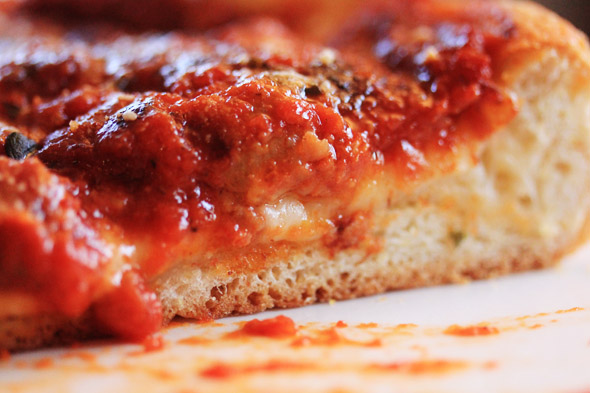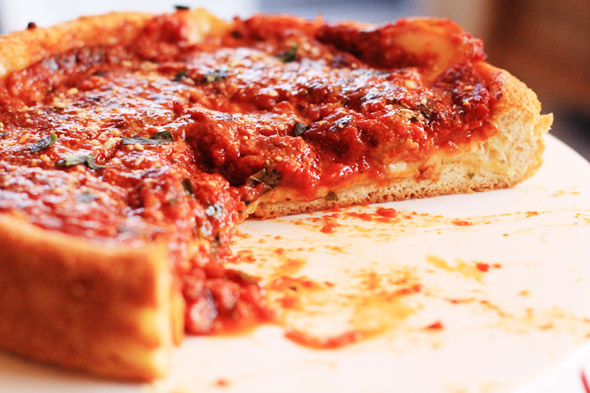 I can't even describe how delicious this truly was. Phenomenal, and totally homemade. Anybody can do this, you don't have to be a professional (hell, I definitely am not!).
Make this pizza, you guys…I'm serious…
Print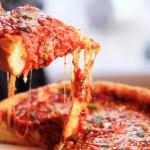 Chicago-Style Deep-Dish Pizza
---
Author:

CarnalDish

Total Time:

4 hours

Yield:

2 9-inch pizzas
Description
adapted from Cook's Illustrated
---
For the dough:
3 1/4

cups

(16 1/4 oz.) all-purpose flour

1/2

cup

(2 3/4 oz.) yellow cornmeal

1 1/2 tsp

table salt

2 tsp

sugar

2 1/4 tsp

instant or rapid-rise yeast

1 1/4

cups

water (10 oz.), room temperature

3 tbsp

unsalted butter , melted, plus 4 tablespoons, softened

1 tsp

plus 4 tablespoons olive oil
Sauce
2 tbsp

unsalted butter

1/4

cup

grated onion , from 1 medium onion (see note below)

1/4 tsp

dried oregano
Table salt

3

garlic cloves, minced or pressed through garlic press (about

2 teaspoons

)

1

(28-oz) can crushed tomatoes

1/4 tsp

sugar

2 tbsp

coarsely chopped fresh basil leaves

1 tbsp

extra-virgin olive oil
Ground black pepper
Toppings:
1

pound

whole-milk or part-skim mozzarella cheese, shredded (about 4 cups) (see note below)

1/2

ounce

grated Parmesan cheese (about 1/4 cup)
Hot or mild Italian sausage, casings removed (optional)
---
Instructions
FOR THE DOUGH:
In the bowl of a stand mixer, mix the flour, cornmeal, salt, sugar and yeast together on low until incorporated — about 1 minute. Use the dough hook attachment. Add the water and melted butter and mix on low speed until fully combined, about 1-2 minutes, scraping the sides and bottom of the bowl occasionally. Increase the speed to medium and knead until the dough is glossy and smooth and pulls away from the sides of the bowl, about 5 minutes. Keep in mind the dough will only pull away from the sides while the mixer is on, and will fall back to the sides when the mixer is off.
Coat a large bowl with 1 teaspoon of olive oil, using your fingers. Rub any excess oil from fingers onto the blade of a rubber spatula and transfer the dough to a bowl, turning once to oil the top. Cover tightly with plastic wrap and let rise at room temperature until it's nearly doubled in size, about 45-75 minutes.
FOR THE SAUCE:
Heat butter in a medium saucepan over medium heat until melted. Then add the onion, oregano, crushed red pepper and 1/2 teaspoon of salt, cooking and stirring occasionally until liquid has evaporated and onion is golden brown — about 5 minutes. Add the garlic and cook until fragrant — about 30 seconds. Stir in the tomatoes and sugar, increase the heat to high and bring to a simmer. Lower the heat to medium-low and continue simmering until the sauce has reduced to 2 1/2 cups, about 35-30 minutes. Remove the sauce from the stove and stir in basil and oil. Season with salt and pepper, taste and adjust as needed.
TO LAMINATE THE DOUGH:
Heat your oven to 425 degrees, and put the oven rack on the lowest position. With a rubber spatula, turn the dough out onto a dry work surface and roll it into a 15 by 12-inch rectangle. Using an offset spatula, spread the softened butter over the dough but leave a 1/2-inch border along the edges. Starting at either short end, roll the dough into a tight cylinder (like you would cinnamon rolls). With seam side down, flatten the cylinder into a 18 by 4-inch rectangle. Cut the rectangle in half, crosswise. Take one half and fold into thirds (like a business letter), pinching the seams together to form a ball. Repeat with the other half. Place both dough balls into an oiled bowl and cover tightly with plastic wrap. Let the dough balls rise in the refrigerator until doubled in size, about 45-60 minutes.
Oil two 9-inch round cake pans with about 2 tablespoons of olive oil each. Place 1 dough ball on a dry work surface and roll out into a 13-inch disk, about 1/4-inch thick. Transfer dough to the pan by rolling it loosely around the rolling pin and unrolling it into the pan. Press the dough into the pan lightly, working into the corners and up the sides by 1-inch. If the dough is tough to work with, let it relax about 5 to 10 minutes before trying again. Repeat with the other dough half.
Sprinkle 2 cups of mozzarella over the surface of the dough for each pizza. If using sausage or any topping, scatter it evenly on top of the cheese. Spread about 1 1/4 cups of tomato sauce over the cheese and toppings, then sprinkle 2 tablespoons of parmesan over the sauce. Bake until the crust is golden brown, about 25-35 minutes. Remove the pizza from the oven to rest for about 15 minutes.
Slice, serve and enjoy!
Notes
Note: Place a damp kitchen towel under the mixer and watch it at all times during kneading to prevent it from wobbling off the counter. If you don't have a stand-mixer, you can do this by hand. Handle the dough with slightly oiled hands, or it might stick. Avoid pre-shredded cheese, it doesn't melt well. Grate the onion on the large holes of a box grater.
Prep Time:

3 hours

Cook Time:

1 hour
Recipe Card powered by
Disclosure: This site uses various affiliate links. If a purchase is made using one of our affiliate links, we receive a small commission which helps support our efforts. Please read our
Privacy Policy
for more information.