It's finally snowing after weeks and weeks of insanely warm "winter" weather here in VA. Well, it's not really "snowing" but there's a light dusting of hazardous ice particles falling from the sky and barely sticking. It's basically doing more than it has been all winter long…so far. Point is, it's cold as hell outside but it's kinda romantic — the perfect kind of day to stay in, snuggle up and eat a stack of delicious blueberry pancakes.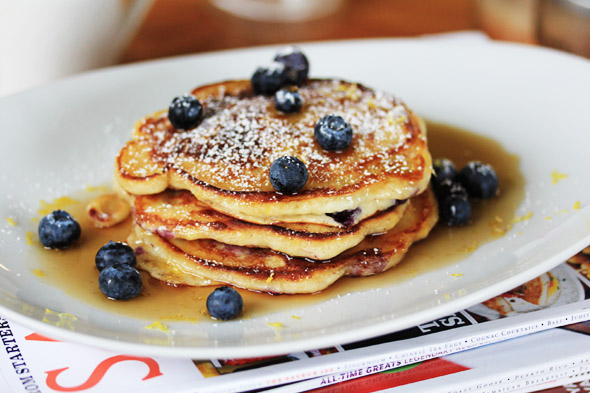 These pancakes are everything. They have a very light and fluffy, almost custardy texture — which makes them very filling. The berries themselves are juicy and fresh, and all things are enhanced by lemon zest, a tiny pinch of cinnamon, and the tang of the buttermilk. Couple that with warm maple syrup and you've got some serious win.
You could use frozen berries for this recipe, just make sure you thaw them on a paper towel to absorb any excess moisture. I used fresh organic blueberries and the zest of 2 standard-size lemons and got the perfect balance of flavor — nothing overpowered anything here. Awesomesauce.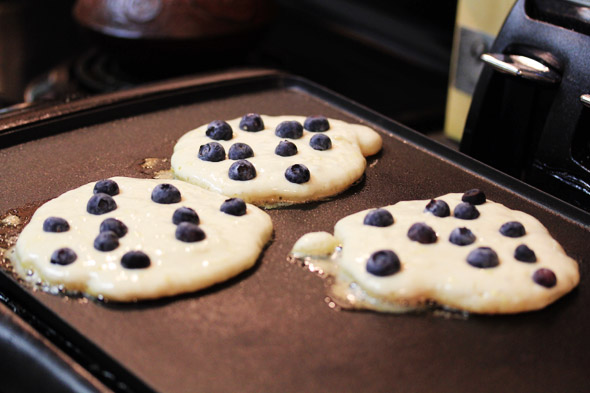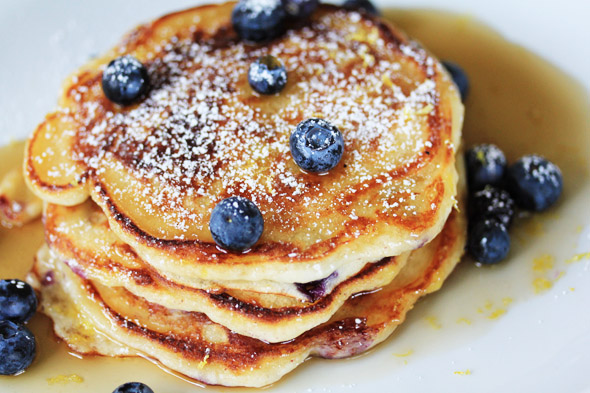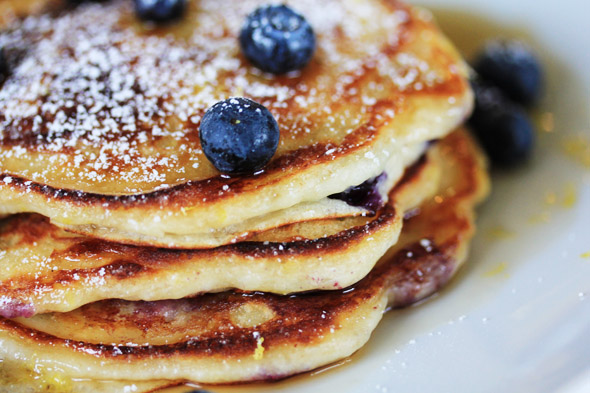 Nom.
Print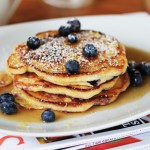 Blueberry & Lemon Buttermilk Pancakes
---
1

cups

unbleached all-purpose flour

1 tbsp

granulated sugar

1 tsp

baking powder

1/4 tsp

baking soda

1/4 tsp

table salt
a tiny pinch of cinnamon
zest of

1

lemon
blueberries (quantity is totally up to you)

1

cup

low-fat buttermilk, plus more if needed (see note below)

1

large egg

1 tsp

vanilla extract

2 tbsp

unsalted butter, melted and cooled slightly
---
Instructions
Whisk flour, sugar, cinnamon, baking powder, baking soda, and salt in medium bowl to combine.
Whisk egg, vanilla, lemon zest, and melted butter into the buttermilk until combined. Make well in center of dry ingredients in bowl; pour in buttermilk mixture and whisk very gently until just combined (a few lumps should remain and batter may be thick). Do not over mix. Allow batter to sit for about 5 minutes. Batter will be very thick, but if it's too thick to work with, gently stir in a little more buttermilk. It should be thick and lumpy but not biscuit-dough'like.
Heat 12-inch nonstick skillet over medium heat for 3 to 5 minutes; add 1 teaspoon oil or butter and brush to coat skillet bottom evenly. If using an electric griddle, you can set the heat to the second highest or highest setting (between 350 and 400 degrees). Pour or scoop batter onto your skillet or griddle and spread out if needed with the back of a ladle or spoon to flatten; sprinkle blueberries on top. Cook pancakes until large bubbles begin to appear and edges begin to set, 1 1/2 to 3 minutes. Using thin, wide spatula, flip pancakes and cook until golden brown on second side, 1 to 1 1/2 minutes longer. Serve immediately with butter and warm maple syrup, and repeat with remaining batter.
Notes
When fresh blueberries are not in season, frozen blueberries are a good alternative. To make sure that frozen berries do not bleed, rinse them under cool water in a mesh strainer until the water runs clear, then spread them on a paper towel-lined plate to dry.
The pancake batter is thick, but once you scoop some on your electric griddle or nonstick skillet, you should be able to easily spread the batter out so that they're flatter. If you're using a nonstick skillet, just cook them over medium heat so you don't burn them. As usual, you'll know when they're ready to flip when you start to see the edges set a bit, and air bubbles form all over the pancake and it's golden brown.
You can keep any leftover batter for up to 24 hours in the refrigerator, just make sure you cover it tightly with plastic wrap.
Prep Time:

15 mins

Cook Time:

5 mins
Recipe Card powered by
Disclosure: This site uses various affiliate links. If a purchase is made using one of our affiliate links, we receive a small commission which helps support our efforts. Please read our
Privacy Policy
for more information.