Let me introduce you to something amazing. Perfectly roasted sweet potatoes with savory cider caramel. There's butternut squash in there, too. You probably haven't had sweet potatoes or butternut squash like this. I've never been a fan of overly-candied sweet potatoes (or candied yams) because I've always found them to be too sweet! I never saw the point in dumping multiple cups of sugar, syrup, and marshmallows on top of already-sweet sweet potatoes. Don't get me wrong, it's fine to add additional sweetness, but it needs balance. So here we are.
Balance is key. Root vegetables such as butternut squash, sweet potatoes, parsnips, carrots, etc. can really be somewhat blank slates. Giving them robust flavors is just what they're begging for. Point is, if you're going to add some sweetness, also add some savory. Not just salt and pepper. Give them garlic, onion, heat, etc. It's a wonderful depth of flavor, one you'll love and lust for every Holiday season.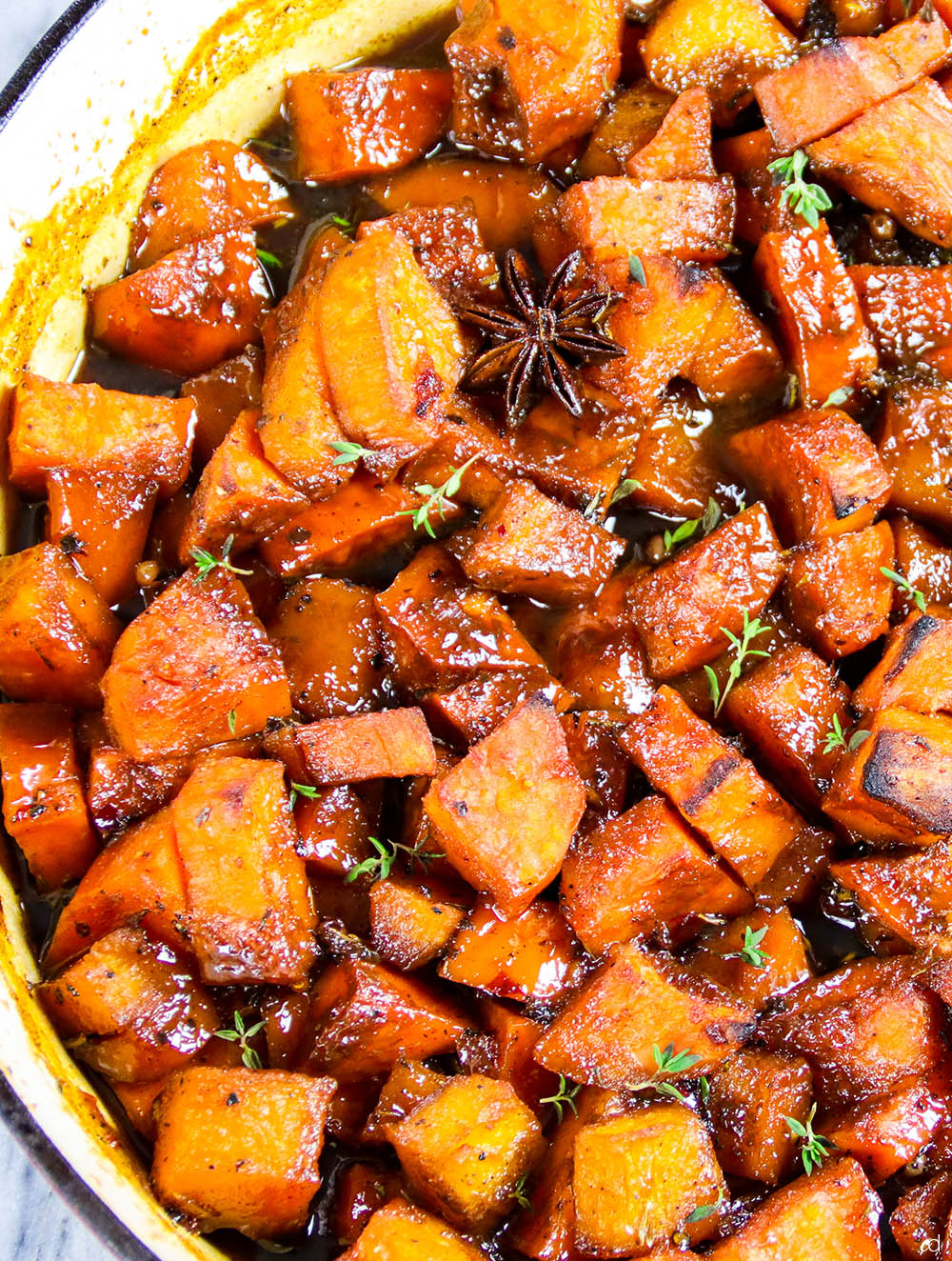 Savory Cider Caramel
This stuff is a game-changer. Don't read the word "caramel" and run for the hills. This is fool-proof caramel, you don't even need a thermometer or any other nifty necessary kitchen gadgets. The hardest part? Reducing the apple cider. Dassit. Because after that, all you're doing is dumping everything else in and bringing it to a fluffy boil. Then, when it's thickened up, you turn off the heat and add the vanilla. Boom. Did I mention that it's goddamn delicious?!
Be warned, there's a lot of spices in this stuff. I promise that 90% of it is already laying up in your spice cabinet. Maybe you don't have pink peppercorns, and that's fine — leave them out. Maybe you don't have star anise…well, get some. But if you don't have it or can't find it, just leave it out. Everything else though? Use it.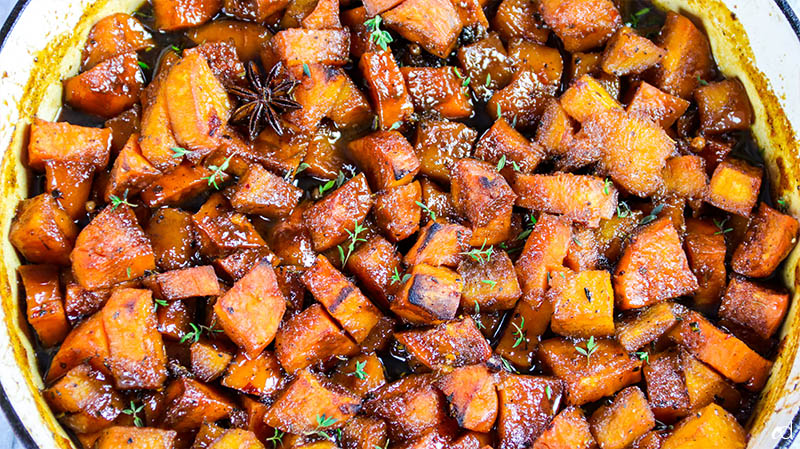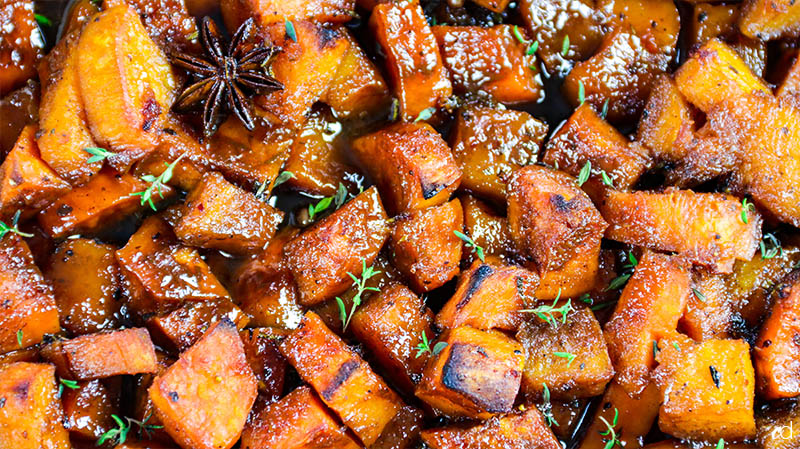 What happens during the second roast? Well, I'll tell you. The caramel bubbles and soaks into the sweet potatoes and butternut squash. It hugs and glazes each piece, and the heat turns the sugars into darkened bits of charred caramel. They get candied, but not hurt-your-teeth-candied. Perfection is what happens. Aromas invade your nostrils as it goes down, and you'll find yourself gazing into the oven as it roasts, praying for it to hurry up so you can finally taste it.
I can't wrap my head around how incredibly delicious this side dish is. It's addicting, perfectly balanced, sweet, savory, spicy, warm…whew! My sweet and savory lovers — you're really going to enjoy this one.
Make Ahead?
You can totally make this caramel in advance. Store it in a quart container and keep it on your counter for up to 2 days, or in your fridge for up to a week. Need to make this dish in full a few days ahead? Simply freeze it. Take it out of the freezer the night before you plan on eating, and put it in your fridge. Then, remove it from your fridge at least one full hour before you're ready to reheat it in the oven. A good reheating temp would be 350 degrees.
*Bringing cold things to room temperature so they can be reheated evenly always smart.
Want more cider caramel? Try these Dutch Apple Cheesecake Blondies. They're unreal AF!
Print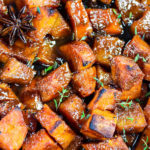 Roasted Sweet Potatoes with Savory Cider Caramel
---
Author:

Chef Resha

Total Time:

1 hour 10 minutes

Yield:

8 - 10 servings
Description
Perfectly roasted sweet potatoes and butternut squash glazed with a rich savory cider caramel. For all of you who love savory sweet potatoes, this one is for you.
---
3

large sweet potatoes (about

1 1/2

–

2

pounds), cut into 1-inch pieces

1

butternut squash (about

1

1/2lbs), cut into 1-inch pieces (SEE NOTE)

3 tablespoons

olive oil
Big pinch salt and pepper, to taste
For the savory caramel
1

cup

apple cider (NOT apple cider vinegar)

1

cup

packed dark brown sugar (light brown sugar is fine)

8 tablespoons

(

1

stick) butter, cut into pieces

1/4

cup

honey

1/4

cup

pure maple syrup

1 tablespoon

balsamic vinegar

1 tablespoon

molasses

1/3

cup

heavy cream

2 1/2 teaspoons

kosher salt (SEE NOTE)

1 teaspoon

herbs de provence

1 teaspoon

black pepper

1/8 teaspoon

freshly ground nutmeg

1 teaspoon

pink peppercorns (optional)

1 teaspoon

onion powder

1 teaspoon

granulated garlic

1 teaspoon

ground cinnamon

1 teaspoon

ground ginger

1/2 teaspoon

smoked paprika

1/2 teaspoon

cardamom

1/8 teaspoon

ground cloves

1/8 teaspoon

ground allspice

2

star anise (optional)

1/2 teaspoon

crushed red pepper flakes

1/4 teaspoon

cayenne pepper

2

cloves garlic, minced

1 teaspoon

fresh sage, finely chopped

1/2 teaspoon

fresh rosemary, finely chopped

3

sprigs fresh thyme

2 teaspoons

vanilla extract
---
Instructions
Preheat oven to 400 degrees F.
Don't be intimidated by this caramel. It doesn't require any thermometers, and after you reduce the apple cider, all you do is pretty much dump everything in and let it reduce and thicken. You got this!
In a medium or large pot with high sides, reduce the apple cider to 1/4 to 1/3 cup over medium heat, stirring occasionally — about 8-10 minutes.

When it's reduced, add the butter, brown sugar, honey, maple syrup, balsamic vinegar, and molasses. Stir to combine until smooth. Add the minced garlic, the fresh herbs, and all of the seasonings/spices. Pour in the heavy cream. Allow this mixture to simmer over medium-heat to reduce and thicken, about 10-12 minutes, stirring often. You're looking for a darkened and visibly thicker caramel, but not gloopy thick. When it coats your rubber spatula nicely, turn off the heat and add the vanilla extract. The caramel will thicken even more as it stands. Let it cool slightly while you proceed with the root vegetables.

In a large baking dish, add the sweet potato and butternut squash pieces. Drizzle with olive oil, just enough so each piece is lubricated — it shouldn't be swimming in oil. Sprinkle evenly with a big pinch of kosher salt and black pepper. Toss to coat.
Cover with foil or a lid that fits your baking dish, and bake for about 30 minutes, or just until fork tender but not mushy.
Remove from oven, and drizzle with a good amount of the caramel. Gently toss to coat. Return to oven uncovered, and let it roast for an additional 40 minutes, or until lightly charred and caramelized in spots.

Garnish with fresh thyme, if desired.

Remove and discard the star anise!

Let cool at least 5 minutes before serving.
Notes
Kosher salt has a larger flake, and doesn't taste as harshly salty as a finer table salt. You can use any salt you have, but use less of it if it's not a large flake like Kosher salt.
You can leave out the butternut squash and swap it for more sweet potato if you desire.
Prep Time:

10 minutes

Cook Time:

1 hour

Category:

sides, thanksgiving
Keywords: roasted sweet potatoes, roasted butternut squash, savory caramel
Recipe Card powered by
Disclosure: This site uses various affiliate links. If a purchase is made using one of our affiliate links, we receive a small commission which helps support our efforts. Please read our
Privacy Policy
for more information.