I literally sat in bed this morning with my sweety and concocted this burger in my head. I knew the flavors would be amazing and I didn't let myself down, because this is probably one of my top 5 favorite burgers I've ever made. Ever. It's really amazing. I know you want the low-down on how to make it, so let's get right to it.
The flavors going on here. My GAWD! This is a burger you will continue to taste way after you've demolished it. It's SO flavorful. There's orange and rum in the cranberry sauce, sage and thyme in the turkey, delicious applewood-smoked bacon, creamy melty brie, crispy onions flavored with cayenne and sea salt, and that fried sage adds such a nice touch. Oh my goodness. Man, look..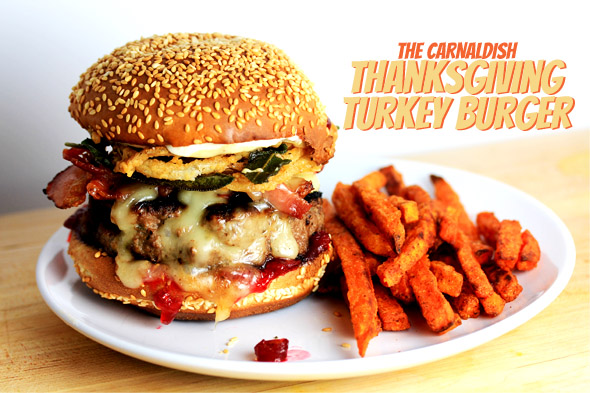 I made this because I'm actually not preparing the entire Thanksgiving meal by myself this year. I'm flying back home to Virginia to eat my mom's wonderful food. But I wanted the flavors of thanksgiving without all of the work, and this is what I came up with. This burger satisfies every part of your palate. Sweet, salty, crispy, creamy, and did I mention how incredibly delicious this is? Because…it is. I repeat, this is delicious. Also, these burgers are huge. You are basically making third-pounders. I mean, it's Thanksgiving, go big or go back to sleep.
My boyfriend doesn't even like cranberry sauce but he destroyed this. Why? Because I know what the hell I'm doing lol. Now he loves cranberry sauce and wants to put it on everything. "I can't believe I've been missing out all these years", yes baby, you have. I guarantee if you're one of those people weirded out by cranberry sauce, give this recipe a try. I bet you'll warm up to it the next time someone passes it around at the table. Just make sure it isn't that god-awful tube shaped jelly crap with the can ridges. REAL cranberry sauce always wins!
Get yourself some ground turkey that is 85% lean. You could go leaner, but I cannot promise the same results lol. It will be delicious, but I'm not sure how juicy it'll be because that's not what I did — but I always encourage you to make things "your own", so do you. We're going to add a few things to this ground turkey because that's how I roll, and that's how you're now forced to roll. I don't leave anything unseasoned — that's just a bad idea. Ground turkey is one of those things that can really take a lot of different flavors because it's so naturally bland, unlike beef. It's a total blank canvas just waiting for you to get your culinary Bob Ross on. The type of bun for this burger is totally up to you. We just so happened to have some seasame-seed potato buns so I used those, but this would be UNREAL on a toasted brioche bun. Alternately, you could make this a breakfast sandwich and just replace the ground turkey with turkey sausage, and maybe a cornmeal biscuit as the "bun".
Don't wait any longer. Make this now. It's a great prelude to one of the most delicious Holidays ever — Thanksgiving. My personal Christmas. I adore food, so it's always going to be my favorite time of year. Your house will smell amazing while you make this. Enjoy 🙂
Print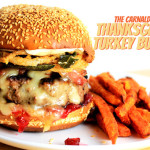 Thanksgiving Turkey Burger
---
Total Time:

40 mins

Yield:

3 big burgers
---
Cranberry sauce:
1

lb

fresh cranberries

1

cup

water

1

cup

sugar

1/2 teaspoon

cinnamon

1/4 teaspoon

nutmeg

1 teaspoon

vanilla extract
juice from

half an

orange
splash of rum
a pinch of cayenne pepper
a pinch of black pepper

1 teaspoon

orange zest
coarse sea salt
Onion straws:
1/2

onion, sliced into thin rings (I used a mandoline)

1

cup

buttermilk

1

cup

all-purpose flour

1 teaspoon

cayenne pepper (feel free to use less)

1 teaspoon

black pepper

1/2 teaspoon

Hungarian paprika (regular paprika will work)

1 teaspoon

baking powder

4

cups

vegetable oil for frying
Turkey Burgers:
1

lb

. ground turkey (85% lean)

3 tablespoons

worcestershire sauce

3 tablespoons

unsalted butter, melted

1 teaspoon

granulated onion

1/2 teaspoon

granulated garlic

1 teaspoon

fresh thyme

1 teaspoon

fresh sage, chopped fine, plus 8-12 whole sage leaves for frying
generous pinch of red pepper flakes
freshly ground black pepper
sea salt

6

slices applewood-smoked bacon, cooked to desired crispness
Brie cheese
dijon mustard and mayo

3 tablespoons

vegetable oil

3

hamburger buns (type of bun is totally up to you)
---
Instructions
For the cranberry sauce:
In a saucepan over high heat, dissolve the sugar into the water. Add the cranberries, cinnamon, nutmeg, vanilla extract, orange juice, rum, cayenne pepper, black pepper, and bring to a rapid boil. Stir occasionally until mixture has cooked down to desired consistency. This can take anywhere between 12-20 minutes, depending on how you like your cranberry sauce. I cooked mine for about 20 minutes. When you've reached your desired consistency, remove from heat and add the orange zest. Mix everything together and set aside to cool slightly.
For the onion straws:
Soak the onion rings in the buttermilk for at least 30 minutes or up to 24 hours. Mix the flour, baking powder, and remaining seasonings together. Place the buttermilk soaked onions into the flour mixture. Don't let too much of the buttermilk drip off the onions before flouring them because this is what will give us a nice crust. Dredge the onions into the flour mixture well to make sure they are evenly coated. Place in the refrigerator or freezer for about 20 minutes to let the flour set and adhere. Heat the vegetable oil to 360 degrees, and fry the onions until golden brown, about 3-5 minutes. Remove from fryer to drain on a paper towel and immediately season with sea salt.
For the burgers:
Heat your oven to 400 degrees.
Mix the ground turkey, worcestershire, melted butter, fresh herbs, and seasonings in a large bowl until evenly combined. Form the mixture into 3 equal sized patties. I use a large biscuit cutter to help form my patties and keep them from turning into meatballs. If you experience this problem, use this method.
In a large oven-proof skillet or cast iron pan, heat 3 tablespoons of vegetable oil over medium heat, just until you start to see wisps of smoke (if it's totally smoking, you've gone too far). Place each patty into the skillet and cook for about 4 to 6 minutes on each side or until juices run clear. DO NOT PRESS DOWN ON YOUR BURGER! We don't want all of that delicious flavor to seep out and leave us with a dry patty. While the burgers are cooking, place the whole sage leaves into the oil inside of the pan so they can fry up crisp, about 2 minutes.
Remove skillet from heat and let's start building this monster.
Separate and butter the insides of your hamburger buns lightly. Toast them in the 400 degree oven until golden brown, about 5 minutes or so. Keep an eye on it so that it doesn't burn. Remove and set aside.
With the burgers still in the skillet, place the bacon on top of the burger first. Then top with creamy brie cheese. Place the skillet into the oven on the middle rack so that the cheese can melt beautifully and dramatically, about 2 to 3 minutes. Pull the skillet out of the oven, and pile on the crispy onions and 3 to 4 fried sage leaves per burger.
Spread cranberry sauce on the bottom bun and put the burger on top of that. Then spread a thin layer of mayo and dijon mustard on the top bun. Get some napkins, eat this baby, and try not to slap anyone.
Recipe Card powered by
Disclosure: This site uses various affiliate links. If a purchase is made using one of our affiliate links, we receive a small commission which helps support our efforts. Please read our
Privacy Policy
for more information.