Growing up, I've always eaten a version of this soup that looked more like a bowl of watery cheese with a few sad chunks of broccoli florets tossed in. I've always thought that was how broccoli-cheese soup was supposed to look, as well as taste. That turned out to be pure horsepucky.
While not too many pureed soups look appealing, you've gotta trust me when I say that this is a delicious bowl of soup that highlights the main ingredient, the broccoli, with sharp cheddar cheese and salty parmigiano-reggiano as the supporting cast. It's then topped with crispy applewood smoked bacon and homemade croutons that soak up this deliciousness perfectly. You could also hollow out a small round loaf, toast it up and pour this soup inside as a bread-bowl.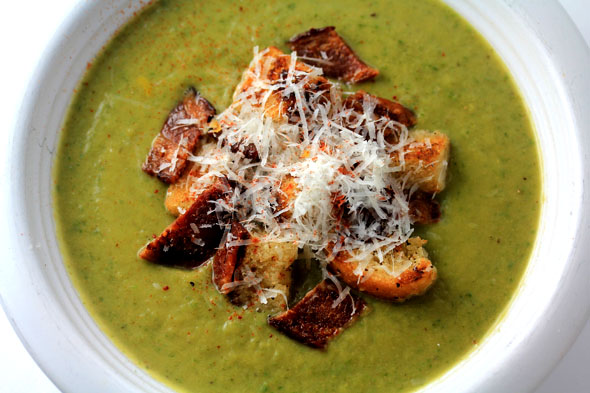 This soup is green and very creamy. It almost looks like a pea soup or something. But nope, that's just how real broccoli-cheese soup looks without all of the heavy milks and creams that just mask the true flavor. As a matter of fact, the only liquid ingredient we're adding to the broccoli is plain water and broth. We let the broccoli and cheese marry to give us that silky smooth cheese texture — and despite the color, you absolutely taste the cheese.
The texture of this soup depends on who's making it. Some may want to fully puree it, some may want to leave a few pieces whole — neither prototype is wrong here! Please finish this however you'd like to your own tastes. I like just a few chunkier pieces of broccoli left in, personally. The bacon on top really puts it on a new level of flavor. I really think that fans of the crispy pig will enjoy that part.
Best thing about this soup? It's super quick and can be done for a comforting weeknight meal. You just need a good blender or a food processor, or even a hand-held blender may work.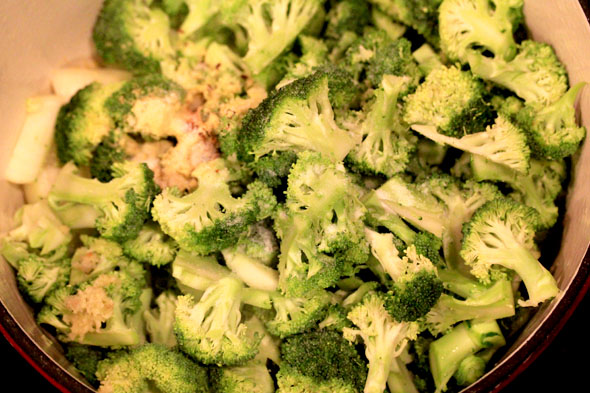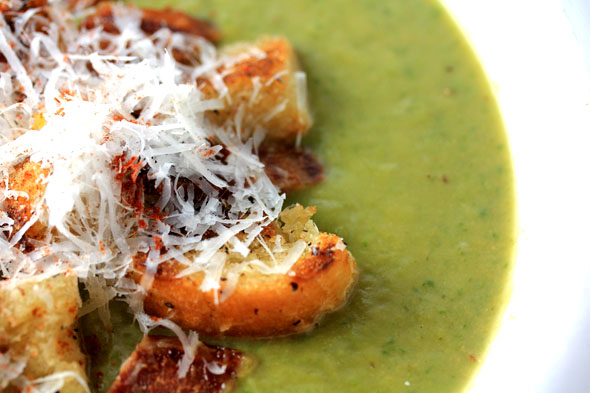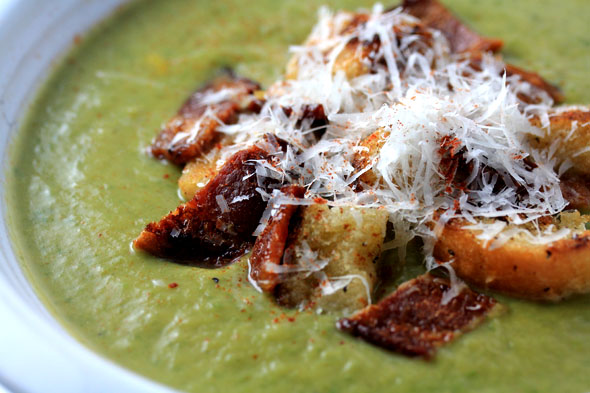 Print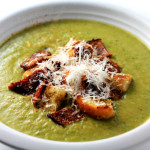 Broccoli-Cheddar Soup with Bacon and Homemade Croutons
---
Author:

Resha

Total Time:

50 mins

Yield:

4-6
---
For the croutons:
2

cups

bread, chopped into cubes

3 tablespoons

butter

1 tablespoon

olive oil
pinch of garlic powder
pinch of cayenne pepper
sea salt & black pepper
For the soup:
3 tbsp

butter

2

lbs

fresh broccoli, florets and stems chopped into 1″ pieces

1

medium yellow onion, coarsely choppped

3

small garlic cloves, minced

1 teaspoon

dry mustard

1/8 teaspoon

cayenne pepper
pinch of red pepper flakes

3

cups

water

1/4 teaspoon

baking soda

2

cups

baby spinach

2

cups

chicken or vegetable broth

6

oz

sharp cheddar (white or yellow), chopped into chunks

1

cup

parmigiano-reggiano cheese, finely grated (plus more for topping)

4

slices applewood smoked bacon, cooked crisp and roughly chopped

1 teaspoon

salt
Sea salt & Black Pepper, to taste
---
Instructions
For the croutons:
There are two ways you can prepare the croutons. On top of the stove or in the oven. Here are instructions for both methods.
Skillet Instructions:
In a large pan, melt the butter and olive oil together over medium heat. When the foaming subsides, add the bread cubes and toss frequently until all pieces are coated. Continue stirring around until all pieces are golden brown and crisp, about 5-10 minutes. Toss the hot croutons with the seasonings until evenly distributed. Serve with soup.
Oven Instructions:
Pre-heat your oven to 400 degrees. In a bowl, melt the butter and olive oil in the microwave, covered, for about 30 seconds. Toss the bread into the butter and oil mixture and make sure each piece is evenly coated. Place buttered bread cubes on a baking sheet and bake until all pieces are golden brown, about 10 minutes. Please keep an eye on it! When they're toasted to your liking, toss them with the seasonings and serve.
For the soup:
In a large pot or dutch-oven, melt the butter over medium-high heat. Add the chopped broccoli, onion, garlic, mustard, red pepper flakes, cayenne and 1 teaspoon of regular salt. Cook the mixture down until fragrant, while stirring frequently for about 5 to 6 minutes. Reduce the heat to medium.
Stir the baking soda in 1 cup of water, and add to the broccoli mixture (the baking soda breaks down the fibers of the broccoli to make it softer to puree later). Bring to a simmer, cover and cook until very soft, about 20 minutes — stirring only once.
Add 2 cups of chicken or vegetable broth, plus 2 more cups of water. Increase the heat to medium-high. When it starts to simmer, add the spinach and cook until wilted for about 1 minute.
Transfer half of the soup to either a food processor or blender. Add half of both cheeses (3oz of the cheddar, 1/2 cup of the parm) and blend until you've reached your desired consistency and all visible chunks of cheese are no longer visible. Feel absolutely free to leave some whole pieces of broccoli in your soup if you choose to. Pour the blended soup into a separate bowl. Repeat this process with the remaining half of the soup and cheeses and bring back to the pot or dutch-oven. Bring to a simmer over medium heat until heated through. Adjust texture by adding more water if desired, a little at a time. I ended up adding just 1/4 cup more of water but this is where you are in total control of the outcome. Adjust it to your own personal needs. Taste and season with sea salt and freshly ground black pepper.
Serve and top with croutons, bacon, and more grated parmigiano-reggiano if you'd like.
Enjoy!
Prep Time:

20 mins

Cook Time:

30 mins
Recipe Card powered by
Disclosure: This site uses various affiliate links. If a purchase is made using one of our affiliate links, we receive a small commission which helps support our efforts. Please read our
Privacy Policy
for more information.