This is dedicated to someone who's music has forever changed my life…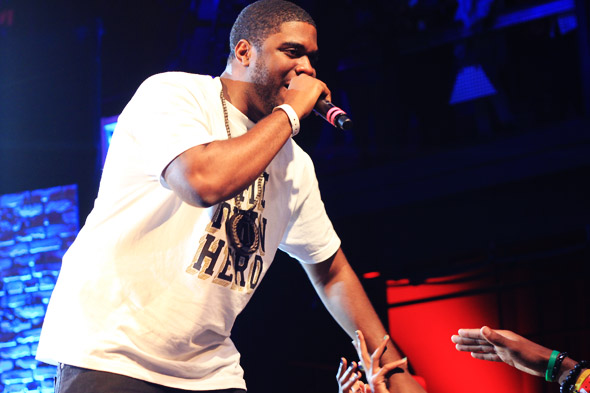 His name is Justin Scott, but you may know him as Big K.R.I.T. (KRIT is an acronym for "king remembered in time"). He's an incredibly sweet, humble young man from Mississippi who's unreal talent and passion for music has grabbed me by the proverbial balls and is showing no signs of letting go in the near future. Nobody in hip-hop has really impacted me like KRIT has since Wu Tang, Outkast, Biggie..you know, all of the greats I grew up on (yes, I'm old). This man makes the kinda music that you feel deep down in your gut — it's soulful and real and very vulnerable. He's a storyteller, and a great one. He produces his own music, he writes, and he raps. He makes jams that'll make you think, jams that'll make you cry, and jams that'll move your booty. He absolutely loves and appreciates his fans, and treats them like real people, which a lot of artists just don't know how to do. There are over 20 emotions I've experienced listening to his music, which is why I'm so loyal. I'm a fan for life. If you can invade my head and heart the way KRIT has, I'm basically all yours. Lastly, to make matters even better, he's got that super sexy southern drawl that I am a complete sucker for. Yes, I am a proud KRIT "stan". Hell, at least he knows who I am….hi, KRIT 🙂
So, here's a delicious sandwich…a rather massive, delicious sandwich — fit for a king. Oh, by the way his logo is a "crown" and he refers to himself as a king, so dammit…this is The Big KRIT "KING" Burger.
I know you're looking at this sandwich like "How in the hell am I supposed to fit that in my mouth?", well it's easy — make a slider version 😉
I was asked by the head mamabear of Big KRIT's fan club to create a burger inspired by him. So, I basically said "Hell yea!" and this is what I came up with — a variation of a surf-n-turf burger. I know for a fact he loves steak and shrimp, so that's what this burger is all about. I threw on some onion rings made from Spanish yellow onions (the best!), which were such a delicious contrast to all of the other flavors going on here. I asked KRIT if he liked bacon, and he told me he did…so I almost put that on the sandwich but I figured I'd chill because there's already a lot going on here lol. I carved a crown shaped onion ring and put that on top of the burger, but it kept falling off lol. To celebrate the fact he's a country boy, I made sweet potato fries with a sriracha-mayo dipping sauce — can I honestly tell you that was my favorite part of the meal? Everything came together so perfectly, I'm proud of this, and very happy that KRIT also approves. Now I just gotta figure out a way to actually get this burger in his mouth…
Big K.R.I.T. is dropping his first official album early next year, but in the meantime, wait for another free album dropping very soon called #4evaNaDay. The two albums that made me fall in love were Krit Wuz Here and Return of 4eva (also affectionately known as R4). Go download both from iTunes, your ears will thank you.
Here's my favorite KRIT video…this one speaks volumes about just what kind of man he really is. How could you not love him??
I didn't take a bunch of pics this time around because I've used the same preparation techniques that I've posted in earlier recipes.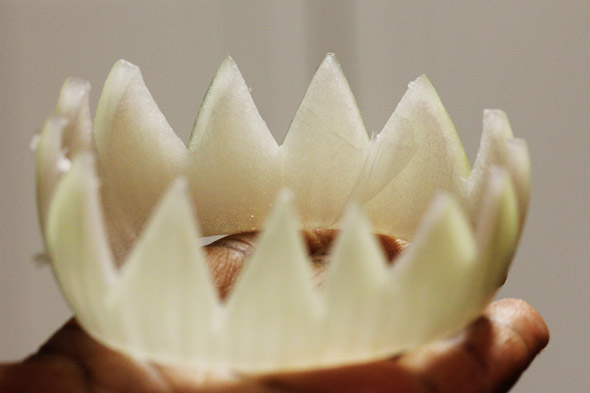 an onion ring fit for a king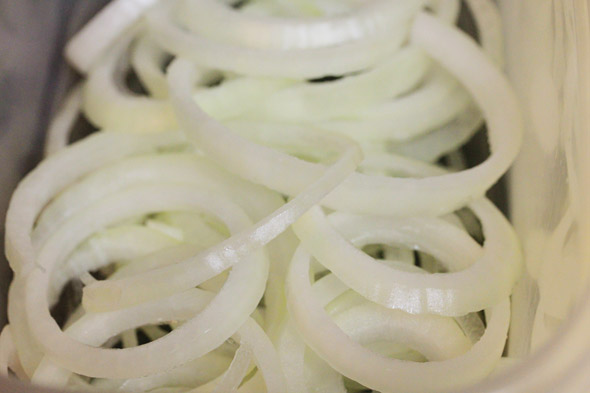 the others, about to be soaked in buttermilk for an hour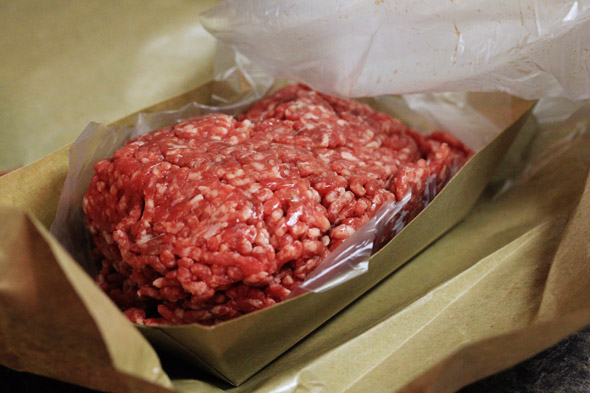 NY strip steak ground up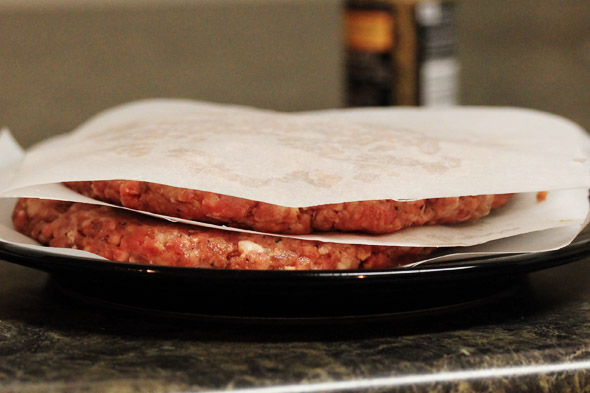 2 thin, large patties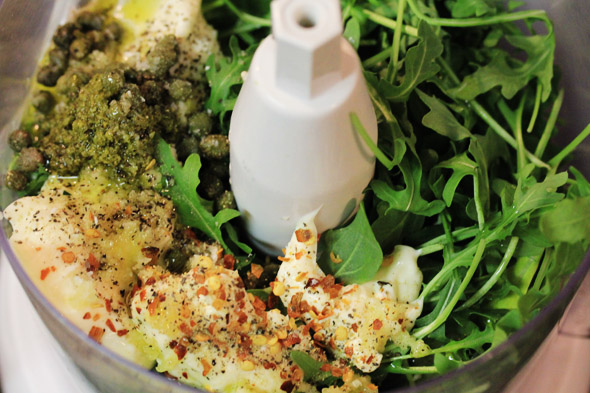 the makings of the arugla-pesto mayo with capers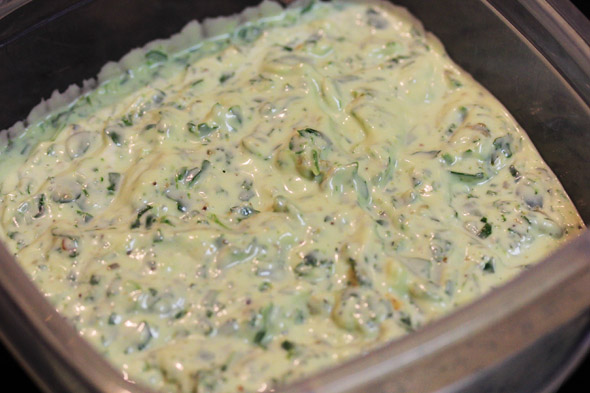 done. keep this in a container in your fridge for up to 5 days.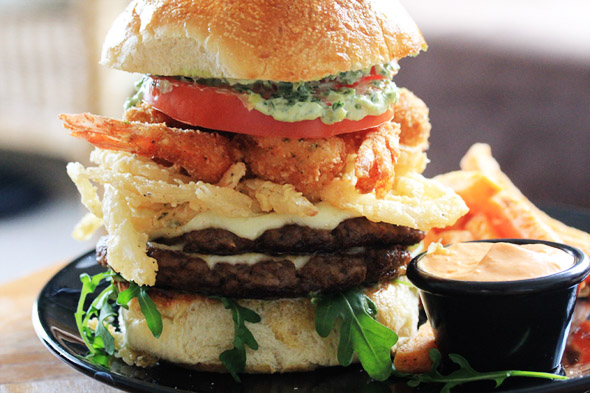 epic.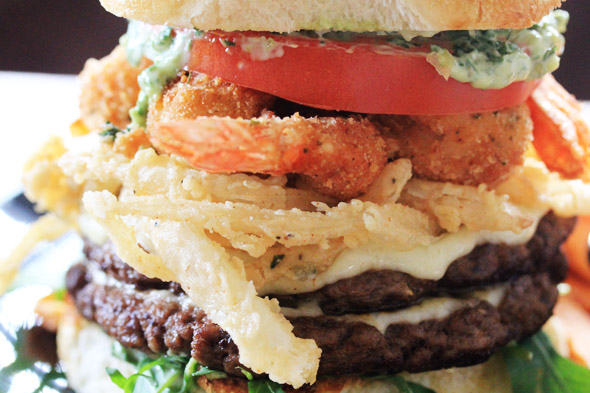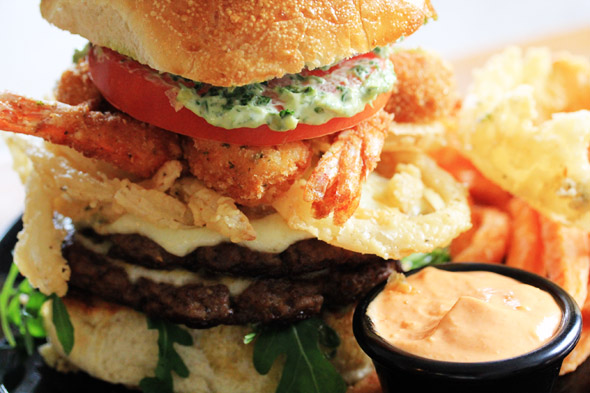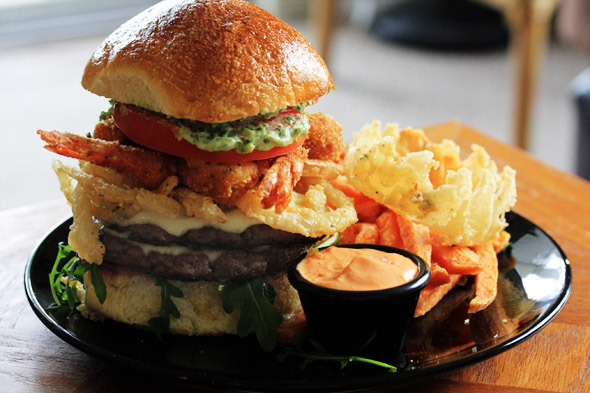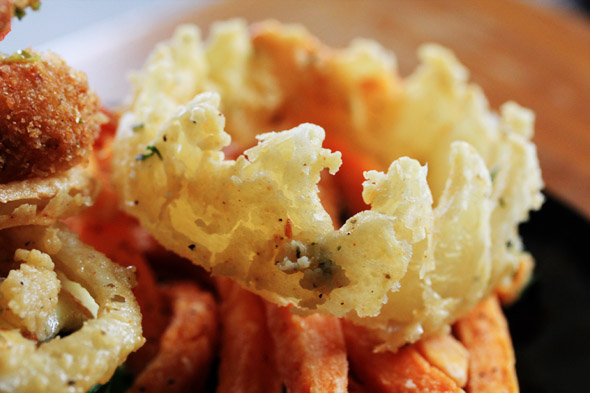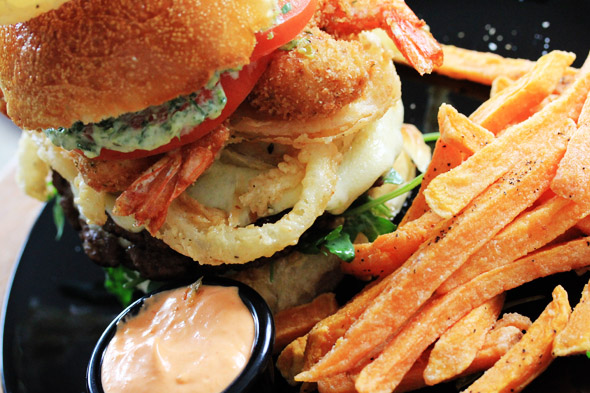 I bet you can't finish it all. I shared it with a friend and we both left a good 1/3 of it left. It's truly massive but incredibly delicious. Make a slider version if you'd like!
I love you, Krizzle…thanks for the music…K4L
Print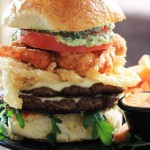 The Big K.R.I.T. "King" Burger
---
---
For the burgers:
1

lb

ground NY strip steak

1 tbsp

heavy cream (optional)

1 tbsp

extra virgin olive oil

1 tbsp

worcestershire sauce

8

slices gruyere or provolone cheese, 2 slices per patty

4

slices of tomato (I used beefsteak)

1

large handful of arugula or leafy lettuce of choice

2

hamburger buns, toasted (I used crusty vienna rolls)
seasoning for the burgers (this can vary, use whatever you want)
For the shrimp:
8

jumbo shrimp, peeled and de-veined, tails removed

1/3

cup

panko bread crumbs

1/3

cup

italian bread crumbs

1/3

cup

all purpose flour

1

egg

1 tbsp

heavy cream or milk

1/2 tsp

salt

1/2 tsp

black pepper

1/4 tsp

Old Bay seasoning

1/4 tsp

cayenne pepper

1/4 tsp

paprika
Oil for frying
For the onion rings:
1

large spanish yellow onion, sliced into rings

1 qt

. (

4 cups

) low-fat cultured buttermilk, or regular milk

1

cup

all purpose flour

1 tsp

seasoned salt

1 tsp

dried parsley

1 tsp

cayenne pepper

1 tsp

paprika
Oil for frying
For the arugula-pesto mayo with capers:
3/4

cup

mayo

2

to

3

tbsp extra virgin olive oil

1

cup

packed arugula

1/4

cup

fresh italian parsley

1 tbsp

prepared pesto

3

cloves fresh garlic, minced

1/2 tbsp

lemon juice

1 tbsp

capers

1 tsp

crushed red pepper flakes
salt and pepper to taste
---
Instructions
Preheat the broiler on your oven.
For the arugula-pesto mayo with capers:
Place all of the ingredients for the arugula-pesto mayo with capers into a food processor, and blend until creamy. Transfer to a small container and place in the fridge while you prepare the rest of your meal. When ready to eat, slather it on both sides of your toasted bun before building your burger.
For the burgers:
Season the beef with the heavy cream, olive oil, worcestershire, and other seasonings. Divide the ground NY strip into 4 large thin patties, about a quarter of an inch thick and set to the side. Place a heavy bottom skillet (cast iron is great) over medium-high heat. Drizzle about a tbsp of olive oil into the pan and when the oil starts shimmering, you'll know its hot enough. Cook 2 patties at a time, about 4 to 5 minutes per side. Repeat until all patties are cooked. Line a small baking sheet with parchment paper or foil. Place 2 slices of cheese on top of each patty and set under the broiler on the lowest rack of your oven until the cheese is melted and bubbly. Don't take your eyes off this, it melts pretty quickly. Stack 2 patties on top of each other, making 2 large double cheeseburgers and pile with the rest of the fixin's.
For the shrimp:
Heat about 3 inches of oil (I used vegetable) in a large pot (I used a cast-iron dutch oven) to 375 degrees. Rinse the shrimp and pat dry with a paper towel. Combine the egg, heavy cream (or milk), salt, pepper, old bay, cayenne pepper and paprika in a small dish. In a separate dish or ziploc bag, combine both the panko and italian bread crumbs. Place the flour in another separate dish or ziploc bag. You should now have a breading station set up in this order: flour, egg mixture, bread crumbs. Coat each shrimp with the flour and shake off the excess. Dunk it into the egg mixture ensuring it's fully coated, let the excess drip off, then toss the shrimp into the bread crumbs. Make sure you press the crumbs into the shrimp so that they stick. Fry the shrimp until golden brown, about 4 to 5 minutes. Drain on a paper towel, then place 4 shrimp on top of each Big KRIT "King" Burger.
For the onion rings:
Soak the raw onion rings in buttermilk or milk, for at least one hour in the refrigerator. Mix together the flour, seasoned salt, dried parsley, cayenne pepper, and paprika into a medium bowl or large ziploc bag. After an hour, remove the onion rings from the buttermilk and immediately coat them with the flour mixture. You can do this in batches. Make sure they're fully coated with flour, then fry them all in 375 degree oil (you can use the same oil you used for the shrimp) for about 5 to 8 minutes, or until lightly golden brown. Drain on a paper towel and season them with a little salt immediately out of the fryer. Place on top of your Big KRIT "King" Burger.
Assembly:
Slather the mayo mixture on your buns, then pile some arugula or other leafy green lettuce of choice on top, then your double patties. Next top with the onion rings, then the shrimp, the tomatoes and top it off. You'll have two monster Big KRIT burgers that will feed two extremely hungry people. Great for sharing. Serve alongside sweet potato fries with sriracha-mayo for dipping. Delicious.
Notes
Time everything as best you can so that everything is done at the same time. You can make the arugula-pesto mayo way ahead of time. The onion rings can soak hours in advance as well. Fry your onion rings and shrimp in the same pot (but not at the same time). If I were you I'd fry the onion rings first, then the shrimp. Leave the tails off the shrimp so that you don't eat them, I only left them on so you can tell what they were. If you want, you could turn this recipe into 4 single patty burgers instead of 2 massive double-cheeseburgers. Just place two pieces of fried jumbo shrimp on each sandwich instead of four. Again, you could make a slider version of this so it's easier to eat, haha!
Prep Time:

40 mins

Cook Time:

15 mins
Recipe Card powered by
Disclosure: This site uses various affiliate links. If a purchase is made using one of our affiliate links, we receive a small commission which helps support our efforts. Please read our
Privacy Policy
for more information.