I'm a lover of breakfast. It's the most versatile meal of the day. This plate of pure lust you're about to encounter is a perfect "lazy Sunday" dish that you and a loved one can snuggle up and share in bed. I thought up this specific recipe in my head and quickly knew I had to execute. This stuff here is absolutely delicious. Everything comes together so perfectly — all of the flavors compliment each other so harmoniously. It's incredibly simple to make but requires you be on your feet and alert all at the same time or you'll end up with a disaster. I'm gonna show you how to prevent an "spaghetti alla scrambled eggs" and instead hook you up with creamy, more lush dish. Are you game?
When most people think of Spaghetti alla Carbonara, they aren't usually thrilled about it. And that's because they're reminded of the last time they sat in front of it and it was loaded with scrambled eggs and was an overall disaster. Or there are folks who are afraid to try it because they think it's a "raw egg" dish. I can't lie, I was afraid to try it when I was younger because I thought it was just pasta swimming in egg juice — but I was so deliciously wrong.
We're gonna prevent the scrambling of the eggs, and give you creaminess — and 100% doneness 😉 This dish is nothing but a beefed up spaghetti alla carbonara. The same technique of the "controversial" classic, but better executed.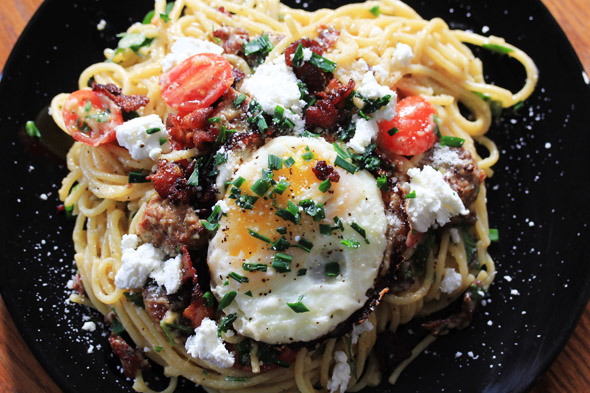 My version features juicy chunks of spicy Italian sausage, crisp smoked bacon, a peppery bite of arugula, a sweet juicy bite of cherry tomato, which is then cut with the slightly tangy bite of cream goat cheese…met with the creaminess and the sharpness of the parmigiano-reggiano and romano cheese?? Oh heavenly Lord. Then there's the herbs?! *throws my phone*
Look dammit, you gotta make this.
However, like I stated before, it's one of those meals that is super easy to mess up and ruin…
No, no..come back!
Seriously, don't be intimidated. I promise you can do this, just listen to me right now so that you end up with a success and not a disaster. You really have to time everything perfectly in order to deliver a marvelous carbonara. For this dish, it's best to get everything out and truly prep so you are able to add things when they need to be added and not delay. For starters, heat your oven to it's "warm" setting and put the bowls you plan on serving this in on the middle rack just to get nice and warm. Carbonara will seize up if it's served on a cold dish. Oh, and make sure the bowls you put in the oven are oven safe lol. The egg, garlic and cheese mixture is the star here. This is where most people screw this dish up. If you don't add enough cheese to the eggs, the eggs will scramble as they're being tossed thru the hot pasta. Adding more cheese to the egg mixture kinda does this scientific thing where it helps prevent the eggs from fully scrambling, so instead you get a creamy texture and not an eggy one. Just make sure you move quickly but gently so you don't tear the pasta all apart to be damned. For the love of all things fabulous, please keep some pasta water on hand because you'll more than likely need to drizzle in a little of it to keep the dish creamy and lubricated.
Carbonara is something that has to be eaten as soon as it's made, although mine still tasted incredible after getting a little room temperature lol. I put a fried egg on top of mine, just because I'm a little extra sometimes..but you don't have to do that.
Make sure you prep and get everything ready!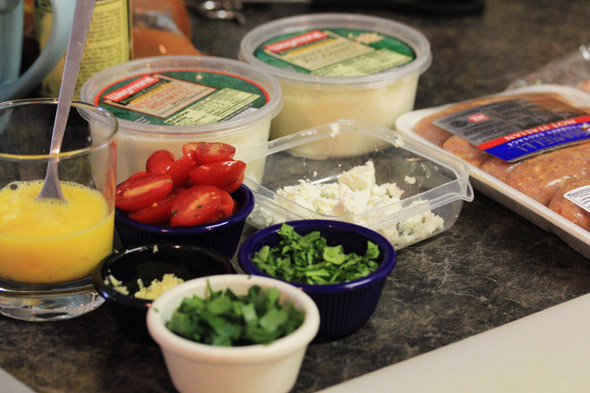 PREP! have everything out and ready…make sure everything that needs to be chopped is chopped, and ready to go when you need it so you don't waste time.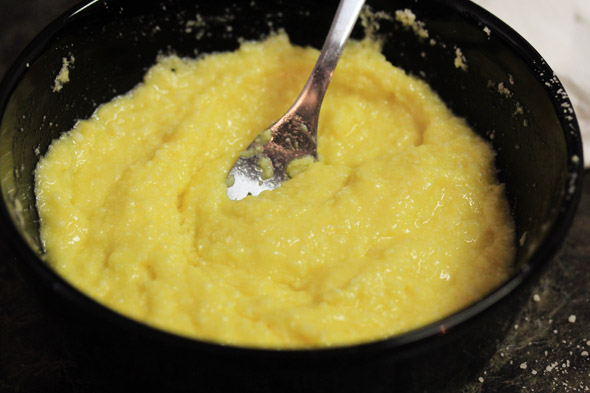 mix the eggs with the cheese and garlic. this is the most important step of the dish! you wanna make sure this mixture is the consistency of creamy grits. it should be thick, kind of like a paste…doing it this way also helps prevent it from scrambling, and instead you get a creamy sauce instead of spaghetti tossed with scrambled eggs like most recipes will deliver…and I'm sorry but we just don't want that.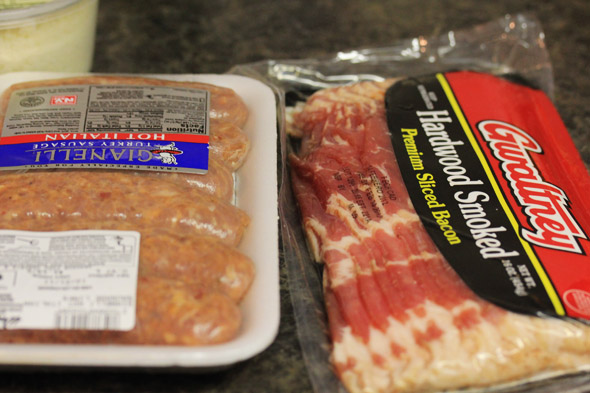 chop about 4 or 5 slices of bacon and 2 fat chunks of Italian sausage into bite sized pieces.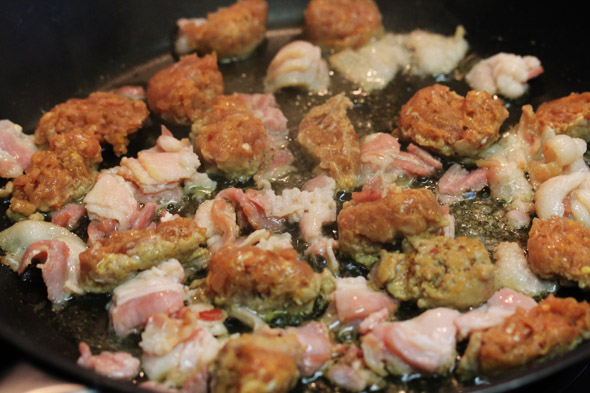 then start to brown it…meanwhile my water for the pasta is getting hot…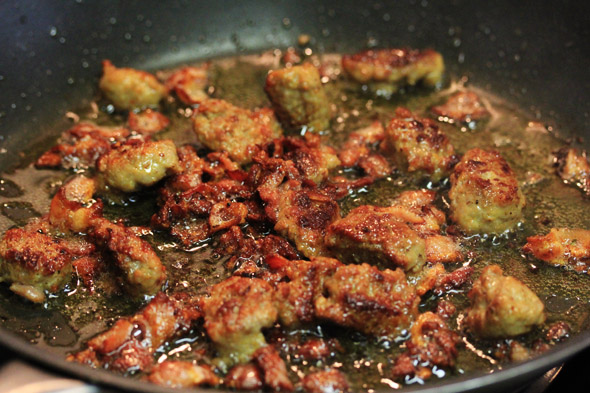 nicely browned and crisp…I just also added the pasta to the water which is now boiling.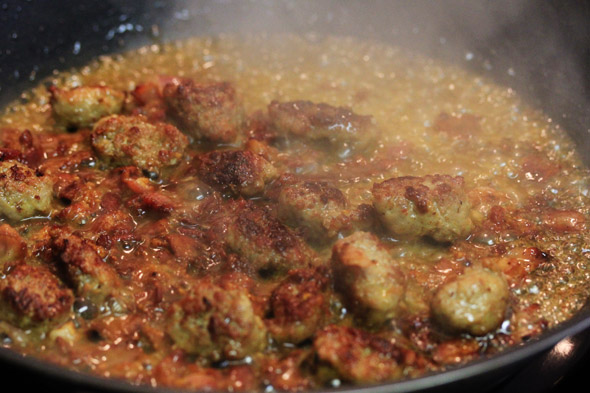 now back to this…add your dry white wine and watch it go nuts. reduce the heat and the wine will also reduce…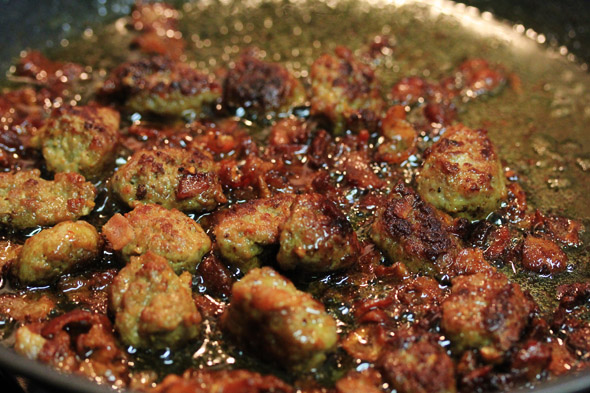 see? it doesn't take long to reduce, about 5 minutes or so.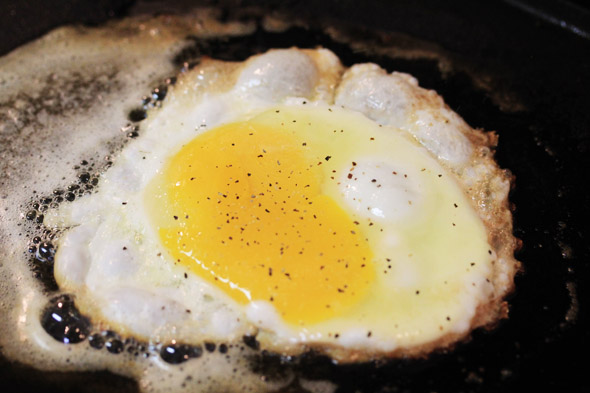 oh, I'm also frying an egg lol — again, you don't have to. in the meantime, I covered my bacon and sausage mixture and turned the heat off just to keep that nice and warm while I focused on the next step…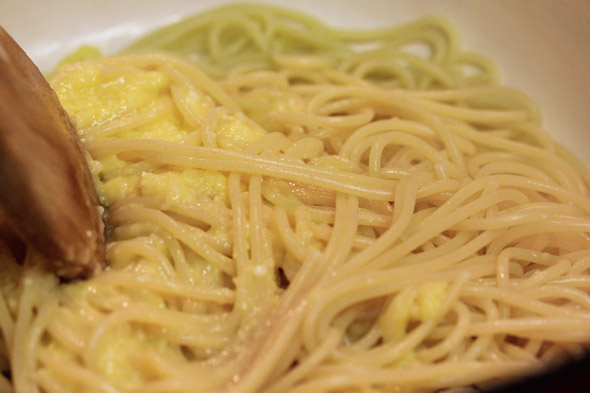 add the egg, garlic and cheese mixture to the hot pasta and gently worth thru to fully coat. if this starts getting thick and sticky, add a little of the pasta water you reserved — and you had better reserved it!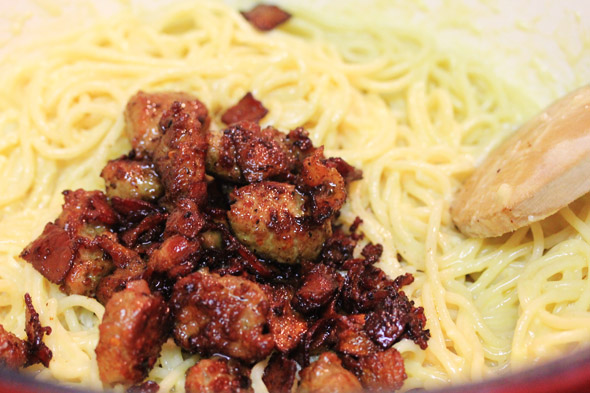 see? my pasta is nicely coated. the eggs didn't scramble or turn to grit at all. the key is to mix the eggs with the cheese so that it binds a little better which then gives you a creamier texture. but because this stuff can thicken, you want to keep the reserved pasta water on hand just to help loosen it when you need to. toss in the bacon, sausage and wine mixture and gently fold it in so that you don't tear the pasta to shreds…this is also the time to season it with salt and pepper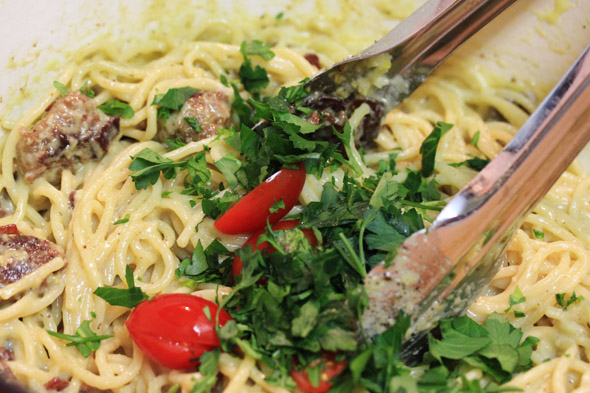 then you wanna add in the tomatoes, herbs, and some of the goat cheese (which I added after I took this photo). gently toss that in with tongs and serve it immediately on a warm plate or bowl.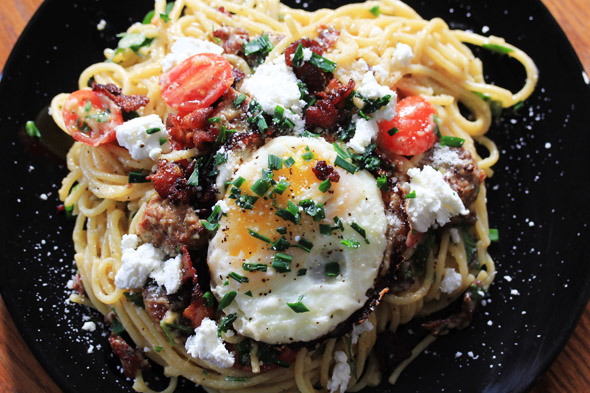 and if you fried an egg, plop it right on top and garnish with a little more goat cheese and fresh chives. it's perfection…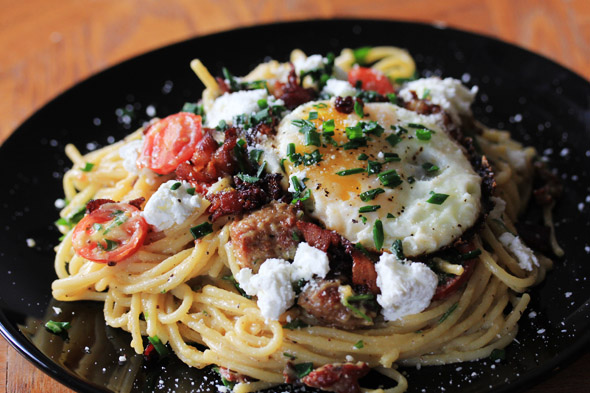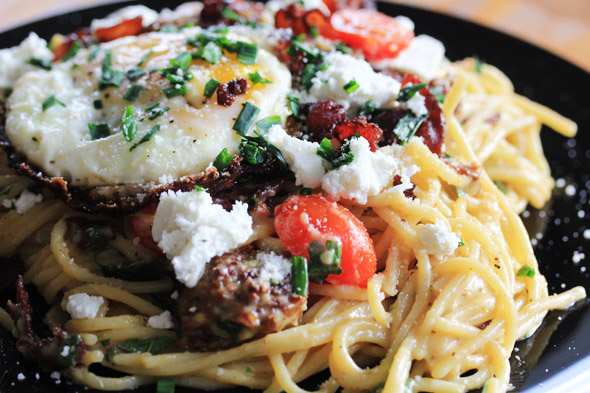 This was absolutely incredible, I cannot tell a lie. Super easy to make, just make sure you're on your toes and you'll have a very successful breakfast alla carbonara 😉
Print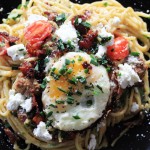 Breakfast Carbonara
---
2 tbsp

extra-virgin olive oil

4

to

5

slices of bacon, halved length-wise, then cut crosswise into

1/4

-inch pieces

2

spicy Italian sausage links, casings removed, cut into bite-sized chunks

1/4

cup

dry white wine (I used a dry vermouth)

2

large eggs

1/2

cup

Parmesan cheese, finely grated

1/4

cup

Pecorino Romano cheese, finely grated

3

cloves garlic, pressed through garlic press or minced to paste

2 tbsp

arugula, finely chopped

2 tbsp

Italian flat-leaf parsley, roughly chopped

1/4

cup

cherry tomatoes, sliced in half, lengthwise

2

oz

. fresh goat cheese

1/2

pound

spaghetti
Kosher salt and freshly ground black pepper to taste

1

to

2

tsp chives, chopped, to garnish

2

fried eggs for garnish (optional)
---
Instructions
Adjust oven rack to lower-middle position, place serving dishes on the rack and heat oven to 200 degrees to keep your serving dishes warm. Make sure they're heat safe.
Bring 4 quarts water to rolling boil in large Dutch oven or stockpot.
While water is heating, heat oil in large skillet over medium heat until shimmering, but not smoking. Add bacon and and sausage and cook, stirring occasionally, until lightly browned and crisp, about 8 to 10 minutes. Add wine and simmer until alcohol aroma has cooked off and wine is slightly reduced, 6 to 8 minutes. Remove from heat and cover to keep warm. Beat eggs, cheeses, and garlic together with fork in small bowl; set aside.
When water comes to boil, add pasta and 1 tablespoon table salt; stir to separate pasta. Cook until al dente; reserve at least 1 cup pasta cooking water and drain pasta for about 5 seconds, leaving pasta slightly wet. Transfer drained pasta to the pot (removed from heat) or a warm serving bowl; if pasta is dry, add some reserved cooking water (see note below) and toss to moisten. Immediately pour egg mixture over hot pasta, toss well to combine. The hot pasta will cook the raw egg mixture, so don't worry. Pour bacon mixture over pasta, season generously with black pepper, and toss well to combine. Lastly, stir in the sliced tomatoes, herbs and half the goat cheese and gently toss. Garnish with chives and remaining goat cheese and serve immediately.
Notes
If the sauce is to spread evenly, the pasta must be moist. Add up to 1_3 cup reserved pasta cooking water if the pasta is dry or sticky.
Prep Time:

20 mins

Cook Time:

30 mins
Recipe Card powered by
Disclosure: This site uses various affiliate links. If a purchase is made using one of our affiliate links, we receive a small commission which helps support our efforts. Please read our
Privacy Policy
for more information.