These are the brussel sprouts for those who hate brussel sprouts, or think they hate brussel sprouts. My dad absolutely hates brussel sprouts, and he destroyed these. My mom shook her head and raved, "I eat brussels all the time, but those are the best I've ever had. Makes no sense. They're even good cold". Well, neither party is lying here. These are just damn good brussel sprouts. Bacon and brussels go together like eggs and avocado. They're just a match made in mouth heaven. Throw in a few dried cranberries to soak up some of that white wine and we've got ourselves a party. The brussels cook up tender and caramelized, full of delicious flavor, sure to please any skeptic. They aren't the least bit bitter, and sure to be a great addition to your holiday table.
Brussel sprouts should be tender, but not soggy. Braising them allows us to develop color AND lots of flavor. The cut sides get nice and caramelized, and the wine just absorbs into the leaves giving you an incredible taste. The smokey bacon and sweet shallots pair nicely with the heat from the crushed red pepper and Herbes de Provence — then the magic happens when you toss in some sweet/tart dried cranberries and that last minute hit of honey. Oh boy…flavor overload. Very simple yet very delicious. There are tons of ways to cook and flavor brussel sprouts, but this is a quick and delicious way to introduce them to your regular diet. They are packed with nutrition and with proper love and care, can be transformed from a childhood fear to an adult delicacy.
OMG these are SO good!! Let's get started, shall we?
I implore you to make these, immediately. My dad, who really hates brussels, has paid me to make these for him — they're that good. They'll make anyone a believer!
Print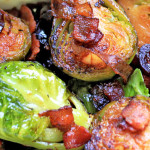 White Wine Braised Brussel Sprouts with Bacon and Cranberries
---
24 oz

. (

1 1/2

pounds) Brussel Sprouts, ends trimmed, bruised outer leaves removed, sliced in half lengthwise

2 tablespoons

extra virgin olive or coconut oil

4 oz

bacon (roughly

4

slices), sliced into lardons/thin strips

1

shallot, peeled and sliced

2

small garlic cloves, minced

1/2

to

3/4

cup white wine (*see note below*)

1/2 cup

water (*see note below*)

1/2 cup

, or small handful dried cranberries

1/4

–

1/2

tsp crushed red pepper flake (use as much or as little as you can tolerate)

1/2 tsp

Herbes de Provence
Freshly ground black pepper and sea salt to taste

1 tbsp

raw honey
---
Instructions
In a large skillet, pour 2 tablespoons of extra virgin olive or coconut oil over medium heat. Add the bacon and separate the lardons with a wooden spoon. Add crushed red pepper, herbes de provence, and continue to render the bacon until it starts to get lightly crisp, about 5 minutes. Add the shallots and continue to cook until the bacon is nice and crispy, and the shallots are translucent and just beginning to caramelize, about another 3-4 minutes. Once bacon is crisp, remove all contents from the skillet with a slotted spoon, leaving about 3 to 4 tablespoons of fat in the skillet (just enough to coat the bottom of the pan). If you have too much fat leftover, please discard some of it.
Arrange each brussel sprout, cut-side down into the skillet in an even layer. Immediately cover your skillet to trap the steam and let the brussels caramelize on their own, about 2 to 3 minutes over medium heat. Off heat, carefully add the white wine, it may bubble up fiercely! The amount of wine you use will be determined by how large your skillet is, and how many brussels you have. You may need more or less, but the wine should not completely cover the brussel sprouts — it should rise maybe 1/4 of the way up. Add the salt and pepper, garlic, bacon, and cranberries — pushing the cranberries into the wine as much as you can. Cover the skillet and reduce the heat to medium-low. Check the bottoms of the brussels often to make sure they don't burn too much (although even when they get super dark they're still amazing). If your wine is evaporating too quickly, add the 1/2 cup of water, at little at a time. Braise the brussels in the white wine and water (if needed) for about 8-15 minutes (depending on the size of your brussels), or until you can easily pierce them with a toothpick or wooden skewer. Thy should be tender but NOT mushy.
Once the brussels are tender and the liquid has evaporated and soaked into each sprout, turn off the heat. Drizzle 1 tablespoon of honey all over the entire dish and GENTLY toss to combine, letting the heat melt the honey through every nook and crannie. Taste and adjust seasoning as needed. Serve immediately.
Notes
Total amount of wine used will depend greatly on the size of the skillet you're using. A 12″ skillet will use about 3/4 cup, so if you're using something smaller or larger than that, please adjust accordingly. Use the water if your wine is evaporating too quickly. You just want to keep the brussels moist long enough to braise until they're tender, but not mushy.
Prep Time:

15 mins

Cook Time:

25 mins
Recipe Card powered by
Disclosure: This site uses various affiliate links. If a purchase is made using one of our affiliate links, we receive a small commission which helps support our efforts. Please read our
Privacy Policy
for more information.