Gwockamolay!
I've had a lot of different guacamole recipes, but can I be honest with you? There are three recipes that top my list (as of now). The guacamole at Rosa Mexicano is bangin. The guacamole at Oyamel is incredible. But the guacamole at Chipotle? There is something very simple about that guacamole recipe that I just adore. It's always fresh, has a bright citrus flavor, and I never mind paying the ridiculous $2 extra for it. Luckily for me, I probably eat at Chipotle 3 to 4 times a year on average. Rosa Mexicano and Oyamel make delicious versions full of flavor. Effing yum!
This isn't a "traditional" guacamole by any means, it's pretty beefed up. Usually all you need for great, simple guac is avocado, onion, cilantro, lime juice, salt and pepper. But I tend to take things a bit further sometimes, so that explains that lol. I sprinkled Cotija cheese on top, which is a Mexican crumbly cow's milk cheese with a nice salty bite. Think of it as a Mexican feta. You could also use Queso Chihuahua cheese which is softer, or Queso Blanco. You can totally skip this if you're not feelin that. I think it gives it a really nice bite though. I served my guacamole in the avocado skins because I didn't want to dirty up another dish. You don't have to do this, but it is kinda cute.
Anyway, I decided to combine the flavors and ideas of all three of my favorite guacamole recipes and make this delicious stuff you see here. Next time, I will add crunchy bits of bacon on top because that's just how I roll 😉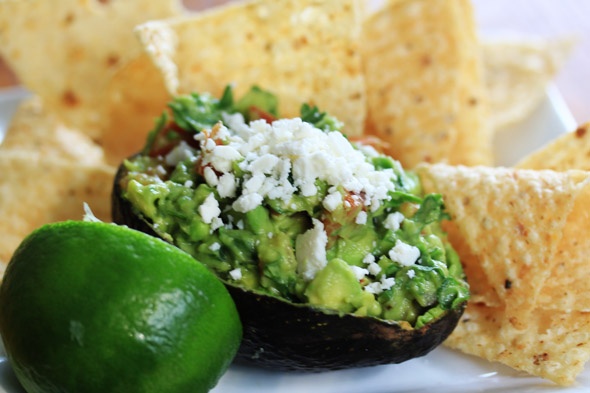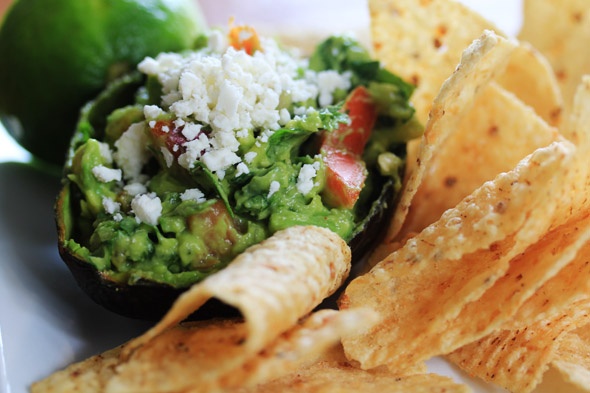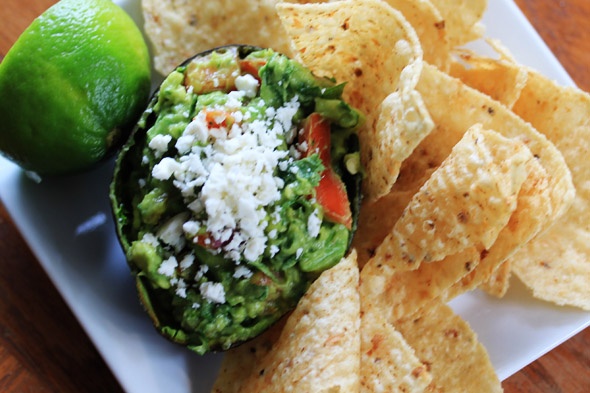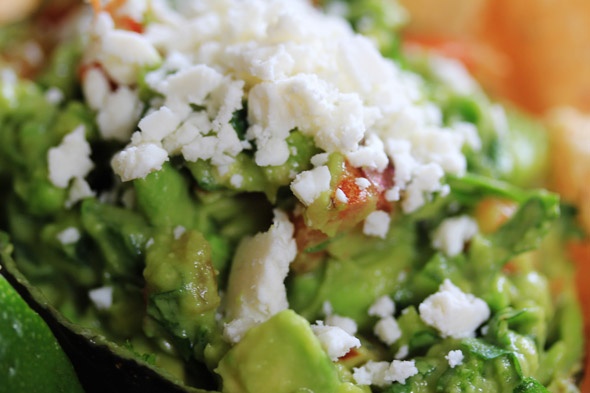 Print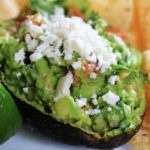 Guacamole with Cotija Cheese
---
Description
copyright 2012 CarnalDish.com
---
2

large ripe Hass avocados

1

jalapeno or serrano pepper, seeded and diced (if you like spicy guac, keep the seeds)

1

small roma tomato, diced into chunks (optional)

1/4

cup

onion, finely chopped (I used red onion, you can use any onion you want)

2

to

3

tbsp fresh cilantro, finely chopped

1 tbsp

lime juice

1 tbsp

lemon juice

1

small clove garlic, finely minced

1

pinch of salt

1/2 tsp

cumin (optional)

1/2 tsp

chili powder (optional)
Cotija cheese crumbles for garnish (optional)
---
Instructions
In a large bowl, mash the avocado into chunks with a fork or knife. If you like a mushier guacamole, then go crazy with the fork. Add the lemon and lime juice, and remaining ingredients (excluding the cheese). Toss together until well combined.
Sprinkle the crumbled cotija cheese on top and serve immediately.
Recipe Card powered by
Notes:
Guacamole is really one of those things you want to eat right away because it will oxidize and turn into an ugly brown poo looking mess. To help prevent your guacamole from turning brown, keep the avocado seed inside of the guacamole in an airtight container with a layer of plastic wrap directly on top so it's touching the guac. Try to keep as much air out of it as possible. It should keep for at least a day or two.
Make sure you use ripe avocados. I tend to buy the "ready to eat" avocados from my local grocery store. If your avocados aren't ripe, wait a day or two. Put them into a brown paper bag and check on their progress each day. You could prick a few tiny holes in them and microwave for a few seconds to ripen them, but they won't taste as good. They're worth the wait.
Disclosure: This site uses various affiliate links. If a purchase is made using one of our affiliate links, we receive a small commission which helps support our efforts. Please read our
Privacy Policy
for more information.