If you don't appreciate nor respect the taco, we can't be friends. The taco is the greatest culinary invention ever. It's the cousin of the sandwich. A "shell" that cradles your favorite ingredients, and is eaten with your hands. Everything tastes good in a taco — even spaghetti (I know…I know). Again, it's the same concept as the sandwich, so you cannot go wrong here folks.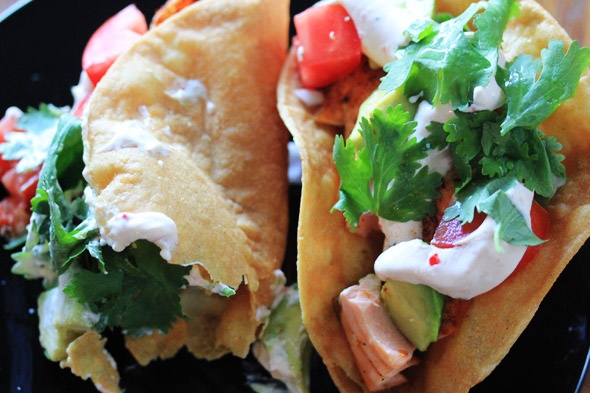 I love seafood, and I love tacos. So whoever was the first to put the two together, my hat's off to you sir (or madame). These are very basic tacos, nothing complicated, but something you could totally customize and make your own. I like simple tacos, just as long as the flavors go well together. My favorite kind of taco is the crunchy taco. I love textures. Don't get me wrong, I appreciate the soft taco too, I just prefer the crunchy little brother 😉
These tacos start with a shell that's fried hard and filled with creamy chunks of avocado, juicy tomatoes, sharp red onion, cilantro, tender seasoned shrimp, and seasoned salmon…topped off with a spicy sour cream and a squirt of lime. Bomb. You don't have to fry the shells like I did. You can buy the pre-fried shells in the box (which I do often, just remember to heat them up lol).
While these aren't the most glamorous photos, they get the point across. I was in the middle of eating them when I started taking photos, so my apologies. They were just so good smh…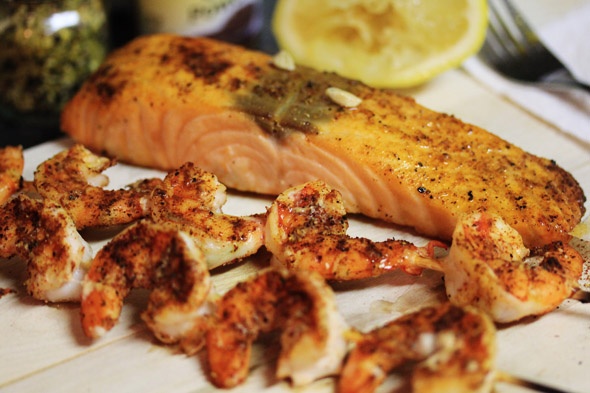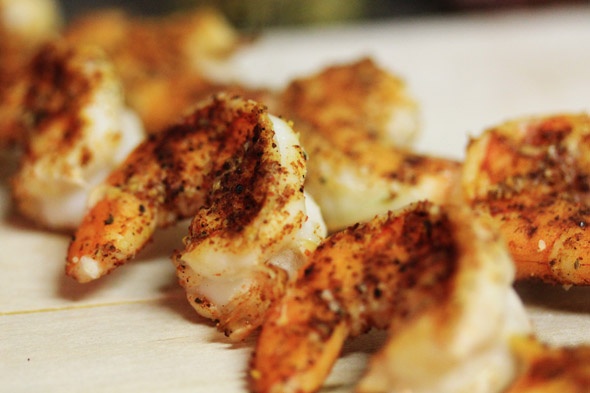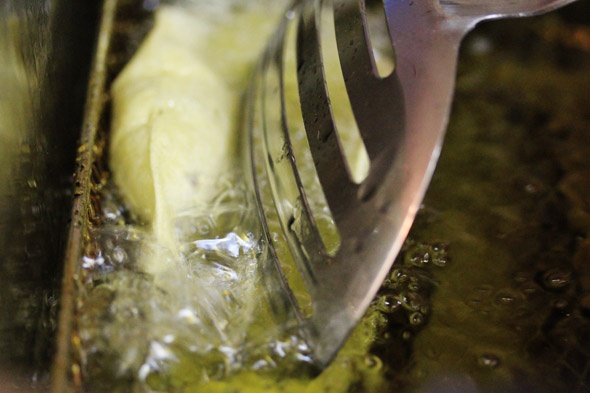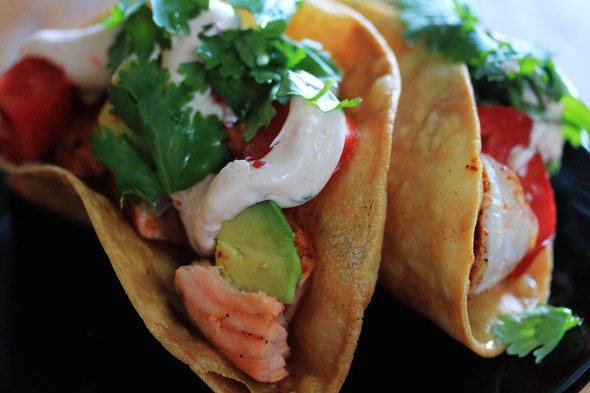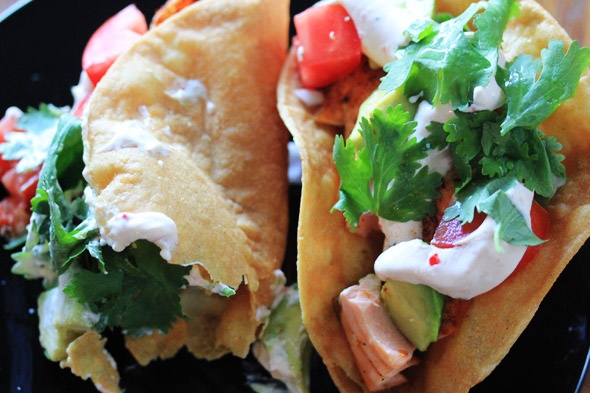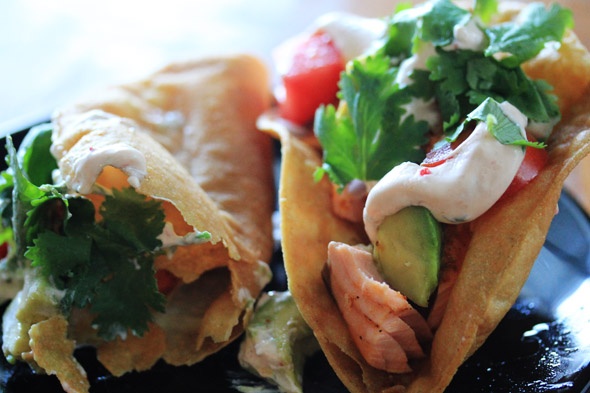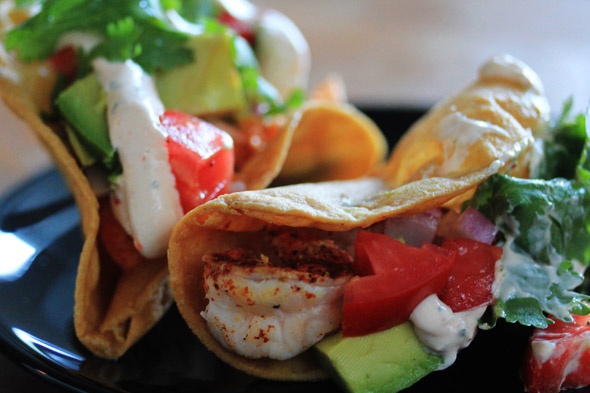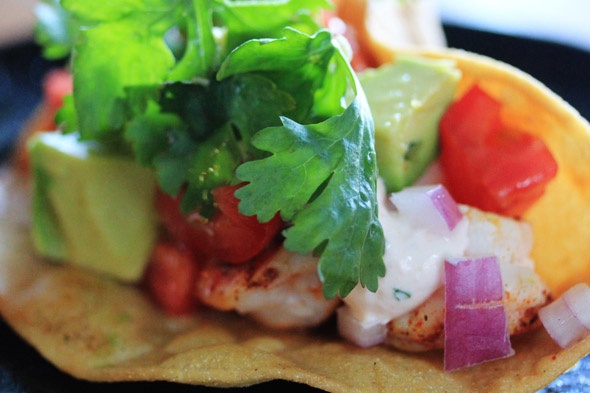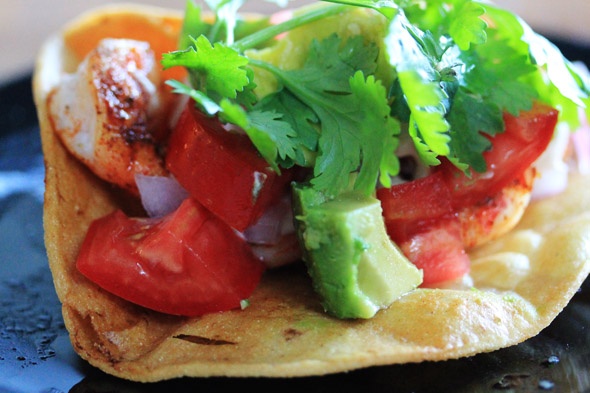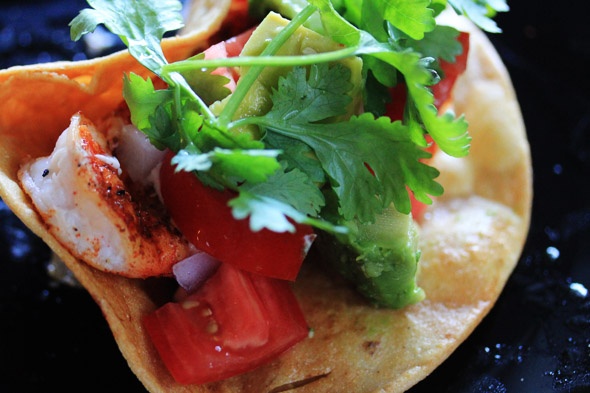 Goodness…
Print
Description
Tip: to easier cook the shrimp and help them maintain their shape, you could slide a bamboo skewer thru several pieces, then cook and easily flip. Not required, but helpful.
---
6

fresh corn tortillas (or buy the ones in the box)

1

cup

of shrimp, peeled and deveined

1

filet of salmon

1

avocado, cut into chunks

2

roma tomatoes, cut into chunks

1

small red onion, diced

1

handful of fresh cilantro, torn into bite-size pieces

1

lemon, sliced in half

1

lime, cut into wedges
olive oil

2 tbsp

butter
Spicy Sour Cream (recipe below)
salt for seasoning the taco shells
Seasoning for the shrimp and salmon:
Lemon pepper
Cayenne pepper
Paprika
Cumin
---
Instructions
Preheat your deep fryer to 375 degrees. I used canola oil.
Preheat your oven to 450 degrees and line a baking sheet with foil.
Sprinkle dash amounts of each seasoning onto your shrimp and salmon, on both sides respectively.
Place your seasoned salmon on the foil lined baking sheet and put the two tablespoons of butter on top. Bake for 8 to 12 minutes (depending on the thickness of your salmon) on the middle rack of your oven. When done, remove from oven and squirt with fresh lemon juice. Set aside.
To prepare your shrimp, heat a skillet to medium high. When hot, drizzle a tiny bit of olive oil so that the shrimp don't stick. I used a bamboo skewer to stick thru my shrimp so that it could keep its shape and be easier to flip, but you don't have to do this. Place the shrimp into the pan and cook for about 2 to 3 minutes per side. Remove from skillet, squirt with lemon juice and set aside.
Meanwhile, fry your tortillas in your deep fryer, one at a time. Use a metal spatula to hold firmly in the middle of the tortilla so that it creates a basic taco shape. These won't all come out perfect, but who cares, they'll still be good. Fry until golden brown (about 2 to 4 minutes), then drain on a paper towel. While they're still very hot and glistening from the oil, season each shell with a tiny bit of salt. The oil will help soak up the salt and adhere it to the shell.
Build your tacos and top with the spicy sour cream. You could put both shrimp and salmon in one taco, or you could just make salmon tacos alongside a shrimp taco or two. It's your party.
Serve with lime wedges.
Recipe Card powered by
Print
3/4

cup

sour cream

1 tbsp

lemon juice

1 tbsp

chili paste (like Sriracha)
dash of cumin
dash of cayenne pepper
pinch of salt
---
Instructions
Mix all ingredients together and serve on top of your shrimp and salmon tacos.
Recipe Card powered by
Disclosure: This site uses various affiliate links. If a purchase is made using one of our affiliate links, we receive a small commission which helps support our efforts. Please read our
Privacy Policy
for more information.