Merry Christmas! Prime rib is such a popular choice for holiday dinners, but this sous vide garlic crusted boneless prime rib will become a favorite. Prime rib is already amazing on its own, but it's also very expensive. You absolutely don't want to overcook this pricey piece of meat. With that said, you've got to try it sous vide. It will cook your meat to your desired temperature and hold it there until you're ready to finish it off.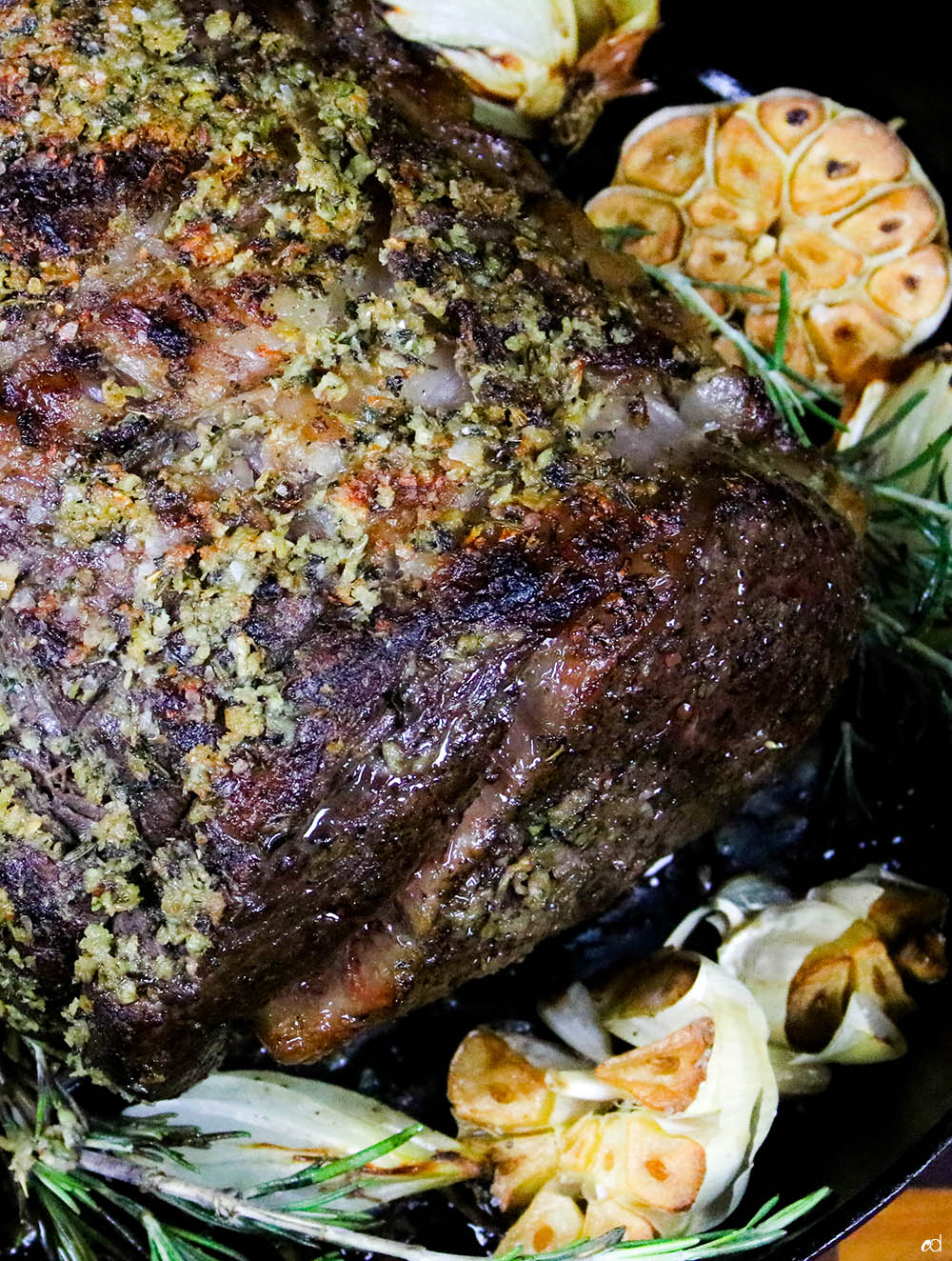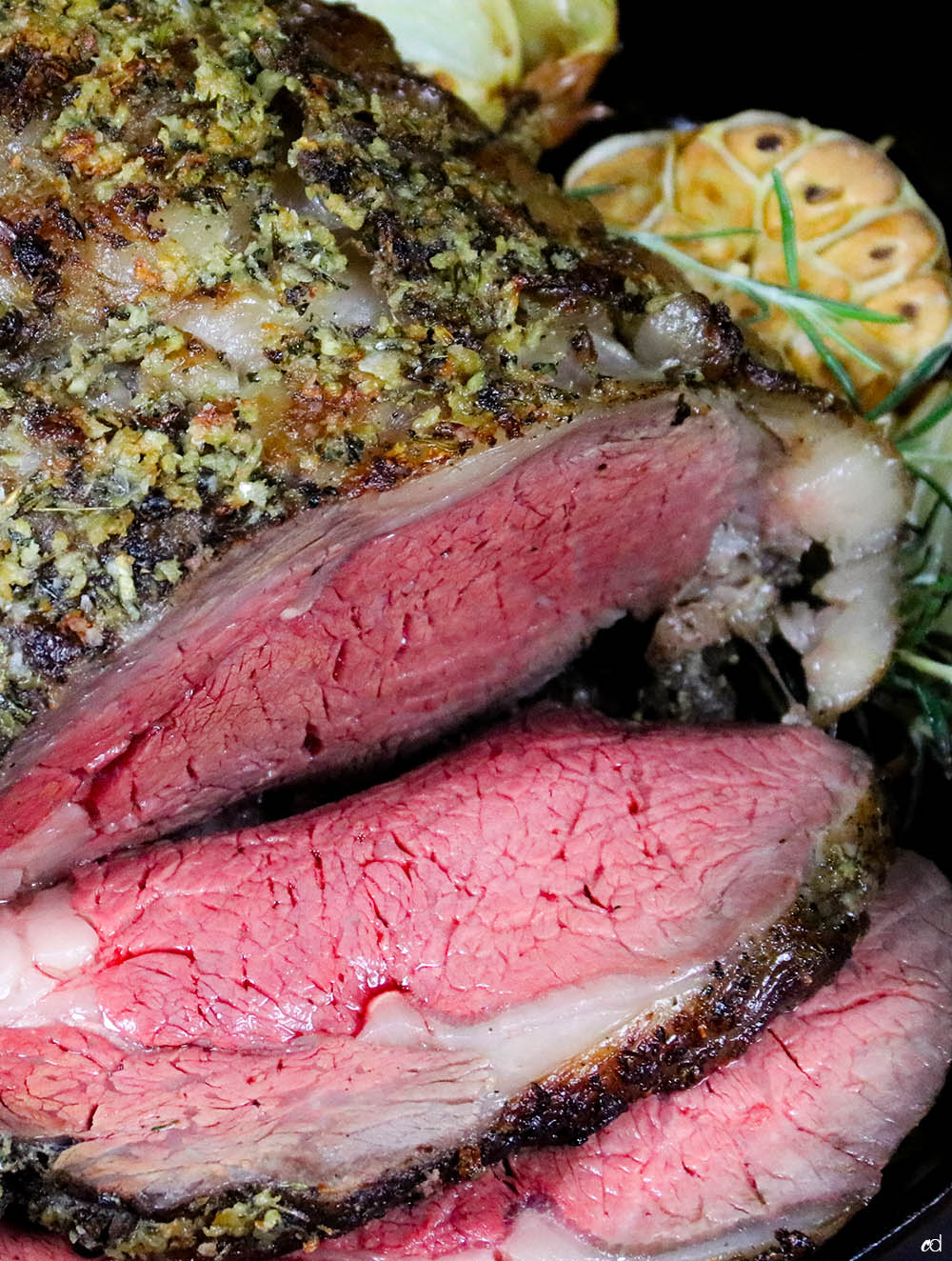 When I went to get a prime rib, clearly everyone and their mama beat me to it. All of the typical sized 3-bone versions were gone, and if I wanted a bone-in prime rib, I would have had to purchase a $150 15-pounder…and girl, I just cant handle all that meat. So I grabbed a 5-pound boneless version, and it turned out to be amazing AF. I paid about $10 per pound, so you can do the math.
How to Sous Vide a Prime Rib Roast
This garlic crusted prime rib recipe starts a day in advance. You're going to salt (flaky kosher salt) and pepper the meat generously, and make sure you get all up in the nooks and crannies. Then, you're going to truss it with kitchen/butchers twine so that it's one cohesive piece of meat. Why truss it? Because it helps it cook more evenly. The boneless version of prime rib can be oddly shaped with a tapered end. By tying it up into more of a cylinder, we don't have to worry about that tapered end overcooking before the middle is done.
Trussing meat is super easy, it's just a matter of tying it in multiple knots, and securing it with one final knot. There's tons of tutorials online, so please google it if you have no idea what I'm talking about.
Pre-searing just gives us an opportunity to impart even more flavor than salt and herb butter alone. That browning (maillard reaction) really gives it a little something extra. Honestly though, you can skip the pre-sear if you want. Nobody is going to arrest you. I'm just telling you what I did here.
My absolute favorite sous vide (pronounced: sue-veed) machine is Joule, and anyone who owns it can vouch for how amazingly well it performs. You can use any sous vide machine you want for this recipe. Sous vide techniques really allow you to kinda set it and forget it. You bring a very warm bath to a specific temperature, add your food, and go chill or whip up other sides. It doesn't undercook nor overcook, it stays that temperature for quite a while.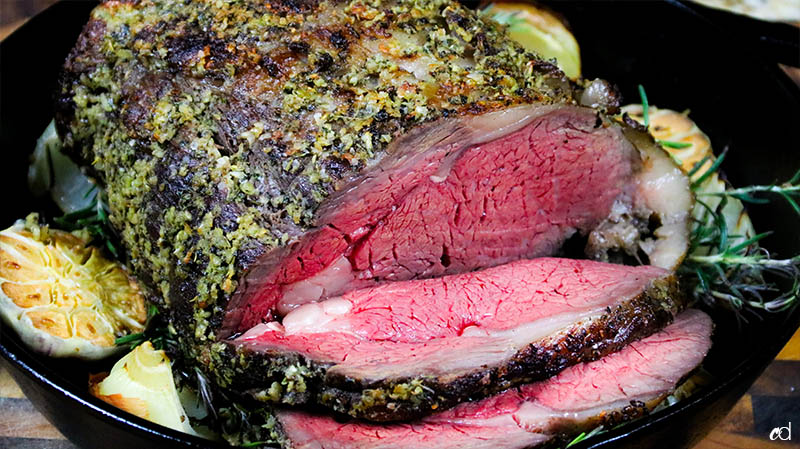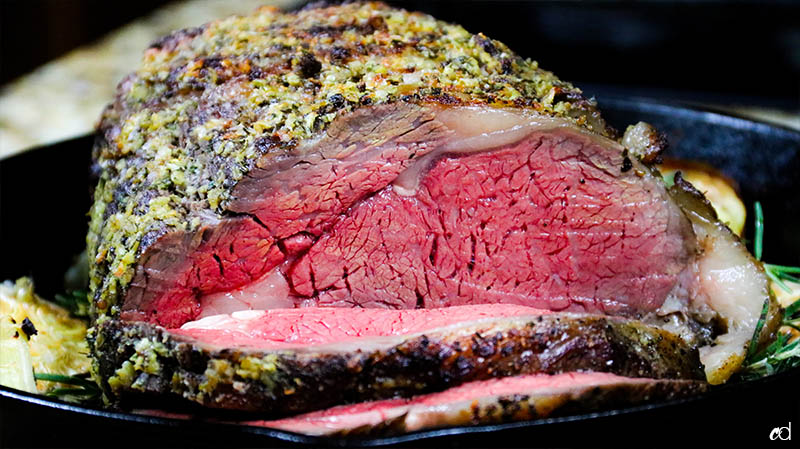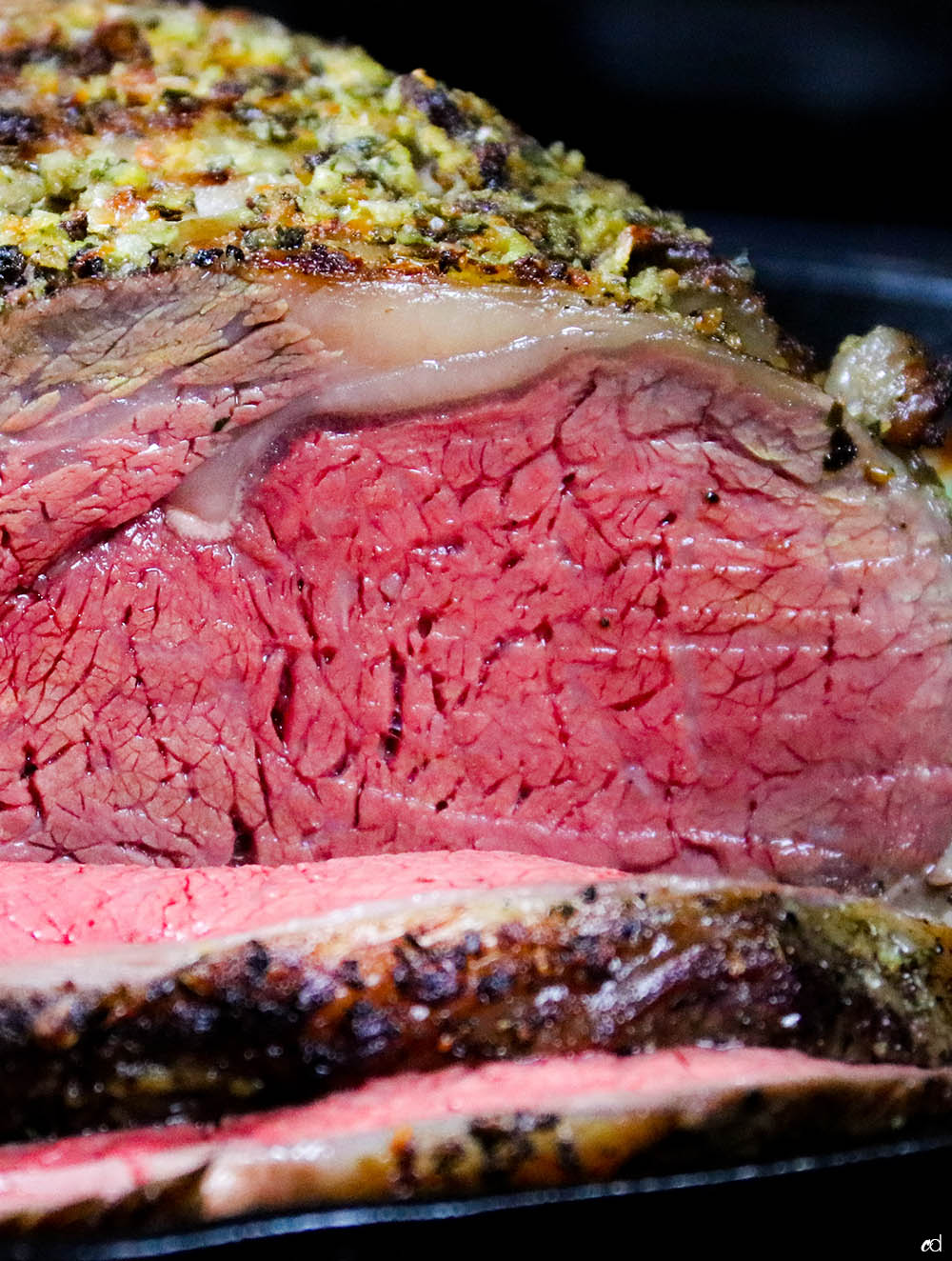 Prime rib is a huge hunk of meat, and I like mine just a few degrees warmer than I like my steaks because it slices better and has a better mouthfeel. But of course, you are free to sous vide your prime rib to any temperature you prefer. At 133°F, I have to say that this baby was phenomenal. I literally ate it with a butter knife, and that garlic crust on the outside really gave me a great burst of flavor.
Salting it and letting it sit overnight uncovered in the fridge really allowed the salt to penetrate the meat and season it throughout. I'm glad I did it this way, rather than salting it right before the sous vide bath. I don't think it would have been properly seasoned otherwise. Serve this buttery meat with a jus or sauce if you want, but be prepared for a crazy delicious expensive piece of meat.
Need more recipes? Check out the Recipe Index.
Print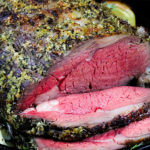 Sous Vide Garlic Crusted Boneless Prime Rib
---
Author:

Chef Resha

Total Time:

23 hours

Yield:

10 servings
Description
An incredibly flavorful, juicy and succulent sous vide prime rib coated with a delicious garlic herb crust. It cuts like butter, and tastes like money.
---
1

5

–

pound

boneless prime rib roast
Black pepper
Garlic Herb Butter
8 tablespoons

(

1

stick) salted butter

3 tablespoons

fresh garlic, minced

1 tablespoons

fresh rosemary, finely chopped

1 tablespoon

fresh thyme, finely chopped

1 teaspoon

herbs de provence
---
Instructions
Equipment needed: kitchen/butchers twine, sous vide machine (I'm using Joule), a large sturdy sous vide bag or two gallon-sized ziploc bags (doubled up), an 8 to 12 quart cambro or large pot.
The night before:
Season your prime rib generously with flaky kosher salt. Make sure you get all up in the crevices. The salt is going to ensure a properly seasoned prime rib, we spent too much money on this sucker for it to be bland and flavorless.
Next, you're going to truss your prime rib so that it's one whole even piece. This will allow it to cook evenly. After you truss it, season the exterior with a good amount of black pepper. Place the trussed and seasoned prime rib on a small baking sheet fitted with a baking rack — otherwise, just place it on top of small a foil-lined baking sheet.
Pop this hunk of meat in the fridge uncovered overnight. Mine was in there for 18 hours.
When ready to sous vide
Fill a large pot or 12 quart cambro with hot tap water about three quarters of the way. Place your sous vide machine inside, and set the temperature to 133°F/56°C, which is right in between medium-rare and medium. You can set it to 129°F/53°C for medium-rare, and 136°F/57°C for medium. I wouldn't go any hotter than 136°F/57°C if I were you.
While the water bath is heating, remove your prime rib from the fridge. Set a large nonstick skillet over high heat. When the skillet is super hot, sear the fatty side of the prime rib first for about a minute or two, just so some fat renders out. Carefully sear every side of the prime rib roast until browned, this will take about a minute per side. Don't forget to sear the ends. Then, place the prime rib on a small cutting board or foil-lined baking dish to cool for about 5 minutes.
Liberally slather the garlic herb butter all over every surface of the roast, except the bottom.
Place the buttered and browned prime rib inside of a large sturdy sous vide bag or two gallon-size ziploc bags (doubled up). Gently lower the bagged prime rib into the hot water bath. If water is rising too much, remove some with a cup. Leave the bag open and clip it to the side of your cambro or pot. The pressure of the water will force all of the air out of the bag, so there's no need to vacuum seal it.
Start the timer on your sous vide machine and set it for 4 hours, but you can leave it in there for 5 hours.
About 30 minutes before you remove the prime rib from the water bath, turn on your oven's broiler. Set the oven rack to the middle or lower-middle position.
When the prime rib is done cooking, carefully remove it from the bag, making sure you don't knock off that layer of garlic herb goodness. See note below if you have any accumulated juices. Place the prime rib in a cast iron skillet (or broiler-safe baking dish) under the broiler for about 5 to 10 minutes, until the garlic crust turns golden brown (not burnt) and the meat itself is a little darker. This will depend on the strength of your broiler and oven (my broiler is trash, so it took about 12 minutes).
Remove the prime rib from the oven and place it on a serving dish (I used a rustic cast iron skillet as my serving dish) and wait 5 minutes before slicing. You actually don't have to wait to slice it, but I love to give it a good 5 minutes to rest anyway. With kitchen shears, snip the kitchen/butchers twine and remove it. Be careful that you don't pull off too much of the garlic crust. The best way to do this is to snip it and gently pull it from the knotted end, it should slide off easily.
Slice and serve. Enjoy!
Notes
If you have a significant amount of accumulated juices (I didn't), you can reduce it down with some red wine for a sauce. I had a lot of better leftover though, so I just poured that over the prime rib after searing the garlic crust.
Prep Time:

18 hours

Cook Time:

5 hours

Category:

meat, Christmas

Method:

Sous Vide

Cuisine:

American
Keywords: sous vide prime rib, sous vide, sous vide meat, sous vide rib roast, christmas
Recipe Card powered by
Disclosure: This site uses various affiliate links. If a purchase is made using one of our affiliate links, we receive a small commission which helps support our efforts. Please read our
Privacy Policy
for more information.