Happy New Year! I've taken some much needed time off, but I'm back with this super easy, delicious, and fun loaded steak sheet pan nachos recipe. Trust and believe me when I tell you that the fiancé and I pretty much ate this entire sheet pan of nachos savage-style, simply standing over it and going tf in. These sheet pan nachos were too damn good to eat cute. Loaded with juicy, tender sous vide flank steak that's been seared to perfection, and all the toppings you love. I promise you'll make these often.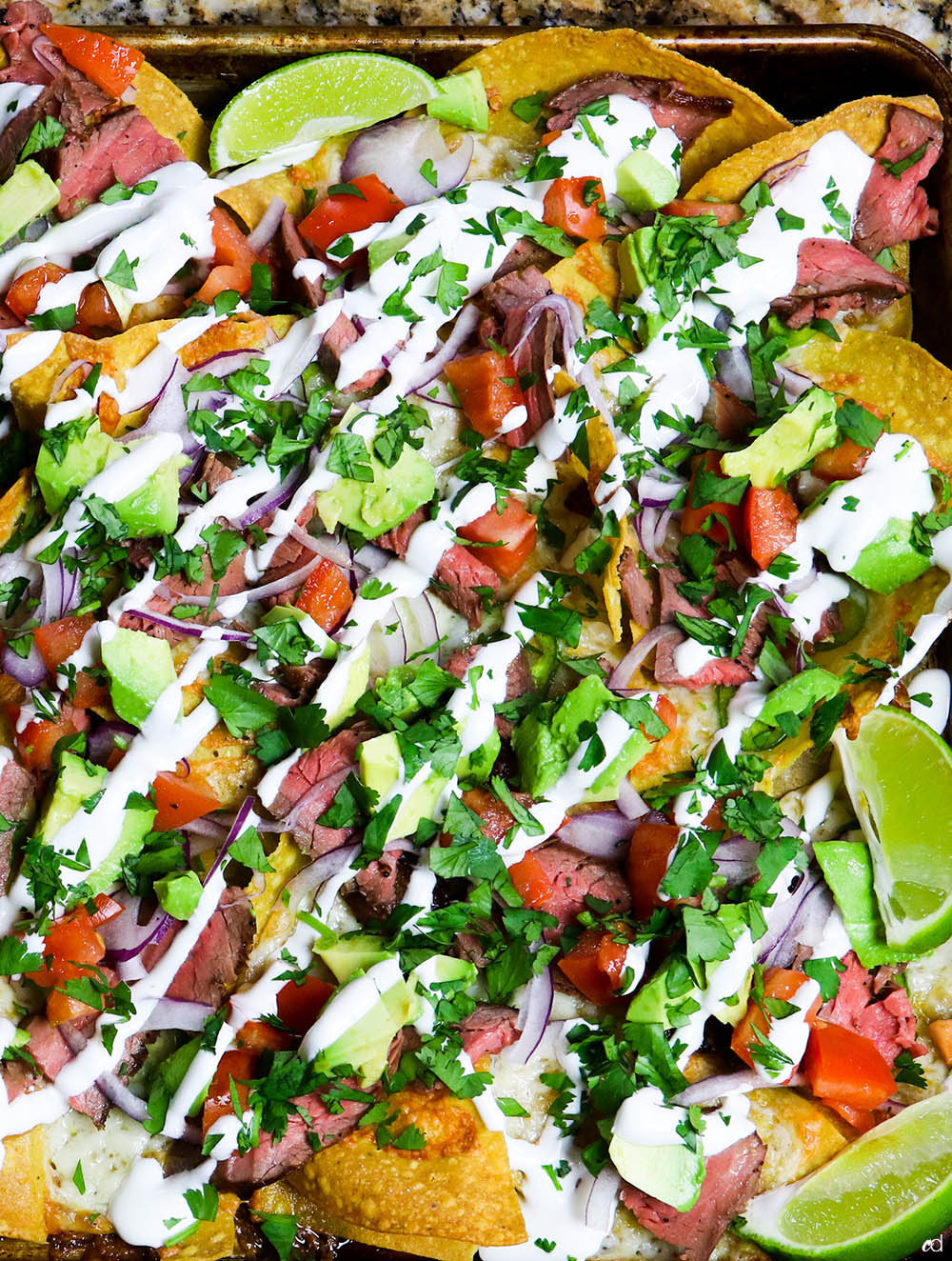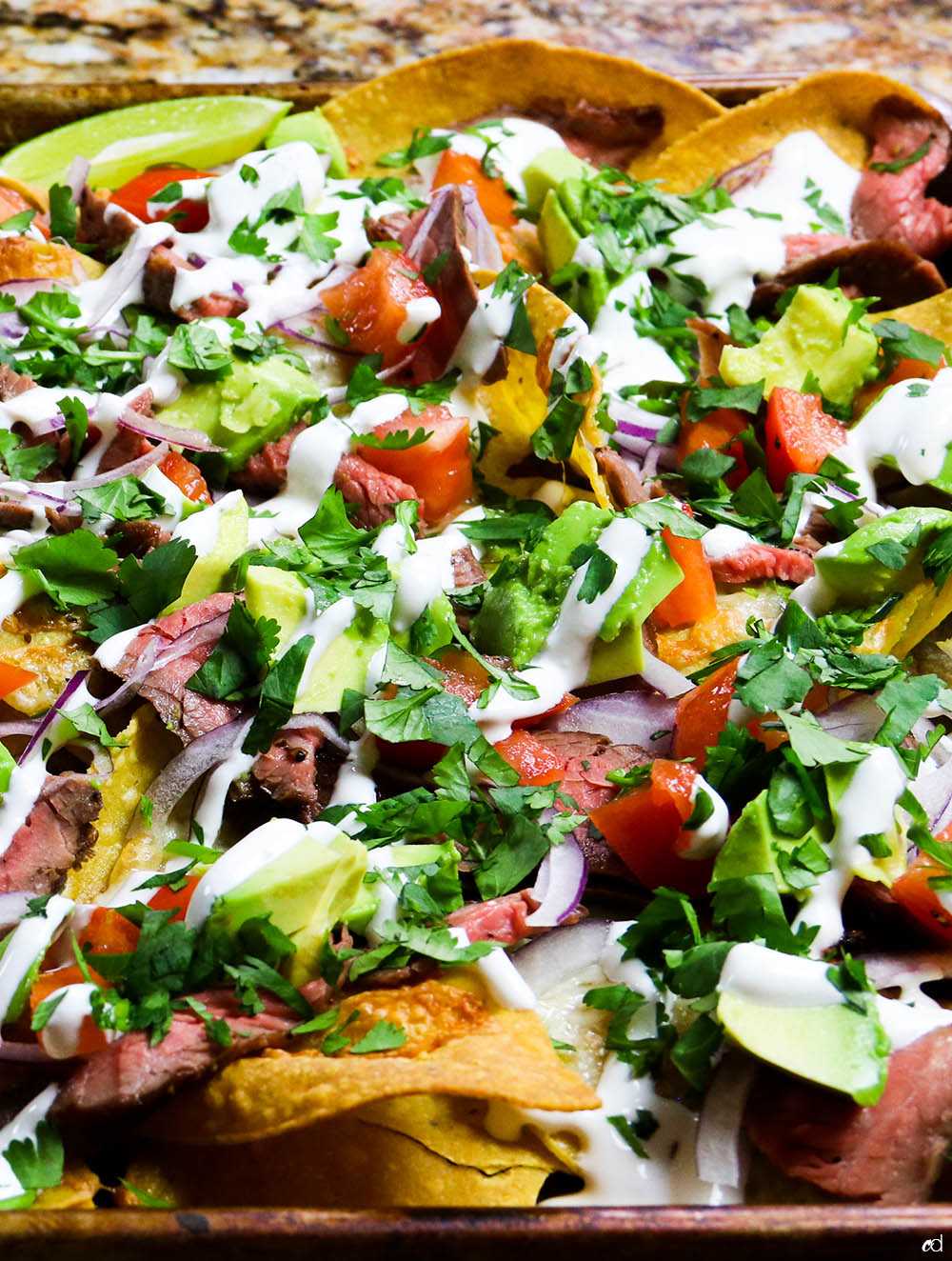 Make These Your Own
What's great about recipes like this is that you can truly tailor them to your liking.
If you don't rock with meat, grill up some portobello slices and chop them into bite sized chunks. Or, you can substitute poultry, pork, fish/shellfish for the steak. I've made these with ground beef before, so that's cool too. Try ground turkey, or chicken — you can literally top these babies with what-ever-you-want.
As for cheese, you could use any kind you like. Try cheddar, pepper jack, colby, whatever. I used monterey jack because that's just what I had on hand. The only thing you're actually cooking is the protein (if you choose to use one), and of course baking the cheese and jalapeños (or whatever pepper you prefer) onto the chips so they adhere and get toasty in the process.
Also, add some beans! Black beans would go great, or even refried. Last time I made this, I used ground beef, all the toppings you see here, and some juicy black beans. Twas delightful!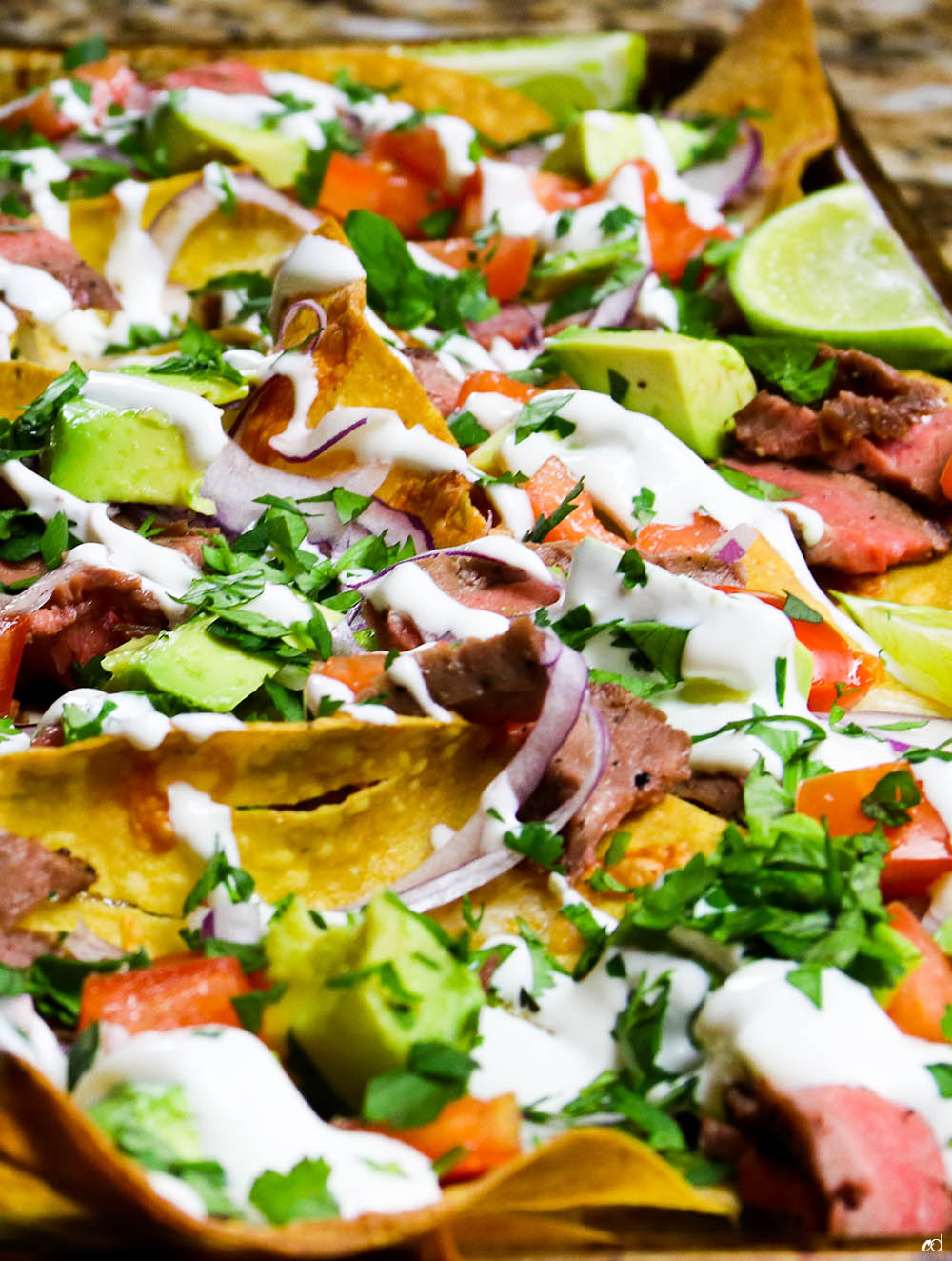 Sous Vide?
I decided to sous vide my steak just to ensure it would be cooked perfectly, and without the stress of "Dang, is it done yet"? I knew I wanted a perfectly pink center with a salty exterior, which paired very well with the bright and mildly spicy yet sweet red onion, jalapeños, avocado, etc.
Have fun with this recipe. If you don't have a sous vide machine, simply sear your steak (whatever cut you're using, though I recommend flank if you can find it) and cook it to your desired doneness. Let the steak rest, tented with foil, while you make everything else so that it stays nice and juicy. The chips take about 8 to 12 minutes (depending) in the oven, and once they come out, you're going to immediately add the steak and all of your fresh toppings and start eating. Boom. Enjoy.
How to make Loaded Sheetpan Nachos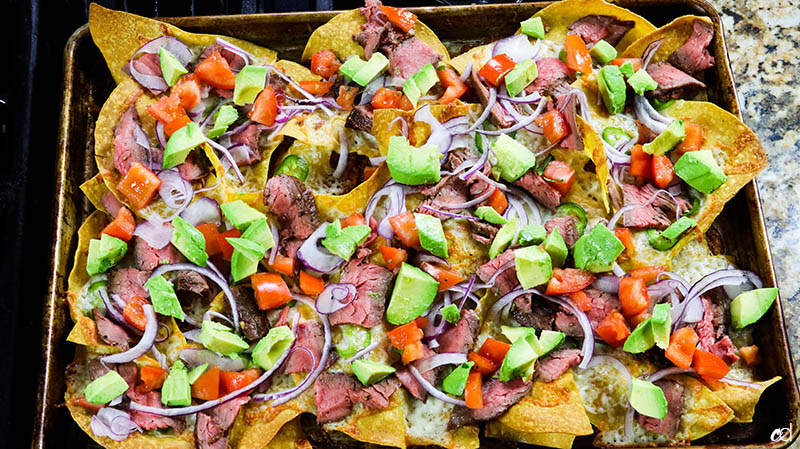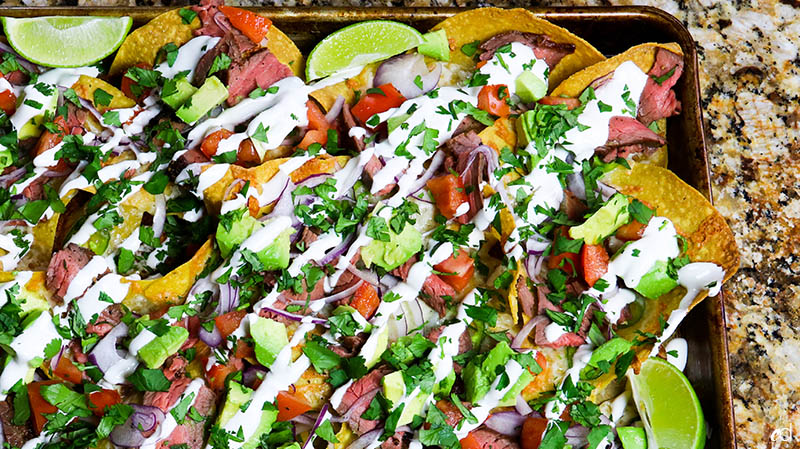 Want more food?
Print
Loaded Steak Sheet Pan Nachos
---
Author:

Chef Resha

Total Time:

2 hours

Yield:

4-6 servings
Description
Super easy, delicious, and addicting nacho recipe you can make in a sheetpan. Just add your favorite ingredients, and have a blast eating something so simple, yet so yummy.
---
1

pound

flank steak, at least 1.5-2 inches thick (or cut of choice)
Tortilla chips, enough to cover your sheetpan

12

ounces

monterey jack cheese, shredded by hand (SEE NOTE)
Jalapeños, thinly sliced
Tomatoes, seeded and diced (you can use your favorite salsa instead)
Red onions, thinly sliced
Avocado, diced into chunks (or prepared guacamole)
Cilantro, finely chopped
Lime wedges
Sour Cream
Black beans (SEE NOTE)
Hot sauce (I recommend Tapatio)
Vegetable oil
Flaky kosher salt and black pepper
---
Instructions
Sous Vide Flank Steak
Using your immersion circulator, heat your water bath to your desired temperature. I chose 129 F for medium-rare, but I wouldn't go higher than 140 F (medium). Place the steak inside of a sous vide bag, and cook the meat for about 45 minutes. If frozen, cook 90 minutes.
When the meat is done, remove it from the bag and let it cool for about 20 minutes. Pat it dry with paper towels, because any moisture left on the surface will impede browning when you sear it. Drizzle one side with a little vegetable oil and season liberally with kosher salt and black pepper.
Place a large cast iron skillet over high heat, and add two tablespoons of vegetable oil. When the oil is smoking, sear the seasoned side of the steak for about 3 to 4 minutes. Season the side of the steak facing toward you. Both sides should take about 3-4 minutes for a good brown crust. If your steak is thinner than 1-inch, adjust searing times so you don't overcook the steak.
If you don't have a sous vide machine, simply season your steak as normal, and sear for 3-5 minutes per side.
Transfer the meat to a cutting board or plate, tent loosely with foil, and let it rest at least 15 minutes before slicing.
Preheat oven to 400 F.
Prep all of your toppings so they're ready to go. If you'd like to thin out your sour cream so that it's able to be drizzled, just add some lime juice to it and mix it well until you've reached your desired consistency. Otherwise, just add small dollops of it all over the finished nachos.
Layer tortilla chips in a large sheet pan, it's okay if a few overlap. Sprinkle cheese all over the chips. Place sliced jalapeños over the chips, making sure each chip gets at least one. Place the chips in your preheated oven for about 8 to 12 minutes, or until the cheese is melted and bubbly, and the chips are toasting around the edges. Be careful not to burn them. By now, your meat should be rested and you can now slice it.
When the chips are ready, remove them from the oven and quickly build your nachos. Layer the chopped up steak, thinly sliced onion, tomato chunks, avocado, beans (if using), sour cream, cilantro, and hot sauce. Place wedges of juicy lime in convenient areas of the nachos, and dig in. Things will get messy, but who cares? This stuff is delicious. Enjoy.
Notes
You can use any cheese, or mix of cheeses you prefer. Just make sure you shred it by hand. Pre-shredded cheese is garbage and melts horribly. Don't play yourself.
I didn't use beans for this particular recipe, but I have in the past and it bangs. Just grab a 15oz can of black beans, drain and rinse them off, and add them to the nachos as a topping.
You can add shredded lettuce at your own discretion. Last I heard, it wasn't safe to eat. Totally up to you.
Prep Time:

1 hour

Cook Time:

1 hour

Category:

Appetizers

Method:

Sous Vide

Cuisine:

Tex-Mex
Keywords: sous vide steak, nachos, sheet pan nachos, loaded nachos
Recipe Card powered by
Disclosure: This site uses various affiliate links. If a purchase is made using one of our affiliate links, we receive a small commission which helps support our efforts. Please read our
Privacy Policy
for more information.