I love just about any version of a deviled egg, and these are no exception. I make them all kinds of ways…stuffed with crab, shrimp, smoked salmon — you name it, I'll eat it. I even love to top them with shatteringly crisp chicken skins. OH MAH GAWD so GOOD! Anyway, I had a bunch of fresh herbs laying around, and decided to chuck them into a pretty regular-schmegular deviled egg filling. I'm gonna tell you right now, you can use ANY fresh herb here. You absolutely 1000% do not have to use what I am using, so please use what you have or what you like.
This is a great appetizer for Spring. The most prominent herb in this recipe would be the garlic chive flower. I find this super onion/garlicky deliciousness at my local Asian supermarket. Regular chives will also work. I had some dill laying around, threw that in too. Flat leaf parsley as well. I'm telling you, use-what-you-have!
I want to point a few things out about deviled eggs. When you're making the filling, you HAVE to taste it as you go. The best approach is to use as little moisture (pickle juice, mayo, mustard, etc.) in the beginning, so that you can adjust the texture as you see fit. Don't add a bunch of moisture, and thin the filling out so much, it's impossible to work with and essentially ruined. Start with a little, and add as you go. Season as you go. You know what you want these to taste like, so don't be afraid to add a little bit of this, and a little bit of that. These are your eggs.
Second, these will taste even better after they're chilled. If your egg mixture is too warm, it can throw the taste off. The best thing to do is to let the mixture chill for a good hour before filling the egg whites. That way, if you still need to adjust the seasoning or add a little more moisture, you can do that BEFORE they're filled. Please take heed to this.
With that said, I hope you enjoy these and stay tuned for many more deviled egg recipes. Because I have a ton of them up my sleeve.
Print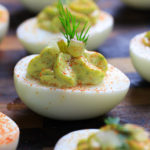 Fresh Herb Deviled Eggs
---
Description
Herby little morsels of eggy goodness that are easy to whip up and even easier to adapt.
---
1

dozen large eggs, boiled and peeled

1/3

cup

mayo (use more if needed, but start with this)

1

–

2

tablespoons dijon mustard

1

–

2

tablespoons olive oil

1

–

2

tablespoons pickle juice

2 tablespoons

diced shallots

1 teaspoon

fresh dill

2 teaspoons

fresh parsley

3

garlic chives, chopped finely (use regular chives if you can't find garlic chives)
Kosher salt and black pepper, to taste
Pinch of sugar, to taste
Garnish
Fresh dill
Pickles, chopped finely
Cayenne pepper and Smoked Paprika for light dusting
---
Instructions
Gently add eggs to large pot, and fill with enough cold water to cover the eggs by an inch. Cover and bring to a boil on high heat. Once the water starts to boil rapidly, turn off the heat and let the eggs sit in the hot water for 10 minutes. Place eggs in a large bowl filled with ice water and let them cool completely for about a half hour. You can do this step a day or 2 ahead and just keep the cooked eggs in the fridge until you're ready to use them.
Peel and slice each egg in half, lengthwise. Gently scoop the yolks out into a food processor or large bowl. Pulse until the egg yolks are finely ground, or if using a bowl, mash with a fork or spoon until smooth.
Add the minimum amount of mayo, djion, fresh herbs, olive oil, pickle juice, salt and pepper, sugar, shallots called for, and blend until smooth. TASTE THIS MIXTURE! Add whatever you need to add until its to YOUR liking. Always start with the minimum amount of an ingredient suggested above and add more as you need to. Deviled eggs are extremely personal in taste and texture, so make this recipe yours and add whatever you need. However, for this recipe, the herbs are the star, so make sure they're harmoniously prominent here.
Cool the filling in the fridge for 1 hour. After an hour, taste it again and adjust taste and texture as needed. Once you're happy with what you have, pipe the filling into each half of the egg whites.
Garnish and enjoy!
Prep Time:

1 hour

Cook Time:

10 mins

Category:

appetizer
Recipe Card powered by
Disclosure: This site uses various affiliate links. If a purchase is made using one of our affiliate links, we receive a small commission which helps support our efforts. Please read our
Privacy Policy
for more information.