Sleep deprivation really sucks. I'm hungry every day, but I don't always have the energy nor time to cook something yummy to keep me sustained. Enter "One Pot Meals". I call them culinary life-savers. The entire concept of throwing everything into one vessel and letting it cook until it's done while you chase your kid around, or plop on the couch watching Family Feud — is a frickin blessing. Today, it's all about this one-pot lemon oregano chicken and rice. I cook a lot of different one-pot variations these days, because I just don't have the time to do anything too intricate. Maybe on the weekends, but weekdays? Nah.
We are huge fans of the chicken thigh. It's the most succulent part of the chicken. The best part? That rendered crispy skin clinging to the juicy flavorful meat. My GAWD! If you don't like chicken thighs, I promise it's because you haven't had them properly cooked. My boyfriend used to HATE chicken thighs. But then he met me, and I changed his life. He thought the skin had to be flabby and fatty and super greasy, because that's how most people prepare them, sadly. So I threw some fatty chicken thighs into a super hot skillet, rendered the fat, and then finished them in the oven and he basically got the blessing he had been missing all his life.
Thighs are tasty on their own, needing only salt and pepper at the bare minimum. But just like white meat, they can benefit from some extra TLC. I marinated these in olive oil, lemon juice, lemon zest, fresh oregano, fresh thyme, dried oregano, herbs de provence, salt, pepper, and fresh garlic. Just a few hours, no need to do this overnight. As a matter fact, I wouldn't marinate anything with this much lemon juice (or any other acid) for more than 2-4 hours. It starts to make the texture of the meat weird, kind like it's almost cooking it. If you'd like to marinate this overnight, leave out the lemon juice or drastically reduce it. I realize fresh oregano isn't widely available everywhere — I've been to several stores and haven't found it, but if you can find it, buy it and use it. It's especially delicious as a garnish on the final product.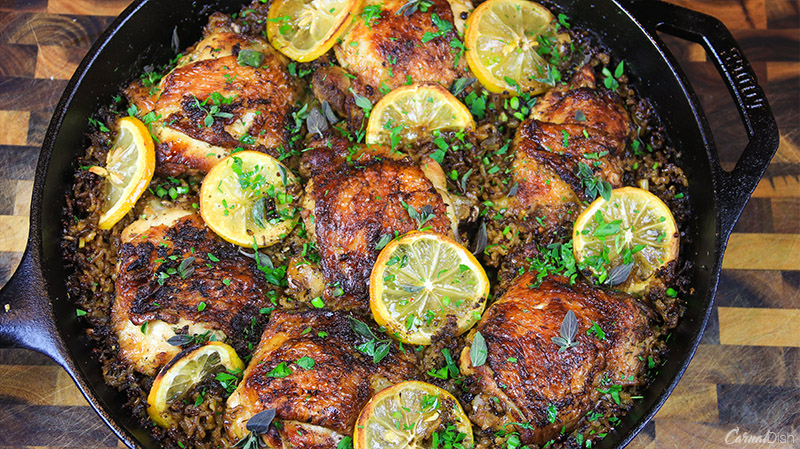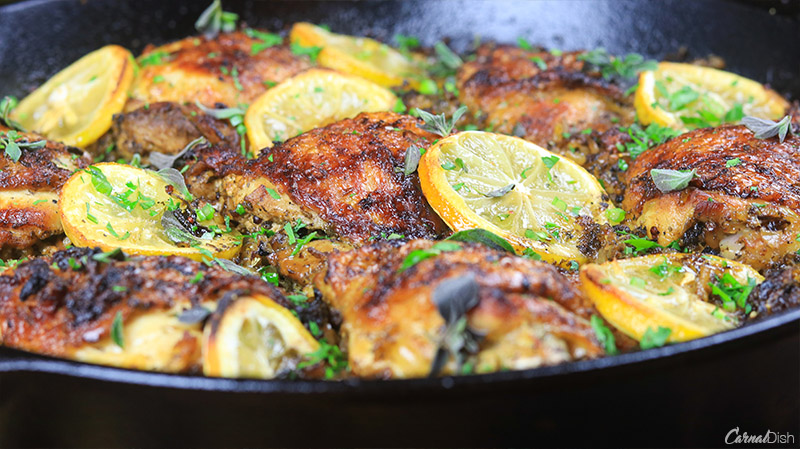 So yeah, if you're short on time, or kinda lazy — throw this meal together. I will say this with every recipe I post, because it's worth repeating, but if there's something you're either missing or unable to get your hands on (ingredient-wise), just use what you have.
"Can I use boneless skinless chicken breasts?" Sure. They'll come out drier than the Sahara, but you probably know that already. Braising white meat really isn't a good idea. So you'll have to adjust some things. For example, try taking the chicken breasts out as SOON as they reach 165 degrees internally. Or, just cook them completely on the stove and then cook the rice separately, then put everything together right before you serve it. Proceed with caution, though.
"Do I have to marinade this chicken? I don't have time…" NOPE! You can totally skip the marinade, I promise this will still come out phenomenal. Instead of marinating it, just add the seasoning and dried herbs to the meat side, and season the skin of the chicken with salt and pepper. Boom. See, I just saved you two hours — although when and if you have time, try the marinade, because it's damn tasty.
When you serve it, hit it with a little more fresh lemon juice and some fresh herbs — especially the fresh oregano, and enjoy this stuff. It's really yummy, adaptable, and comes together fast.
Print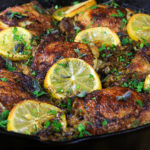 One-Pot Lemon Oregano Chicken & Rice
---
Description
4 lemons were harmed in the making of this recipe.
---
6

to

8

bone-in skin-on chicken thighs, trimmed of excess fat and skin

1/2

cup

shallots (or onion), chopped

2

cloves garlic, finely chopped

1

cup

rice (I used a basmati, brown rice, and red quinoa mix), rinsed and drained thoroughly

2

cups

chicken stock

2

sprigs fresh oregano

4

–

5

sprigs fresh thyme

2 teaspoons

dried oregano

1 teaspoon

herbs de provence

1

lemon zested and juiced, and 1 lemon sliced
Kosher salt and black pepper to taste
Marinade:
1/4

–

1/3

cup

olive oil
juice and zest from 1 lemon

5

sprigs fresh thyme

2

sprigs fresh oregano

2 teaspoons

dried oregano

1 teaspoon

herbes de provence

2

cloves garlic, chopped

2 teaspoons

to 1 tablespoon kosher salt (depending on how much chicken)

1/2 teaspoons

black pepper
Garnish
Fresh parsley
Fresh oregano
Garlic chive flower, finely chopped (optional)
---
Instructions
If using marinade (yes, it's optional): Add all of the marinade ingredients to a large sturdy plastic bag, or bowl and mix well until salt is dissolved. Add the chicken and let it get happy for about 2-4 hours. If marinating overnight, reduce the amount of lemon juice, using just the juice from one half of a lemon instead of a whole lemon. You can leave this on your counter for the entire 2-4 hours, but if you decide to put it in the fridge, remove it at least 30min prior to cooking to take the chill off.
If you decide to skip the marinade, just season the flesh side of the chicken with salt, pepper, and the dried herbs. Then proceed with the recipe.
Preheat oven to 400 degrees.
In a large 12-inch cast iron skillet (or any oven-safe skillet you have), very lightly coat the pan with a high smoke-point oil (such as vegetable, canola, grapeseed, etc.) just until theres a very light sheen, over medium-high heat. You won't need to add any additional fat to the pan because the chicken thighs are already fatty and coated in olive oil.
When the skillet is nice and hot, remove each piece of chicken from the marinade, letting any additional stuff drip off so it's not too wet and place it in the skillet skin-side down. LEAVE THE CHICKEN ALONE! Let it sear until the skin easily releases, about 8-10 minutes. Now, if you're noticing too many juices accumulating in the bottom of the pan, tilt it and scoop it out with a ladle or, if you're bold, pour it off and discard — but PLEASE be careful! This stuff is hot, and you also don't want any of your chicken to fall out. After the chicken skin is seared and gorgeously golden brown, let it cook on the meat side, just 1 minute. Transfer each thigh to a plate and set aside.
Reduce the heat to medium. You should have about 2 tablespoons of fat leftover in the skillet. But if you don't, add 2 tablespoons of olive oil. Saute your shallots (or onions) until softened, about 2-3 minutes. Add the garlic and cook for 30 seconds. Add the well-rinsed and drained rice, and toast it with the shallots and garlic in the leftover chicken fat (or olive oil) for about 2-3 minutes. Pour in the chicken stock, lemon juice, and lemon zest, while scraping up the browned bits at the bottom of the pan. Season the mixture with salt and pepper to taste. Add the fresh thyme, dried oregano, herbs de provence and stir gently until evenly combined. Place the chicken back into the skillet, making sure the skin isn't submerged. Tuck slices of lemon between the pieces of chicken, and place 1 sprig (torn into two pieces) of oregano into the rice — you will remove this once it's done. Turn the heat to high, and as soon as it reaches a boil, place the skillet in the oven on the middle rack.
Cook until the rice is fully absorbed and tender, and the chicken registers 175 degrees on an instant-read thermometer. Remove the whole sprig of oregano. Let rest 10 minutes.
Garnish with fresh parsley, oregano, and garlic chive flower (optional). Feel free to squeeze a tiny bit of fresh lemon juice over your individual serving and enjoy.
Prep Time:

2 hours

Cook Time:

45 mins
Recipe Card powered by
Disclosure: This site uses various affiliate links. If a purchase is made using one of our affiliate links, we receive a small commission which helps support our efforts. Please read our
Privacy Policy
for more information.