Happy Saturday! Today I'm gonna show you how to make crispy sweet and spicy garlic-ginger chicken wings in the oven without any added fat. This crisping technique has been around for years, and is very popular amongst those who hate flabby baked chicken wings. This is a wing recipe that can be adapted ANY way you want. Once you crisp up the wings, the world is yours — you can do so many different and delicious things.
How do we make our chicken wings crispy? We simply coat them with aluminum-free baking powder along with other spices, and let them do their thing. When the fat and liquid escape from the chicken's surface, it bonds with the carbon dioxide in the baking powder, creating tiiiny pockets of air that crisp up and harden in the oven. A hardened surface, gives us a crispier wing. This is awesome when you want to lower your fat content but still have something for your chicken's sauce to cling to. Nobody likes flabby wings.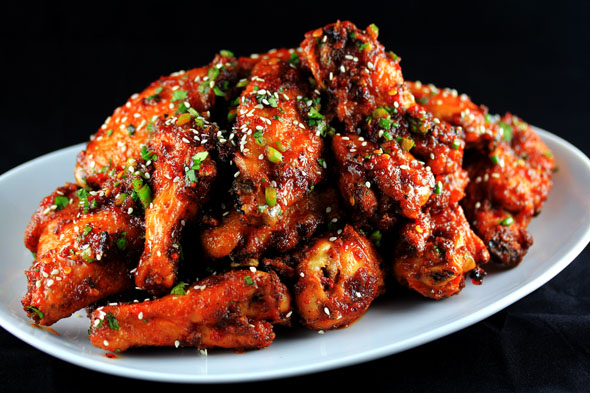 I have to drum this into your head — PLEASE make sure your wings are completely dried. Pat them THOROUGHLY with paper towels. This method will not work if your wings are soaking wet. The water will cause them to steam and you won't get that nice crisp texture. Chicken will always have a level of moisture, no matter how good you dry it, but just try to remove as much surface moisture as you possibly can. In the video, you can see that as I'm tossing my wings with the baking powder mixture, there are no signs of wetness inside the bowl. So again, make sure your wings are nice and dry — the skin should feel tacky, and it'll be just enough tackiness for the baking powder mixture to stick to.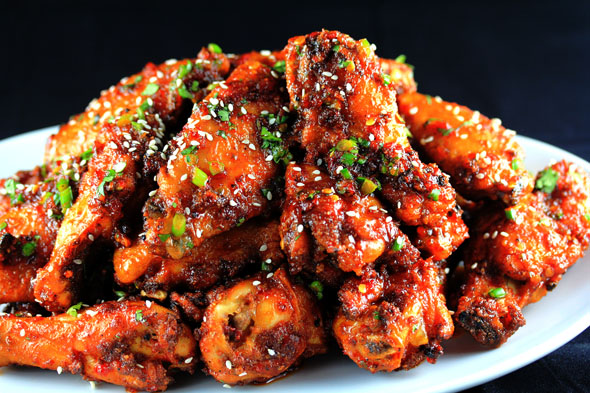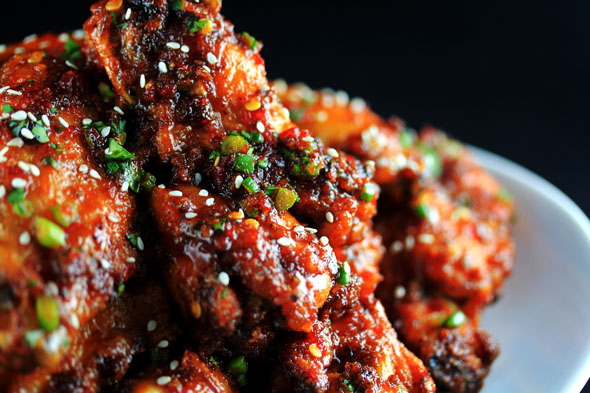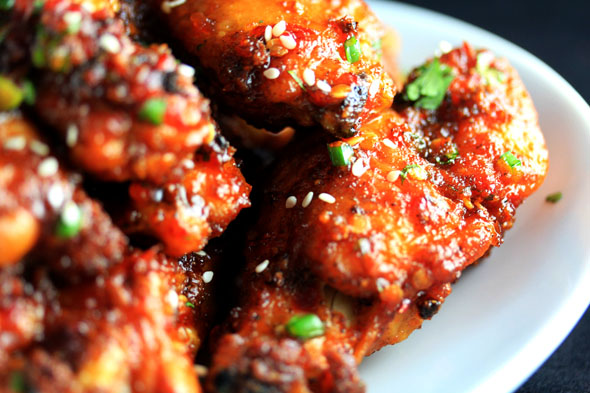 You won't taste the baking powder, so don't worry about that, but it's important you use aluminum-free baking powder for this method. You can find it anywhere you buy food.
Feel free to use chicken wings that have already been cut into party-wings. However, in this economy, I find it more economical to buy a large pack of whole wings, then butcher them myself. I can skip paying for someone else to do it this way, and I get to keep the tips and freeze them later for stock or making schmaltz (beautiful rendered chicken fat).
Lastly, this isn't really a recipe — it's more of a technique. You can adapt this however you prefer, but I will give you some guidelines and tell you what I used for my version.
I used 4 pounds of whole chicken wings, and you want to use about 1 tablespoon of baking powder per pound of chicken. I used almost 4 tablespoons of baking powder for all of my chicken, but just slightly under. Why? Well, once the tips were removed, that 4 pounds came down to just a little over 3, so I used about 3 1/2 tablespoons of baking powder if I had to guess. For the glaze, use equal parts of honey to samba oelek (garlic chili paste) — quantity is entirely upon you. I'd say I used about 1/3 cup of each. Rice wine vinegar was used for my recipe, but you can use water or the juice from your lime if you don't have it. The rice wine gives it a nice bit of tanginess to cut thru the sweetness and spiciness, and it also loosens up the honey so it's easier to toss with the chicken. I used about 1 teaspoon of low-sodium soy sauce for color and earthy saltiness, a bit of umami savoriness. You can use as much ginger as you want. If you can't find fresh ginger, I'm pretty sure it comes minced in a jar — but please find fresh if you can, there's nothing like it.
PRODUCTS USED
Print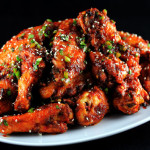 Sweet-n-Spicy Garlic Ginger Chicken Wings
---
4

pounds

chicken wing parts, patted dry!
For the baking powder mixture:
For the glaze:
Equal parts honey and garlic chili paste (Sambal Oelek), quantity is up to you.

1 tablespoon

fresh ginger, grated (feel free to add more)

1

–

2

tablespoons rice wine vinegar

1 tablespoon

low-sodium soy sauce

1/4 teaspoon

toasted sesame oil
Garnish
Lime zest
Chives
Cilantro (optional)
Toasted sesame seeds
---
Instructions
Preheat oven to 425
In a small bowl, combine all glaze ingredients, taste and adjust, then set aside.
Thoroughly coat chicken with baking powder mixture, and bake in the center of your oven on a baking rack over a foil lined baking sheet for 20 minutes. Remove from oven, flip all pieces over and bake an additional 20 minutes. Lastly, remove from oven and flip once more and cook for an additional 10-15 minutes or until chicken is crisp. Let chicken rest 5 minutes, then toss in 1/2 of your glaze mixture to coat. If it needs more, add more.
Garnish with chives, lime zest, cilantro (if using), and toasted sesame seeds.
Serve.
Notes
Use about 1 tablespoon of aluminum-free baking powder per pound of chicken. If your wings are particularly tiny in size, cooking times will definitely vary. You may want to shave about 10-20 minutes off total cooking time for smaller wings. If you have leftover glaze, it can be refrigerated for up to a week.
Prep Time:

20 mins

Cook Time:

55 mins
Recipe Card powered by
Disclosure: This site uses various affiliate links. If a purchase is made using one of our affiliate links, we receive a small commission which helps support our efforts. Please read our
Privacy Policy
for more information.