Those of you who've been following me for years, know that tacos are my little hand-held lovers that don't require batteries. I effing LOVE a good taco, especially a good tempura fish taco. If I could open up a restaurant, I'd serve brunch, burgers, and tacos — I'm so serious. What I love about a taco is that it can literally be filled with anything. You can fill them with just about any protein (animal or plant), any combination of veggies, and you can even fuse together different cuisines — ever heard of the Korean taco? I rest my case.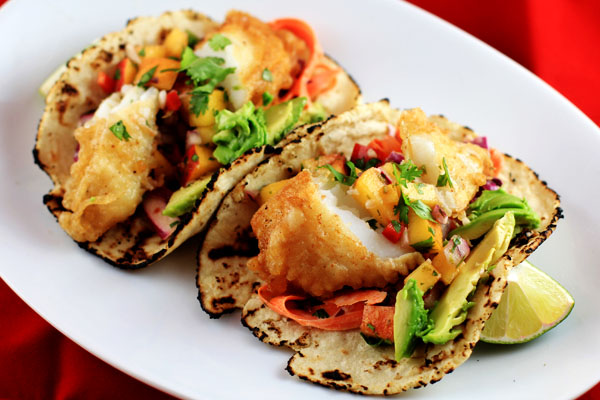 However, the taco, much like the burger — is nothing without a proper foundation. In the case of the burger, I'm talking about the bun, but in the case of the taco, I'm talking tortilla. Yes, store-bought versions may be handy for some, but NOTHING replaces the clean, authentic taste of a homemade tortilla — corn or flour. They are so damn easy to make, it's not even funny.
For the corn tortilla, you literally mix together three ingredients, knead for a couple of minutes, and you're done. Three ingredients! They take absolutely no time at all to make, and the effort is seriously worth it.
Tips for making tempura fish tacos
If you don't have a tortilla press, you can still make decent tacos — just use a rolling pin. Don't have a rolling pin? Use a wine bottle. Make sure you wrap your roller or wine bottle in plastic wrap so that the tortillas don't stick. I prefer to par-cook my fresh tortillas in a skillet just to allow them to quickly set up. Why? Well, fresh corn tortillas are very moist, and throwing them directly over an open flame on a gas stove may cause them to not only stick but fall apart. So a quick mini-sear in a skillet can prevent them from falling apart before you give them a quick toast and char over some actual flames.
Of course, if you don't have a gas stove or open flame situation, you can continue cooking them in your skillet and they'll still develop some signature brown spots and color. They'll be delicious no matter how you choose to cook them. I like to keep my tortillas warm in either a tortilla warmer or a few layers of aluminum foil.
Best fish for fish tacos
As for the fish, you can use any kind of fish you like. I chose cod, for personal reasons. It's one of my fav meaty, firm white fish. It's delicious with sea bass, mahi mahi, halibut, or haddock.
I used a store-bought tempura mix, only because my homemade tempura recipe makes entirely too much batter for the small amount of fish I had. I like that I can use a very small amount of batter with an already-made mix, so stop by your local grocery store and pick up a bag (or box). It's a great go-to to have on hand.
My "peach'o de gallo" is a fun play on a pico de gallo, using peaches as the fruit instead of tomatoes. If you don't like peaches, you can use whatever fruit you want — even tomatoes.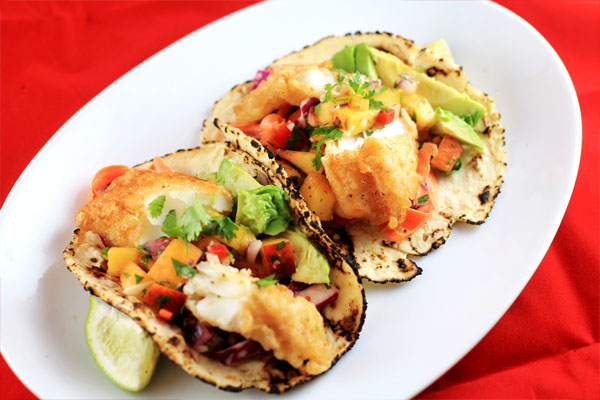 This "recipe" is really more about the technique, and you utilizing ingredients you have on hand. You don't have to go out and buy everything here — and for the love of Forrest Gump, please don't get caught up in "measurements" here. That isn't what this is about. Cooking is flexible, you can use however much or little of anything you want. Everything is TO TASTE. With that said, I'm going to try my best to give you measurements of the ingredients I used, but again, this will vary from person to person. I want you to make these your own.
Items used:
Print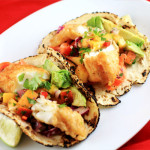 Tempura Fish Tacos
---
Description
These are minimal measurements, please be flexible and adjust to your liking. I honestly didn't measure anything, so just eyeball what you have and go from there. It's a taco, it's not that complicated.
---
For the corn tortillas
2

cups

masa harina

1/2 tsp

kosher salt

1 1/2

to

2

cups

of really hot water
For the Peach'o de gallo
3

small firm peaches (or

2

large), pitted and diced

1/2

cup

sweet red pepper, diced

1

small jalapeño, diced (seeded if you're sensitive to heat)

1/3

cup

red onion, diced

1

to

2

small cloves of garlic, minced

1/4

cup

cilantro, chopped fine
zest and juice of 1 lime
kosher salt to taste
For the Chipotle-lime slaw
1/3

cup

mayo

2 tbsp

rice wine vinegar (distilled white, red wine, or apple cider also work)

1 tbsp

agave nectar (or up to

1 tsp

sugar)
Juice of

1

lime (start with half the lime, then adjust as needed)

1

small clove of garlic, minced

1

chipotle pepper in adobo, chopped fine (add more if desired)
Kosher salt to taste

3 tbsp

to 1/4 cup scallion, chopped
about

2

cups

carrot, shredded
about

2

cups

red or green cabbage, shredded
cilantro (any amount desired)
For the tempura cod
1

lb

wild-caught cod, patted dry and cut into pieces (if frozen, thaw on paper towels overnight)
Kosher salt to taste
Ancho chili powder, optional

1

cup

tempura mix

3/4

water (or beer)
Vegetable or canola oil for frying
Additional fixins
Avocado
Mexican crema
Cilantro to garnish
Hot sauce
Cottage cheese (if desired)
---
Instructions
For the peach'o de gallo
Combine all ingredients in a bowl and mix thoroughly. Cover with plastic wrap and set aside in refrigerator for a couple hours until ready to use. Can be made a day ahead.
For the chipotle-lime slaw
Place cabbage, carrots, cilantro and scallion in a bowl, toss to combine. Mix remaining ingredients together in a small bowl until smooth. Consistency should resemble a salad dressing. Taste and adjust. If too sweet, add more vinegar or lime juice. If too tangy, add more agave or sugar. Use kosher salt to bring out the flavors. If you want more heat, add more chipotle peppers. Pour mixture over cabbage, carrots, scallion and cilantro. Toss to combine. Wrap in plastic wrap and chill at least an hour until ready to use. Can be made a day ahead. If you have too much dressing after a 1-hour or overnight chill, simply drain the excess.
For the tortillas
In a large bowl, whisk the masa harina and salt until combined. Make a well in the center and pour in 1 1/2 cups of hot water. Gently mix with a fork, spoon or rubber spatula until all of the water is absorbed. If the mixture is still too dry, add more hot water in 2 tablespoon increments until dough comes together. Once dough is a soft ball, not too wet and not too dry (should feel like Play-Doh), knead for about 2 minutes or so. Form into a disc and portion out as many tortillas as you can. I noticed that a good golf-ball size portion is perfect. If using a tortilla press, wrap the press in plastic wrap to avoid the dough from sticking to the plate. If using a rolling pin or wine bottle, also wrap in plastic wrap. Press out your tortillas, or roll them (not too thin or they'll be impossible to handle) out and arrange on paper towels. Cook your tortillas on both sides in a dry skillet until brown spots develop. If you prefer to toast and char your tortillas, par-cook them in a dry skillet for about 15-20 seconds per side until they start to set up. Then, over a low open-flame, toast them directly on top of the fire on both sides until charred on the edges. Set aside in a tortilla warmer, or wrap them in a few layers of foil until ready to use.
For the tempura cod
In a large heavy-bottom skillet (I used cast iron), bring about 1-inch of oil to 375 degrees. You can use a deep fryer if you prefer. In a bowl whisk the water (or beer) and tempura mix until smooth. Add the fish to the batter and toss to coat. Once the oil has reached 375, let the excess batter drip off the fish and add to the oil, a few pieces at a time. Fry on both sides until fish is golden brown and visibly crispy, will take anywhere between 2-4 minutes per side, depending on the size of your fish. Drain on paper towels or a baking rack over a baking sheet. Sprinkle with a little salt and ancho chili powder (if using) and serve immediately.
Build your tacos and enjoy.
Prep Time:

45 mins

Cook Time:

10 mins
Recipe Card powered by
Disclosure: This site uses various affiliate links. If a purchase is made using one of our affiliate links, we receive a small commission which helps support our efforts. Please read our
Privacy Policy
for more information.