When I found out I was pregnant, I said "I'm gonna feed this kid GOOD!". As soon as my precious little boy turned 5 months, we slowly introduced solids to his diet. He's breastfed still, but his pediatrician recommended we start with rice and oatmeal cereal, so we did. He loved it, and didn't have any reaction to it at all — thank God! I was kinda nervous about that, but glad it worked out. Then he told us when to start introducing other foods to his diet, like fruits and veggies. Fast forward to now, and Christian (who's almost 8 months now) absolutely loves his fruits and veggies. He even loves chicken. One of the best things to feed your growing baby is organic sweet potatoes. Oh yeah, you are going to always give your kid organic everything. We don't wanna fill their tiny little bodies with pesticides and other gross things. Always organic, and always wash your produce!
I've gotten numerous requests to start sharing baby food recipes, so I figured I'd start with the most basic one — pureed sweet potatoes with cinnamon. It's delicious, sweet, filling, and contains so many great calories and good carbs for your baby. Sweet potatoes rarely cause allergic reactions to babies, in fact, they're on the safe list. If you're new to making baby food, this is a great one to start with. Sweet potatoes contain lots of rich vitamins and nutrients, and because they're naturally sweet, babies really love them. They're great for anemia, slow weight gain, etc.
Can I leave the skin on?
Sure! I didn't do that this time though, because I knew I wasn't gonna blend them. A great way to make this with the skins on, is to steam them. Slice them up, steam them until tender, and blend until completely smooth. Otherwise, make them the way I just did here. If your potato skins are very blemish'y, its best to just use the flesh only. Sometimes those blemishes are moldy and can run deeper than the surface.
To start your kid off, I highly recommend giving them a single fruit or vegetable at one time. For example, don't immediately mix apples and carrots, because if your kid has an allergic reaction, you'd wanna know what caused it — the carrot or the apple? Also, you want to make sure they even like them. Christian hated apples at first, I couldn't believe it! He eats them now, but that was the very first food we started him on and he was no here for it. So feed them one thing at a time, and wait about 3-4 days for any reaction. Your pediatrician will tell you the same thing. Once you go thru enough different fruits and veggies, then you can probably start blending them together. Christian gobbles sweet potatoes up like you wouldn't believe. I mix a big spoonful with some organic pureed spinach, and a little rice cereal — he goes in! He absolutely loves the sweet taste of cinnamon in pretty much everything, but we didn't start giving him cinnamon until he was 6 months old. If your kid is younger than 6 months, maybe skip the cinnamon or use just a little to see how they like it.
There really isn't a "recipe" for this, because you'll make as much or as little as you want each given time. Make sure you store any leftovers in glass or BPA-free plastic containers. They'll keep for 3 days in the fridge, or you can freeze and thaw overnight in your fridge as needed. We make big batches of his baby food and freeze it.
Print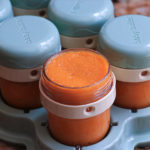 Cinnamon Sweet Potato Puree | Baby Food Basics
---
Description
This is a great first food for your baby when they're ready to start eating solids.
---
Organic sweet potatoes, washed and scrubbed (see note below)
Cinnamon
water, to adjust consistency if needed
Olive oil
---
Instructions
Pre-heat oven to 350 degrees.
Place sweet potatoes on a baking sheet lined with foil, parchment, or a silicone baking mat. Drizzle each potato lightly with olive oil. Bake for 60-70 minutes, or until a toothpick inserted in the thickest part of each potato slides in easily with no resistance.
Let them cool for an hour at room temperature.
Cut each potato open and scoop out the flesh into a bowl. Add a good pinch of cinnamon, and whisk to break up the potatoes. If you have a high-powered blender, puree the potatoes. If you don't have a blender, just pass the potatoes thru a mesh strainer. This helps remove those stringy bits, as some babies strangle on them.
Store in containers or freeze.
Notes
If you'd like to leave the skins on, slice the potatoes and steam them until tender. Blend until smooth, adding either water or no-sodium chicken stock to adjust consistency.
Prep Time:

5 mins

Cook Time:

1 hour
Recipe Card powered by
Disclosure: This site uses various affiliate links. If a purchase is made using one of our affiliate links, we receive a small commission which helps support our efforts. Please read our
Privacy Policy
for more information.