I had an intense craving for chocolate, so I made a chocolate sheet cake. I didn't want anything too cloyingly sweet, so no candy. Nothing so sugary it would make my teeth hurt, so again, no candy. I didn't want to eat the chocolate and just taste "sweet". Enter this wonderful cake! The contrast of the less sweet semi-sweet, and the full-on sweet milk chocolate just makes me wanna sing. Perfect combination. As I've gotten older (and gosh, I'm old), my palate for chocolate has developed. I prefer levels to my chocolate cakes, sweet, bitter, semi, all of it. On a normal day, the darker the chocolate, the happier I am. What I love about this PMS-cure of a chocolate cake, is that I can enjoy it all week long and not give the slightest of damns.
You know what I really love about this recipe? It comes together FAST. You can make it all in basically one to two bowls (one for dry, one for wet, and combine them in the larger bowl), and a handy whisk for the cake. I did use a hand-held electric mixer for the ganache frosting, but only because I wanted to aerate it. If you wanna simply pour it on top, do you! It also uses a simple 9×13 inch baking dish, such as this Pyrex. If your baking dish is larger or smaller, you'll have to adjust the cooking time. Speaking of, we're baking this on a low temperature so that the top of the cake stays flat. The recipe says you should bake this for 40-minutes, but mine was done in 35. So around the 30-minute mark, start testing for doneness every 5 minutes. Ovens vary.
This recipe is adaptable to your preferred type of chocolate. Using dutch-processed cocoa will give you a seriously dark, and deep chocolate base, but if you absolutely only have regular cocoa powder, you can use that. I can't tell you how it'll taste, but I've only ever made this using dutch-processed cocoa. The ganache frosting is optional. You can use a regular chocolate buttercream instead, store-bought or homemade. The police won't get called on you. Also, the ganache base is totally adaptable. I used milk chocolate for my ganache, but you can use semi-sweet, bittersweet, anything.
How to make this cake pop
Use instant espresso powder. I can't really explain to you how amazing espresso is in chocolate desserts, but you'll just have to trust me. I add it to pretty much all my baked chocolate desserts, it just boosts the flavor so remarkably well. Finally, add the tiniest sprinkle of salt right on top before you eat your slice. Try using a flaky sea salt, such as Maldon. Salt really brings out the intense flavor of a dessert, especially chocolate. They go hand in hand like bacon and eggs. You don't need a lot, just a very tiny pinch — like 5-7 flakes. Serve with a scoop of your favorite ice cream, and get your entire life!
I usually take pics of damn near every step for almost all recipes posted here. But this time, I will be honest and tell you that I simply did not feel like editing them all. I may post them later, I may not — but right now I'm tired. So here's the final result and the recipe below. Enjoy!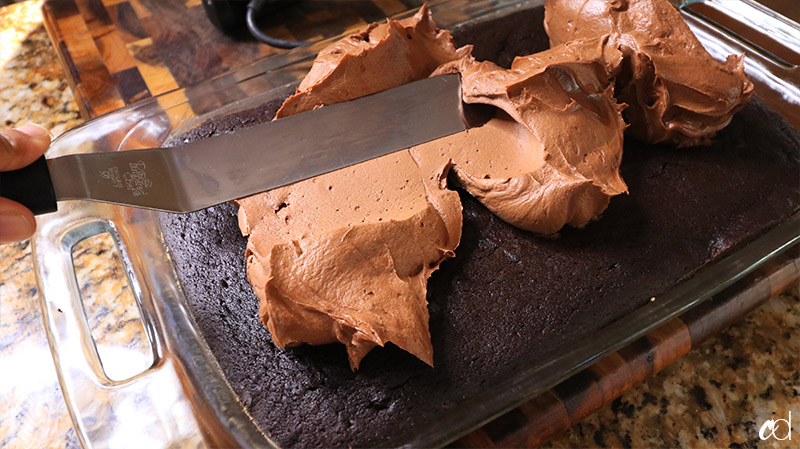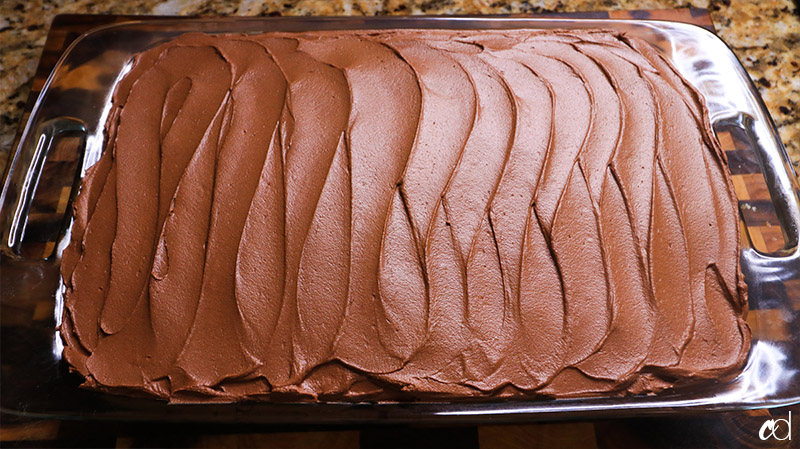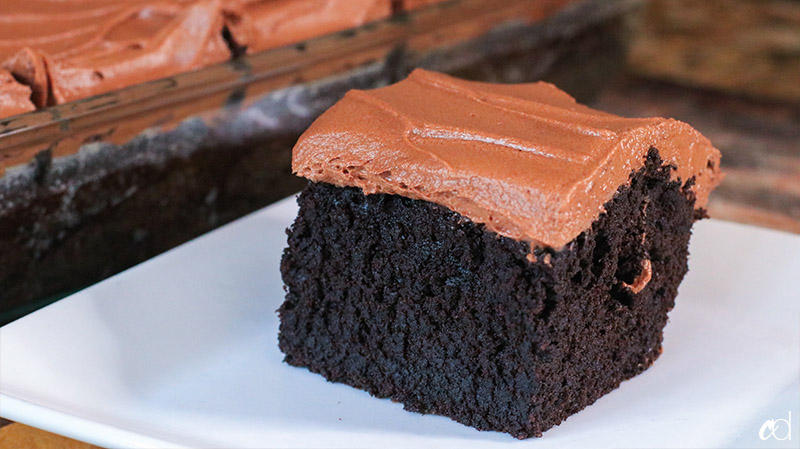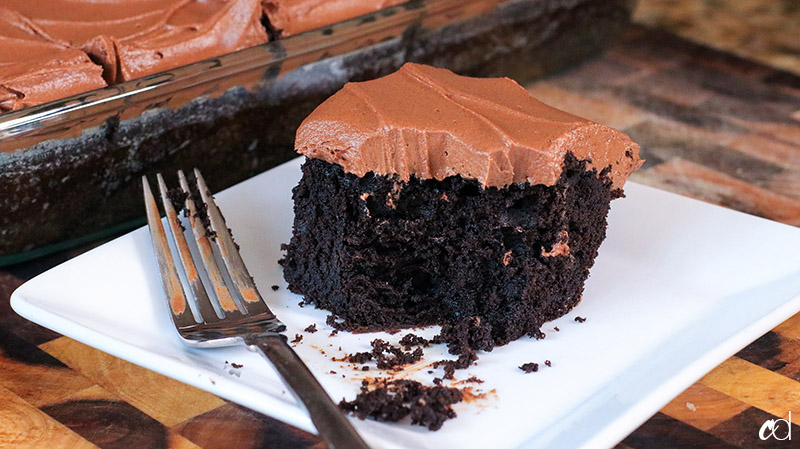 Print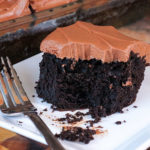 Chocolate Sheet Cake with Ganache Frosting
---
Description
This PMS-cure was adapted from the Family Baking Book.
---
For the Cake:

1 1/4

cups

(6 1/4 oz) all-purpose flour

3/4

cup

(2 1/4 oz) Dutch-processed cocoa powder

2 teaspoons

instant espresso powder

1/4 tsp

salt

8

ounces

semisweet chocolate, chopped (I used chips)

12 tablespoons

unsalted butter

4

large eggs, at room temperature

1 1/2

cups

(10 1/2 oz) granulated sugar

1 teaspoon

vanilla extract

1

cup

buttermilk

1/2 teaspoon

baking soda
For the frosting
16

ounces

milk chocolate, chopped (or high quality chips)

16

ounces

heavy cream

2 teaspoons

instant espresso powder
Flaky sea salt for tasting
---
Instructions
For the cake
Pre-heat oven to 325 degrees. Prepare a 13 by 9-inch baking dish, by either lining with parchment and greasing with nonstick spray, or just spray the dish with nonstick spray. Lightly dust the baking dish with flour and knock off any excess, leaving a very thin layer.
Sift flour, Dutch-processed cocoa, espresso powder, and salt into a large bowl and set aside. Microwave the semisweet chocolate at 50% power for 2 minutes. Stir, add butter, and continue to heat it at 50% until melted, stirring once every additional minute. Whisk the eggs, sugar, and vanilla together in a medium bowl.
Whisk the chocolate and butter mixture into the egg mixture until thoroughly combined. Combine buttermilk and baking soda, and whisk into the chocolate mixture, then pour into dry mixture and whisk until batter is smooth and glossy. Pour the batter into your prepared baking dish/pan and smooth the top with a rubber spatula. Bake until firm in center when lightly pressed and toothpick inserted in center of cake cokes out clean, about 30-40 minutes (mine took 35), rotating pan halfway through baking. Let cool on wire rack until room temperature, about 2 hours.
For the frosting
Heat heavy cream in a large measuring cup in the microwave for about 3-4 minutes, until you see a very gentle simmer around the edges of the cup.
Pour the hot cream over the milk chocolate and espresso powder, and leave it alone for 2 minutes. After 2 minutes, gently whisk until the mixture combines. Let cool at room temperature for about 2 hours, or place in your fridge, and let it cool (don't let it harden), about a half hour. When the mixture is cool but still very smooth, whip it up using a hand-held electric mixer until lightly and fluffy, about 2-3 minutes. Dollop the frosting on top of the cooled cake, and spread evenly. Cut into squares, and sprinkle tops with a very tiny pinch of flaky sea salt.
Enjoy immediately. Store leftovers in an airtight container.
Prep Time:

20 mins

Cook Time:

10 mins
Recipe Card powered by
Disclosure: This site uses various affiliate links. If a purchase is made using one of our affiliate links, we receive a small commission which helps support our efforts. Please read our
Privacy Policy
for more information.