This bacon cheeseburger egg roll recipe is something special. I don't know why stuffing a crispy, crackly egg roll wrapper with just about anything makes it taste better, but we're just gonna accept it. Thin sheets of non-doughy egg roll wrappers encase an intensely flavored meat and cheese filling, and it's literally the best thing to snack on. I promise you, you're going to love this recipe.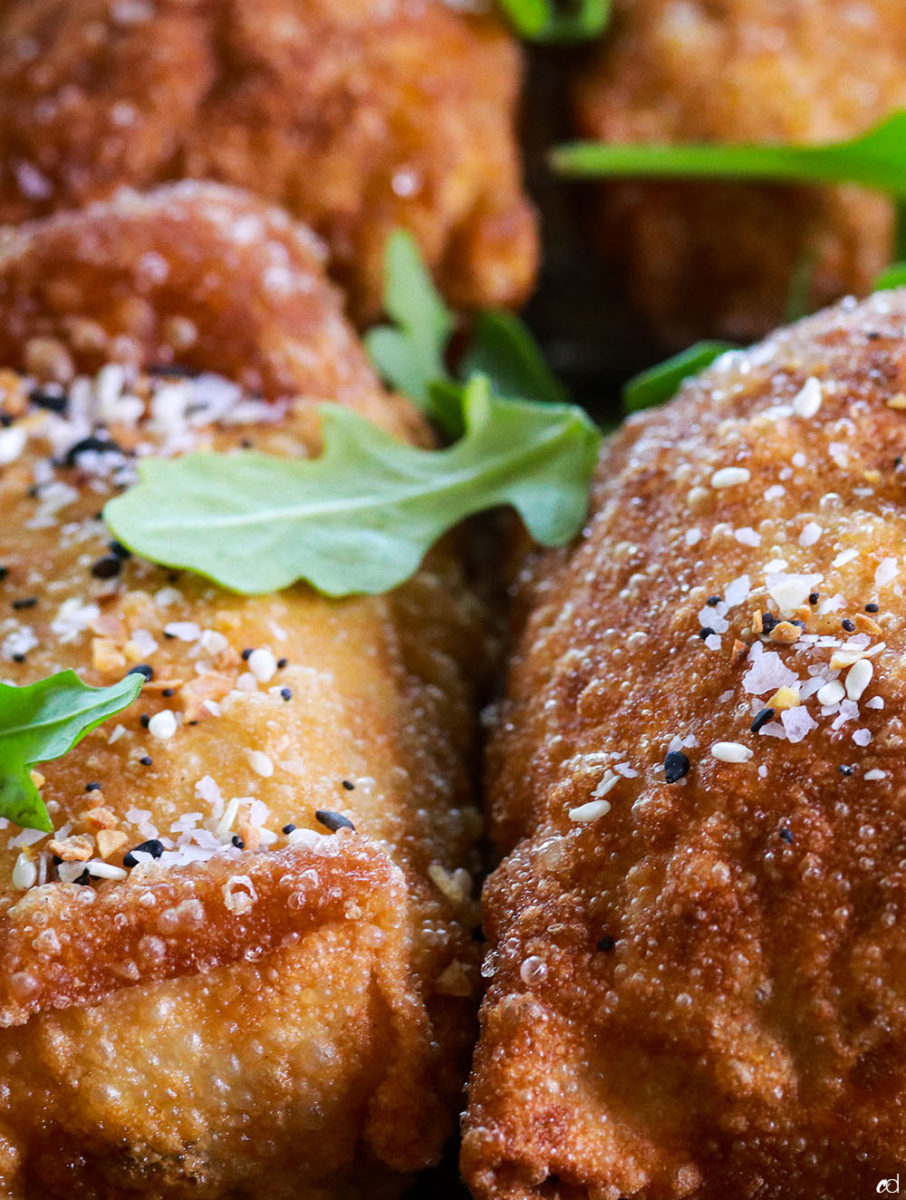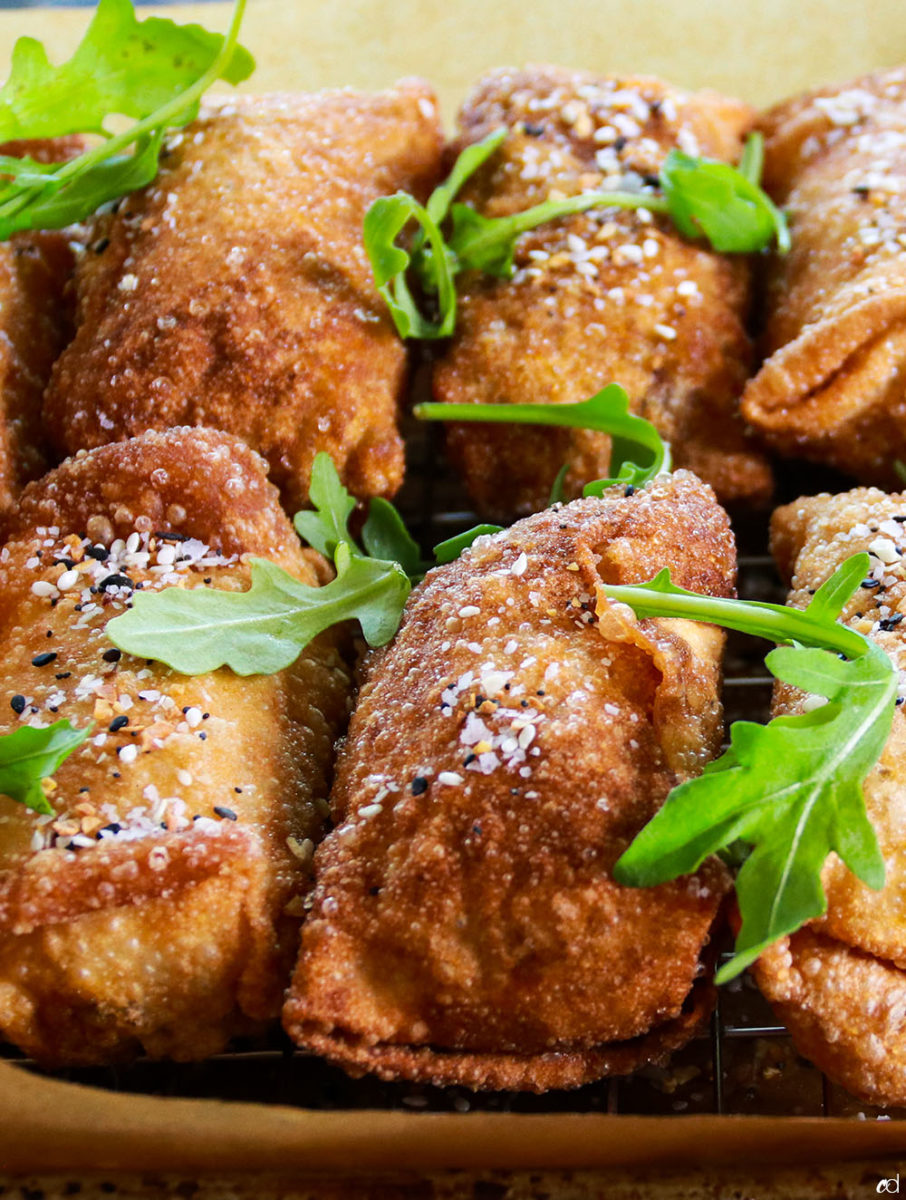 If you're looking for an amazing, flavorful cheeseburger egg roll recipe, then pull up a seat and park it. Because this is it. I promise. These bacon cheeseburger egg rolls are seasoned to perfection. You guys know I do not do "bland" anything. But here's the thing — if you're going to use this recipe, I want to encourage you to season these egg rolls to your liking. Always taste and adjust as you go. Some of you may need more heat and spice, and some of you may want less. Always, always do you.
Are these keto??
This particular recipe is not. BUT! I know a lot of you are following a ketogenic diet, and guess what? You can still make these! I highly recommend using Cut Da Carb flatbread in place of the wonton/spring roll wrappers. Their flatbread is super versatile and keto-friendly. You can also use their flatbread to make my Chicken Taquitos recipe. Cool? Cool.
Variations
Don't like beef? Use ground chicken, pork, or turkey. Vegan or vegetarian? Use vegan crumbles or finely chopped mushrooms…or whatever vegans eat lol.
As for cheese, you can use whatever you like or have on hand. I would recommend you use a cheese that melts more on the creamy side than one that melts on the stringy side…if that makes sense.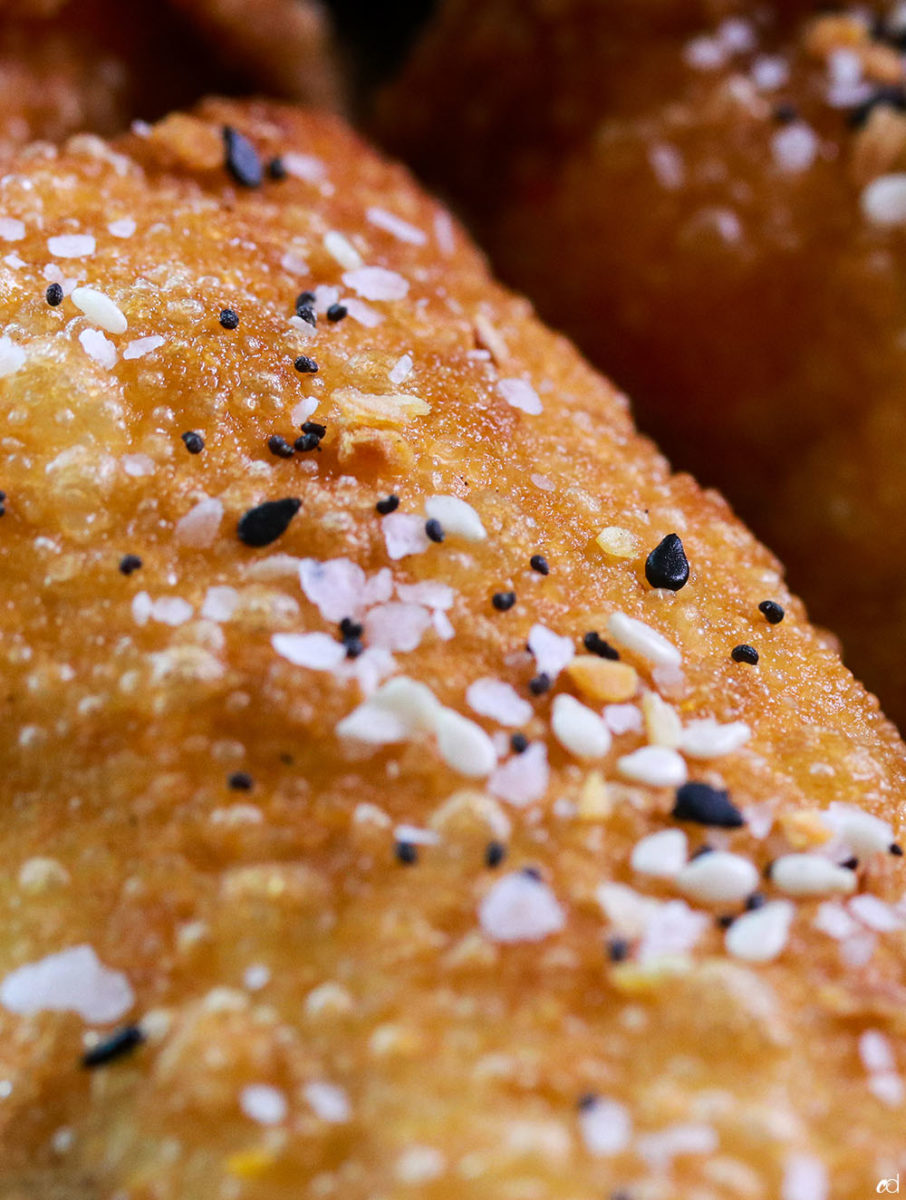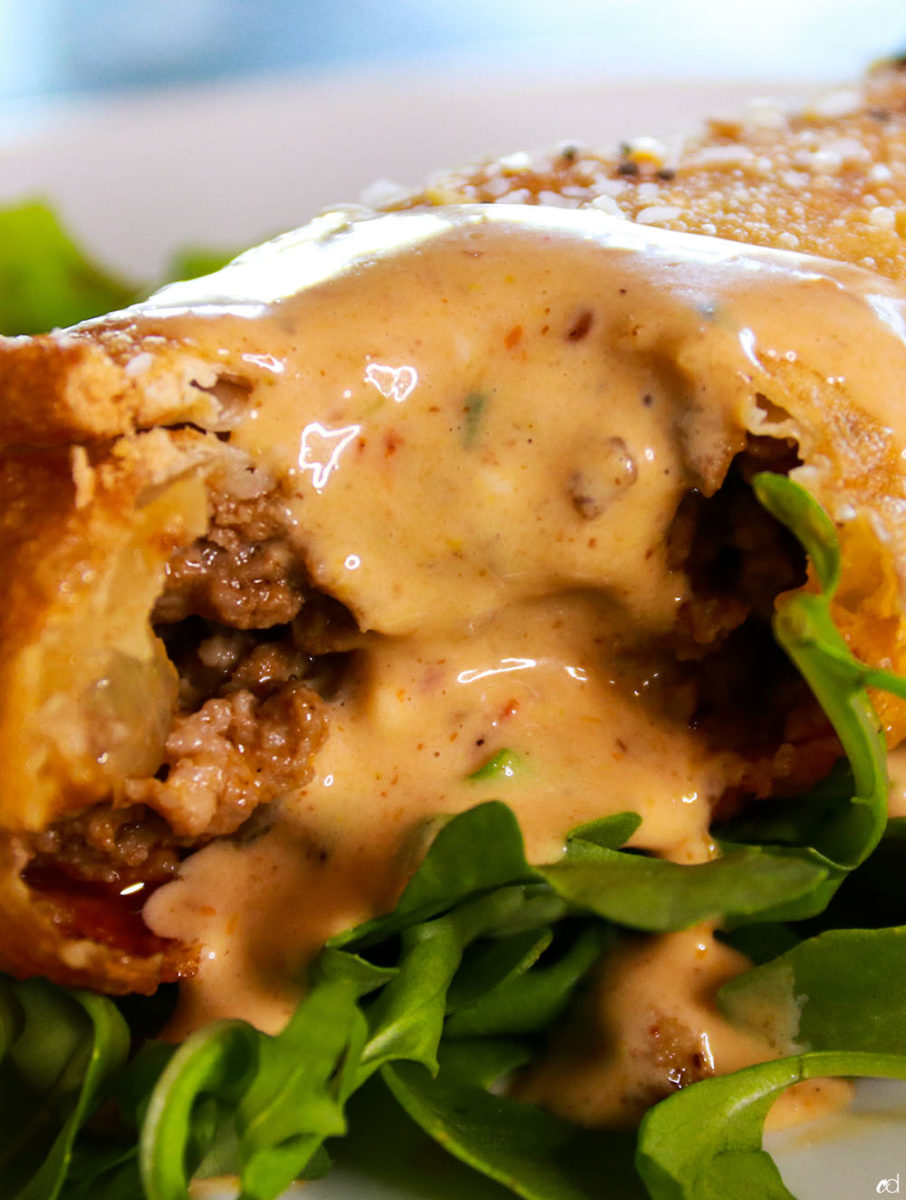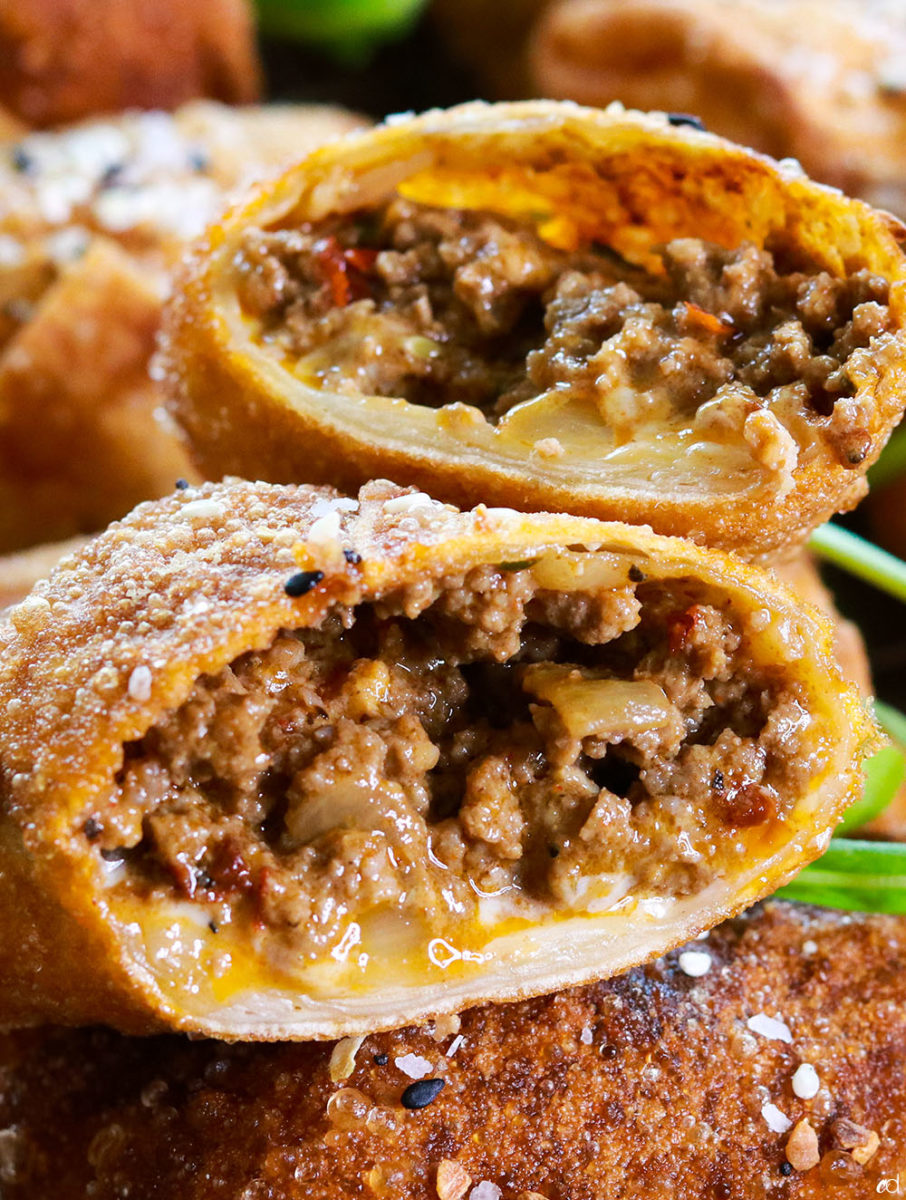 I'm using an extremely delicious, yet constantly sold-out hot sauce from Bounty&Full called "The Truth". It's phenomenal, and I'm sad I only have a little bit left, because I can't seem to get my hands on more bottles. It's a thicker hot sauce, not a watery-super-vinegary one. You are free to use any kind of hot sauce you like.
How to make Bacon Cheeseburger Egg Rolls
Check out my video for a visual guide.
Print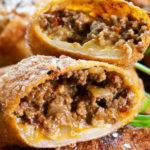 Bacon Cheeseburger Egg Rolls
---
Author:

Chef Resha

Total Time:

1 hour 20 minutes

Yield:

20-25 egg rolls
Description
I turned my favorite kind of burger into an egg roll and I'm so happy about it, I hugged myself like Ray Charles. These are SO GOOD!
---
Oil for frying

2

cups

fresh arugula
FOR THE EGG ROLLS
3

to

5

slices thick-cut bacon, chopped

2 tablespoons

reserved bacon fat (SEE NOTE)

1

large onion (about

2 cups

), diced
Flaky kosher salt, to taste
Black pepper, to taste

1/2 teaspoon

crushed red pepper flakes

2

pounds

80/20 ground beef

1 teaspoon

granulated onion

1 teaspoon

granulated garlic

1 1/2 teaspoons

smoked paprika

1 teaspoon

dried parsley

1/2

to

1

teaspoon chili powder

1/2

cup

beer (I used plain ol Budweiser) SEE NOTE

1 tablespoon

worcestershire sauce

1

to

2

tablespoons mayo (I used Japanese mayo aka Kewpie)

1

to

2

tablespoons ketchup

1

to

2

tablespoons spicy brown mustard (use what you have)

1/3

cup

pickles, chopped

1

chipotle pepper in adobo, finely chopped +

1 tablespoon

adobo sauce

1

scallion, thinly sliced (both green and white parts)

1 1/2

cups

cheddar cheese, grated by hand

10

slices American cheese, halved (for

20

pieces total)
1

16

–

ounce

pack egg roll/spring wrappers (I used Dynasty brand)
Water, for sealing the wrappers
FOR THE SAUCE
1/2

cup

mayo (regular)

1 tablespoon

fresh chives, finely chopped (optional)

1 tablespoon

Heinz Chili Sauce (or ketchup)

1 tablespoon

spicy brown mustard (use what you have)

1 tablespoon

hot sauce (use your favorite)

1 tablespoon

worcestershire sauce

1/4 teaspoon

granulated garlic powder
Flaky kosher salt, to taste
Black pepper, to taste

1 teaspoon

honey (if needed)
GARNISH
1 tablespoon

Everything Bagel Seasoning

1 1/2 teaspoons

flaky kosher salt (omit if your bagel seasoning has salt added)
---
Instructions
PREP
Prepare your frying station. If using a dutch oven, fill it with about 3 to 4 inches of oil. If using a cast-iron skillet or heavy-duty skillet, fill it with an inch and a half of oil. Don't overfill either vessel because once you add the rolls, you may risk the oil bubbling over and causing a major fire. 2020 is already shot to hell, we don't need to add you burning the house down to that list.
Rinse and dry the fresh arugula. Place it in a bowl or Ziploc bag, and keep it cold until ready to use.
For the garnish, simply mix the Everything Bagel Seasoning and kosher salt together until combined. Set aside.
For the sauce…add the mayo, mustard, ketchup or chili sauce, hot sauce, chives, salt, pepper, and granulated garlic powder to a small bowl and whisk together until thoroughly combined. Taste and adjust as needed. Add the honey for balance if necessary. Cover and refrigerate until ready to use.
FOR THE BACON CHEESEBURGER MIXTURE
In a large heavy-duty or cast-iron skillet, brown the chopped bacon over medium heat until crisp, about 7 to 10 minutes. Scoop out the crispy bacon, leaving just 2 tablespoons of leftover bacon fat in the skillet. With the skillet still over medium heat, add the diced onions to the skillet and season with flaky kosher salt, black pepper, and rushed red pepper flakes. Scrape up any delicious bacon bits left in the bottom of the pan. When the onions have softened, about 5 to 6 minutes, add the ground beef, breaking it up into smaller pieces. While the meat is still pink, season the mixture with granulated onion, granulated garlic, smoked paprika, dried parsley, and chili powder. Continue to cook the ground beef until browned and the juices have evaporated. A very small amount of natural fat will be left, but it won't be enough to where you'd have to drain it. This process will take about 10-15 minutes. Just be patient with it. Once all that meat juice has evaporated, and the meat starts to really sizzle and sear, pour in the beer and scrape up any bits stuck to the bottom of the pan. Allow the beer to evaporate and cook all the way down, about 3 to 5 minutes. Taste the mixture, and adjust seasoning if necessary. Toss in the cooled crispy bacon, and toss to combine.
Turn the heat off, and transfer the meat and bacon mixture to a bowl big enough to fit it. Add the worcestershire sauce, mayo, mustard, scallions, chipotle + adobo sauce, and chopped pickles. Stir to combine, then give it a taste. It shouldn't be extra wet, but it should be moist. If you need to add just a touch more of mayo, mustard, and ketchup do so now. Taste it again, adjust. When you're satisfied, cover the meat mixture with either foil or plastic wrap and pop it in the fridge to chill for an hour.
While the meat is chilling, thaw your egg roll/spring roll wrappers on your counter during that hour.
ASSEMBLE
After an hour, remove the meat mixture from the fridge and stir in the cheese. Open the package of wonton wrappers, and keep a piece of plastic wrap or moist paper towel nearby to drape over the pile of wrappers as you work to prevent them from drying out. Lay the wrappers down with one of the corners facing you. Place 1/4 cup of the mixture in the very center of the wrapper, and slightly flatten it into a small log about 4 to 5 inches long. Place a slice of the American cheese on top.
Moisten the edges of the wrapper with water and gently fold and seal them shut, making sure there are no air pockets and there's no way the meat can seep out during the fry.
FRY
When all of the rolls are made, cover them with either a slightly damp paper towel and place them in the fridge while you heat the oil to 350 degrees F. When the oil has reached 350 degrees, gently fry 2 to 4 egg rolls at a time, until golden brown, about 3 to 4 minutes. Immediately after they come out of the oil, sprinkle them with the Everything Bagel + Salt seasoning.
Serve with the sauce and fresh arugula, and live your best life.
Air Fryer Instructions:
Spray each roll generously with cooking spray and air-fry at 400 degreees (or the best temperature according to your air-fryer) until golden brown.
Freezer storing tips:
Uncooked: Lay each uncooked bacon cheeseburger egg rolls flat on a baking sheet and freeze until set, about an hour. Then pile them into an airtight Ziploc bag and freeze for up to one month. You want to freeze them individually first, otherwise, they'd stick together (and not in a good way) and make it very difficult to separate later. Trust me, it'd be a mess.
Cooked: You can fry these all up now and store them in the freezer. Simply reheat in a 350 degree oven or air fryer, and they'll be good as new.
Notes
If you don't want to use the bacon fat (and I have no idea why that would even be the case lol) just use olive oil in it's place.
Use any light-colored beer you have on hand, but avoid any dark stouts. If you don't have beer at all, you can leave it out.
Prep Time:

1 hour

Cook Time:

20 minutes

Category:

Appetizers

Method:

Deep Fryer
Keywords: bacon cheeseburger egg rolls, cheeseburger egg rolls, egg rolls, fun egg rolls, appetizers
Recipe Card powered by
Disclosure: This site uses various affiliate links. If a purchase is made using one of our affiliate links, we receive a small commission which helps support our efforts. Please read our
Privacy Policy
for more information.