You're gonna love these shrimp tempura summer rolls! Crispy tempura-battered shrimp encased in a tender rice paper wrap, filled with fresh vegetables, herbs, and vermicelli rice noodles. Served with an intensely-flavored, garlic and ginger tahini sauce.
I love everything I make, honestly. But then I have my absolute favorites. These super fresh shrimp tempura rolls are up there on my favorites list. There is no "one" recipe for summer rolls. You simply fill them with your favorite veggies and herbs, and there you have it. You can fill them with any protein, too. They're typically served alongside some kind of peanut-based sauce. My sauce is tahini-based, and it's fire AF.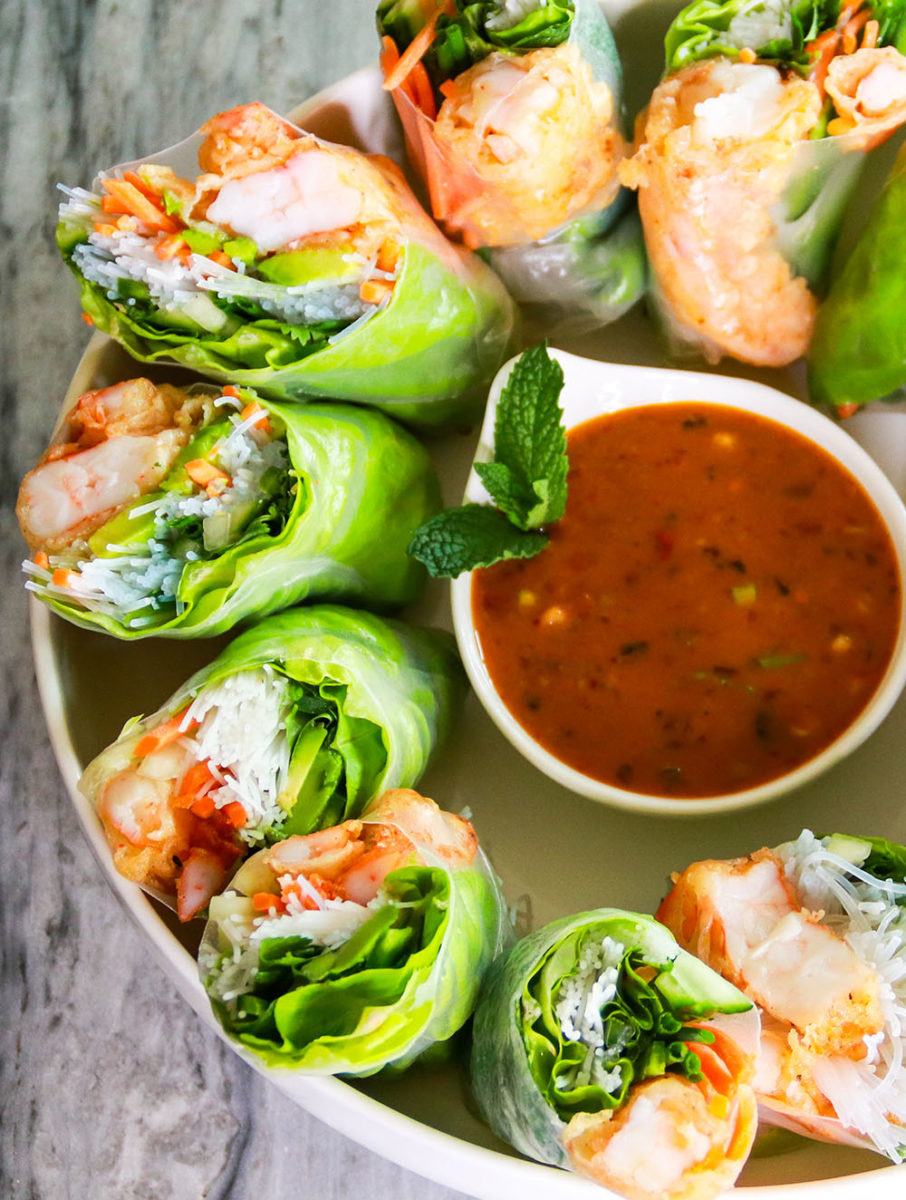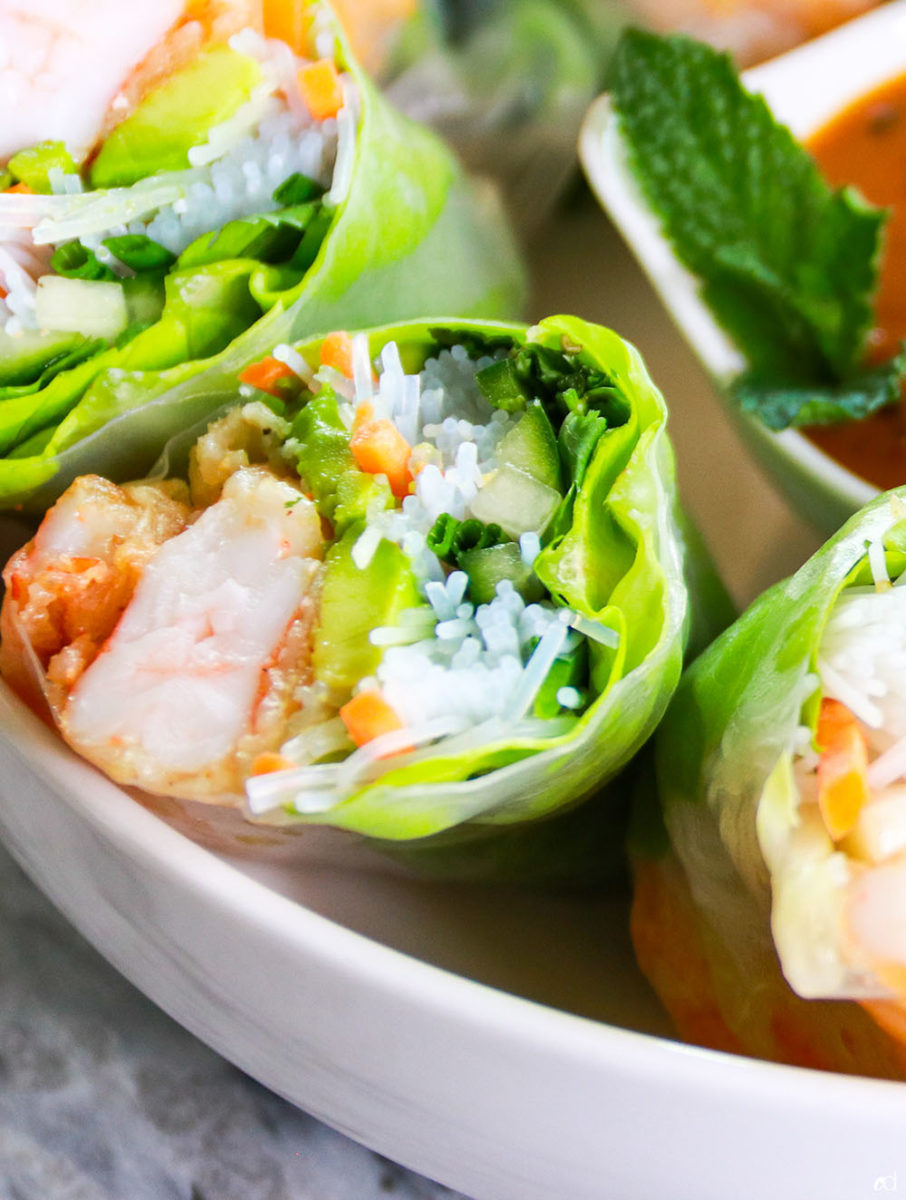 For the sauce, the actual amounts used will always vary. I always give you guys starting-off measurements. You are responsible for tasting as you go, as usual. I've made this sauce and coated crispy chicken wings with it, slathered it on some ribs, you name it. It's incredibly versatile and tastes so damn good on a-n-y-t-h-i-n-g!!
Don't get caught up in "Oh! I have to use everything Chef Resha used!" Not exactly. Try to follow my basic formula of wrap-lettuce-noodles-VEG-HERBS-protein. Use any kind of vegetables, any kind of herbs. The point is to use what you like to eat. One of my favorite combinations to use for rice paper wraps is vegetables, soft pulled pork, and thinly sliced apples. It's so incredibly delicious.
How to keep this keto
If you're following a ketogenic or low-carb diet, here are some tips on how to keep most of the carbs away. Yes, you can have keto summer rolls!
Leave out the rice noodles. Try swapping them for either Angel Hair Shirataki Noodles, or cauliflower rice.
Forget the rice paper wraps entirely, and use large leaf lettuce to wrap everything up.
Instead of using regular sweet chili sauce, try using this sugar-free sweet chili sauce.
Lastly, instead of coating the shrimp with tempura batter, you could dip them in an egg-wash, then roll them into pork rinds for similar crispiness. You can absolutely avoid deep-frying altogether and just poach, sear, or air-fry the shrimp.
Tahini is relatively low-carb per serving but use your own discretion.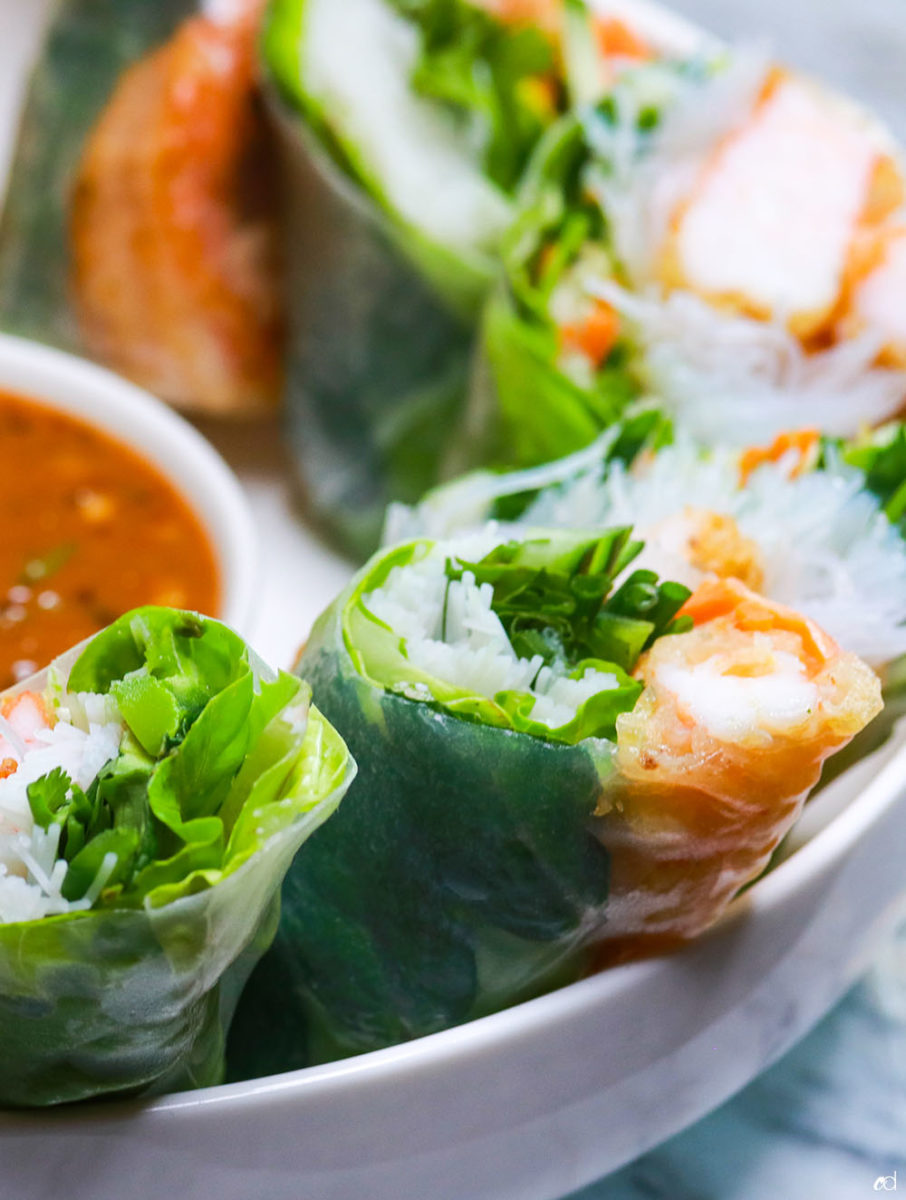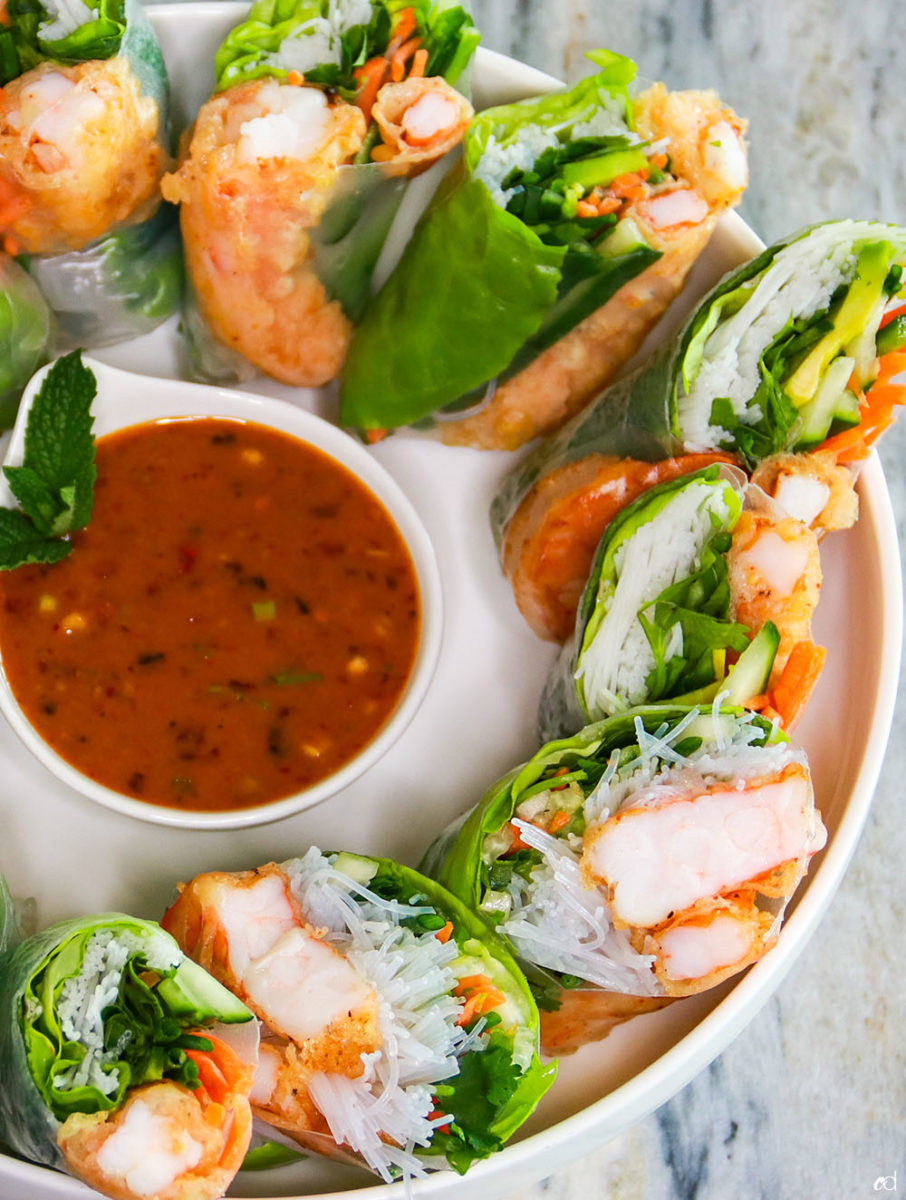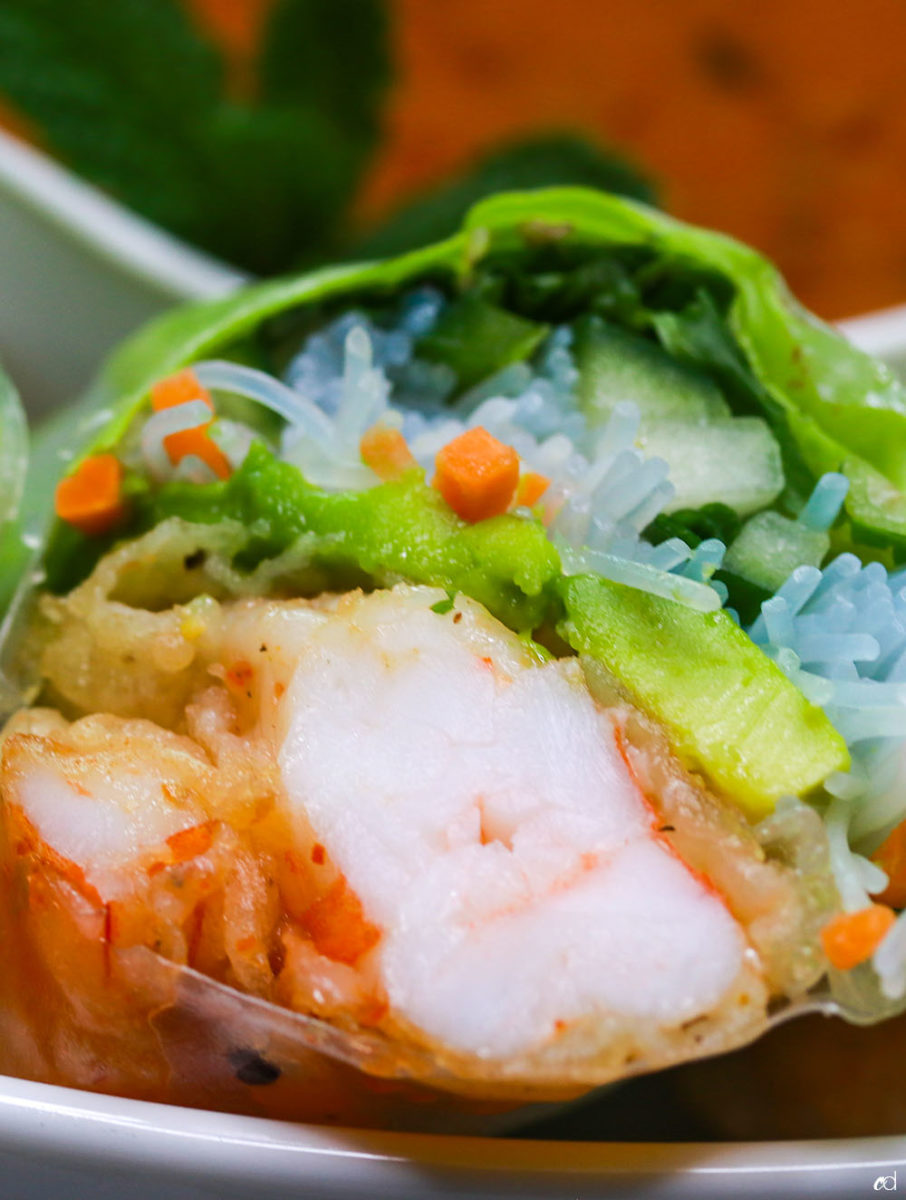 I've been making a lot of "roll" type foods lately. It's just one of those "food phases" I go through sometimes. Check out my Crispy Chicken Taquitos, and Bacon Cheeseburger Egg Rolls. Up next? Lumpia!!
Print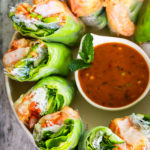 Shrimp Tempura Summer Rolls with Garlic and Ginger Tahini Sauce
---
Author:

Chef Resha

Total Time:

45 minutes

Yield:

about 12 whole rolls
the sauce
1/3

cup

tahini (SEE NOTE)

1/2

cup

sweet chili sauce

1/4

cup

+

1

tablespoon

Spicy Chili Crisp

2

scallions, finely chopped

2 1/2 tablespoons

sweet rice vinegar

2 tablespoons

soy sauce

2

cloves garlic, minced

2 teaspoons

ginger, finely grated (SEE NOTE)
Zest of a lime + juice from half a lime
Sea salt, to taste
Black pepper, to taste
the shrimp
1

pound

jumbo shrimp, peeled and deveined, tails removed
Sea salt
Black pepper

2/3

cup

ice water (SEE NOTE)
Oil for frying
the rolls
1

12

–

ounce

package rice paper wraps

2

large handfuls fresh butter lettuce

2

cups

vermicelli rice noodles, softened and drained
Fresh cilantro
Fresh mint, leaves only

1

jalapeno, thinly sliced lengthwise
Chives

1

cup

cucumber, thinly sliced lengthwise

1

cup

carrots, shredded/matchstick
Shrimp Tempura (recipe above)
(SEE NOTE)
---
Instructions
Hydrate the vermicelli rice noodles by submerging them in hot water until they're softened, about 8 to 10 minutes. Drain and rinse with cold water. Drain again, and set aside.

Set up a "rolling station" with your drained and cooled noodles, lettuce, fresh herbs, sliced jalapeno, chives, cucumbers, carrots, and the package of rice paper. Place a pie dish with about an inch of warm or room temperature water next to the rolling station. We'll use this water to hydrate the rice paper wraps one by one.

In a medium bowl, add the tahini, sweet chili sauce, spicy chili crisp, scallions, rice vinegar, soy sauce, garlic, ginger, sea salt, black pepper, lime zest, and lime juice. Mix very well. Taste and adjust as needed. Cover with plastic wrap and set aside.
Remove the tails of the shrimp, especially if you plan on stuffing the entire shrimp inside the roll. If not, you can leave them on so the tail can stick out. With a paring knife, cut short shallow slits under the belly of each shrimp, about every 1/3 of an inch over. Be careful not to cut all the way through the shrimp. Season the shrimp with sea salt, black pepper, and Shichimi Togarashi. Toss to coat evenly. Cover with plastic wrap, and pop it in the fridge to stay cold.
In a medium dutch-oven, heat about 2 inches of vegetable or canola oil to 400 degrees F. Meanwhile, prepare the tempura batter mix according to package directions and adjust until the consistency is perfect (see video for reference).
Remove the shrimp from the fridge. When the oil reaches 400 degrees F, dip each shrimp into the prepared tempura batter, one at a time, and allow the excess to drip off. It may look like a lot of batter once you pull it out of the bowl, but allowing the excess to drip off ensures an even coat that isn't too bready. If you cannot see the shrimp through the batter after the excess drips off, your batter is too thick. Carefully place the coated shrimp into the hot oil. Fry about 4 to 6 shrimp at a time for 2 to 3 minutes, but make sure they're not sticking together. Use a spider or chopsticks to separate them so you don't fry one big ball of battered shrimp. Tempura batters are not designed to turn "golden brown", so expect it to stay pale. Remove the shrimp from the oil, and set on a baking rack set over a baking sheet. This will allow the shrimp to cool slightly, but not become soggy. You can keep the shrimp warm in a very low oven (like 200 degrees F) until you're fully set up.
Return to your rolling station, and place the crispy shrimp nearby.
Open the package of rice paper, and dip one into the warm or room temperature water for just FIVE seconds and immediately remove…*What to look for* If you've worked with rice paper, you already know how to do this. if you haven't, here's what to look for: The rice paper will still be stiff once you remove it from the water after 5 seconds. However, it will continue to quickly absorb the residual water as it sits. If your rice paper has soaked for too long, it will absorb too much water and start to tear when you roll it up. A perfectly hydrated rice paper wrap is pliable and stretchy. Although it will stick to itself, it's super easy to work with.
Okay, so yeah…submerge the rice paper for 5 seconds, then immediately place it on your work surface. I usually press the residual water into the rice paper to speed up the hydration process. SEE VIDEO FOR REFERENCE!
Once it's fully hydrated and able to be rolled, place the lettuce down, then top it with the hydrated rice noodles, the herbs, jalapeño, cucumber, and carrots. Arrange two pieces of shrimp in front of the lettuce/veggie pile (the shrimp will be farther away from you, the lettuce bundle closest to you). Gently stretch and fold the rice paper over the pile of veggies/noodles, then carefully tuck the sides in to encapsulate everything. Make sure the initial first tuck is enough to cover just the vegetable/noodle pile. The shrimp will be tucked at the very end, so that they appear to be on top of everything else in the roll. Again, watch the video for visual reference.
Slice diagonally and serve with the sauce.
Notes
for the sauce: If you don't have/like tahini, you can use creamy peanut butter. I grated my ginger on a microplane. If you don't have a microplane, you can finely mince it with a chef's knife.
for the shrimp: Directions on how to make this batter are on the box, and you will more than likely adjust the consistency as you see fit. So if it's TOO THIN, add a little more dry batter mix. If it's TOO THICK, add a little more ice water. Keep adjusting until it's just thick enough to coat the shrimp, and always let the excess drip off before frying.
for the rolls: The amount of most of these ingredients will be entirely dependent on you. These are the ingredients I used for this particular recipe, but you are more than welcome to mix and match different vegetables and fresh items. Use what you have! There is no right or wrong way to make these rolls.
Prep Time:

25 minutes

Cook Time:

20 minutes

Category:

Appetizers

Cuisine:

Asian
Keywords: shrimp summer rolls, shrimp tempura summer rolls, summer rolls, tempura shrimp, tahini sauce
Recipe Card powered by
Disclosure: This site uses various affiliate links. If a purchase is made using one of our affiliate links, we receive a small commission which helps support our efforts. Please read our
Privacy Policy
for more information.