I just wanna be clear…this spicy fried chicken sandwich isn't supposed to taste like anything you order from a drive-thru menu. It was definitely inspired by a few different fast food spots, but that's about it. We're using dark meat here. I prefer dark meat for just about anything lol, but especially this sandwich. That juicy meat literally melts in your mouth. The crunch?? Girl.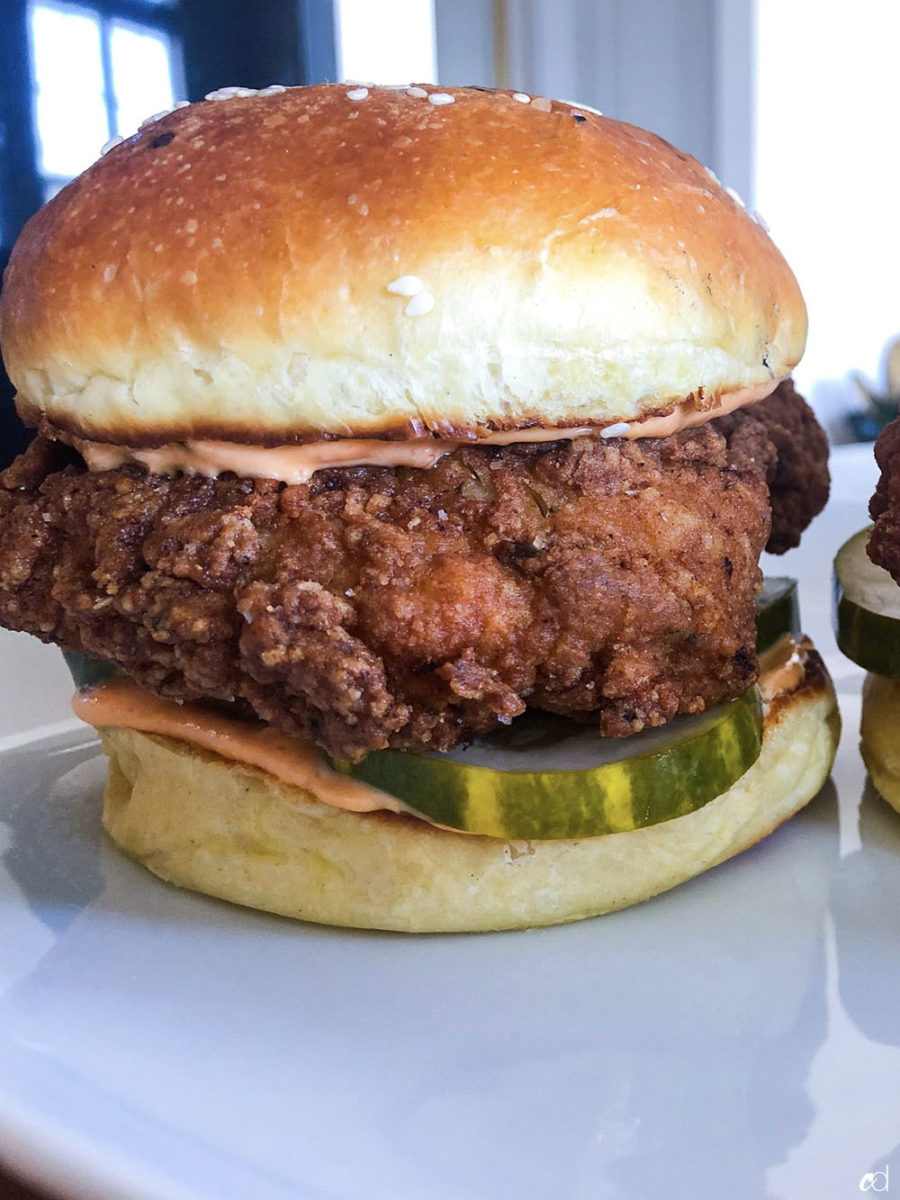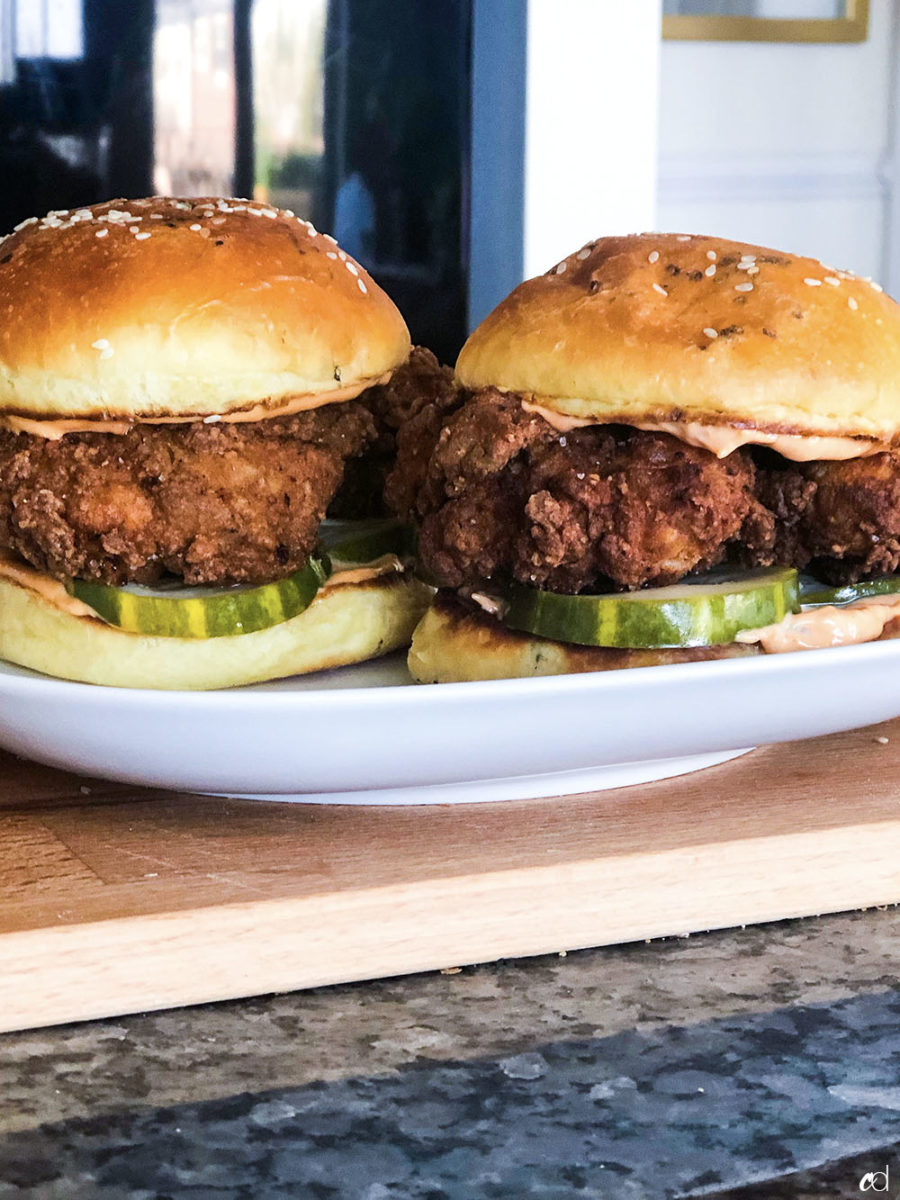 We're using some spices here that I know regular fast-food spots aren't privy to. You may not have the delicious Ethiopian berbere spice in your arsenal, but lemme tell you this: GET IT IMMEDIATELY! It seriously adds something so incredibly special to this sandwich, which makes it stand out from other fried chicken sandwich recipes. You can find it easily on Amazon.
So, this spicy fried chicken sandwich recipe was inspired by fast-food joints, in two ways. First, the pickle brine. Pickle juice is an essential for the Chick-Fil-A chicken sandwich. Two, the thick pickles — inspired by Popeyes chicken sandwich. Buying pickles that thick isn't always possible, but making your own absolutely is. As for the actual seasoning of the chicken, all me. But trust me, there have been plenty of people who've made this recipe and simply used what they had. And guess what? They've all loved their results.
"But Resha, I hate dark meat!" Well, if that's the case, you need to get right with the Lord. But no foreal, if you want to use white meat, go ahead. I cannot guarantee your results though *shrug*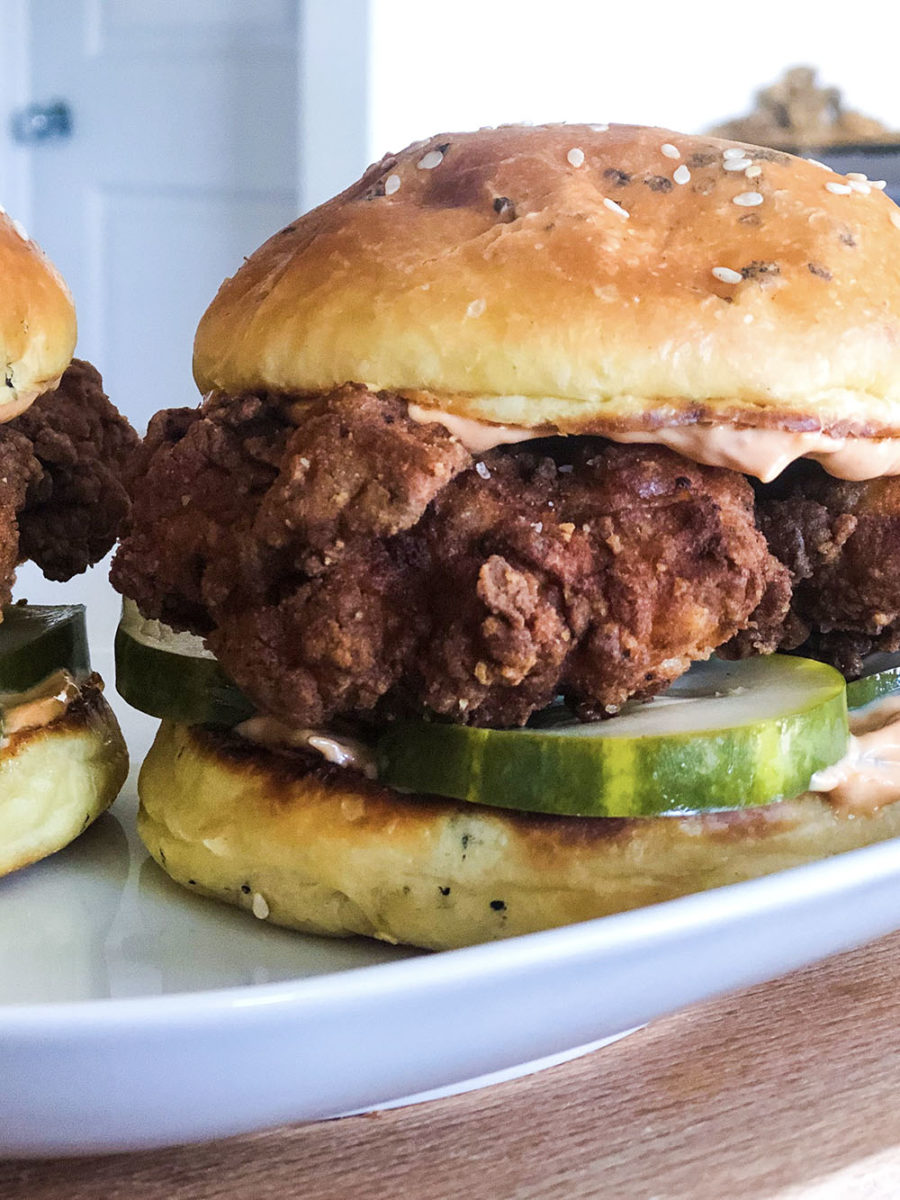 A technique I've always loved for crackly-crisp chicken breading is to nix the egg yolk completely. Why? Because as delicious as the yolk is, for this particular technique, it adds a little too much fat to the breading. The result is often a crispy coating that quickly softens as it sits. By using the egg whites, you get to keep a crispy coating. Adding a bit of baking powder helps "lift" the breading and give it air pockets, and the cornstarch lightens the flour so it isn't a tough, thick coating.
The brioche buns you see here were made by me. I use the Brioche Burger Bun recipe from ChefSteps. It is seriously phenomenal and worth the time. Yes, you can use store-bought brioche buns — it's not that serious. You can even use store-bought pickles! Just make the chicken situation from scratch, I beg.
Check out more chicken recipes:
Print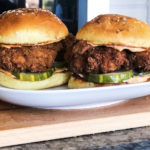 Spicy Fried Chicken Sandwiches
---
Author:

Chef Resha

Total Time:

1 hour 20 minutes

Yield:

6 to 8 sandwiches
Description
You don't need no damn drive-thru, sis.
---
Brioche buns
Oil for frying
CHICKEN MARINADE
6

–

8

boneless/skinless chicken thighs

3/4

cup

pickle juice (SEE NOTE)

1

cup

buttermilk

2 tablespoons

Diamond Crystals kosher salt

2 teaspoons

granulated sugar
SPICY MAYO
1/2

cup

mayo

1/4

to

1/2

cup

spicy harissa sauce, or any spicy hot sauce you like
A tiny bit of honey to balance the flavors (optional)
CHICKEN DREDGE (wet)
3

large egg whites (SEE NOTE)

2/3

cup

buttermilk

1/4

cup

hot sauce

1/2 tsp

kosher salt
CHICKEN DREDGE (dry)
SWEET & SOUR PICKLES
1

large cucumber, sliced (SEE NOTE)

1

cup

white distilled vinegar

2/3

cup

granulated sugar
---
Instructions
You'll need a medium-sized pot or deep fryer to cook the chicken. You could also shallow-fry it in a cast iron skillet. I also recommend a wire rack to go inside of a baking sheet, two if you have them. The above mentioned spices are what made this chicken sandwich so amazing. Feel free to use whatever you have, though.
For the chicken marinade
Sprinkle equal amounts kosher salt and sugar all over the chicken, then place it into a large ziploc bag. Pour the pickle juice and buttermilk mixture over the chicken, massaging each piece through the bag. Squeeze any excess air out before sealing. Refrigerate 4 hours or overnight.
For the pickles
In a medium-sized pot, bring the vinegar and sugar to a boil for 2 minutes, stirring until the sugar is dissolved. Taste it, and determine if you'd like it to be a bit sweeter. Pour hot mixture over sliced cucumbers and set aside at room temperature. Make this at LEAST 2 hours before you plan on eating them, or a day ahead. They can be stored in your refrigerator for up to a month.
For the spicy mayo
Mix both ingredients until combined. Taste and adjust as needed.
For the wet dredge
Whisk the buttermilk, egg whites, kosher salt, and hot sauce together until combined. Set aside.
For the dry breading mixture
Whisk all ingredients together in a medium bowl, and set aside.
For cooking the chicken & assembly
Remove chicken from fridge an hour before you plan to fry, so that they come to room temp. Place marinated chicken in a small colander in the bottom of your clean kitchen sink and gently, WITH A LOW STREAM, rinse most of the marinade off, careful not to splash raw chicken juice everywhere.
Dip the thighs into the egg white/buttermilk (wet dredge) mixture, let the excess drip off. Then, coat it evenly in the flour mixture. Lay the breaded chicken on a wire rack. Meanwhile, heat the oil to 345°. You can use a dutch-oven, deep fryer, or cast-iron skillet to fry. Right before the oil hits proper temp, dunk the thighs back in the flour mixture one more time. Dust off the excess then immediately fry until golden brown or unto the internal temperature reaches 175°F on an instant-read thermometer — about 8 minutes, depending. When in doubt, use an instant-read thermometer. Remove the chicken from the hot oil and let it drain and rest for about 5 minutes on a wire rack, which helps avoid them steaming and sogging up.
Meanwhile, butter and toast your brioche buns. Assemble your sandwiches and enjoy!
Equipment
Notes
I used the pickle juice from some sliced hamburger dills. Use any kind of pickle juice you have on hand.
Don't toss out your egg yolks! Add them to your scrambled eggs the next morning, or make a dessert curd. You can store leftover egg yolks in a small sandwich bag, just be sure to press out the air so they don't develop a skin. Or, if they're still in tact, GENTLY place them in a short glass cup or ramekin, and GENTLY cover them with cold water — which will act as faux egg whites. You can store it like this for up to 2 days.
I used a regular cucumber for my recipe, but any cucumber works. You may want to take a vegetable peeler and peel a few strips of skin away (peeling one strip every inch around) if you find regular cucumber skin to be too tough.
Prep Time:

1 hour

Cook Time:

20 minutes

Category:

Sandwiches, Poultry

Method:

Frying
Keywords: spicy fried chicken sandwich, chicken sandwich,
Recipe Card powered by
Disclosure: This site uses various affiliate links. If a purchase is made using one of our affiliate links, we receive a small commission which helps support our efforts. Please read our
Privacy Policy
for more information.