Birria is everywhere, and for good reason. It's damn good. Sooooo damn good. Beef birria quest tacos with consome might be one of the best things I've discovered during an otherwise shitty year. The first time I made this, it was delicious! I used all beef short-ribs, and it was a little too tender. I know, how can something be too tender? I just needed a little more "meatiness" if you will, and definitely more heat. So I used a combination of chuck and short ribs and it's just *chefs kiss* perfect!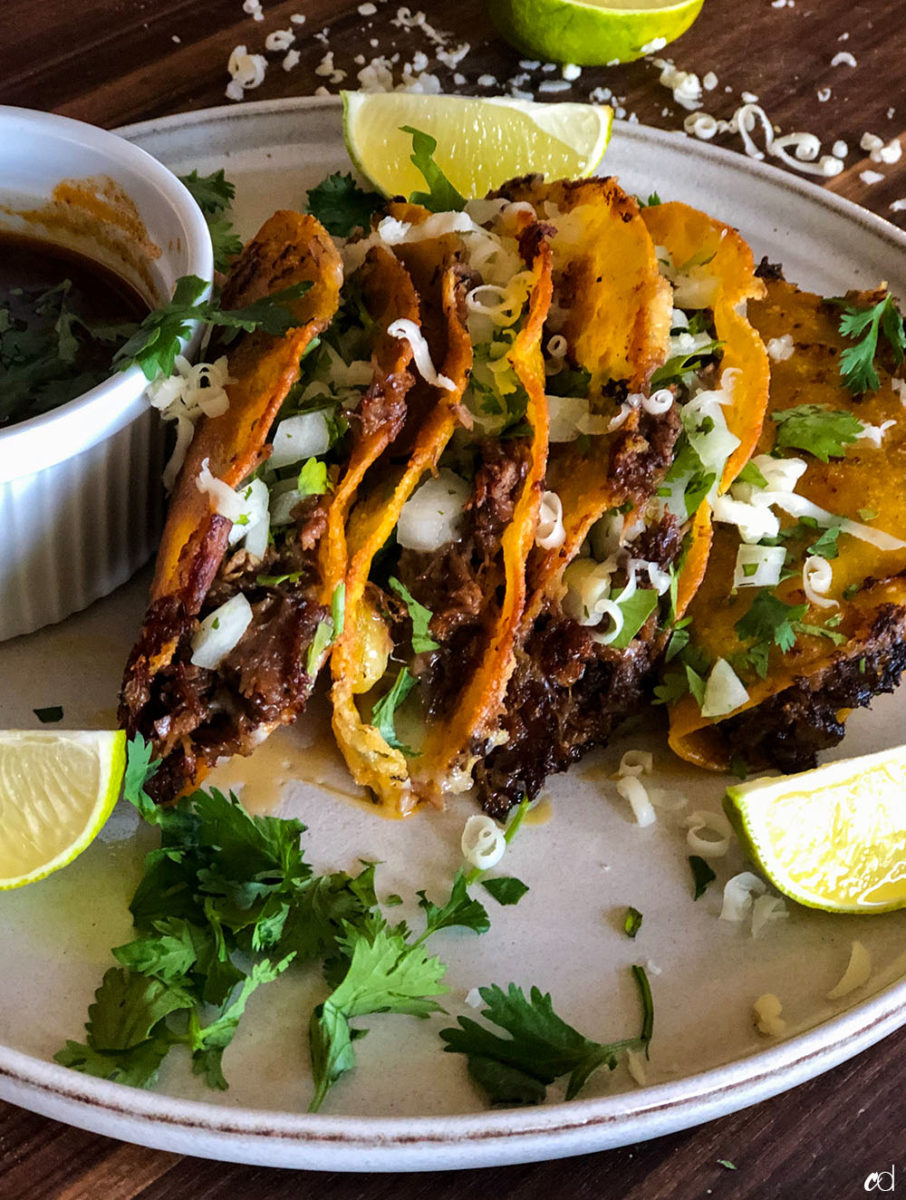 Are these authentic? Nope. But they're damn good, and that's really all I care about. This whole process was a two-day process for me. I wasn't in a rush, so I let the meat marinate in the adobo mixture overnight before I pressure-cooked it. You could totally do the same.
If you don't have a pressure cooker, you can do this in your oven. Check the recipe for deets on how to make this in your oven. This recipe is has an enjoyable amount of heat. If you are sensitive to heat, leave the chipotles, cayenne, and crushed red pepper flakes out.
Resha, I'm scared…
I know many of you will look at this ingredient list and immediately feel a cold brush of intimidation sweep over your soul. I get it, I do. But please trust me when I say that this is a VERY easy recipe. You don't need to be a pro to make this at all. I'll break it down for you in steps that may help you feel a little less scared:
Salt the meat, set it aside.
Toast the peppers.
Boil the peppers, onions, garlic, ginger, carrot. Drain it.
Add the peppers, onions, garlic, ginger, carrot to your blender. Then add the seasonings/spices, vinegar, worcestershire, water. Blend it.
Add the salted meat to the pressure cooker, pour over the stuff you just made in your blender. Add more water.
Cook it.
Skim the fat, fry the tacos, assemble. Eat. Cry. Hug yourself.
See? It's VERY easy and very flavorful and worth the time that goes into it.
Can I use chicken??
Yes. Instead of beef, you can use any protein you'd like, including lamb or goat (which is how this was first authentically made), or veganize it with jackfruit, mushrooms, or whatever vegans eat. But if you want to use chicken, try subbing a whole chicken about 5 to 6 pounds (I wouldn't go higher than 8 pounds). Just add the whole raw chicken to your pressure cooker, pour the pepper mixture all over it, then add water. Pressure cook it for about 40 minutes, and it should be just perfect. You can also use individual chicken thighs, legs, leg quarters, etc.
Once it's done pressure cooking, gently remove the carcass from the flavorful bath and remove the meat from the bones. I would discard the skin, it'll just be flabby — but that's your call.
How to make Birria Quesa Tacos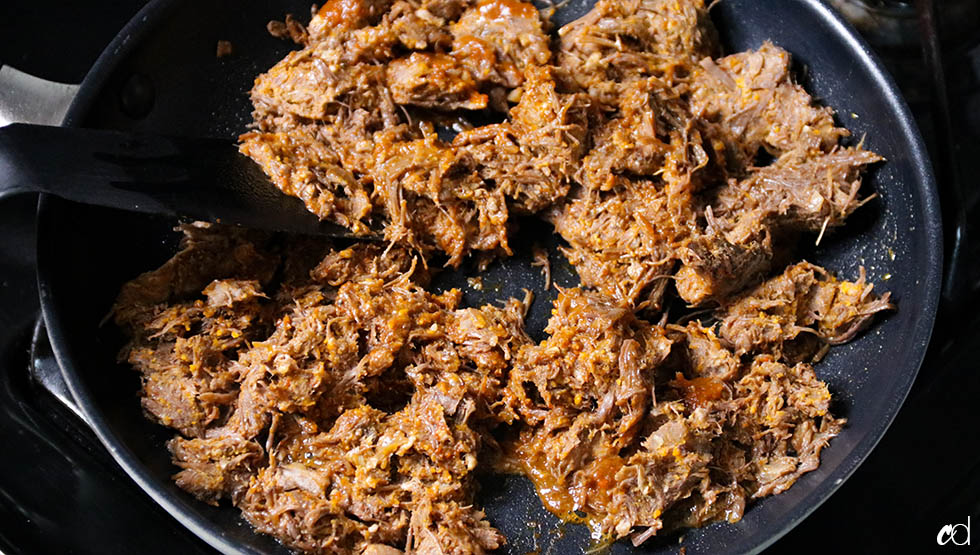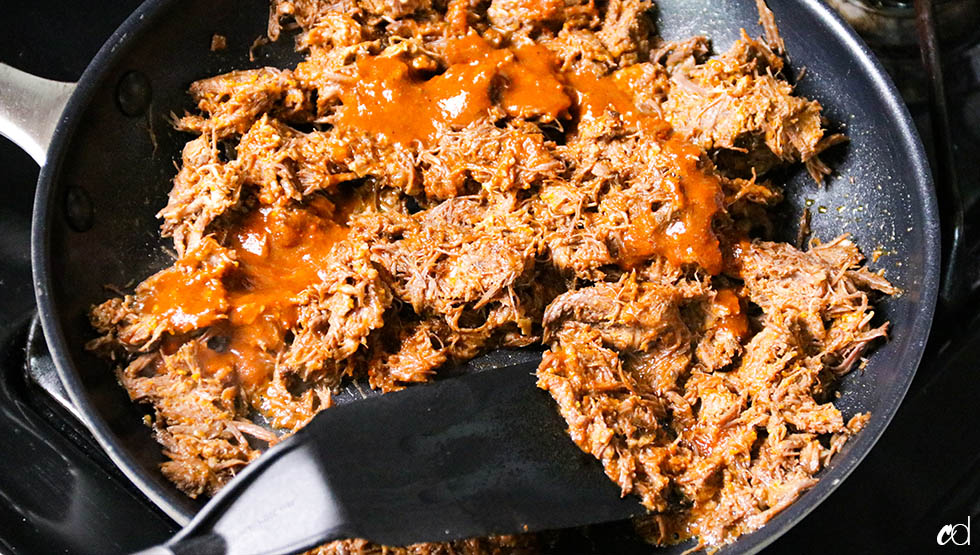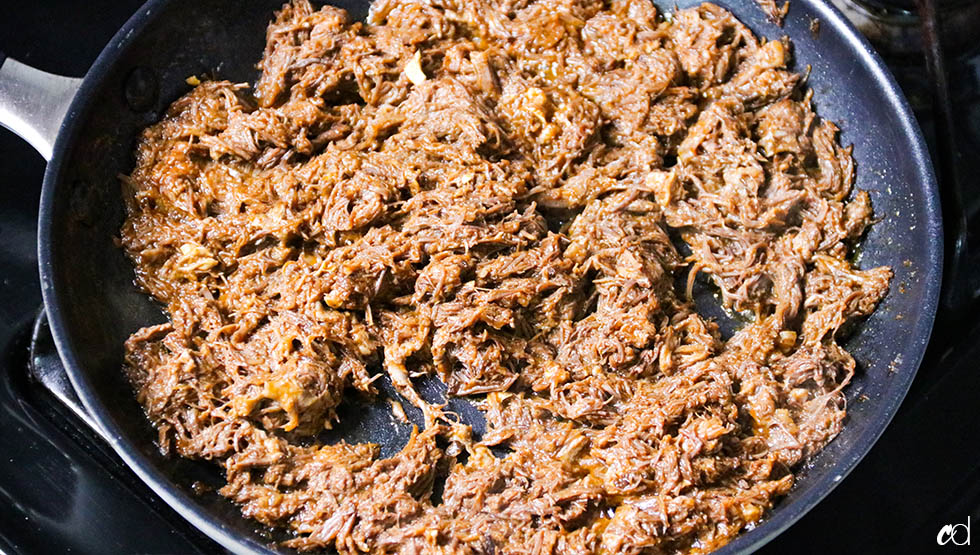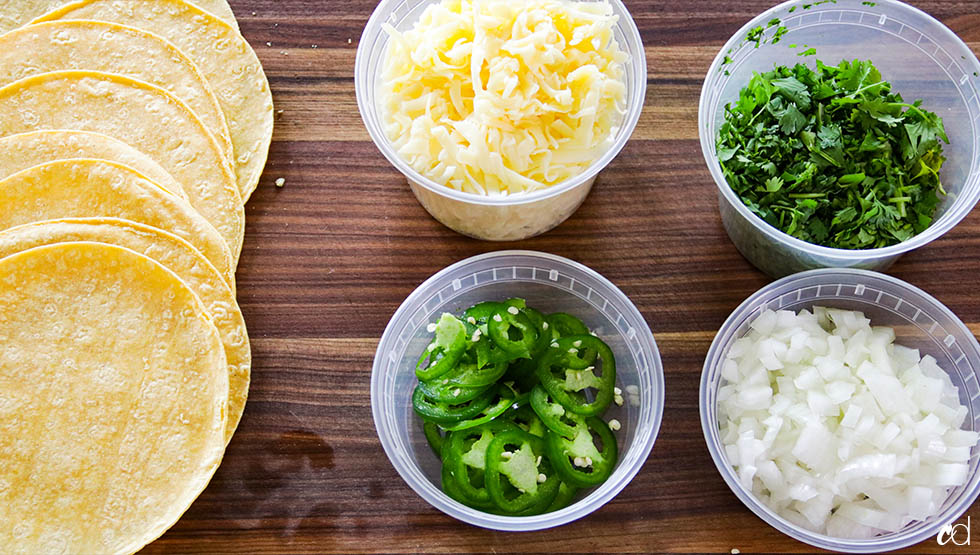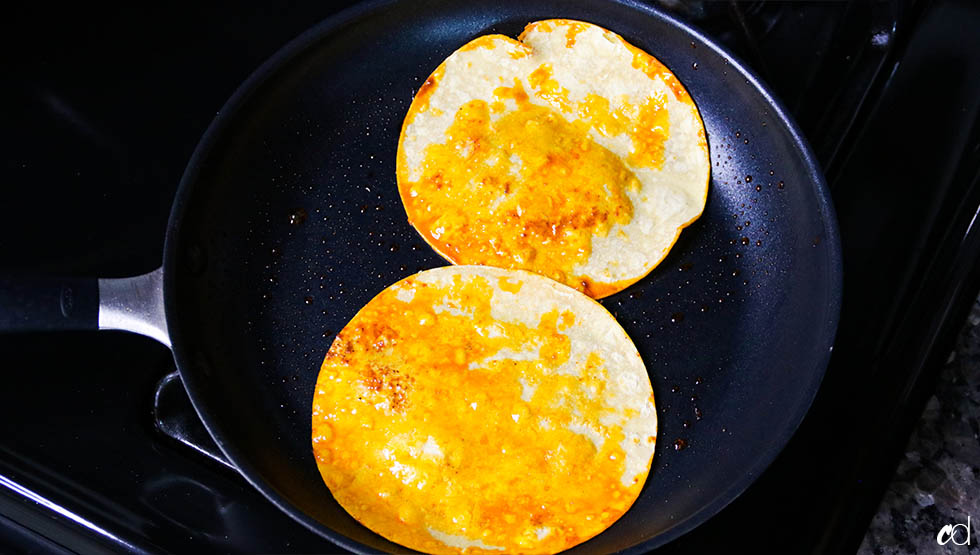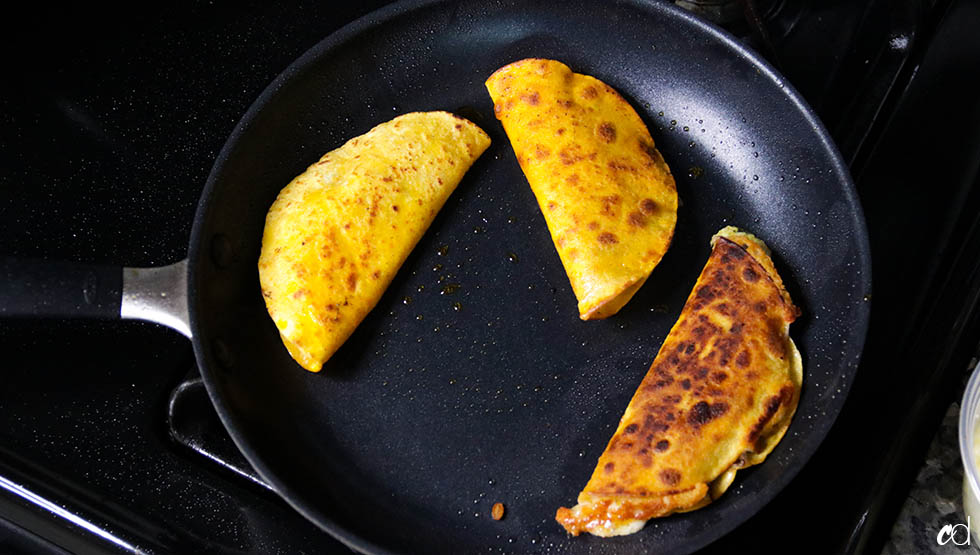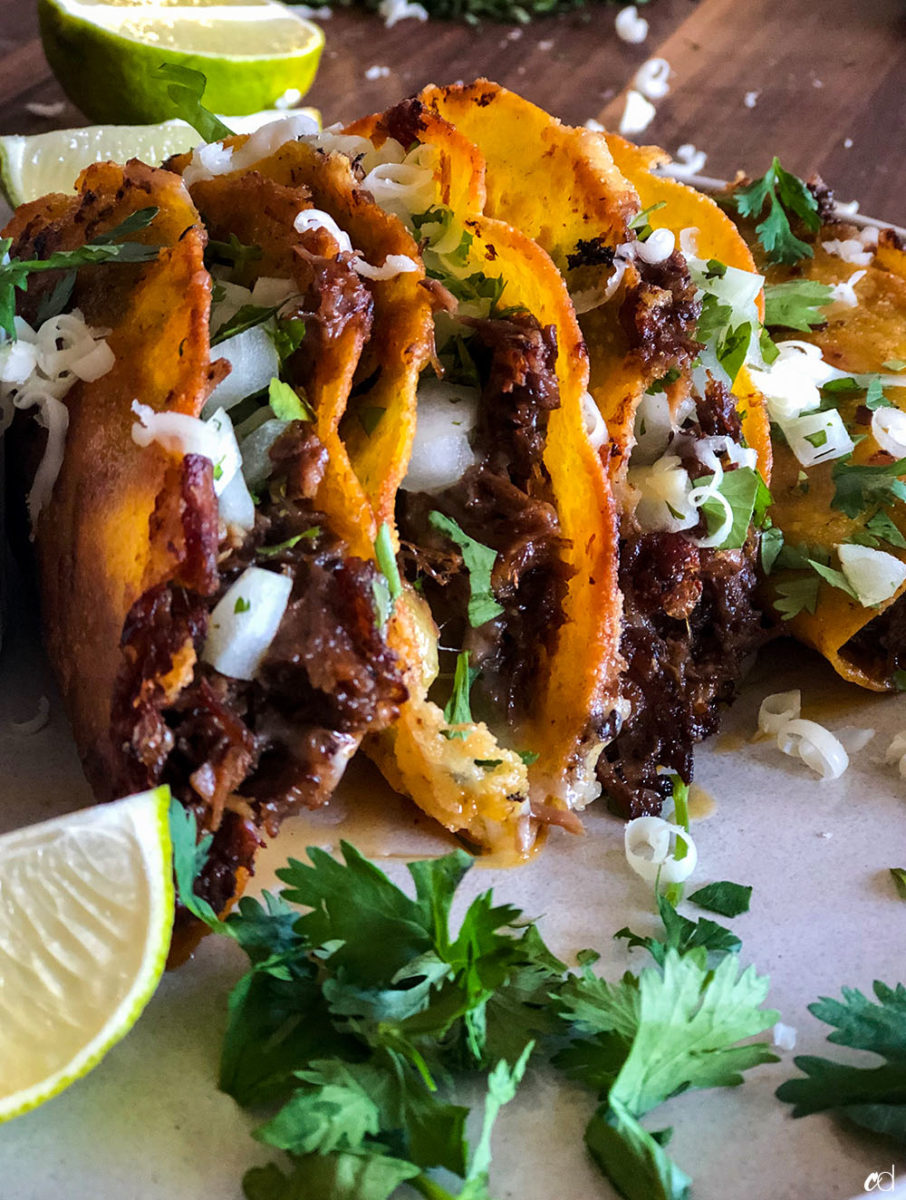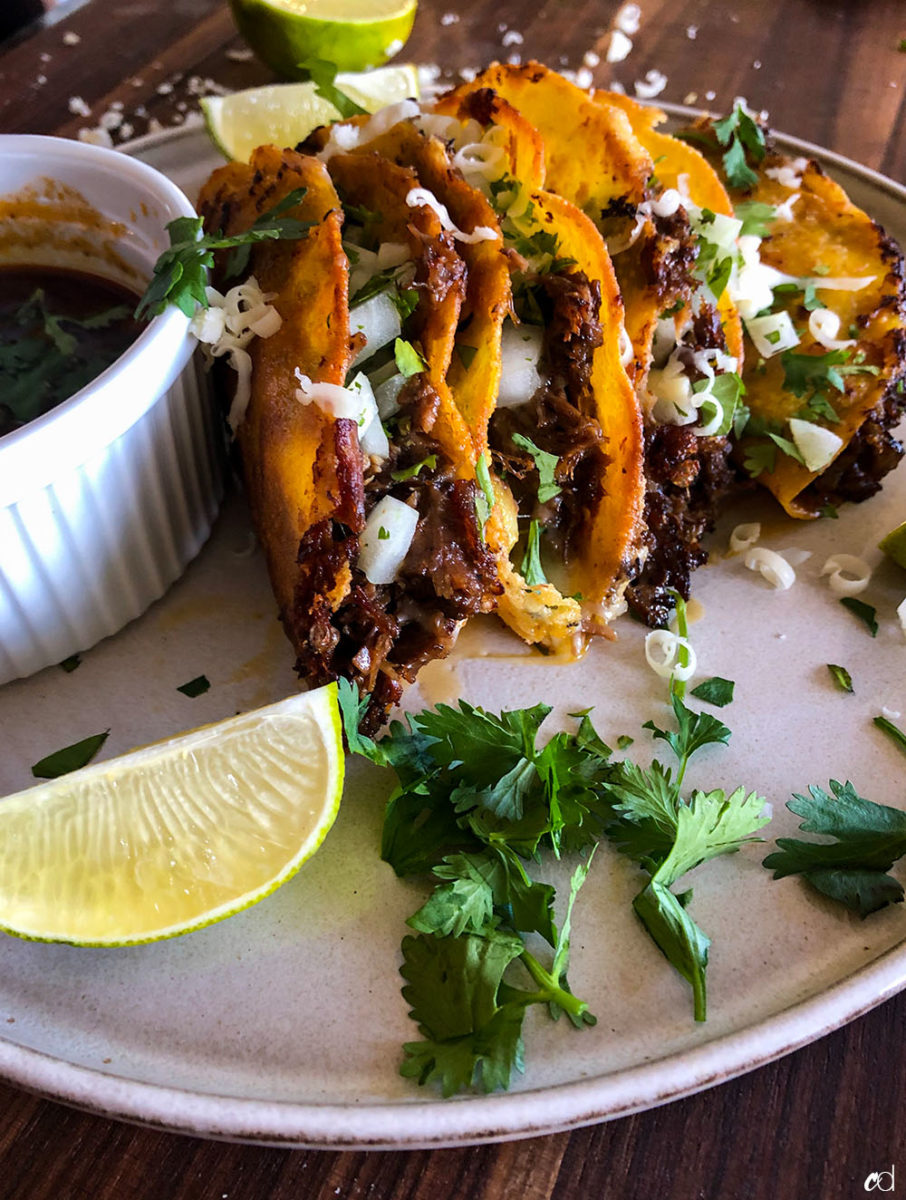 There are honestly no words.
Print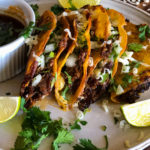 Beef Birria Quesa Tacos with Consome
---
Author:

Chef Resha

Total Time:

2 hours

Yield:

a LOT of tacos
Description
Get your life, baby! These beef birria tacos are everything and then some. The meat is so tender, it's falling apart like a bad relationship. The cooking method was loosely adapted from Food & Wine.
---
3

pounds

boneless chuck roast

3 1/2

pounds

beef short ribs
Flaky kosher salt (Diamond Crystals brand)
PEPPER MIXTURE
1 tablespoon

canola oil

6

Guajillo chilis, stemmed and seeded

3

New Mexico chilis, stemmed and seeded

2

Ancho chilis, stemmed and seeded

2

Pasilla chilis, stemmed and seeded

6

chile de árbol, stemmed and seeded

1 1/2

large onions, chopped in half (

3

onion halves)

1

carrot, peeled and chopped into 2-inch chunks (SEE NOTE)

2

2-inch chunks fresh ginger, peeled

1

head of garlic, peeled but cloves left whole

2 tablespoons

flaky kosher salt (Diamond Crystals brand)

2 teaspoons

black pepper

1 teaspoon

ground cinnamon

6

whole cloves, or

1/4 teaspoon

ground cloves

4

dried bay leaves

1 tablespoon

dried Mexican oregano

1 teaspoon

dried thyme

1/2 tablespoon

ground coriander

1/2 tablespoon

granulated garlic

1/2 tablespoon

granulated onion

1/2 tablespoon

smoked paprika

1/2 tablespoon

ground cumin

1/2 teaspoon

cayenne pepper

1 teaspoon

crushed red pepper flakes

4 tablespoons

packed brown sugar, divided

1

14.5oz

can

fire-roasted diced tomatoes

3

chipotle peppers, with 2 tablespoons adobo sauce

1/4

cup

white distilled vinegar

1 tablespoon

Worcestershire sauce

1/4

cup

apple cider vinegar
Water
CILANTRO GARNISH
1/2

large onion diced

1

cup

of packed cilantro, washed, dried and finely chopped (SEE NOTE)
Zest from a lime, plus the juice of half the lime
Pinch of sea salt
TACOS
Corn tortillas
Monterey jack cheese, shredded by hand (SEE NOTE)
Lime wedges
Thinly sliced jalapenos (optional)
Canola oil
Birria fat
---
Instructions
You'll need a multi-cooker/pressure cooker for this recipe. If you don't have one, you can make this in your oven! Just transfer everything to a large oven-safe dutch oven or pot big enough to hold it all. Cook for 3 hours in a 300 degree F oven. This will also make reducing the consome a lot easier since it's in the same pot.
Place the short ribs and chuck roast into a large glass bowl. Season all sides of every piece of meat generously and evenly with flaky kosher salt. Set aside.
For the pepper mixture
Pour a tablespoon of canola oil into a 12-inch cast-iron or stainless-steel skillet over medium-low heat. Add the dried and de-seeded peppers and toss to make sure they're all coated thinly in the oil. Continue to move them around and toast them for about 2 to 3 minutes, or until fragrant and just starting to release their natural oils. They will blister and blacken in SOME spots, and that's fine. Do NOT let them burn or blacken all over! They will become very bitter if so. If your heat is too high, turn it down.
Transfer the toasted peppers to a medium saucepan. Place the 3 onion halves, chopped carrots, chunks of ginger, and garlic cloves on top of the peppers and pour in 6 1/2 cups of water. Bring the water to a rolling boil. Allow the entire mixture to boil uncovered until the peppers are softened and the carrot is partially tender — about 10-15 minutes.
Drain the pepper/onion mixture and toss out the bitter water — we don't need it. Transfer the pepper/onion mixture to a high-powered blender, along with the white distilled vinegar, Worcestershire sauce, kosher salt, black pepper, cinnamon, whole cloves, bay leaves, dried Mexican oregano, dried thyme, ground coriander, granulated garlic, granulated onion, smoked paprika, cumin, crushed red pepper flakes, cayenne pepper, 3 tablespoons of brown sugar, the can of fire-roasted tomatoes, chipotle peppers and adobo sauce, and 2 and a half cups of cold water.
Blend until completely smooth. If you don't have a high-powered blender, you may have to strain this mixture after you puree it to remove any large unblended chunks.
Cook the meat
Place the salted meat into the pot of your pressure cooker, and pour all of the pepper mixture over the meat. Toss to coat. Add 8 cups of water. Set the pressure to High and cook for 50 minutes. Allow the meat to rest for 30 minutes before releasing the steam.

Remove the tender cooked meat from the pot into a large bowl. Shred the meat to your desired consistency. I used two forks to break the meat apart, then used kitchen shears to make some pieces smaller. You can hack it with a cleaver if you choose.
Reduce the consome
Carefully transfer the consome to a large pot, and reduce 2/3 of the way down over high heat, about 25 minutes. This will thicken the consome just slightly and also deepen its flavor. Once it's reduced to your desired consistency, taste it! Add the apple cider vinegar and remaining tablespoon of brown sugar to balance it out if needed. If you need to add more salt, feel free to do so.
You will have a lot of consome — check the notes below for suggestions on what to do with it.
Skim some of the fat from the top with a spoon into a small bowl. You will use this to fry the tortillas when you're ready to make the tacos. Add some of the consome to the meat to make it juicy and moist.
Cilantro Garnish
Mix the onions and cilantro together and squeeze the juice of half a lime all over along with a small pinch of salt. Toss until evenly combined.
Pour some of the consome into small bowls for each person eating, and add some of the onion/cilantro mixture to the consome bowl.
Make the tacos
Heat a large non-stick skillet or comal over medium heat. Add about 2 teaspoons of the birria fat and 1 teaspoon of canola oil, then place two corn tortillas down, getting the fat on both sides. Let the tortillas heat and crisp while laying flat. Add a desired amount of cheese and birria meat. Manage the heat, if it's browning too quickly turn the heat down. When the cheese starts to melt, gently fold the tortilla to create a taco. You'll have to hold it down for a few seconds until it seals. Flip the taco over so the other side crisps. Keep this routine going until you've made your desired amount of tacos.
Assemble
Place the tacos on a plate, then gently pry them open to fill them with the onion/cilantro mixture. Serve with additional lime wedges and a small bowl of consome for each plate of tacos you're serving. Get your life and enjoy.
Notes
Your carrot should be around 8 inches long, that'll do it 😉
Include those cilantro stems, too! Tons of flavor.
You can use ANY kind of cheese you want!
Leftover consome – throw in some shredded chicken! Or any kind of meat you want. Also, pour it into freezer bags and keep it for a rainy day!
Prep Time:

1 hour

Cook Time:

1 hour

Category:

tacos

Method:

Pressure Cooking
Keywords: birria tacos, tacos, birria de res, how to make birria tacos
Recipe Card powered by
Disclosure: This site uses various affiliate links. If a purchase is made using one of our affiliate links, we receive a small commission which helps support our efforts. Please read our
Privacy Policy
for more information.