Happy New Year! I just got back from Houston yesterday, and I didn't realize how much I missed my kitchen for the 2 days I was away. It was about the only thing I missed aside from my dog, I'll admit. I had a blast in Houston kickin' it with my homegirls who are all equally in love with Big K.R.I.T. We partied and rang in the new year with him and it was everything. But I came back, and after catching up on some sleep, I woke up needing to make a stack of buttery pancakes.
Bring on the bacon, and lots of it. The amount of bacon for this recipe is TOTALLY UP TO YOU! Use as much or as little as you want, however I did provide you with a round-about estimate to get you started. You'd wanna crisp up at least 6 slices just to get you started — use a whole pack if you're about that life.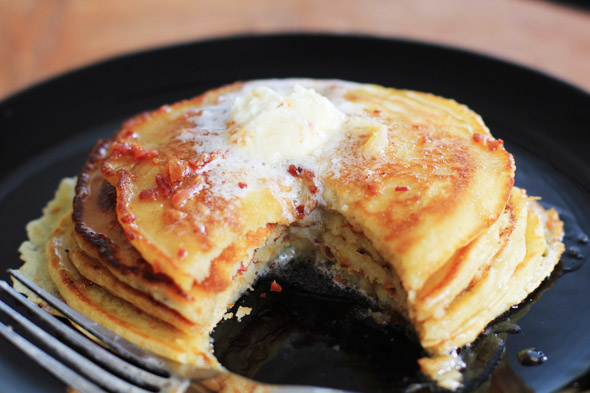 Pancakes are one of my favorite things to eat for breakfast, and I almost always have to have bacon alongside for that salty kick. Combining the two isn't anything new, but here's a recipe for you anyway. It's incredibly easy to do, and very delicious. If you're a fan of "salty/sweet", then you'll enjoy the smokey bits of salty bacon nestled into every sweet bite of buttery pancake goodness. The method is super simple, the ingredients aren't too difficult, and the whole thing comes together in no time.
This recipe is dedicated to my girls in Houston, who I love dearly and can't wait to see again. I love all three of you ladies <3 you know who you are 😉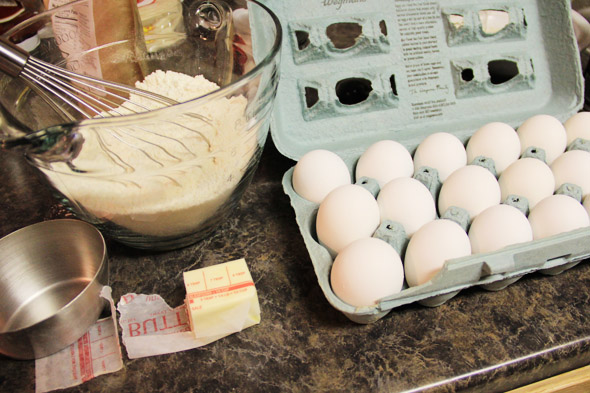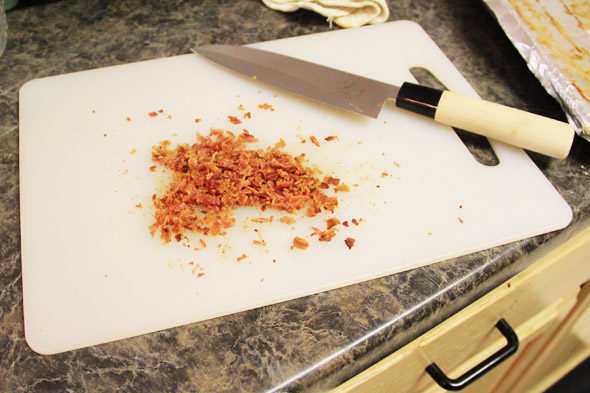 chop your cooked bacon (I fried mine in the oven while I prepared the pancake batter)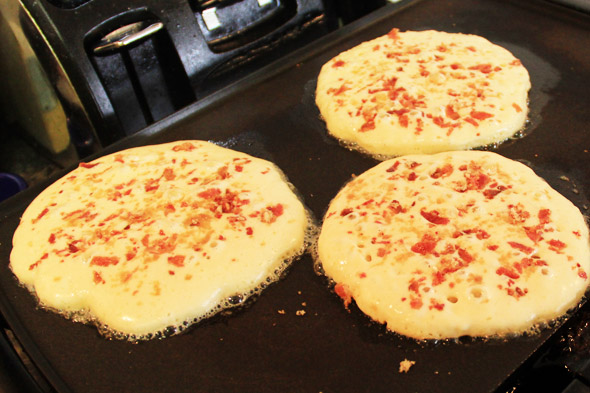 sprinkle as much or as little bacon and brown sugar per pancake as you want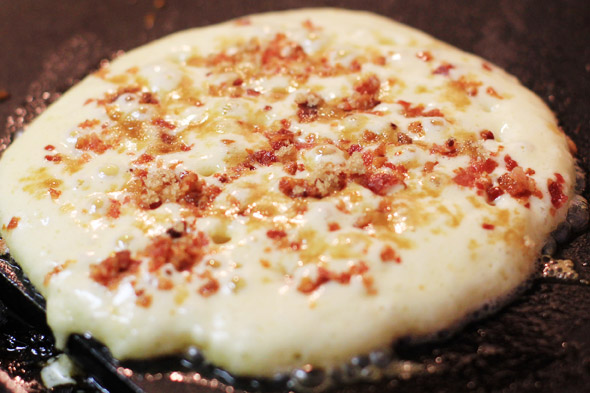 I used about one slice of chopped bacon per pancake, and about 1 tsp of brown sugar per pancake, but do whatever you'd like here folks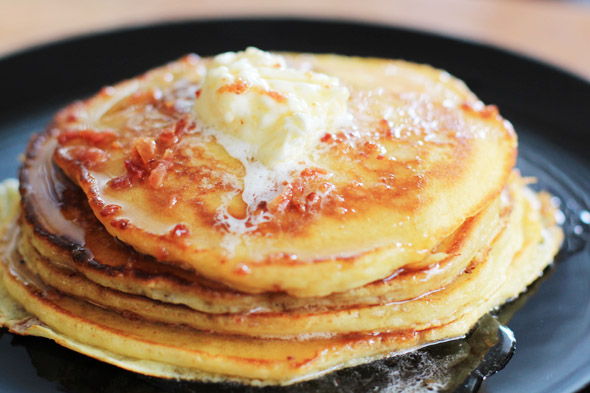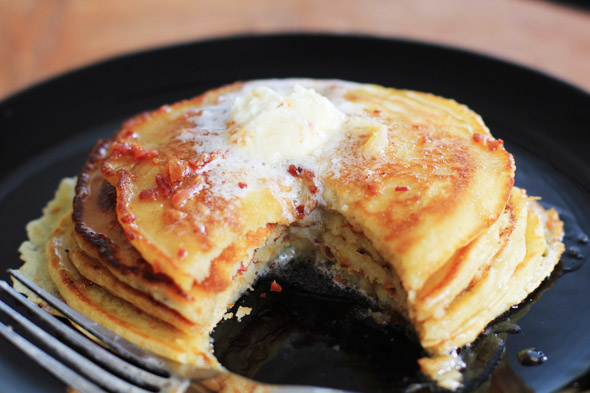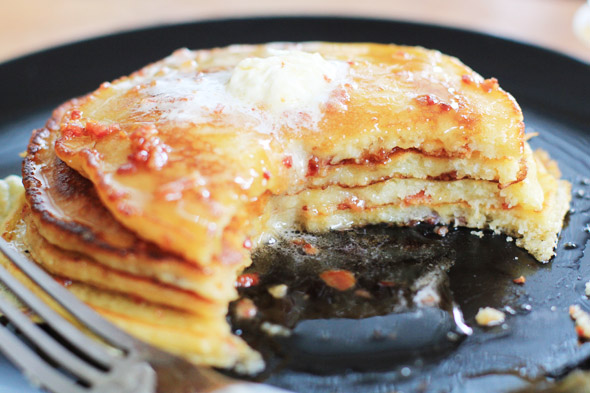 Well well well…it seems as though you're drooling. Get in the kitchen and make these pancakes happen!
Print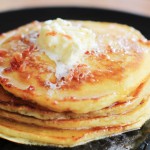 Bacon & Brown Sugar Pancakes with Bacon-Maple Syrup
---
1

cup

buttermilk

1

cup

unbleached all-purpose flour

1 tbsp

granulated sugar

1 tsp

baking powder

1/4 tsp

baking soda

1/4 tsp

table salt

1

large egg

1 tsp

vanilla extract

2 tbsp

unsalted butter, melted and cooled slightly

1/2

pound

cooked bacon (5-6 slices), crisped (feel free to use more)
light brown sugar for sprinkling
For the bacon-maple syrup
1/2

cup

real maple syrup

1 tbsp

light brown sugar

2

to

3

tbsp cooked bacon, chopped
---
Instructions
For the bacon-maple syrup:
Pour 1/2 cup maple syrup into a small saucepan over medium heat. Add in the brown sugar and bring to a soft simmer. Add the bacon and stir gently. Alternately, you can microwave the syrup until warm, about 20 to 40 seconds, then add the bacon.
Turn off the heat and cover while you make the pancakes.
For the pancakes:
Whisk flour, sugar, baking powder, baking soda, and salt in medium bowl to combine.
Whisk egg, vanilla, and melted butter into the milk mixture (or buttermilk) until combined. Make well in center of dry ingredients in bowl; pour in milk mixture and whisk very gently until just combined (a few lumps should remain). Do not over mix.
Heat 12-inch nonstick skillet over medium heat for 3 to 5 minutes; add 1 teaspoon oil or butter and brush to coat skillet bottom evenly. If using an electric griddle, you can set the heat to the second highest or highest setting (depending on the strength of your griddle). Pour 1/4 cup batter onto 3 spots on skillet; sprinkle bacon and brown sugar over each pancake. Cook pancakes until large bubbles begin to appear, 1 1/2 to 2 minutes. Using thin, wide spatula, flip pancakes and cook until golden brown on second side, 1 to 1 1/2 minutes longer. Serve immediately with butter and bacon-maple syrup, and repeat with remaining batter.
Prep Time:

25 mins

Cook Time:

5 mins
Nutrition
Serving Size:

16 4-inch pancakes, or 8 to 12 6-inch pancakes
Recipe Card powered by
Disclosure: This site uses various affiliate links. If a purchase is made using one of our affiliate links, we receive a small commission which helps support our efforts. Please read our
Privacy Policy
for more information.