This might be one of the easiest, most inexpensive soups you'll ever make. It will deliciously feed an entire family, and it's done in less than 30 minutes!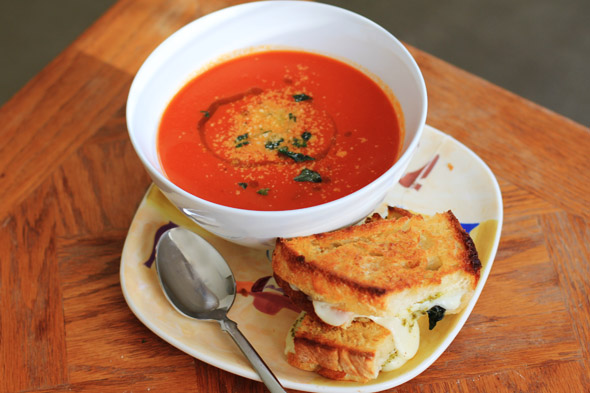 I've been on "staycation" for a few days now, and decided to curl up with a bowl of creamy, yet creamless, tomato soup. This method was something I learned from Cook's Illustrated. Basically you thicken the soup not using a heavy cream, but instead pureeing it with bread for smoothness. This is a win for your waistline. Adding the heavy cream is delicious, but it really changes the flavor of the tomatoes and almost dulls them down completely — depending on how much you add in. I love this method because you keep the bright flavors of the tomato and you can taste all of the other ingredients because they're not being masked behind the cream. I can taste the garlic, the onion, the cognac — everything. The original recipe doesn't call for any butter, but I added in just 1 tablespoon to the entire pot at the end because I love the tiny bit of silkiness it gave the soup.
I made this soup with a grilled cheese sandwich made up of basil, pesto, and super creamy and sinfully gooey whole milk mozzarella on Tuscan garlic bread.
Girl…
So good *sigh*
Everything comes together so quickly and easily, you'll feel like a boss after you make it. It's one of those dishes you can prepare in one pot if you have an emulsion blender, so it's a great excuse for you all to pull those out. If you don't have an emulsion blender, just use a regular blender and puree it in batches. Serve it alongside your favorite grilled cheese sandwich for the ultimate experience 😉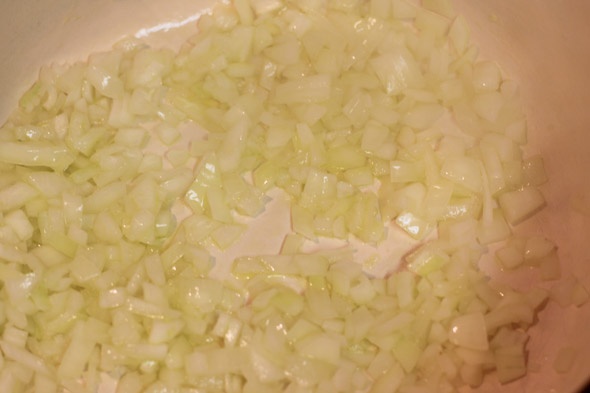 saute the onion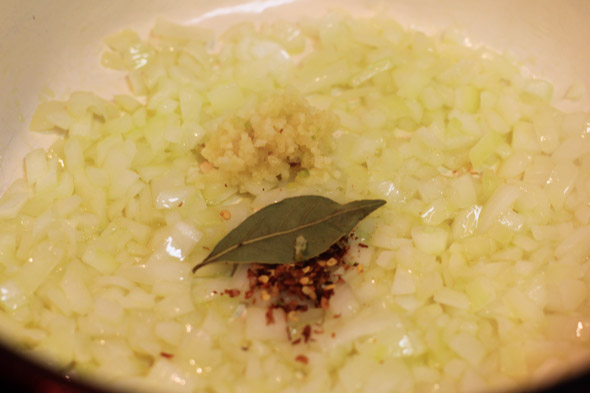 then add the garlic, red pepper flakes, and bay leaf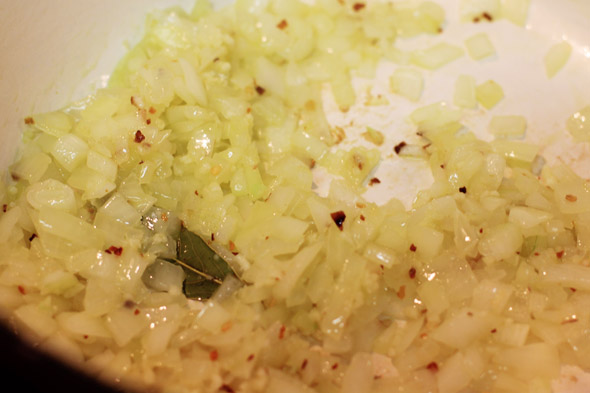 cook it all together while you prepare for the next step…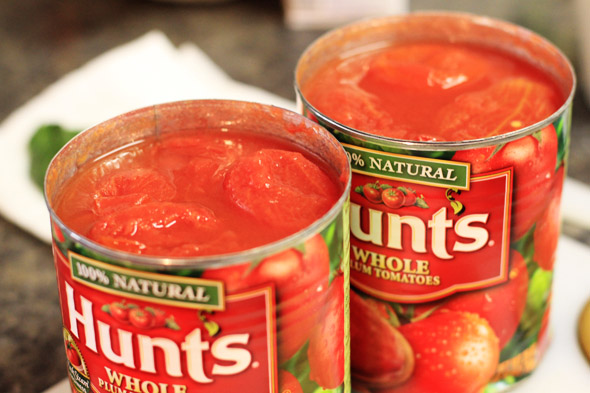 open 2 cans of whole tomatoes in juice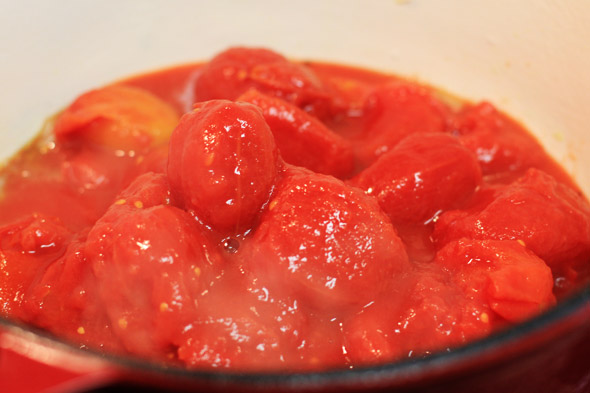 put them in the pot right on top of the onion mixture…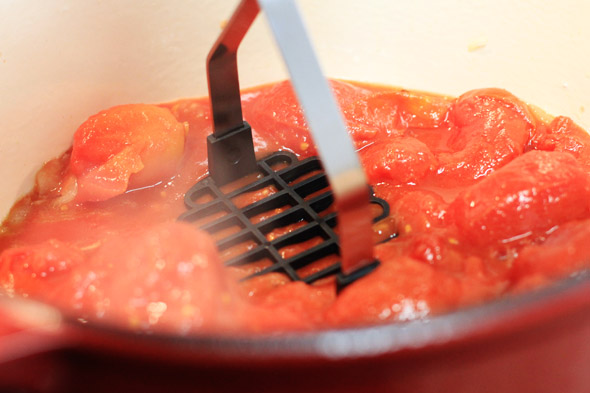 gently mash them to break down the large pieces and make your pureeing life a bit easier later. they dont need to be completely pulverized, but just make sure they're not in big whole chunks anymore..

like this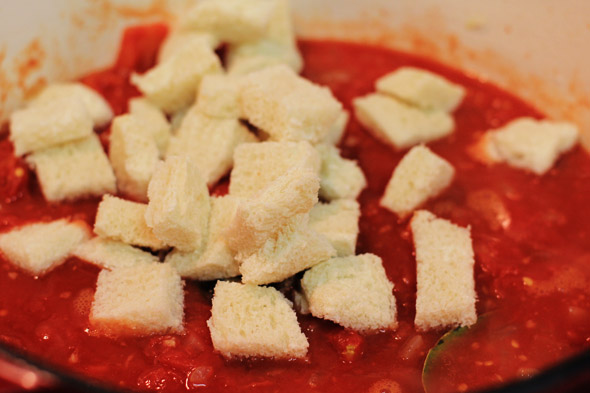 then stir in the bread and brown sugar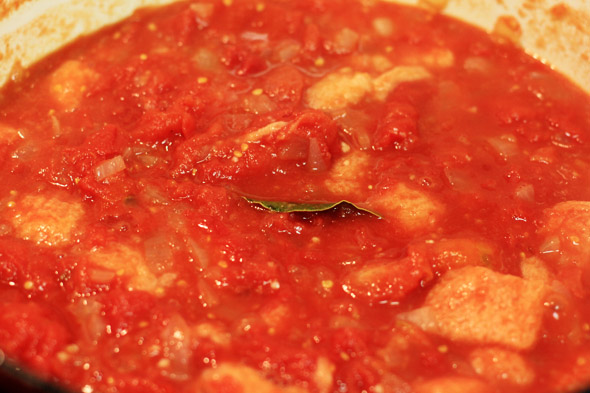 the bread will break down in the soup and thicken it, making it creamy without it being heavy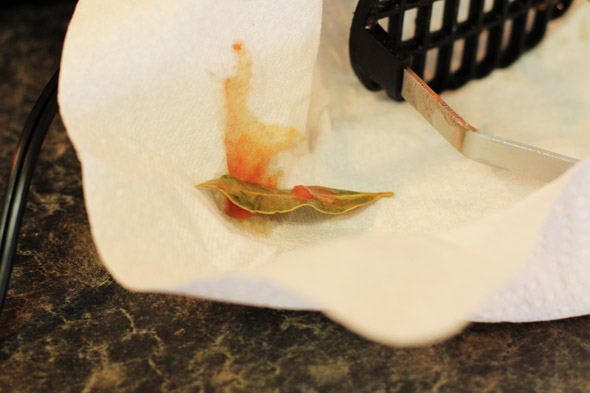 IMPORTANT! BEFORE YOU PUREE, REMOVE THE BAY LEAF!
your body cannot digest bay leaves so please do not try to eat them…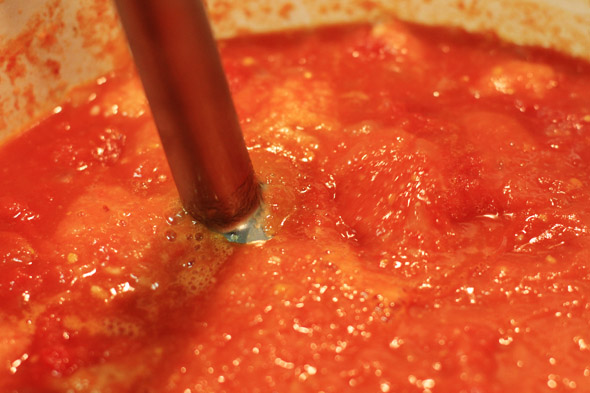 puree the soup with an emulsion blender, or a regular blender in batches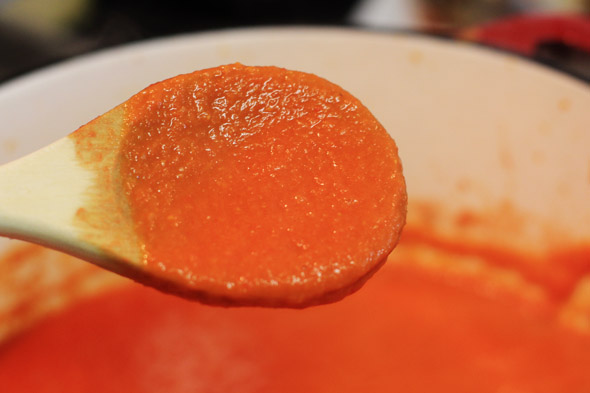 this is the texture you end up with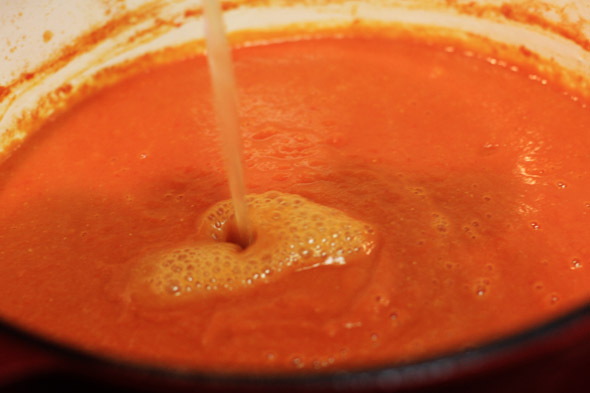 but we're not quite done. right now we just have a thick tomato puree and we need to make it a soup…so add in some chicken stock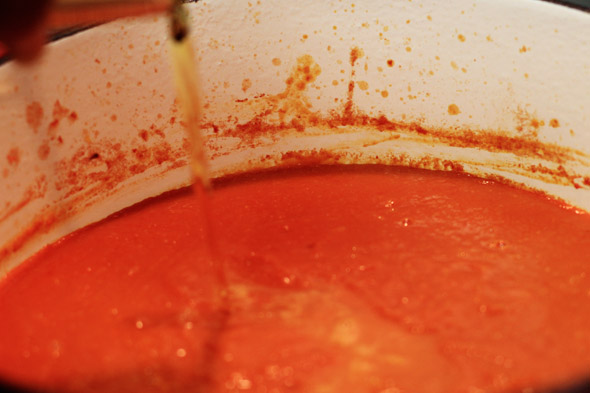 followed by some brandy (I used cognac, specifically)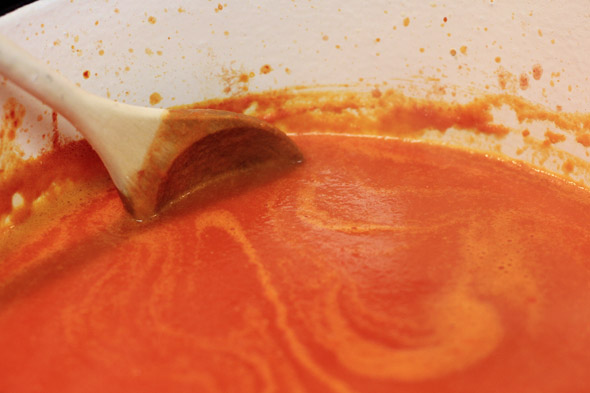 bring everything to a boil and let it cook down for a few minutes before you season…

taste the soup. adjust the seasoning as you see fit…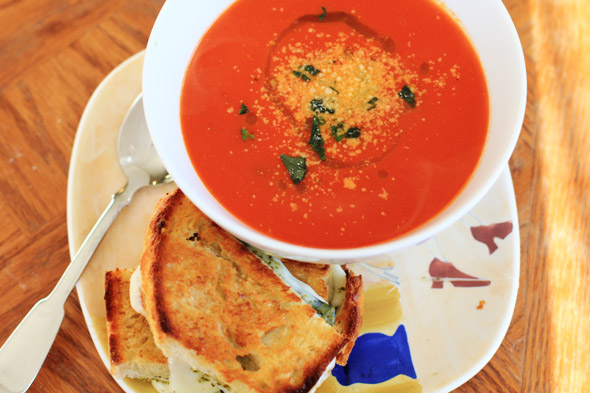 I sprinkled a lil parmesan cheese on mine, because I love cheese lol…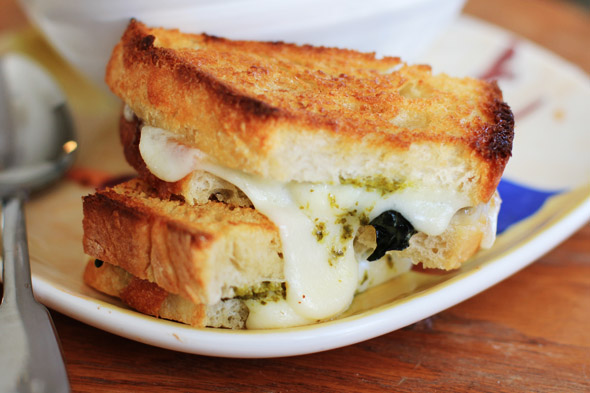 that gooey mozzarella grilled cheese?? oh dear…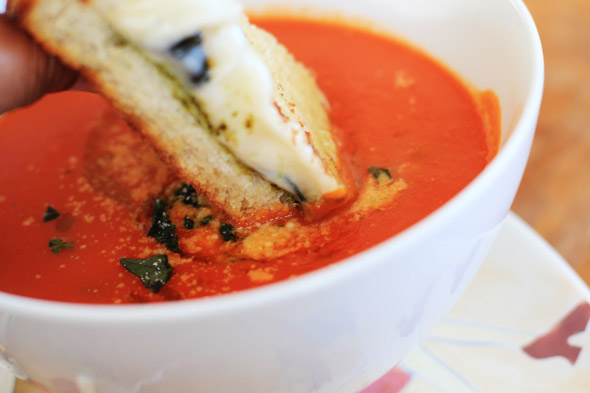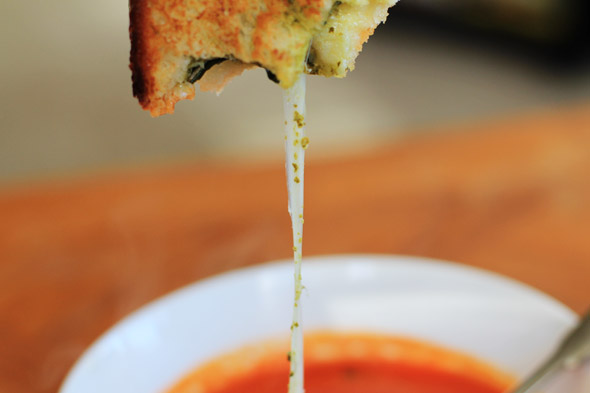 Uhhh, yum?!?!?!?!
Make this delicious soup, it's too easy to avoid.
Print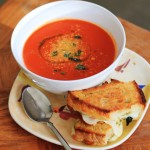 "Creamy" Tomato Soup
---
Description
adapted from Cook's Illustrated
---
1/4

cup

extra virgin olive oil, plus more for drizzling

1

medium onion, chopped medium (about

1 cup

)

3

medium garlic cloves, minced or pressed through garlic press (about

1 tablespoon

)
Pinch hot red pepper flakes (optional)

1

bay leaf

2

(28-ounce) cans whole tomatoes packed in juice

1 tbsp

brown sugar (I ended up adding

2

more teaspoons)

3

large slices good-quality sandwich bread, crusts removed, torn into 1-inch pieces (I used pre-sliced Italian bread)

2

cups

low-sodium chicken broth

2 tbsp

brandy (optional)

1 tbsp

chopped basil (optional)

1 tbsp

butter (optional)
Salt and ground black pepper

1/4

cup

chopped fresh chives
---
Instructions
Heat 2 tablespoons oil in Dutch oven over medium-high heat until shimmering. Add onion, garlic, red pepper flakes (if using), and bay leaf. Cook, stirring frequently, until onion is translucent, 3 to 5 minutes. Stir in tomatoes and their juice. Using potato masher, mash until no pieces bigger than 2 inches remain. Stir in sugar and bread; bring soup to boil. Reduce heat to medium and cook, stirring occasionally, until bread is completely saturated and starts to break down, about 5 minutes. Remove and discard bay leaf.
If using an emulsion blender, turn the heat off, add 2 tablespoons of olive oil and puree the mixture until smooth. If using a traditional blender, transfer half of soup to blender and add 1 tablespoon oil and process until soup is smooth and creamy, 2 to 3 minutes. Transfer to large bowl and repeat with remaining soup and oil. Rinse out Dutch oven and return soup to pot.
Stir in chicken broth and brandy (if using). Return soup to boil and season to taste with salt and pepper. Stir in the chopped basil and butter (if using) and serve soup in individual bowls. Sprinkle each portion with pepper and chives and drizzle with olive oil.
Recipe Card powered by
Disclosure: This site uses various affiliate links. If a purchase is made using one of our affiliate links, we receive a small commission which helps support our efforts. Please read our
Privacy Policy
for more information.