Good morning. If you've tried ANY of the cinnamon roll recipes posted here, then you already know these are about to be insane as well. These satisfy all of my cravings — buttery, doughy, cinnamon'y, chocolatey, nutty, espresso'y, glaze'y…mmmmm.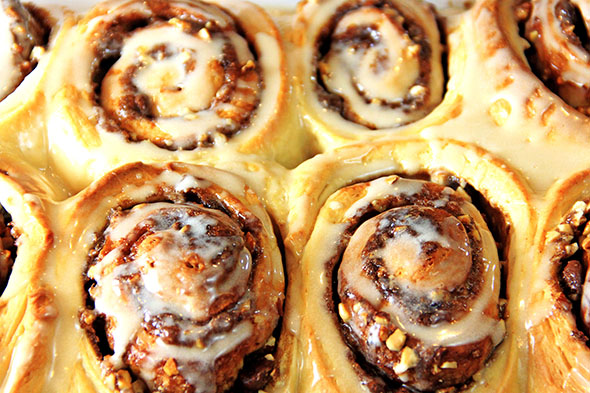 The one thing you should know about these in particular is that conceptually, they may sound a little too sweet. However, they're not at all. I scaled waaaay back from the normal amount of cinnamon/sugar I'd regularly use, and kept it modest. The chocolate I had on hand was semi-sweet chocolate chips. If you have chopped bar chocolate 60% cacao or higher, this would be even better. Chocolate chips melt but they keep their shape, whereas bar chocolate oozes wherever it lands. I highly recommend that over chips BUT these are still amazing with chips. Don't use milk chocolate here, they'll be entirely too sweet — unless that's what you like. I started with just a cup of brown sugar vs. one and a half cups in the original recipe, and I still didn't use the full cup. You can use a full cup, but use a bittersweet chocolate instead of semi.
Adding espresso powder to the dough itself is totally optional, I just loved the faint scent it gave. Everything about this recipe is totally adaptable to your level of sweetness and nuttiness, so please just use my measurements as a starting off point.
Allowing the dough to rise in the oven (turned off) with just the oven light provides enough gentle warmth for the yeast to activate. It took 2 hours for mine to double in size, and it came out perfect.
Make sure your butter is softened but still cool and somewhat malleable. It should be soft and waxy, not mushy and greasy. If it's the consistency of a whipped butter, it's too soft. If you have an instant-read thermometer, the butter should be between 65-70 degrees'ish. If you forget to take your eggs out in time for them to come down to room temperature, you can put them inside of a bowl filled with warm (not hot) water for about 10-minutes. Roll the dough out to a large rectangle, but don't roll it toooo thin, use my video as a guide.
Make these cinnamon rolls! If you don't have a stand-mixer, you can still make this dough by hand. You'll just need lots of elbow grease to knead this for a good 10-15minutes.
Print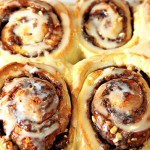 Latte Glazed Mocha-Almond Cinnamon Rolls
---
For the dough:
3/4

cup

whole milk, heated to 110 degrees

1

envelope (2 1/4 teaspoons) instant or rapid-rise yeast

3

large eggs, room temperature

1 teaspoon

vanilla extract

1 teaspoon

espresso powder

4 1/4

cups

all-purpose flour

1/2

cup

cornstarch

1/2

cup

granulated sugar

1 1/2 teaspoons

salt

12 tablespoons

(

1 1/2

sticks) softened unsalted butter, cut into 12 pieces
For the filling:
1

cup

packed light brown sugar

1 tablespoon

ground cinnamon

2

to

3

tablespoons cocoa powder

1

to

2

tablespoons espresso powder

1/2

cup

toasted almonds, chopped

1/3

to

1/2

semi or bittersweet chocolate, chopped fine (chips are fine)

1/4 teaspoon

salt

5

to

6

tablespoons unsalted butter, softened
For the glaze (totally adaptable):
1/4

cup

latte (coffee & milk)

1 tablespoon

heavy cream

1/2 teaspoon

espresso powder

1 tablespoon

corn syrup (optional)

1/4 teaspoon

almond extract

1

to

2

cups

confectioners' sugar
tiny pinch of salt
---
Instructions
To prep:
Line the bottom of a 13- by 9-inch baking pan with foil or parchment paper. Grease foil or parchment paper and sides of the pan with baking spray. Also, grease a medium bowl to hold the dough when it's completed.
For the dough:
Whisk warm 110 degree milk and yeast in liquid measuring cup until yeast dissolves, then whisk in eggs, espresso powder, and vanilla extract. In bowl of stand mixer fitted with dough hook, mix flour, cornstarch, sugar, and salt until combined. With mixer on low, add warm milk mixture in steady stream and mix until dough comes together, about 1 minute. Increase speed to medium and add butter, one piece at a time, until incorporated. I added my butter in 5 second intervals. Continue to mix until dough is smooth and comes away from sides of bowl, about 10 minutes. if after mixing for 10 minutes the dough is still wet and sticky, add up to ¼ cup flour (one tablespoon at a time) until the dough releases from the bowl. Turn dough out onto clean surface and knead to form a smooth, round ball. Transfer dough to prepared bowl, cover with plastic wrap, and place in turned off oven with oven light on (it allows enough gentle warmth). Let rise until doubled in size, about 2 hours.
For the filling:
Combine brown sugar, cinnamon, espresso, cocoa, and salt in small bowl using a fork or your fingers to break up any large lumps. Turn dough out onto lightly floured surface. Roll dough into 18-inch square, spread with 5 to 6 tbsp of softened butter, and sprinkle evenly with filling. Lightly press the filling into the dough. Sprinkle almonds and chocolate over cinnamon/sugar filling, and gently press into dough. Starting with the edge nearest you, roll dough into tight cylinder, pinch lightly to seal seam, and cut into 8 pieces using either a serrated knife or bench scraper. It's easier to cut the dough in half, then cut each side in half until you have 8 large rolls. For smaller cinnamon buns, cut the dough into 12 pieces. Transfer pieces, cut-side up, to prepared pan. Cover with plastic wrap and let rise in a turned off oven until doubled in size, about 1 hour.
For the glaze and to bake:
Heat oven to 350 degrees. Whisk glaze ingredients together. If mixture is too thick, add a little more latte or heavy cream, if too thin, add more sugar. Discard plastic wrap and bake buns until deep golden brown and filling is melted, 30-35 minutes. Cool for about 5 minutes then pour over some of the glaze. You may not have to use all of the glaze, I didn't. I stored the rest of the glaze in the freezer for later use. Serve immediately.
*Make Ahead: After transferring pieces to prepared pan in step 3, buns can be covered with plastic wrap and refrigerated for 24 hours. When ready to bake, let sit at room temperature for 1 hour. Remove plastic wrap and continue with step 4 as directed.
*Reheat any leftover rolls in the microwave for 10 to 20 seconds.
Prep Time:

3 hours 30 mins

Cook Time:

30 mins
Recipe Card powered by
Disclosure: This site uses various affiliate links. If a purchase is made using one of our affiliate links, we receive a small commission which helps support our efforts. Please read our
Privacy Policy
for more information.