True story: before The Cheesecake Factory became accessible in my area, I used to drive damn near an hour to the nearest one just to have their insanely delicious crab wontons. Let's start from the beginning. My whole life, I'd order crab rangoon from local Chinese food spots and they would literally deliver fried wonton wrappers filled with cream cheese. Where the hell was the crab?? I could barely taste it, I couldn't even see it. I probably saw one or two little flecks of red letting me know that there was a tiny bit of imitation crab in each bite. Womp!
Fast forward to when I developed a better palate, I decided to try the Cheesecake Factory's version — praying they weren't just typical pockets of cream cheese with barely any crab at all. Boy, was I in for a pleasant surprise. They were crabby! Real crab, jumbo lump crab, oh my GOD! Where have these been all my life? I heard angels singing, it was truly a remarkable life-changing moment for me. I found myself driving there often just to get them to-go. Eventually, I told my waiter that I'd tip him $20 if he could tell me the recipe. He went back to the kitchen and came out with a list of ingredients, but I could tell a few things were missing. I didn't care though, he gave me enough to work with. I gave him his promised $20 and went home with the golden ticket of crab wonton ingredients, ready to play around until I nailed it.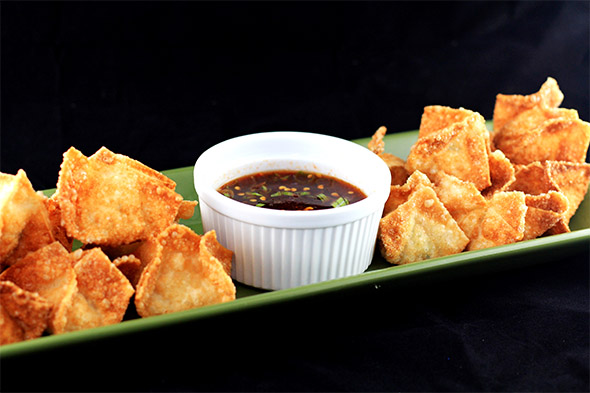 And nailed it, I did.
These are so damn good. Like, I ate 20 in one sitting. What kind of fatassery…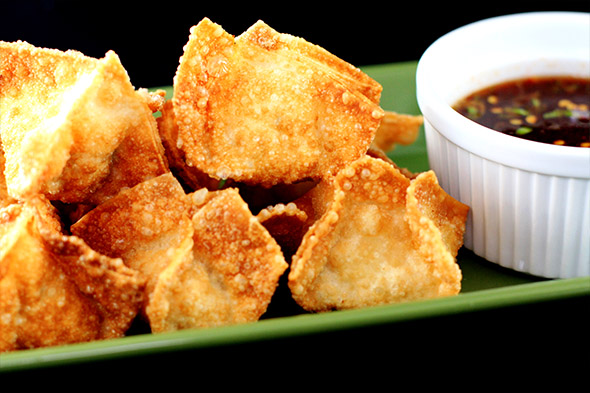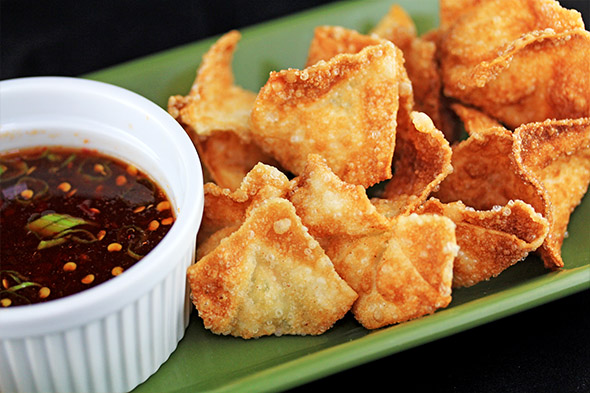 But that just proves my point, they are that good.
They're not greasy at all if you keep your oil temperature at a steady 360-375 at all times. To be honest, these wonton wrappers don't really absorb too much oil in the 2-minutes they're being fried.
I folded these into "little purses", pinching all four corners together, pressing out any air, and making sure they were tightly sealed with water. I like the purse method because it prevents air-pockets as they're fried. You could just fold the wontons over and make triangles, but you may also experience them ballooning up, with small air-pockets. Either way, it's your party — do what makes your life easier. They're still going to be uhhmazing.
As for the dipping sauce, make sure you adjust here and there, adding a little of this and that as needed. This sauce is designed to be thin, but if you prefer a much thicker sauce — add ketchup or hoisin, something to give it body. I prefer the drippy, spicy-tangy-sweet sauce because it seeps into the crevices of the crab mixture when you rip them open and really compliments it well. You could also just use prepared Sweet Chili Sauce, it works perfectly well here too. There are no rules to cooking for the most part — so do whatever the hell you want! If anything, just follow the recipe for the actual wontons because that's all that matters.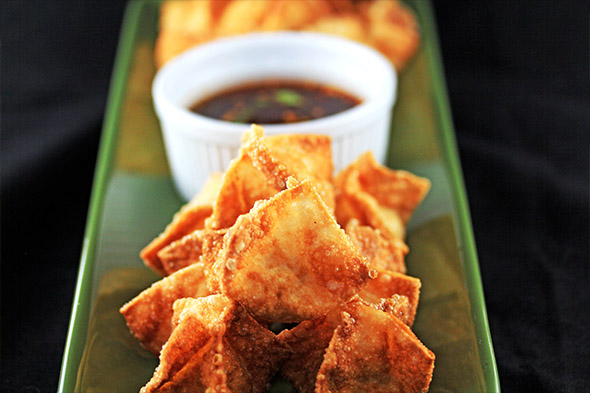 I promise you will enjoy these, I put that on my mama. They are incredible.
If you can, please avoid skipping the water chestnuts here. You may think they're unnecessary, but they really offer a flavor I cannot describe. It really helps the overall wonton. However, if they aren't mixed in, the wontons will still be amazing — but don't use them at all if you have a nut allergy. I don't want anyone's face swelling up like Hitch.
Don't be tempted to use more cheese than what's called for, and make sure you only use 8oz of crab — trust me, it's plenty. Most jumbo lump crabmeat is sold by the pound, so save the other half for my upcoming crab, spinach and artichoke dip 🙂 Another delicious game-day recipe you will want to make over and over for your guests — or yourself.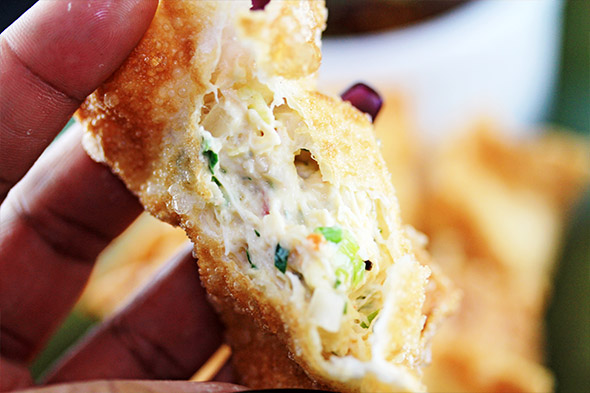 Substitutions and Adaptions:
Allergic to shellfish? Use imitation crabmeat (it's really just fish).
Don't like fish or shellfish? Use shredded chicken.
Don't like chicken either? What kind of monster are you?
Can't find water chestnuts? Here's a hint, they're usually sold in a jar or can. Ask a sales-clerk, and if all else fails, just leave it out. I'll be very sad you did, but they'll still be bomb.
Can't use water chestnuts due to allergies? For the love of Beyonce, leave them out!
Don't have garlic chili paste (Sambal Oelek)? Use Sriracha.
Don't have panko? Use regular bread crumbs, but instead of 3 tablespoons, just use 2.
Can you use canned crab? Ehh, if you absolutely must. I'm sure it'll work okay.
Can you use any other kind of seafood? Sure, you can do whatever the hell you want my love.
This makes a lot of wontons, and you don't have that many people to feed. What should you do? Make as many as you can and freeze what you don't use in a zip-loc bag. Then, you can just fry them up whenever you want to eat them.
Print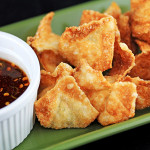 Crispy Jumbo Lump Crab Wontons
---
Description
Inspired by The Cheesecake Factory
---
For the crab wontons:
8

oz

. cream cheese, room temperature

8

oz

. jumbo lump crab, picked over for shells

1 tbsp

garlic chili paste (sambal oelek)

1 tbsp

dijon mustard

4

oz

water chestnuts, drained and finely minced

1/4

cup

scallions, chopped fine

1/4

cup

shallots, finely diced

1

oz

mozzarella, shredded

1

oz

fontina, shredded

3 tbsp

panko breadcrumbs

1 tbsp

worcestershire sauce
salt & pepper to taste
Square wonton wrappers, plus water for moistening
Oil for frying (vegetable or canola)
Dipping sauce (estimated measurements):
2

–

3

tbsp garlic chili paste

3 tbsp

rice wine vinegar

1 tbsp

water

2 tbsp

ponzu or low-soldium soy sauce (or salt)

2 tsp

granulated sugar

2 tbsp

honey
---
Instructions
For the dipping sauce:
Combine all ingredients together, tasting and adjusting as you go until you're satisfied. Set aside until ready to use. Can be made a day ahead.
For the wontons:
Mix all ingredients together in a bowl, cover with plastic wrap and chill at least 1 hour for flavors to develop. Can be made a day ahead.
When ready to fry, place 1 teaspoon of the crab mixture in the middle of a moistened wonton wrapper, and pinch all four corners together until you have little "purses", pressing out any excess air. Keep wontons covered with damp paper towel so they do not dry out as you work.
Heat oil to 365 degrees
Fry a few wontons at a time, using a strainer or heat-proof tool to push the wontons around so they don't stick to each other and that they fry evenly, about 1-2 minutes.
Drain on baking rack lined over a baking sheet, or paper towels.
Cool for 5 minutes before eating.
Enjoy
Prep Time:

30 mins

Cook Time:

5 mins
Recipe Card powered by
Disclosure: This site uses various affiliate links. If a purchase is made using one of our affiliate links, we receive a small commission which helps support our efforts. Please read our
Privacy Policy
for more information.