I don't like blueberry muffins at all. Yes, you heard me right — I do not like blueberry muffins. In fact, I damn near despise them. They taste so…artificial and I find them to be rather headache inducing. However, these mothersmuckers right here?? Oh my God…I love these. I still won't eat any one else's blueberry muffin, but these are from the heavens above. If you like lemony blueberry muffins, you have to make these — I swear you will be pleased.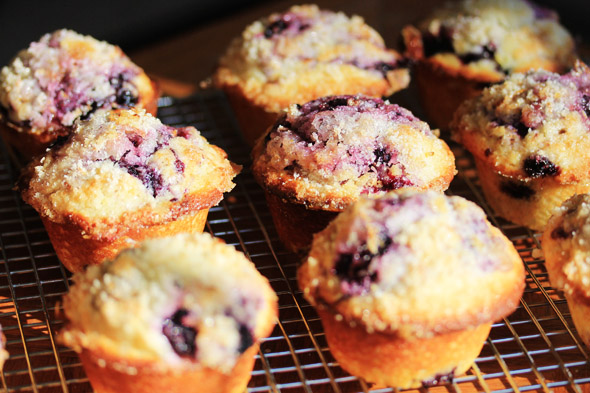 There are a few things we want to accomplish here, so read carefully…
We don't want a muffin that is heavy and overstuffed with berries because their moisture will make the cake itself dense and heavy. So how do we combat that while keeping a strong blueberry flavor? We reduce some of them to make a concentrated "jam" so to speak, then we swirl that into the batter at the very end. How do we inject amazing lemon flavor into the cake to bring everything together? A quick soak of the lemon zest in fresh lemon juice makes the zest even zestier. We also don't want a tough, desert-dry muffin. How do we combat that? We don't overmix! A gentle folding motion helps reduce the amount of gluten formed, keeping our muffins super moist and tender with amazing structure. The lemon-sugar crust melts a little while being baked then hardens as it cools, giving you an awesome sweet crunch with every bite.
Again, I hated blueberry muffins until I made these. They're too easy to put together and the outcome is incredible. I plan on forever altering this recipe to suit my random muffin needs. The only thing I'd do differently next time is maybe add some chopped pecans to the topping for just a little more bite — but believe me when I say that these are perfect as they are.
**Simply leave the lemon zest out of the batter if you don't want a lot of lemon flavor.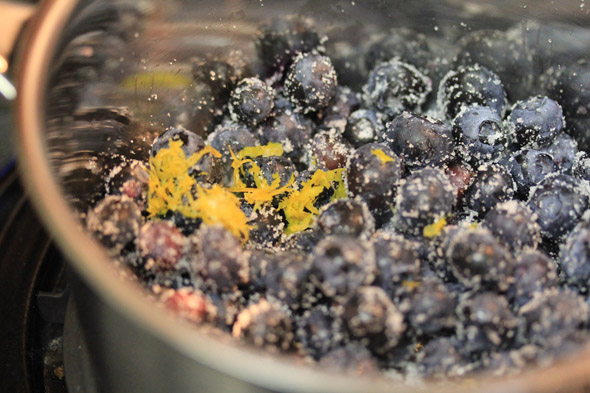 Toss 1 cup of the blueberries with 1 teaspoon of sugar and a pinch of lemon zest over medium heat in a small saucepan.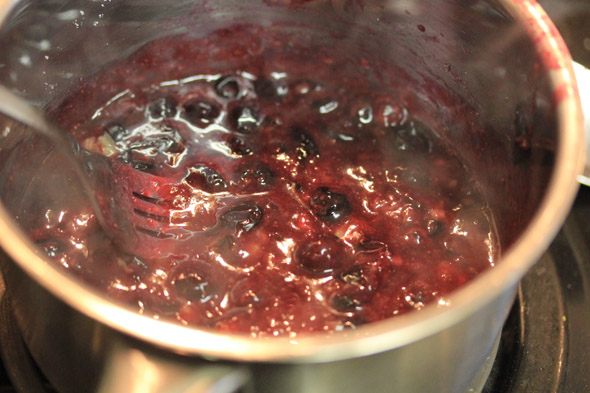 Start mashing some of the berries with a fork or back of a spoon just to get the mixture going…as you can see, there's a lot of liquid and we really need to reduce this down to about 1/4 cup.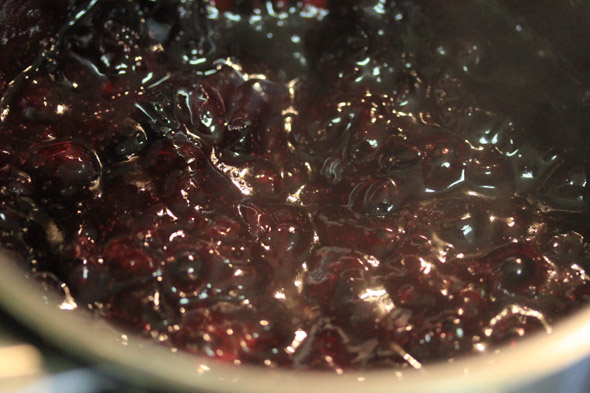 Still too wet…but we're almost there

See how it leaves a trail? It's ready. Also, if you tilt the pan you should be able to eyeball the amount.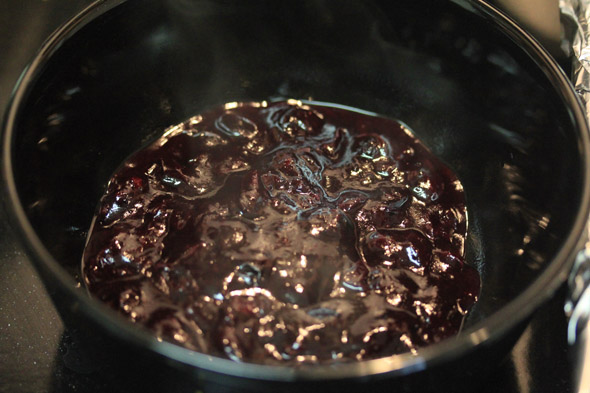 Pour the concentrated blueberry jam mixture into a bowl and let it hang out until it's room temperature. Alternately, you could place this in the fridge for a good 20 minutes — yes, this can be done beforehand.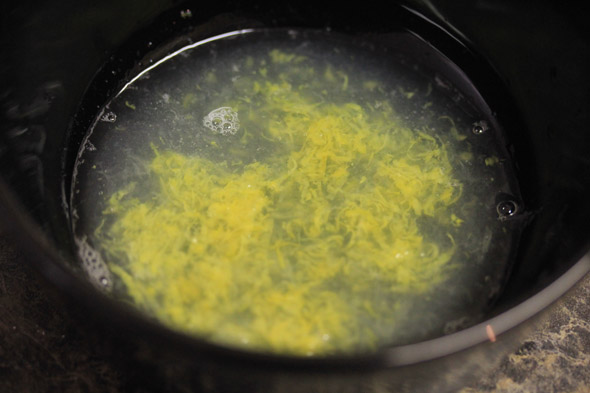 While your blueberry mixture is cooling off, soak about a teaspoon of lemon zest in 1 to 2 tablespoons of fresh lemon juice. You will later strain this and add it to the egg/sugar mixture.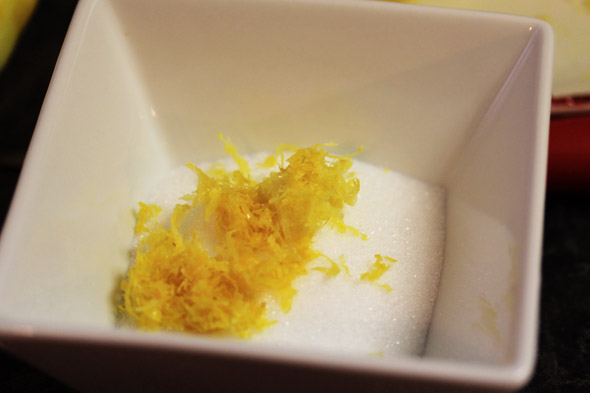 Place a teaspoon and a half of lemon zest into 1/3 cup of sugar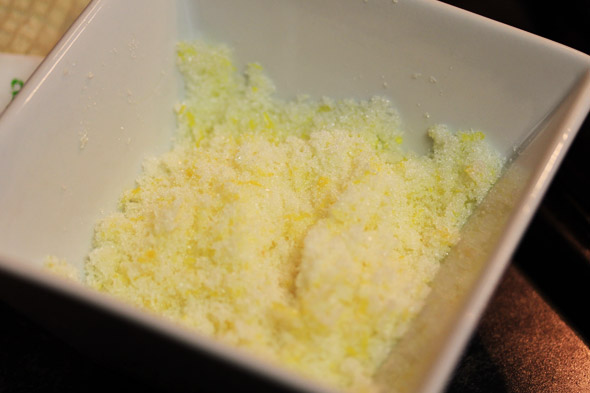 With a fork or spoon (or your fingers), mix the zest and sugar together until moist and evenly distributed. If your lemon zest is dry, add a tiny drop or two of lemon juice — just a tiny drop or two! If it's too wet, it will begin to melt the sugar and we don't want that.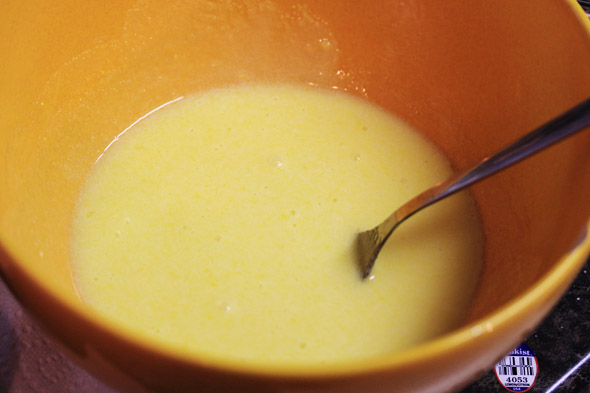 Mix the sugar and eggs together until thick and homogenous. Don't let this mixture sit for too long because the sugar will actually start to cook the eggs…I know, I know…weird, but true lol.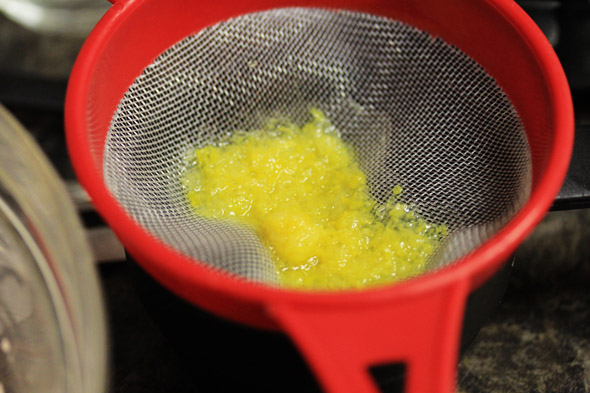 Strain the soaked lemon zest…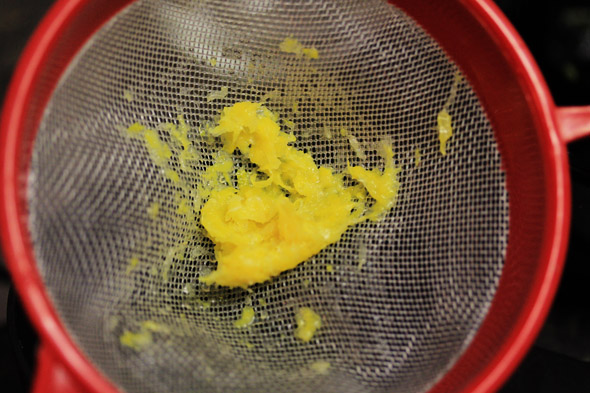 Press the excess juice out with the back of a spoon. The zest should be very soft and a little moist, but not soaking wet.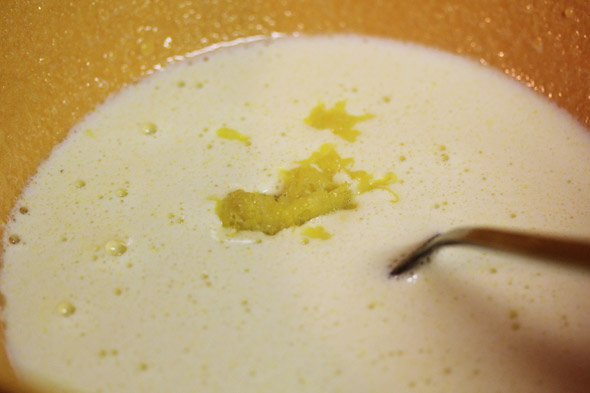 Toss the soaked lemon zest into the egg/sugar mixture.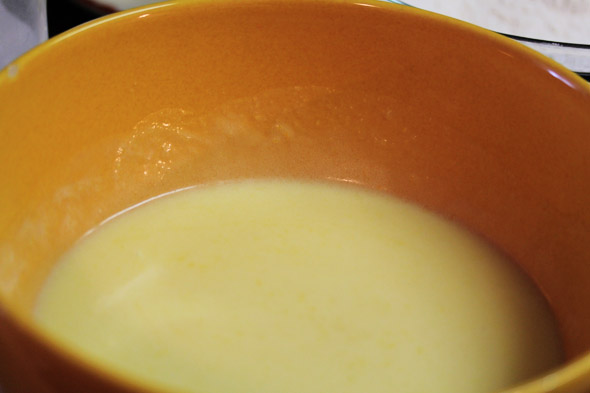 Slowly add the cooled off melted butter and vegetable oil and stir or whisk until completely combined and smooth. Add the buttermilk and vanilla to the egg/sugar/butter/oil/zest mixture and whisk until homogenous.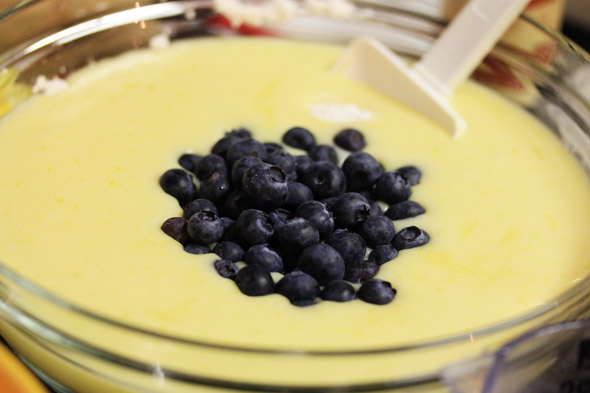 Pour the wet mixture into the dry, then add the remaining cup of berries.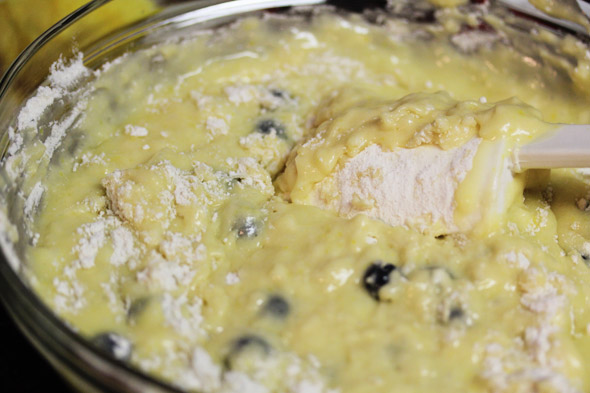 GENTLY FOLD! Don't stir it, don't whisk it, just fold the mixture on top of itself until it's combined and there are no crazy streaks of flour. You just want to combine everything and any tiny pockets of flour will get absorbed as it sits, so don't panic if you see a few dustballs of flour lurking around in tiny areas. Also, you don't want to bruise the berries and have them leak into the batter because it will cause that ugly grey-ish blue tint…and we don't want that.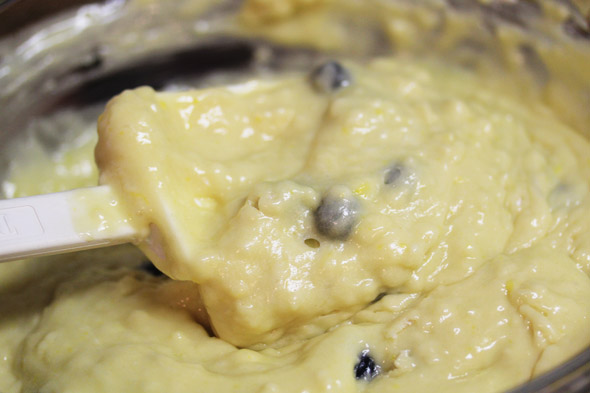 Mixture should be thick and lumpy like this. If your mixture isn't lumpy, you overmixed it.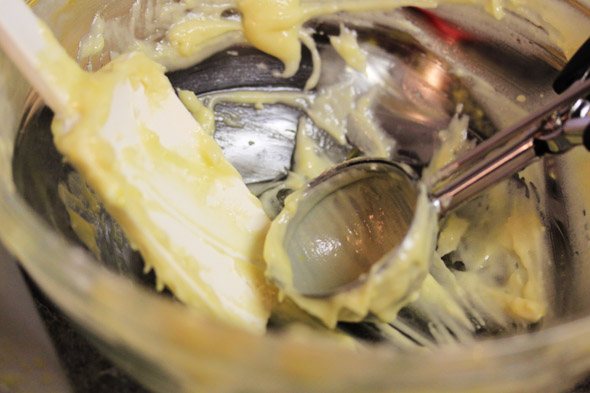 By the way, I used a rubber spatula to fold he mixture and a large cookie scoop to fill the muffin tins.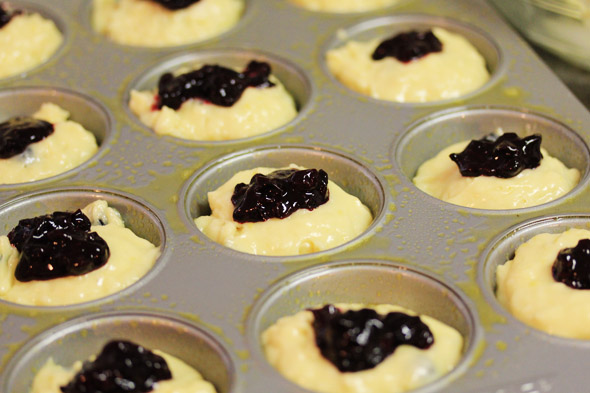 Spray a nonstick muffin pan with cooking spray (I used PAM — the butter flavored one, you can use the regular kind as well). Scoop the muffin mixture evenly into the pan. Place 1 teaspoon of the concentrated blueberry jam on top of each muffin.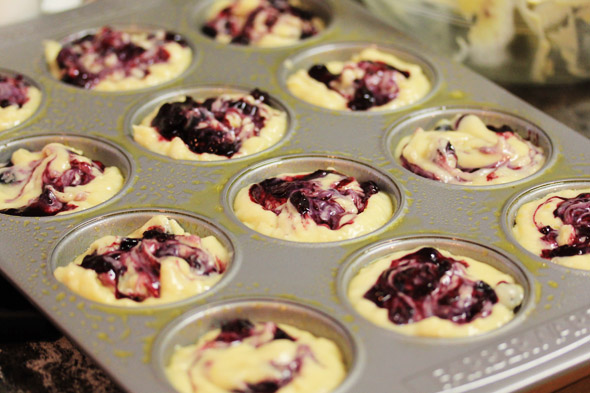 With a toothpick, chopstick, or wooden skewer — swirl the blueberry jam into the muffin using a figure-8 motion. Be gentle with this step.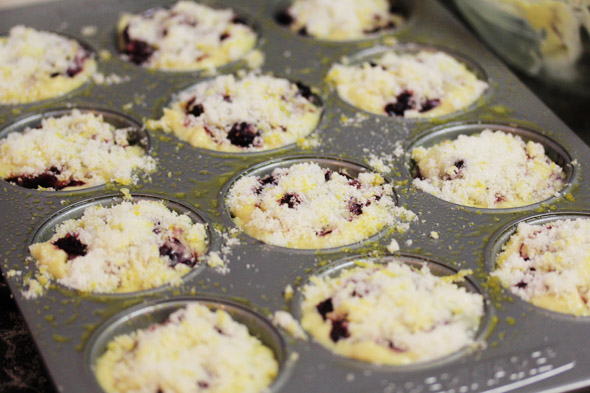 Sprinkle the lemon-sugar mixture over each muffin evenly and gently press it into the muffin just so that it doesn't completely fall off as it bakes. Bake for 15 to 19 minutes in a 425 degree oven and watch your blueberry making life change.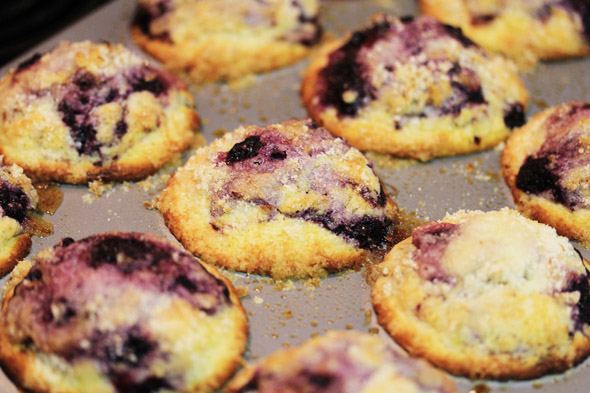 Fresh out of the oven!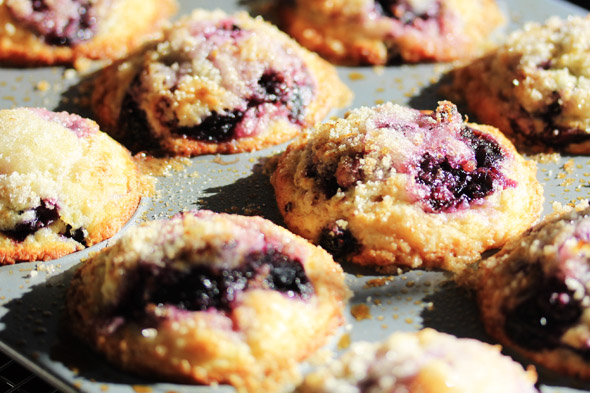 Let them cool for 5 minutes in the pan. If the sugars have caused some of the edges to stick, just use a plastic knife to help loosen it. Then gently remove from the pan.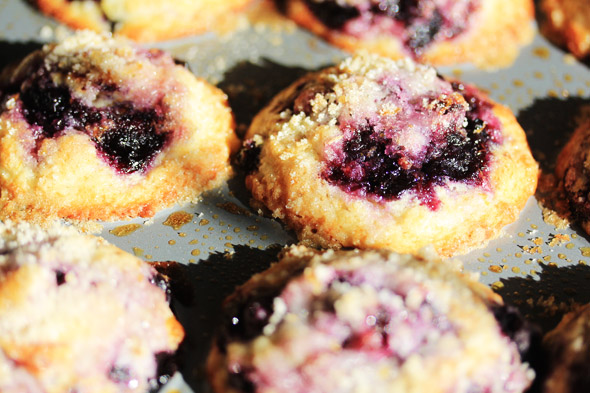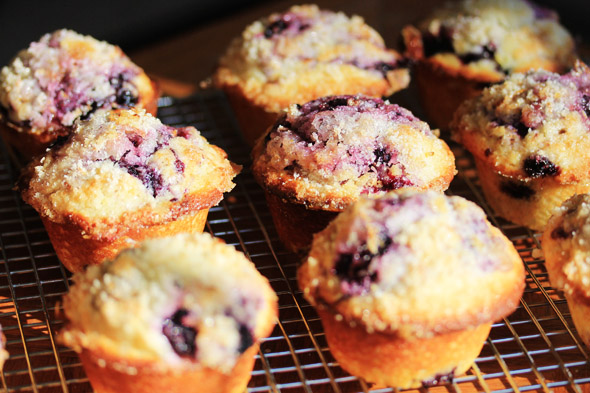 Then place them on a wire rack to cool for 5 minutes before eating.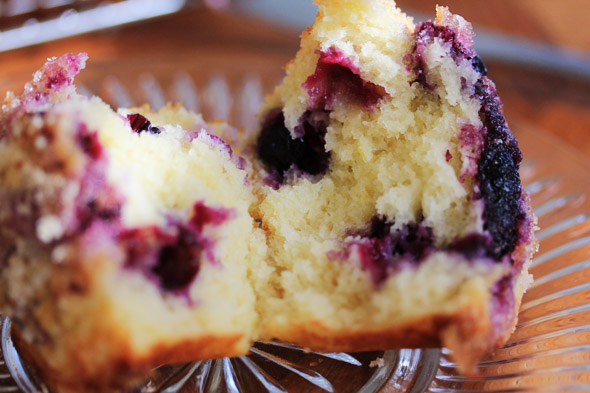 See how there's no psychedelic grey-ish blue streaks going thru this muffin? It's beautiful, well put together, crazy moist, tender and full of flavor. You'll love these, even if you hated blueberry muffins like I initially did…well, maybe 😉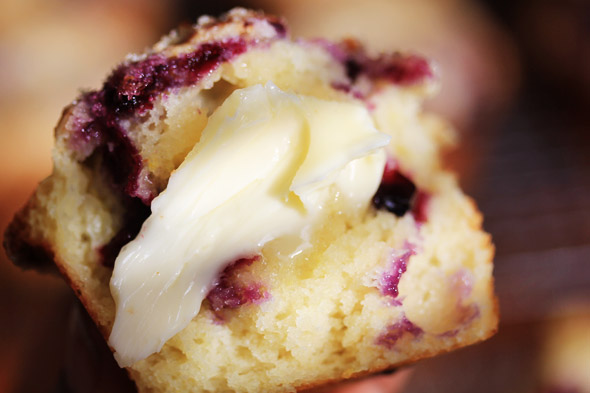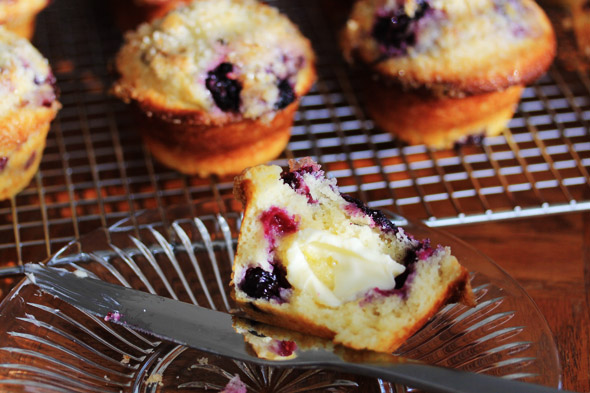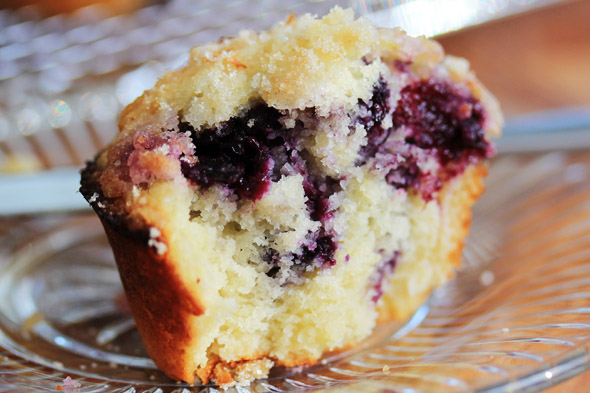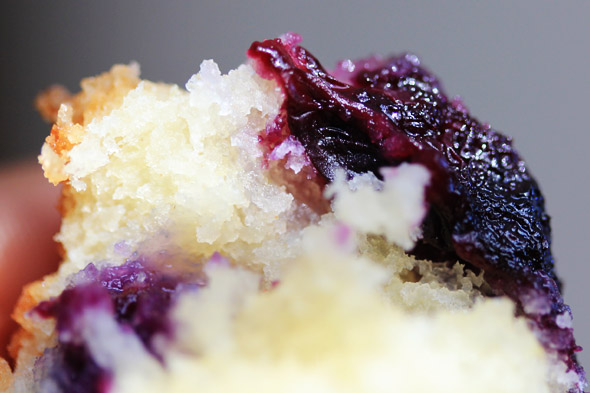 Do you see how moist this muffin is??????
These are honestly the best muffins ever. Ever.
Print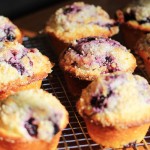 Lemon Sugar Crusted Blueberry Muffins
---
Description
modified from Cook's Illustrated
---
Lemon-Sugar Topping
1/3

cup

sugar (2 1/3 ounces)

1 1/2 teaspoons

finely grated zest from 1 lemon
Muffins
2

cups

fresh blueberries (about 10 ounces), picked over

1

1/8

cups

sugar (8 ounces) plus 1

teaspoon

2 1/2

cups

unbleached all-purpose flour (12 1/2 ounces)

2 1/2 tsp

baking powder

1 tsp

table salt

2

large eggs

1 1/2 teaspoons

finely grated zest from 1 lemon

1 tbsp

fresh squeezed lemon juice

4 tbsp

(

1/2

stick) unsalted butter, melted and cooled slightly

1/4

cup

vegetable oil

1

cup

buttermilk (see note below)

1 1/2 tsp

vanilla extract
---
Instructions
For the topping:
Stir together sugar and lemon zest in small bowl until combined; set aside.
For the muffins:
Adjust oven rack to upper-middle position and heat oven to 425 degrees. Spray standard muffin tin with nonstick cooking spray. Bring 1 cup blueberries, 1 teaspoon sugar and ½ teaspoon of lemon zest to simmer in small saucepan over medium heat. Cook, mashing berries with spoon several times and stirring frequently, until berries have broken down and mixture is thickened and reduced to ¼ cup, about 6 minutes. Transfer to small bowl and cool to room temperature, 10 to 15 minutes. Soak 1 teaspoon of lemon zest into 1 tablespoon of lemon juice while the berries cool to room temperature, about 10 minutes.
Whisk flour, baking powder, and salt together in large bowl. Whisk remaining 1 1/8 cups sugar and eggs together in medium bowl until thick and homogeneous, about 45 seconds. Slowly whisk in butter and oil until combined. Strain the 1 teaspoon of lemon zest of most it's moisture and add to the mixture — discard the lemon juice. Whisk in buttermilk and vanilla until combined. Using rubber spatula, fold egg mixture and remaining cup blueberries into flour mixture until just moistened. (Batter will be very lumpy with few spots of dry flour; do not overmix.)
Use ice cream scoop or large spoon to divide batter equally among prepared muffin cups (batter should completely fill cups and mound slightly). Spoon 1 teaspoon of cooked berry mixture into center of each mound of batter. Using chopstick or skewer, gently swirl berry filling into batter using figure-eight motion. Sprinkle lemon sugar evenly over muffins.
Bake until muffin tops are golden and just firm, 15 to 19 minutes, rotating muffin tin from front to back halfway through baking time. Cool muffins in muffin tin for 5 minutes, then transfer to wire rack and cool 5 minutes before serving.
Notes
If buttermilk is unavailable, substitute ¾ cup plain whole-milk or low-fat yogurt thinned with ¼ cup milk (buttermilk has the better taste though). Store leftover muffins in an air-tight container for up to 2 days.
Prep Time:

30 mins

Cook Time:

25 mins
Recipe Card powered by
Disclosure: This site uses various affiliate links. If a purchase is made using one of our affiliate links, we receive a small commission which helps support our efforts. Please read our
Privacy Policy
for more information.